If you think like me, you dream of getting a quarterback and wide receiver combination somewhere in the draft because when they are going well the fantasy points come in bunches. If you make the wrong choice, however, and they suddenly grow cold, it can put your entire season in jeopardy.

So I've analyzed each pair of quarterback and his highest-ranked receiver (or tight end) based on current ADP to uncover the best options. I've set up three distinct levels of quarterback-receiver stacks; the elite stack (read expensive), the mid-tier stack and the "bargain basement" stack.

Best Elite Stack

The costliest of the elite is a stack involving Patrick Mahomes and Travis Kelce. Kelce has a first-round ADP (8.6) and Mahomes a second round (20.8). It means your running back situation will certainly be "iffy" at best. Substituting Hill (ADP 10.8) for Kelce makes no difference in your selection order in 12-team leagues, the receiver must go in the first round immediately followed by the quarterback. And in each strategy, they didn't produce the most fantasy points in 2020. You should be able to get the same production from a "lower-cost elite" pair than the Chiefs.

The most points produced from any stack last season was the connection of Aaron Rodgers-to-Davante Adams (53.2 FPts/G). Both are back for one last season if we are to believe the meme each simultaneously tweeted about a week ago (it referenced the Michael Jordan 10-part ESPN special "The Last Dance"). The Packers didn't change much on offense that would interfere with this combo achieving great things again in 2021. The late addition of Randall Cobb, to try to appease "A Rod" isn't likely to take away from Adams' production. Those targets and catches will come from either Marquez Valdes-Scantling or Allen Lazard. Adams (ADP 9.1) must be selected in the opening round, but Rodgers is a mid-sixth round pick (65.8). This strategy allows you to fill out the running back starters in rounds two and three before they get too scarce.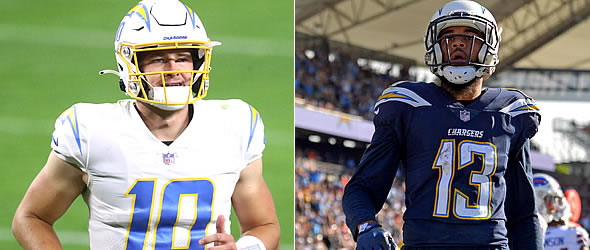 However, I'm "old school" and I like to have two quality running backs, even in this era of passing. If you are looking for an elite combo which still allows you to draft running back-running back to start the draft the best answer is Justin Herbert-to-Keenan Allen. I think Herbert is the real deal after a monster rookie season and Allen proves year after year that he's a great receiver (four straight seasons over 16 FPts/G). Allen (ADP 27) can be chosen in the third round, Herbert at the end of the fifth (59.5). Last year they combined for 44 FPts/G with a rookie QB and poorly executed coaching. I could also be persuaded to go with Dak Prescott and CeeDee Lamb, though I think the Cowboys will try to protect their quarterback early in this season and not have him throw 50 times a game as he did in the first four games of 2020. They will be able to do this because they spent a lot of time and assets on their defense this off-season and hope not to be playing catchup as much as they did in 2020.
Best Mid-Tier Stack
There are two clear-cut choices in the mid-tier range as most of the other options have question marks. Three of the choices from 11-20 include rookies and we all know rookies are "consistently inconsistent."
My favorite choice here is Matt Ryan-to-Calvin Ridley. We know from history that Ryan (ADP 119.7) will continue to throw the ball and based on last season, particularly when Julio Jones was sidelined, his favorite target will be Ridley (ADP 19.7). Ryan has exceeded 4,000 yards in 10 consecutive seasons. Ridley, without Jones, averaged 21.9 FPts/G over six games last season.
A close second could be Kirk Cousins-to-Justin Jefferson. Choosing this option, if you have an early third round draft position you might be able to start the draft with two running backs, choose Jefferson in the third round (you hope, as his 23.4 ADP is end of the second or early third) and fill out your starters and essential backups before picking Cousins in the 13th round (ADP 147.5). The primary concern here is that wideout Adam Thielen has enough talent to become the team's No.1 target if defenses key too much on Jefferson.
Best Bargain Basement Stack
A "bargain basement stack" isn't likely going to be the every week starter because each of the quarterbacks at this tier have question marks, such as; Will Deshaun Watson be allowed to play this season? Is Jameis Winston the starter in New Orleans? How is Ben Roethlisberger's arm? Cam Newton's shoulder?
For my purposes I'm going to assume Watson will not be available because of his off-the-field legal issues. If his situation suddenly clears up both on and off the field (he's also requested a trade) his draft ADP would skyrocket and he and Brandin Cooks wouldn't qualify for the "bargain tier."
I think the Winston-to-Michael Thomas stack has a chance to significantly outplay their ADP if everything goes just right. I'm not saying it will absolutely happen, but given you can draft Thomas at the end of the fourth round and Winston in the 14th round it could be a sneaky stack. Winston would be your backup QB heading into the season and Thomas an everyday WR starter. Then, if Thomas returns to 2019 form (23.4 FPts/G) and Winston has matured under Sean Payton's tutelage, you have an inexpensive stack who could go on to produce big numbers. Come fantasy playoff time, Thomas should be fully healthy and this duo could be ready to lead you to the promised land for little or no cost.