All Out Blitz: Volume 34




9/29/11



Aggressiveness is a characteristic that tends to reward fantasy owners more times than not. In the NFL, an offensive line will sometimes hold up long enough to give the quarterback enough time to beat man coverage down the field and make the defense look foolish against a fierce pass rush. More often than not, though, when a defense brings the heat and forces the action, crisis management becomes the name of the game for the opposing team.

In that same vein, I hope to apply that same kind of pressure to the owners in all of my leagues by beating my opponents to the punch in regards to personnel moves. Sometimes, reaching a conclusion about a player too quickly results in making a bad situation worse. However, coming to a correct conclusion two weeks or two minutes quicker than your opponents is considered foresight and can often lead to fantasy championships.

Fantasy owners can be a uneasy lot, knowing that one two-or-three-game losing streak can wreak irreparable damage to his/her team's chances to make a visit to the fantasy postseason. But just as it is in the NFL and in life, it's hard to land the big prize by playing scared. Thus, I will strive each week to help each of you become a smart blitzer, so to speak.
---
Patience is a funny thing. When an owner has just the right amount during the course of the fantasy season, slow starts can be overcome and value can be found. But too little or too much patience can lead to disastrous results. So how does one achieve the right amount of "fantasy patience"?
Every so often, we discuss small sample size in this column. In general, fantasy football is a fascinating study of trying to gather enough of the right information from the relatively small sample of results each player gives us during a season. Obviously, it's not their fault; it's the nature of the beast in the NFL. Fantasy owners would be foolish to draw solid conclusions after three or four games into the NBA, MLB or NHL season. However, in this fantasy sport, we are almost required to have a relatively good idea about our teams and the prospects of our players at this point as the fantasy regular season nears the quarter pole.
For the first time in years, I have yet to make a trade for any of my five fantasy teams (four money leagues, one experts' league) after three weeks. Perhaps I am exercising patience, but the fact of the matter is that I feel that I have not yet grasped what direction this season is going in quite yet. I actually like the composition of two of my money league teams right now (both 2-1) while I feel my best money league team is 1-2 and my most flawed team is 3-0. (The experts' league team is 3-0 for those of you that care.)
Here's the problem: early in the season, many owners do not tend to view their own players as tradable commodities. Instead, they tend to categorize the majority of their assets as players that "I knew would explode" or "extremely disappointing" – again, mostly the byproduct of small sample size and, in other cases, bad advice from the "experts". But, unlike the stock market, many owners find it hard to part with an underperforming investment even though there appears to be little hope for a rebound. In short, owners often hold declining stocks in a short-term market (the fantasy regular season) while stock traders often feel the urge to sell a declining stock in a long-term market (the economy) – just the opposite of what seems to make the most sense.
Therefore – outside of deals involving the likes of Adrian Peterson, LeSean McCoy, Darren McFadden and Ray Rice being swapped for each other – owners are likely going to be bombarded with a number of deals that appear one-sided simply because your value for another owner's player is going to naturally be lower simply because you don't have anything invested in that player yet whereas the other owner does. Thus, early-season trading can often come down to prospecting and giving the owner what he/she wants – a one-sided deal. Allow me to explain. In all the years I've played fantasy football, I can only remember executing this strategy once and it came as the result of a money league that simply did not want to trade with each other and a flawed veto system. (Thankfully, I no longer use that website.) For what it is worth, after about four weeks of games, my experience suggests that owners begin moving away from their preseason fantasy predictions from a player and start evaluating their players a bit more realistically.
So there's some insight on "trading patience", but what about the patience it takes with players already on your team? First of all, be realistic. Don't let the fact that a player captured your attention during the preseason cloud your personnel moves in the regular season. My best example with most of my teams is Lance Kendricks and Jared Cook. Ultimately, I'd be surprised if both players don't have successful seasons from here on out, but in leagues where a player like Ben Watson is available, why wait on Kendricks? I tend to believe Kendricks has suffered from the absence of Danny Amendola, but a number of Sam Bradford's throws in Kendricks' direction have not been of the catchable variety (although I do recall one unforgivable drop by Kendricks in Week 1 that would have likely gone for a touchdown). Combine that with the absence of Steven Jackson and some poor pass blocking so far and you have a combination of factors that are working against the rookie TE.
In the case of Cook, Matt Hasselbeck began his infatuation with Kenny Britt (and, to a lesser extent, Nate Washington) early in Week 1, rendering Cook somewhat useless as a pass-catching TE in a two-TE offense that was getting by just fine with two receivers. With Britt no longer available to him, Hasselbeck may be inclined to move on to the next athletic marvel available to him. If Cook is still a fantasy afterthought in Tennessee in two more weeks, then it is time to worry.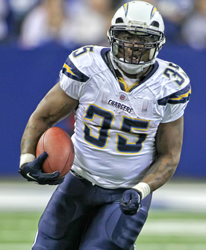 Mike Tolbert will test the patience of his fantasy owners.
Another relevant example that comes immediately to mind is Mike Tolbert. I'll admit, I have a hard time understanding how one RB can go from an iron-clad committee role with another player with goal-line and third-down privileges to losing those privileges two weeks later, especially after a three-TD game in that first game. I'm not suggesting Ryan Mathews is now "the man" nor am I suggesting that Tolbert is his equal-split partner in crime anymore, but I don't think we've the last of Tolbert being an effective fantasy player this season nor do I think we are seeing the beginning of a LaDainian Tomlinson rise from Mathews in San Diego. Unlike a young LT, Mathews doesn't have the greatest track record for durability, so I'd sit tight if I owned Tolbert and not Mathews in most cases, although I will detail a case below in which I am trying to trade Tolbert. In no way am I denying Mathews' talent, as some may remember I had him pegged as a future NFL star during the early part of his final college season a couple of years ago.
As a Tolbert owner in three leagues – none of which do I also own Mathews – I believe he can help me fill a WR or TE void in at least one of them since there are two teams in that league who desperately need RB help. In the other two leagues I own Tolbert, I think I can simply wait and see how things shake out. With all that said, Mathews is clearly the player San Diego wants to take over in this backfield, so barring an injury, I do expect big things from him when healthy. But again, keep in mind, Mathews has yet to play a full schedule over his last four seasons of college and pro football.
Ultimately, fantasy patience is often a byproduct of the confidence an owner has in his/her drafting ability and eye for talent when it lands on the waiver wire or trading block. As aggravating as it can be for an owner to see nothing of interest on the waiver wire or trading block for a week or two early in the season, I assure you the season will provide you multiple windows of opportunity to improve your team.
One last piece of advice that I have found to be true in fantasy football in my experience: the early part of the season is about acquiring talent, usually off the waiver wire. The middle part of the season is about using that newfound depth in trades to solidify your starting lineup for the stretch run while also scooping up reserves that are suddenly thrust into the lineup, usually as a result of a season-ending injury to the starter. The final part of the season is about winning (isn't it always?) and taking this well-constructed powerhouse into the playoffs with as few question marks on your team as possible.
One way to identify "fantasy talent" each season is to find out which players are receiving the most opportunities. In just about any competitive league, many of the players in your league that are receiving the most opportunities are the ones that are already on some owner's roster – that much is obvious. What I want to do in the coming weeks is help you uncover the 3-5 players that are getting the opportunities but not producing…yet. For now, however, most everyone is relatively healthy, so I will focus on analyzing a few of the more interesting backfields in the NFL as things stand right now. Undoubtedly, some of these situations will take on a Mathews-Tolbert look over the coming weeks with one player emerging as the lead back while other will likely remain pretty even all season long until injuries strike.
The cutoff at each position is five touches or targets/game. To help provide some perspective this week, the average fantasy points/touch for the 61 RBs that qualify for my list above is 0.81. At WR, the overall average for fantasy points/target was 1.7 and at TE, it was 1.5. Feel free to use that number as a barometer to help you evaluate who is making the grade and who is not.

The first backfield I'll look at this week is in Denver, where Willis McGahee has assumed a huge workload over the last two weeks while Knowshon Moreno has been sidelined. And judging by the workload last week when Moreno was active last week, McGahee must be the lead back right now, right? Not so fast. Frankly, I'd be surprised if McGahee is considered the "lead back" in two weeks simply because he is what we thought he was this summer – a plodding RB who isn't all that productive with his touches but locked into the goal-line back role. HC John Fox's backfields have long split the load pretty evenly and Moreno simply offers more explosion than McGahee does. As for Week 3, according to The Denver Post, Moreno could have played in an "emergency". If you find yourself in a particularly trade-happy league, I'd say this is an example of a situation where McGahee's value isn't going to get much higher and Moreno's isn't going to be much lower. Both RBs are players that are best used as flex options now and into the future, but if I'm a bit concerned about RB depth in a league and have some depth at WR or TE, I'd see what Moreno is worth to that owner.
Moving on to Green Bay, I hate to believe that HC Mike McCarthy could ever employ a committee attack, but I'm starting to believe that is what is happening in the Packers' backfield. Ryan Grant performed (and looked) much better in Week 3 than he did in either of the first two weeks, which came just 1 ½ weeks after Green Bay made it clear it needed to get James Starks more touches. So it appears that we have yet another "hot hand" convert to add to the list of coaches that are willing to let in-game play determine workload. Unlike Denver, I don't see a clear winner emerging anytime soon, although youth and contract status are in Starks' favor. I imagine the Starks vs. Grant debate will continue on for as long as both players are healthy.
As a side note, I not only despise this notion of the "hot hand" as a fantasy owner, but I also cannot understand how it helps the actual team in the long term. Are certain players better at certain aspects of football than others? Sure they are. (A committee attack in New Orleans makes sense because Darren Sproles is electric in the open field but is a poor bet to stay healthy with 200+ touches, for example. Using Mark Ingram as an inside runner and "closer" makes sense since he is a quality inside power runner who doesn't fumble.) But can you honestly tell me the difference between Grant and Starks is so slim in practice that you just decide to ride the "hot hand"?
Suggesting that one player has the "hot hand" over another player on a given day is a cop-out for a coach that either can't (or won't) decide which RB is the better one to play. In the rare cases that a RB can overcome poor offensive line play, it's pretty clear that RB is special. Otherwise, scheme, the quality of the offensive line and its ability to generate holes (and the RBs ability to find them) goes a long way in determining how productive a RB will be on a given running play. In other words, vision to see a hole and the ability to get through it quickly is not a matter of accuracy in the way shooting a basketball or pitching a baseball is. Accuracy is something that can vary on a daily basis, but in the (nearly) 30 years I have watched football, I have yet to see any evidence that vision and explosion are similar inconsistent qualities.
In my biggest money league this year, I decided to roll the dice on two RB situations in which there was a fair amount of risk going in – Houston and Washington – mostly due to the coaching tree that spawned the pupil and the well-established tradition the teacher has created. What do I mean? Be it right or wrong, many owners have assumed for some time since Houston HC Gary Kubiak learned at the foot of current Washington HC Mike Shanahan in Denver – both as a player and as an OC – the two must both be committee RB coaches. I never quite bought that logic since neither coach has achieved a great deal of success (especially in the playoffs) since "switching" over to their RBBC ways. The fact of the matter is that – at least in my mind – when either coach has employed a clear No. 1 running back, Kubiak and Shanahan have each leaned on that player.
For the Texans, Ben Tate had a preseason to remember and was easily the flavor of the first week or two, performing well enough that some people suggested he could forge a committee with Arian Foster. Despite a workmanlike performance against the Saints in Week 3, that talk has died down considerably even though Foster has yet to prove beyond a shadow of a doubt that he is ready to roll. I happen to believe he is – and I remember suggesting last week that his early departure in Week 2 was simply a matter of Houston being cautious with his "tight" hamstring and not something far worse – so if he is ready to go now for the rest of the season, I expect now what I expected at the end of the preseason: Foster to carry the load and Tate to serve as the 2011 version of Derrick Ward with more upside.
In Washington, rookie Roy Helu garnered a lot of buzz with his notable Week 2 performance but followed it up with a seven-touch ho-hum game in Week 3. From what I can tell in the MNF game vs. the Cowboys, Washington is looking to give Helu one series for every three Hightower gets – Ryan Torain appears to be a complete afterthought at this point. In three games, Redskins RBs have 91 total touches (actually, you could add a couple more to that total since Chris Cooley served as a short-yardage runner early in the MNF game). As long as the Redskins' defense continues to play as well as it has so far, this 30-touch/game average will continue, which is too many for one player to receive anyway.
The Redskins' backfield situation is one that could be dicey all season long, but for those of you who paid attention to Hightower when he wasn't getting the ball on Monday, you could see why he will continue to see a lot of time on the field going forward. Hightower doesn't just pick up the blitz on passing downs because it is part of his job description, his play suggests he loves to do it with some of the devastating blocks he lays on linebackers. Additionally, he is where he is supposed to be. In absence of out-of-this-world talent, coaches love dependability – a trait that will almost always ensure a player will keep his starting job over a more athletic and explosive youngster.
With that said, Hightower has been very complimentary about Helu in regards to his ability to pick the game up and retain information. Despite my aforementioned thoughts on Shanahan actually wanting to feature one runner, I could easily see a scenario in which the rookie becomes the lead back IF he can stay healthy long enough – which I don't think he can. But if Helu CAN stay healthy, it appears the mental part of the game is not too much for him, which creates just enough doubt in my mind that owners should look to deal Hightower for another RB with more job security. When it is all said and done, I still expect Hightower to be what owners drafted him to be – a solid RB3 – who possesses top 15 RB potential. Through three games in PPR leagues, he is #12; so far, so good.
A quick note before I start discussing a few noteworthy receivers below: I thought it would be interesting to take a look at WRs this week on a point-per-target basis. We'll revisit this a time or two during the season and see if how much reliance we can place on it. For the most part, I will use the catch rate statistic I did for the majority of last season.

Usually, it's not a good idea to start drawing solid conclusions about receivers after three games – especially given the volatility of the position. But I will say this: Wes Welker owners may want to see how much he can bring in a trade after he exploded for 50+ fantasy points in PPR leagues. How can I say that about any receiver capable of posting those kinds of numbers? Allow me to explain…first of all, while I am all about a player having a career season at any point during their career, I feel safe in saying that an NFL receiver will not produce at a 34.2 fantasy points/game clip in PPR leagues for an entire season unless the league morphs into arena football. There were at least of couple of critical factors at work in Week 3 that won't always be working in his favor: 1) the absence of Aaron Hernandez and 2) a poor Bills' secondary.
As pass-happy as the Patriots have become in recent years, I get the feeling HC Bill Belichick isn't going to wait too long to make some changes to the offensive philosophy if his defense continues to allow 26.3 points/game, which means I can definitely see New England using the run a bit more in the coming weeks. Through three weeks, Patriots RBs have touched the ball a total of 74 times, which is quite low for a team that has played with the lead as much as they have this season. Getting back to Welker and his fantasy stock, it doesn't hurt to see how highly another owner values him. He's scoring nearly 10 points/game more than second-place Calvin Johnson and is almost doubling Larry Fitzgerald's 17.6 points/game. I'm not in any way suggesting he is a must-sell (because his production is sustainable, just not at this level), but now is one of those "windows of opportunity" we discussed earlier that an owner has to improve their team at multiple spots. If I'm lacking a bit at RB and an owner is willing to fill that void and also replace Welker with a Greg Jennings/Mike Wallace type of player, I'm taking that offer. On the other hand, if you drafted Welker as a WR2, I would not blame any owner for holding on to him because he will certainly produce at that level going forward.
Generally speaking, I pride myself as being one of the more unbiased fantasy owners and writers. With that said, I have never cared much for Nate Washington as a starter in fantasy. His production through three games this year suggests I need to rethink that sentiment, but I'd be shocked if he has the goods to carry the WR1 torch in Tennessee following the season-ending injury to Kenny Britt. Given his new status as the team's top receiver and a healthy Matt Hasselbeck, I do think he still has top-end WR3 upside in 12-team leagues – a distinction I have long thought he was capable of if he had an accurate quarterback to work with – but if anyone's fantasy numbers stand to benefit from the loss of Britt, I am compelled to believe that player will be Jared Cook. Fellow TEs Daniel Graham and Craig Stevens are strong blockers with limited upside as pass catchers while WRs Damian Williams and Lavelle Hawkins don't strike me as players who are ready to be full-time starters at receiver quite yet. HC Mike Munchak talked earlier this week about getting Cook some snaps in the slot, just one week after OC Chris Palmer reiterated he still had big plans for the TE. While it is certainly not the perfect storm of events for the Titans, it sure seems to me that Cook will get his shot to prove his worth now with Britt no longer available.
Perhaps as a way to give equal time to players who I think are good "sell" candidates right now, I'll wrap up the receiver portion of this piece by two players I am looking to "buy" – Marques Colston and Danny Amendola. Very few owners have the patience necessary to hold an unwavering positive opinion on injured players throughout the entire time they are required to sit out, especially when that injury keeps them out for up to five weeks. Acquiring injured players is not for everyone – and in leagues where there is limited bench space, it is often not advisable – but in leagues with deeper benches, it can be a savvy move. I should preface my recommendations for both players, however, since I still view both players as WR3s in my 12-team leagues – and each comes with some significant risk. For Colston, it was hard to watch him run routes in the season opener vs. Green Bay, but it was clear that Drew Brees still has a significant amount of trust in his ability to play the ball, even if the receiver was showing next to no explosion in his routes (presumably due to a lack of trust or strength in his troublesome knee).
For Amendola, the risk is that he could be tentative upon his return given the nature of his injury and his role as an inside receiver in a passing game that has looked mostly lost without him. It's clear in the two weeks that Amendola and Steven Jackson has missed that Sam Bradford is just a shell of the quarterback that he is with them in the lineup. The red zone offense has been awful (where Jackson's presence is critical even if he doesn't score a lot of touchdowns anymore) and the Rams' ability to convert on third down (25.6%) is tied for second-worst in the league with Miami, just in front of league-worst Cincinnati (23.7%). Amendola cannot turn that number around all by himself, but his 35 catches for first downs in 2010 was the best mark for St. Louis last season. More first downs typically means more plays and more opportunities for everyone on offense, so his return figures to be huge for the entire offense.

A funny thing happened on the way to Atlanta sporting a high-octane offense. Roddy White morphed into a fast Terrell Owens (league-high four drops), Julio Jones hasn't exploded, Harry Douglas got hurt (again) and the offensive line has been deplorable. (To be fair to Jones, if the line cannot pass block, it will be hard for any deep threat to post huge numbers.) The one constant: Tony Gonzalez, who has once again found the fountain of youth. Regardless of the o-line problems, White and Jones command a ton of respect, which leaves Gonzalez on a linebacker more often than not. It qualifies as a minor surprise that Gonzalez is third on this list of targets/game so far, but in watching each of Atlanta's games, it sure seems as if Matt Ryan only has eyes for Gonzalez in the red zone and, to this point, he has rewarded that trust.
Of course, scoring touchdowns didn't figure to be a problem for this offense or for Gonzalez in general, but he did slow down considerably last season as the year progressed. I expect a similar regression to occur at some point this season, not only due to his age (35), but because I cannot believe the Falcons' offensive line will continue to struggle so much in pass protection. The team was without C Todd McClure for the first two games, a fact which could not have helped the team that was already using Garrett Reynolds to replace 2010 RG Harvey Dahl, who left for the Rams in the offseason as a free agent. As the team gets the interior of its line straightened out and remembers to give LT Sam Baker some help when he is facing elite pass rushers like Julius Peppers and Trent Cole, Ryan will start leaning a bit more on his outside options. With the exception of Gonzalez, Ryan, White and Jones are all good "buy lows".
Believe me when I say I am just as curious about James Casey's prospects going forward as the rest of you. For those of you who may not know much about him, Casey was a multi-sport athlete at Rice who was basically an offensive Swiss-army knife when he was on the football field. For the most part, he has been buried behind Owen Daniels on the depth chart since his arrival in 2009. In the offseason, when he caught wind that Houston may allow FB Vonta Leach to walk as a free agent in the offseason, he saw his opportunity to crack the starting lineup. What makes him so interesting is in today's game, he qualifies as a TE in just about every fantasy league despite the fact he is technically a fullback now. In a league where there is not only a lack of fullbacks, but a lack of fullbacks that can actually be considered assets in the passing game, Casey is one of more odd cases I can remember in my years of playing fantasy football. Kubiak expressed a fair amount of surprise at the production he received from Casey in Week 3, which should probably serve as an indication we should not expect much consistency and/or production from him going forward. And let's be honest, how much of that production would have went to a healthy Foster? Just something to consider…
However, if I can find a spot on a deep-league roster for him, I'm more than willing to give him a couple of weeks to prove me wrong. My best guess is that he will have a shot at posting solid numbers in games in which Houston is forced to get involved in a shootout, something that may not happen a lot with the Texans' improved defense and the lack of quality offenses on their schedule.

---
Last week, I promised a new, aggressive addition to the Blitz. Keep in mind that all of my leagues are full-point PPR leagues that feature 12 teams and 18-man rosters, so it isn't always the easiest thing to find talent on the waiver wire on a weekly basis, especially at the RB position. However, just because something can be difficult doesn't mean it can't be done. Therefore, I'd like to introduce "Next Week's Waiver Wire Stars" for your reading enjoyment and the betterment of your fantasy teams. I'll select one player at QB, RB, WR and TE that is available in at least three of my five leagues and make a case as to why they could be important to you the following week. For those of you who have been loyal readers for some time, you already know I am not concerned with making safe picks; selective and smart aggressiveness is often the name of the game in fantasy.
I cannot emphasize enough these players are not necessarily recommended additions to your fantasy team – I will make sure to make that obvious if that is the case – but have a chance, however small, to make an impact as a potentially valuable reserve down the line.
QB: Matt Cassel. As will be the case with RBs, there are few QBs available on the waiver wire at any point of the season that can be expected to help a fantasy team, but I'll roll the dice on a fantasy darling from last season this week. With injuries to Eric Berry (Week 1) and Jamaal Charles (Week 2), I tend to believe the Chiefs fell apart in each of those games when such important players were lost so early in both games. Last week, I believe Kansas City showed what it will be for the rest of the season – a gritty team that hangs around until the end, but falls just short more often than not. The matchup this week is far from ideal, but given the Vikings' propensity of jumping out to early leads and the Chiefs' inability to run the ball this season, Cassel may be required to throw a lot in the second half. In leagues in which passing TDs count as six fantasy points – like most of mine are – Josh Freeman's 15.3 fantasy points is the lowest mark of the three QBs Minnesota has faced so far.
RB: Alfonso Smith. In no way do I expect Smith to become the next Tim Hightower and turn the Cardinals' backfield into a committee situation. But given Beanie Wells' track record for durability, I'd be a bit surprised if Smith doesn't get another start or two at some point this season. Smith posted a respectable rushing total against a solid Seahawks' run defense in Week 3 and even contributed three receptions, so if he is given a chance to expand on last week's performance, he could eventually wind up as the third-down back in Arizona since pass catching is not exactly a strong point of Wells' game.
WR: Michael Jenkins and Dane Sanzenbacher. This will be a rare two-fer special, so enjoy it while it lasts. Personally, I'm not sure I can wrap my mind around adding Jenkins in any of my leagues, but the truth of the matter is until the Vikings find a way to maximize Percy Harvin's talents, Jenkins is the best starting receiver Donovan McNabb has to throw to right now. Personally, I'd like to see Devin Aromashodu take over for Bernard Berrian. I'd also like to see more three-wide sets early in the game – featuring Harvin in the slot– and more two-TE sets late in the game when the Vikings are trying to hold on to the lead.
As for Sanzenbacher, he reminds me of Mike Furrey, due in part to the fact he is one of those try-hard receivers in a Mike Martz offense. Johnny Knox, Devin Hester and Sanzenbacher are all within about a target/game of each other and I don't think it is a fluke that the undrafted rookie from Ohio State has caught two touchdown passes while the other two have yet to score. He's essentially filling in for Earl Bennett, but grit and guts go a long way in the NFL and Sanzenbacher has plenty of both. Bennett should get his slot WR role back when he returns, but there is no guarantee that he will.
TE: Ben Watson. Perhaps it was a down Week 2 that scared owners off, but Watson is available in all four of my money leagues. As the seventh-most targeted TE in the league (tied with Jermaine Gresham and Kellen Winslow), it is hard to understand why Watson elicited such a knee-jerk reaction from his previous owners. His catch rate of 47.6% (10-of-21) is much lower than it was in 2010 (66%), so I'd expect that his 10-125-1 line is at the low end of what owners can expect from him over a three-game stretch. Outside of rookie Greg Little, Mohamed Massaquoi and (occasionally) Evan Moore, there just aren't a lot of mouths on the Cleveland offense that are worth feeding regularly. He leads the team in targets after three weeks and I don't anticipate that changing until Little is the clear WR1 in this offense.

Suggestions, comments, musings about the article or fantasy football in general? E-mail me.

---
Doug Orth has written for FF Today since 2006, appeared in USA Today's Fantasy Football Preview magazine in each of the last two seasons and served as a weekly fantasy football analyst for 106.7 The Fan in Washington, D.C. this past season. He is also a member of the Fantasy Sports Writers Association. You can also follow him on Twitter.