Five weeks into a season - even in an unprecedented one like 2020 - seems like a good time to take inventory on where things stand on the running back front. Charting and analyzing touches (carries plus receptions) is typically a good way of taking a macro look at the position and get a good sense of where things stand now as well as where they appear to be headed. 4

I decided to take a slightly different approach than I've used in previous years, using colors to highlight which backs are getting fed and which ones are a bit more inconsistent. Below is a table that does just that:

Key:
Green - at least 20 touches
Grey - 15-19 touches
Orange - 12-14 touches
Yellow - 8-12 touches
Red - 6-8 touches
Black - bye week or did not contribute

* - Currently injured

Note: In the interest of time and space, I eliminated backs averaging less than six touches - with three notable exceptions. Others were removed due to season-ending injury or recent inactivity.



We are going to use some common sense in how we tier these running backs. Every back that meets the qualifications will be in that tier, but not all of them can be counted on to serve in that role for the remainder of the season. An obvious example is Mike Davis, who will likely handle about 3-5 touches per week once Christian McCaffrey returns.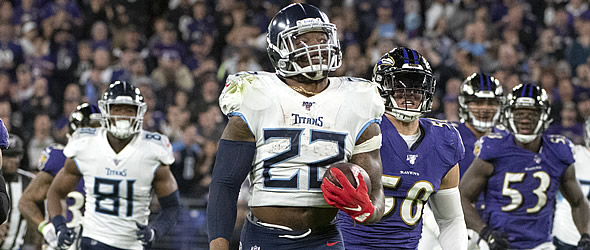 Elite weekly workloads (all green)
That's it, that's the list. There are at least a couple more players that could have been listed here had they not been injured, but there's also something to be said about being durable enough to handle this kind of workload every week. There's not a lot of reason to spend any more time on either player, as this kind of workload lends itself to no-brainer starts each week.
Injury-affected elite workloads (all green before injury)
Austin Ekeler
Christian McCaffrey
Ekeler's heavy workload before his hamstring injury was something of a surprise. My initial impression of him was to sell after Week 3, but things tend the change pretty quickly in the NFL. HC Anthony Lynn mentioned Patrick Mahomes as a model "plan" that he wanted to follow in terms of Justin Herbert's development (sit for the first year and let him go in Year 2), but the rookie's play since getting a surprise start in Week 2 forced his hand. Based on his comments following Herbert's promotion, it sounds as if Lynn had no intention of moving away from Tyrod Taylor, which was why I wanted fantasy owners to sell after Ekeler after he got a chance to boost his fantasy-point total a bit, hoping potentially interested parties would ignore his lack of targets with Taylor unlikely to check down to him. So while it stinks for his fantasy owners that they will have to wait another month for him to get back from his hamstring injury, they should feel pretty good about getting a running back that could end up as a plus-version of the back they anticipated getting this season (with Taylor as the quarterback).
There's not much I need to say about McCaffrey. Perhaps Mike Davis' strong showing in his absence allows the coaching staff to feel comfortable taking the most recent entry into the 1,000-1,000 club off the field for a series every so often, but even that is debatable. McCaffrey should be a near-lock to join the above group the moment he is cleared from his high-ankle sprain.
Near-elite weekly workloads (some combination of green and grey only)
Todd Gurley
Joe Mixon
James Robinson
Aaron Jones
Josh Jacobs
Alvin Kamara
The first three backs probably don't belong with the last three, but that's another talk for another day. Say what you will about the state of the Falcons or his arthritic knee, but Gurley is getting about as consistent workload as any of his fantasy owners could have hoped for. Last week, he ran a season-high 20 routes - over half of the team's pass plays - so perhaps there is some hope that his passing-game usage will pick up as the season progresses after all. If that ends up happening, then his fantasy owners might only need to worry about his knee. He still feels like a sell though.
Mixon's fantasy owners are probably loving life at the moment with consecutive games of six catches and at least 30 touches. It feels too early to pronounce Mixon as the every-down, every-situation back in Cincinnati, especially when we consider Mixon touched the ball on every one of the Bengals' final 14 plays to end the game in a 27-3 loss. (That may have actually been the best time to play Bernard and rest Mixon, but I digress.) Either way, Mixon has enjoyed 52-18, 62-13 and 51-16 advantages in snaps over the last three games, leading to touch advantages of 19-3, 31-2 and 30-1. Even if the games with at least six catches and 30 touches dry up, Mixon's fantasy owners now have reason to believe their first-round pick will be given a reasonable chance to live up to his draft cost.
Robinson's fantasy owners are about to receive their first real test in terms of a challenger to his near-elite usage. Devine Ozigbo was supposedly looking good in camp - and set to work in a committee with Ryquell Armstead - before falling victim to a hamstring injury, and he's reportedly not too far away from returning. While Ozigbo wouldn't seem to pose much of a threat to a back that has been so good through five games, it's going to be difficult for Robinson to consistently deliver for his fantasy owners moving forward if his volume takes much of a hit. Even the loss of five touches per game to Ozigbo would probably push Robinson into mid-RB2 range.
It shouldn't come as much surprise that Jones, Jacobs and Kamara appear on this list. Jones would easily in the first group if his coaching staff didn't put such a premium on keeping him fresh and rotating backs. Jacobs' low-touch games were in Week 3 and Week 4 (both losses) and he finished just shy of 20 both times. If that's going to be his floor, he might as well be in the first group. It's almost kind of silly we saw Kamara's fantasy floor (so far) on Monday night: 19.9 PPR points. His status as the team's de facto RB1 AND WR1 figures to come to an end after Michael Thomas returns following the Week 6 bye, but it seems unlikely Kamara's workload will change much.
Above-average, low-volatility weekly workloads (no more than one orange or yellow mixed in with a combination of green and grey)
Kenyan Drake
Nick Chubb
Melvin Gordon
Clyde Edwards-Helaire
Dalvin Cook
James Conner
Miles Sanders
Ronald Jones
For all the handwringing that's going on with Drake, his "disappointing" fantasy output to this point is mostly a function of him being targeted on 6.3 percent of his 95 routes while Chase Edmonds has been targeted on 30.3 percent of his 76 routes. Contrast that to his numbers in eight games following his trade from Miami last year when he was targeted on 18.6 percent of his 183 routes. It's hard to understand how Drake could have dropped off so much as a receiver in the eyes of the Arizona coaching staff when that has been one of the strongest parts of his game dating back to his days at Alabama. At any rate, perception seems to be affecting reality in Arizona right now. Yes, Edmonds appears to be getting frighteningly close to making this a committee backfield, but the reality is Edmonds has only handled more than a third of the touches between the two backs once in five games.
Chubb is often referred to as the best pure runner in the league, so it's hardly surprising HC Kevin Stefanski opted to give him 43 combined touches in Weeks 2-3 (41 of which were rushing attempts). It's a virtual certainty he'll return to that kind of usage when he is fully recovered from his knee injury, although Week 1 was probably an indication that his workload will be more volatile (based on game script) than Hunt's. That's OK, however, as he will face a slew of questionable run defenses (and Cleveland should be operating in positive game often) if he returns right after the Week 9 bye.
Gordon's appearance on this list figures to be short-lived after he was reportedly arrested for DUI earlier in the week. The truth is his place was a bit of a lie in the first place since Philip Lindsay got hurt in Week 1. Hopefully, Gordon's fantasy owners sold high after his 25-touch, two-score game in Week 4. Barring another injury to Lindsay, Gordon's stock may not be anywhere close to that high again in 2020.
Except for last week's 13-touch disappointment, Edwards-Helaire has generally enjoyed two of the more necessary ingredients to fantasy success for running backs: volume and heavy usage in the passing game. Touchdowns have been the only thing missing, and it's hard to understand how Kansas City has been so bad running the ball inside the 10 and near the goal line. In the former situation, CEH has lost one yard on 10 carries. In the latter, he's lost three yards on seven totes. Those kinds of numbers - much like Chubb's -14 yards on 15 carries inside the 5 last year - rarely are the fault of the running back. Barring the addition of someone like Le'Veon Bell - who seems to be getting linked to Kansas City following his release from the Jets - Edwards-Helaire seems like a good bet to remain in this group.
So much for Conner being on the verge of losing his job, eh? At least half of the industry needs a mea culpa on that "call." Conner will never be the most athletically pleasing runner because that's not his game. He's a bit of a grinder with good hands in a great offense that will consistently put him in scoring position and backed by a good - if not great - defense that will almost always have the offense operating in positive game script. Those are the kind of backs we want in fantasy, even if he is an injury risk. Continue to find room for Benny Snell and even Anthony McFarland on your roster if you have Conner on your roster and a player or two just taking up space on your bench.
Cook would likely be considered the equal of McCaffrey, Saquon Barkley and Elliott if he could just stay healthy. His relatively light workload in Weeks 1-2 was likely part of a plan by the coaching staff to ramp him up slowly and do what they could to protect him as much as possible. Based on how the Vikings have handled him before, Minnesota seems resigned to the fact Cook will miss time, so it intends to give him elite usage whenever he is healthy.
Philadelphia executed 52 offensive plays in Week 5. Sanders carried the ball or was targeted on 15 of them. Just in case any fantasy owners are somehow dismayed by the fact he has seen fewer touches in each game since his return from the hamstring injury that kept him out of the opener, he's going to be fine. The only things keeping him from a near-elite weekly workload are the health of his teammates (or lack thereof) and a lack of plays in an offense that has typically been among the top teams annually in that category during the Doug Pederson era.
Here's another guy the fantasy industry wants to bury despite coming off consecutive 100-yard games. I honestly don't get it. Is he special in any one particular area? No. Yards per carry rarely paints a completely accurate picture of a running back, but he's at 4.9 at the moment. He ranks third in the league with 233 yards AFTER contact and third in yards after contact per carry (3.1), tied with Kareem Hunt and Chris Carson in the latter category (min. 50 rushing attempts). Does he make catching the ball an adventure sometimes? Yes. Does Tampa Bay find maddening ways to avoid using him near the end zone? Yes. (Zero carries inside the 5, in case you were wondering.) But you know what? Most of you drafted him as an RB4 or lower following the arrival of Leonard Fournette. Given his impressive yards-after-contact numbers and recent performances, it is conceivable Jones has earned enough trust to handle a goal-line carry or two in the near future.
Above-average, moderate-volatility weekly workloads (no more than two oranges mixed in with a combination of green and grey)
Jonathan Taylor
David Montgomery
Chris Carson
There's been a fair amount of discussion as to why Taylor isn't already an elite fantasy back. While he has left some meat on the bone on occasion, he may actually bear the least amount of blame. The vaunted offensive line hasn't quite lived up to its reputation, as Pro Football Focus has LT Anthony Castonzo graded at 50.2 as a run blocker (216th out of 254 linemen). Not one of the Colts' top five linemen is ranked higher than 33rd (RG Mark Glowinski), while LG Quenton Nelson has earned a 75.0 grade after checking at 90.1 last year. It means the left side of the line has dropped off considerably from last season, at least through five games. There's also the small matter of Taylor facing at least eight men in the box 27.3 percent of the time (fifth among qualified rushers), which isn't as much of a problem when the line is blocking well and the passing game can make defenses pay on occasion. We've already established the first part isn't happening, at least not to the level we expected this summer. The second part isn't happening either. It's becoming more obvious by the week Parris Campbell was a more critical part of the passing attack than most anticipated, and his absence has further exposed Philip Rivers as a result.
There's no question Montgomery's improved offseason regimen and diet have enhanced his game, but the Bears did their best to make sure it will be for naught because they did virtually nothing to help him in the offseason. At least the loss of Tarik Cohen figures to give him a high weekly touch floor, but HC Matt Nagy's apparent unwillingness to use him as anything more than a dump-off option is still going to leave him highly dependent on matchups and touchdowns to be worth a start in most fantasy leagues. Whereas Taylor has upside should the Colts get improved quarterback or offensive line play (both of which are very possible) and some of their weapons back, Montgomery will likely continue to be about as inconsistent as he has been to this point.
Letting Russell cook has paid off in many ways for the Seahawks. After two years of watching Seattle pound Carson up the gut 200-plus times, his fantasy owners are probably wondering why the Seahawks didn't name their quarterback as the head chef a bit earlier. While Seattle's new pass-heavy approach has led to a bit more volatility for Carson when it comes to his rushing attempts, fantasy owners will gladly take that if it means he is seeing an average of nearly five targets (4.6) and four-plus receptions (4.2). I don't think his fantasy owners can take this kind of usage for granted with Carson for the remainder of the season given how HC Pete Carroll's history and his desire to establish the ground, but there's been no hint that the coach is about to make a change anytime soon.
Good, low-volatility weekly workloads (mostly orange and yellow with at least one grey or green)
Devin Singletary
Kareem Hunt
David Johnson
Joshua Kelley
Myles Gaskin
Antonio Gibson
Expect Singletary to spend his time in the next group for the remainder of the season. Even with Zack Moss sidelined the last two-plus games, it almost seems as if Buffalo's coaching staff can't stand the thought of using him near the goal line unless it is absolutely necessary. That's not going to get much better when the rookie returns, and it would seem the last two games is exactly the reason the Bills drafted Moss. This still feels like a backfield that Moss will lead at some point, at least from a fantasy perspective.
Interestingly, Hunt has 27 more carries and 26 fewer receptions through five games with the Browns this season than he did in eight games last season. He also has twice as many touchdowns. All this is to say that many folks got this one wrong in terms of how he would be used and underestimated just how much better Cleveland's line would be this season. The beauty of owning Hunt in fantasy this year is that he appears to be the preferred option in several fantasy-friendly areas, such as the two-minute drill and on passing downs. He may not be on equal footing with Nick Chubb at the goal line, but he doesn't seem to have the same problem as Singletary in that the coaching staff automatically wants to pull him off the field when the offense moves inside the 10.
Johnson is another example of the industry engaging in box-score scouting. After Week 1, there were victory laps and visions of a return to 2016 aplenty. He's what he was before getting hurt in Arizona last year. The workload has been consistently good with three straight games of at least 15 touches, but interim HC Romeo Crennel is already talking up a bigger role for Duke Johnson. David Johnson is going to need volume to pay off as an RB2 play most weeks, so he can't afford Duke to steal any of his touches. As much his former HC Bill O'Brien probably didn't want it to happen, it's not hard to imagine the Houston backfield approaching a 55:45 split (60:40 at worst) before long.

I'm not going to debate whether Justin Jackson looked good on Monday night or not. In my mind, that much was never a question with him. He's generally looked like he belonged whenever he's been on the field. The first thing most people will point to in regards to Jackson better than Kelley was his 4.7 YPC (versus Kelley's 2.6) and 71 rushing yards on 15 carries (29 and 11 for Kelley). Jackson was untouched on a 36-yard draw in the first quarter. On Jackson's other 22 carries this season, he has rushed for a total of 49 yards, so let's cool it on how much better he looks as a runner than Kelley. However, I don't think that's going to matter to HC Anthony Lynn and his staff; I get the feeling they want a thunder-and-lightning backfield with someone (preferably Austin Ekeler) handling the bulk of the perimeter running and receiving work and someone else handling the work in between the tackles (preferably Kelley). The rookie has handled at least 10 touches in every game so far and I suspect that he will continue to do so moving forward, regardless of when Ekeler returns.
Gaskin has been one of the most pleasant surprises for fantasy owners thus far, but I think there is some reason for concern moving forward. While it is understood Miami's offensive line isn't special by any means, Matt Breida seems to be getting progressively more involved in recent weeks. I don't think Gaskin is at risk to lose his job anytime soon and he's obviously been very dependable so far (23 catches on 25 targets and no fumbles on 87 touches), but there's no question Breida is the more explosive player. Breida will need to produce more plays like his 31-yard catch on a screen play in Week 5 to have any hope of forcing a committee, however. At the very least, it seems clear neither one of them has to worry about Jordan Howard anytime soon.
J.D. McKissic is still far too involved to expect Gibson to become a true featured back soon, and it's fair to wonder if the rookie could deliver RB2 production regularly in a more prominent role even if McKissic wasn't involved given his quarterback situation and supporting cast. With that said, the coaching staff loves Gibson and McKissic doesn't have a great track record for staying healthy. It is promising Gibson has ascended from yellow to orange to blue territory, however. Any player with Gibson's athleticism and a steady 16-18 touches is going to hit on occasion, and that's exactly what most fantasy owners want in their flex spot.
Dealer's choice (highly sporadic usage)
Adrian Peterson
Devonta Freeman
Darrell Henderson
Raheem Mostert
Jerick McKinnon
Peterson has been dependent on game script for years and that doesn't appear to have changed at his latest stop. Detroit led for most of Week 1 and won in Week 3. In those games, AD handled 40 touches. In the Lions' two "regular" losses, he had 18 touches combined. That's part of the joy of deciding when to deploy Peterson. D'Andre Swift SHOULD see more work as the season goes on regardless of game script, but he's playing for a coaching staff whose jobs are on the line; they appear unwilling to trust the rookie as a result. For now, Swift is operating as the back to use in fantasy when the Lions are expected to lose and/or facing negative game script. He has 18 touches in Peterson's two "slow" games and seven combined in the other two.
For better or worse, Freeman is clearly on track to join the group headlined by Todd Gurley and Joe Mixon above and handle a near-elite workload. I'm not going to pretend as if this is a situation that fantasy owners want to bother with outside of having a back with a pulse filling in during bye weeks in most leagues, however. The Giants have an abysmal offense and a very unfriendly schedule for running backs over the next month, so it is unlikely fantasy owners will be pointing to Freeman, Dion Lewis or Wayne Gallman as a reason they made the playoffs and/or won a league title.
In case people were wondering if HC Sean McVay was offering the usual coach-speak this summer when he said he wanted to emulate Kyle Shanahan's committee attack, he wasn't. If Henderson was anything more than an inconsistent home-run hitter as a rookie, he would have almost certainly found the field last year regardless of what the team was paying Todd Gurley. They certainly wouldn't have felt the need to draft Cam Akers. Speaking to that inconsistency, Henderson has averaged 5.7 yards per attempt or better twice and 2.6 yards per attempt or worse three times. There's been talk in the fantasy industry that Henderson should be the team's goal-line back. (Guess that means we should overlook Malcolm Brown converting both of his carries inside the 5 for touchdowns, eh?) Almost to a fault, coaches want size in the backs they use near the end zone. Henderson is the smallest of the Rams' top three backs. After LA's Week 5 win, McVay spoke of getting Akers more involved. Henderson's fantasy owners can continue to tout his big-play ability, but I don't think this is going to end well for those people who want him to emerge as an every-week starter.
I guess it was too much to ask for Shanahan to be predictable. While his efficiency as a rusher waned during his time as the featured back, McKinnon still brought the goods in the passing game. In a situation in which it would have made sense to ease him back into the lineup, Mostert saw 14 touches to McKinnon's three and ran 14 routes to McKinnon's 10 in Week 5. Making matters worse for McKinnon, San Francisco never led and spent the entire second half trailing by at least 16 points - a situation that was tailor-made for McKinnon to thrive in fantasy. Does that Mostert mean is one step closer to becoming the featured back? I have my doubts. About the only thing we know for sure with the two backs is that McKinnon will have to make the best of roughly six touches when Mostert is available.

---
Doug Orth has written for FF Today since 2006 and been featured in USA Today's Fantasy Football Preview magazine since 2010. He hosted USA Today's hour-long, pre-kickoff fantasy football internet chat every Sunday in 2012-13 and appears as a guest analyst on a number of national sports radio shows, including Sirius XM's "Fantasy Drive". Doug is also a member of the Fantasy Sports Writers Association.