As if injuries and bad luck have not made your fantasy season challenging enough, the bye weeks are now upon us. While several NFL teams will not get their week off until Weeks 13 and 14, the bulk of them will take a break before Thanksgiving (Week 12). For the majority of fantasy managers, the upcoming six weeks will determine the fate of most of our teams. Being able to grind out wins and get starter-level production from backups and waiver-wire additions is critical.

This week, I will devote my time to identifying the players that, in theory, should help us navigate the choppy waters between now and the end of Week 11. My primary focus is quality matchups. To that end, I singled out the eight most forgiving defenses against each of the fantasy positions and the players that stand to benefit the most as a result of facing those defenses over the next 1 1/2 months.

Below you will find a position-by-position breakdown of the players with the best matchups over that stretch. Not only will I provide the weeks they should deliver the goods for you, but I will also separate them into groups telling you how often they have a strong matchup. I will focus the majority of my analysis on the players who should be available in most leagues and allow my readers to make their own decisions on how much they want to upgrade the established every-week starters.

For the sake of time and space, "X2" refers to a player or group of players having two favorable matchups between now and Week 11. "X3" means he has three and "X4" means he has four.
Quarterbacks
Top 8 Easiest Matchups for QBs
Defense
PaYD
PaTD
INT
RuAtt
RuYd
RuTD
FPts
FPts/G
 1. Raiders vs. QB
1,349
11
2
21
88
3
122.8
24.6
 2. Ravens vs. QB
1,527
9
8
21
108
3
117.9
23.6
 3. Dolphins vs. QB
1,428
8
1
28
174
2
113.5
22.7
 4. Lions vs. QB
1,348
8
2
32
166
2
112.5
22.5
 5. Titans vs. QB
1,523
12
4
19
65
0
107.4
21.5
 6. Chiefs vs. QB
1,387
12
1
14
57
0
104.2
20.8
 7. Steelers vs. QB
1,494
10
8
25
119
0
101.7
20.3
 8. Cardinals vs. QB
1,297
8
2
24
77
2
99.6
19.9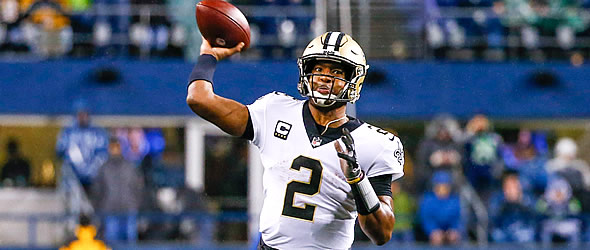 X4

Jameis Winston/Andy Dalton (Weeks 7-10)
While the Saints' upcoming schedule for quarterbacks was not the inspiration for this column, this is the kind of information I was hoping to uncover. The only caveat here is that Winston's status (back, ankle) remains up in the air. As far as we know, Winston will return to starting status once he is cleared medically. The first bit of good news is that most fantasy managers will not look at adding him until that happens. The second bit of good news is that the Saints' Week 6 opponent (Cincinnati) has been good enough against quarterbacks that Winston (or Dalton) should remain safely on waivers until next week.
Assuming Winston is the starter moving forward, he will face the Cardinals, Raiders, Ravens and Steelers from Weeks 7-10. While Baltimore's inclusion on this list could be a product of being ridiculously beat up in the secondary in Week 2 when it gave up six touchdown passes to Tua Tagovailoa, the other three teams do not figure to improve much over the course of the season.
X2

Geno Smith (Weeks 6 & 9)
One of the most pleasant surprises through five weeks is that Smith has emerged as a quality starting option. Not only are the Seahawks playing with more pace this season, but Seattle's defense is also putting the offense in a position where it needs to enter shootout mode. None of this should take away from the fact that Smith is playing at a level we have not seen him reach since he was a senior at West Virginia in 2012.
Smith is already close to a must-start for any manager who began the year with the likes of Matthew Stafford, Trey Lance or Dak Prescott as their starter. The reason he is on this list is that he gets to face the Cardinals twice over the next four weeks. Against the three competent quarterbacks it has opposed to this point, Arizona has surrendered at least 261 total yards and two touchdowns each time.
Trevor Lawrence (Weeks 9-10)
Week 5 was a reminder that we cannot quite trust Lawrence as a weekly starter yet, although it should be noted that Houston has been surprisingly stout against quarterbacks thus far. What we do know is that 2021 was more about Urban Meyer's incompetence and less about Lawrence's ability. We also know that the Jaguars will throw the ball under HC Doug Pederson (at least 39 attempts in three of Lawrence's four starts that were not affected by weather).
Lawrence is unlikely to be available in most competitive leagues right now, although he could be hitting the wire in some after coming up short against the Texans. The next three weeks are not particularly favorable for the last year's No. 1 overall pick, but there is shootout potential in Week 9 against the Raiders and Week 10 versus the Chiefs.
Likely every-week starters with two highly favorable matchups: Aaron Rodgers (Weeks 9 & 11), Tom Brady (Weeks 6 & 8)
Mid-tier options who have two highly favorable matchups: Russell Wilson (Weeks 10 & 11), Justin Fields (Weeks 9 & 10), Kirk Cousins (Weeks 6 & 8), Tua Tagovailoa (Weeks 7 & 8)
Less desirable options with two highly favorable matchups: Daniel Jones (Weeks 6 & 11), Davis Mills (Weeks 7 & 8), Jacoby Brissett (Weeks 7 & 8), Jimmy Garoppolo (Weeks 7 & 11), Matt Ryan (Weeks 7 & 10)
Running Backs
Top 8 Easiest Matchups for RBs
Defense
RuAtt
RuYd
RuTD
Rec
ReYd
ReTD
FPts
FPts/G
 1. Chargers vs. RB
100
619
5
31
191
3
160.0
32.0
 2. Texans vs. RB
133
668
5
28
212
1
152.0
30.4
 3. Chiefs vs. RB
89
361
3
49
350
2
150.1
30.0
 4. Browns vs. RB
105
624
6
22
152
2
147.6
29.5
 5. Lions vs. RB
117
639
8
21
135
0
146.4
29.3
 6. Seahawks vs. RB
132
654
4
28
225
1
145.9
29.2
 7. Panthers vs. RB
125
601
4
20
168
2
132.9
26.6
 8. Bears vs. RB
133
622
4
19
158
1
127.0
25.4
X4

Damien Williams/Tyler Allgeier (Weeks 8-11)
As you will discover throughout the rest of this article, the NFC South is where it's at, y'all. Much like the Saints' quarterback situation above, it is a bit of a tricky proposition to identify which running back to target. (We will address Cordarrelle Patterson in a bit because he will not be available until Week 9.) Allgeier has performed well enough since Williams (rib) went on IR after Week 1 to justify being the primary early-down option (he has been targeted twice in four games and run a route on only 26 percent of drop-backs). Considering Allgeier was drafted with an eye on making him the primary early-down back, it would seem logical to keep him there and allow him to grow in that role. Despite all of the time he has missed in recent years, Williams has proven to be a capable receiver out of the backfield, so it makes sense that he operates as Allgeier's complement until Patterson returns.
If this is the way it plays out in Atlanta, advantage Allgeier (at least until Patterson gets back). The Falcons have two matchups against the Panthers (Weeks 8 & 10) and one each versus the Chargers (Week 9) and Bears (Week 11). Carolina is surrendering nearly five yards per carry to running backs, while Los Angeles is giving up over six yards per carry. Over those four weeks, only the Chargers figure to bring enough offensive firepower to get Atlanta out of its comfort zone of running the ball.
X3

Raheem Mostert/Myles Gaskin/Chase Edmonds (Weeks 8-10)
Without question, Mostert is the man fantasy managers want from this backfield right now. Given his injury history, however, the odds are unfavorable that statement will be true by the time we get to the end of this month. Despite his rise atop the depth chart, Mostert is shockingly still the team's primary kick returner, which only further increases the odds of him missing time. One of the reasons why Edmonds was an attractive option in fantasy drafts this summer was due to the Mostert's durability issues, but he has seemingly fallen out of favor with new HC Mike McDaniel and his staff very quickly. As a result, it seems like a worthy investment to stash Gaskin at the very least, especially in light of Mostert (knee) popping up on Wednesday's practice report. (We will know within the next day or two if it is an issue or a convenient excuse to give him a veteran's day off.)
Regarding the favorable upcoming matchups, either Mostert or Gaskin (perhaps both?) are poised to make a push near the end of this month. Beginning in Week 8, the Dolphins square off against Detroit, Chicago and Cleveland, respectively. The Lions could shoot out with Miami, while the other two are getting pounded on the ground by running backs.
Cordarrelle Patterson (Weeks 9-11)
Since his teammates and Atlanta's favorable situation were discussed above, consider this a recommendation to trade for Patterson and stash him on your IR. What it will take to do so will vary from league to league, but it seems unlikely many managers will turn down a receiver or running back they can start during the bye-week crunch for someone who they can't play for at least another three weeks. During his three healthy games, Patterson was playing about 60 percent of the snaps and handling about half of the short down-and-distance work. As noted above, Carolina (Week 10) is surrendering nearly five yards per carry to running backs, while Los Angeles (Week 9) is giving up over six yards per carry. Patterson has already set career highs twice this season in rushing yards behind the Falcons' surprisingly strong run-blocking line, so we should expect more of the same against the likes of the Chargers, Panthers and Bears (Week 11).
Likely every-week starter with three highly favorable matchups: Saquon Barkley (Weeks 8, 10, 11),
X2
Likely every-week starters with two highly favorable matchups: Austin Ekeler (Weeks 7 & 11), Leonard Fournette (Weeks 7 & 10), Derrick Henry (Weeks 8-9), Joe Mixon (Weeks 8-9), James Conner (Weeks 6 & 9), Jeff Wilson (Weeks 7 & 10), Rhamondre Stevenson (Weeks 6-7), J.K. Dobbins (Weeks 7 & 11), Devin Singletary (Weeks 6 & 11)
Mid-tier options who have two highly favorable matchups: Ezekiel Elliott and Tony Pollard (Weeks 7-8), Brian Robinson Jr. (Weeks 6 & 11)
Less desirable options with two highly favorable matchups: Antonio Gibson and J.D. McKissic (Weeks 6 & 11), Gus Edwards and Justice Hill (Weeks 7 & 11), Eno Benjamin (Weeks 6 & 9), James Cook (Weeks 6 & 11)
Wide Receivers
Top 8 Easiest Matchups for WRs
Defense
RuAtt
RuYd
RuTD
Rec
ReYd
ReTD
FPts
FPts/G
 1. Steelers vs. WR
1
2
0
73
1,106
9
237.8
47.6
 2. Ravens vs. WR
1
0
0
79
1,083
6
223.3
44.7
 3. Titans vs. WR
4
21
0
68
1,036
8
221.7
44.3
 4. Rams vs. WR
2
2
0
79
949
6
210.1
42.0
 5. Commanders vs. WR
4
74
0
62
940
7
205.4
41.1
 6. Falcons vs. WR
2
-24
0
75
897
6
198.3
39.7
 7. Chiefs vs. WR
0
0
0
69
824
7
193.4
38.7
 8. Lions vs. WR
4
33
0
66
899
5
189.2
37.8
X3
Allen Lazard/Romeo Doubs/Randall Cobb (Weeks 7, 9, 11)
Cobb is going to be about the only player from this group that is available in most leagues. Then again, let us see how quickly that changes after Aaron Rodgers asked for his good buddy to get more playing time and rewarded him with 13 targets in London. Cobb was on the field for a season-high 70 percent of his team's snaps in Week 5 - the first time he was over 51 percent since the opener - yet he somehow leads Green Bay with 249 yards receiving.
The impending return of Sammy Watkins (hamstring) from IR figures to make things a bit messy here, but does he deserve to play ahead of Doubs? Does Aaron Rodgers have the same level of trust in him that Cobb does? The answer to both questions is no.
Fantasy managers are probably already starting Lazard and Doubs in most of their leagues. Nevertheless, both players should get a bit of a bump for upcoming matchups against the Commanders, Lions and Titans. Washington has faced only one passing attack that could be deemed elite and surrendered 42.4 fantasy points to A.J. Brown and DeVonta Smith. Detroit has coughed up at least 15.8 fantasy points to one receiver in every game and nine double-digit scoring efforts. Tennessee has been victimized by field-stretching receivers such as Dyami Brown and Mack Hollins. The point here is that Green Bay should be - at worst - the second-best offense any of those teams have faced.
Mike Evans, Chris Godwin, Russell Gage, Julio Jones (Weeks 6, 8, 9)
Fantasy managers are already starting Evans and Godwin, so let this serve as a recommendation to trade for either one or both (preferably Evans). Gage and Jones cannot seem to stay healthy, and it is worth wondering if Gage (ankle) has a role on this offense unless Evans or Godwin miss time. Jones (knee) is worth holding if possible, although he has likely exhausted the patience of the overwhelming majority of managers - especially those who cannot stash him on IR. There is also no guarantee Tampa Bay will bring him back anytime soon after GM Jason Licht and HC Todd Bowles talked about "playing the long game" with Jones early this week. IF he can stay healthy (and that is a big if) upon his return, he still possesses WR3 upside.
Life should be easy for Tom Brady & Co. over the next month, as the Steelers, Ravens and Rams (fourth) await them in three of the next four weeks.
Likely every-week starters with three highly favorable matchups: Deebo Samuel (Weeks 6-8), Michael Thomas and Chris Olave (Weeks 9-11)
Mid-tier options who have three favorable matchups: D.J. Moore (Weeks 6, 8, 11), Brandon Aiyuk (Weeks 6-8), Darnell Mooney (Weeks 6, 10, 11)
Less desirable options with three favorable matchups: Robbie Anderson (Weeks 6, 8, 11)
X2
Wan'Dale Robinson, Darius Slayton, Kadarius Toney (Weeks 6 & 11)
There is a distinct possibility all three of these players are available in your league. As much as we love the upside of Toney, his injury luck is making it nearly impossible to keep him on our rosters. Slayton reminded managers of his upside against the Packers last weekend and may have done enough to carve out a spot for himself in this offense - one he should have had from the beginning with the relative lack of talent in the receiver room in New York. However, the most interesting player (because Toney cannot stay healthy, is in the doghouse or both) is Robinson.
Robinson has been a frequent subject of this column. The second-round pick was "the star" of the offense during training camp, according to NBC Sports' Peter King. Sterling Shepard was the closest thing this offense had to a consistent force before tearing his ACL in Week 3, attracting 10 targets in each of his last two games. The key difference is what Robinson can do after the catch. Robinson carried the ball 141 times in three college seasons and occasionally served as Nebraska's primary rusher in his two seasons at the school. He is tougher than his 185-pound would suggest.
The biggest mystery here is whether Robinson will live on the perimeter - Richie James easily leads the team with 108 snaps in the slot - or if he will take over for James inside. Much like Randall Cobb albeit with a much higher upside, Robinson needs to be owned in the majority of leagues before the majority of Week 6 games kick off Sunday afternoon.
As mentioned earlier in regards to Baltimore's pass defense, there is some question as to how great of a matchup the Ravens are for quarterbacks and receivers, so fantasy managers should not try to force Robinson or Slayton into their lineups in Week 6. We should have a much better idea by Week 11 against the Lions. Then again, matchups may not matter all that much if Robinson ends up being as dynamic as I believe he can be.
Likely every-week starters with two highly favorable matchups: A.J. Brown and DeVonta Smith (Weeks 8 & 10), Brandin Cooks (Weeks 8 & 11), Ja'Marr Chase and Tee Higgins (Weeks 7 & 11), Keenan Allen and Mike Williams (Weeks 9 & 11), Michael Pittman Jr. (Weeks 7-8), Tyreek Hill and Jaylen Waddle (Weeks 7-8)
Mid-tier options who have two favorable matchups: Nico Collins (Weeks 8 & 11), Tyler Boyd (Weeks 7 & 11), Alec Pierce (Weeks 7-8)
Less desirable options with two favorable matchups: Josh Palmer (Weeks 9 & 11)
Tight Ends
Top 8 Easiest Matchups for TE
Defense
RuAtt
RuYd
RuTD
Rec
ReYd
ReTD
FPts
FPts/G
 1. Seahawks vs. TE
9
112
3
25
456
4
123.8
24.8
 2. Cardinals vs. TE
0
0
0
36
436
3
97.6
19.5
 3. Raiders vs. TE
0
0
0
29
250
6
90.0
18.0
 4. Falcons vs. TE
5
75
1
34
355
1
89.0
17.8
 5. Titans vs. TE
0
0
0
28
350
4
87.0
17.4
 6. Buccaneers vs. TE
4
15
1
31
287
2
79.2
15.8
 7. Colts vs. TE
1
1
0
27
281
4
79.2
15.8
 8. Dolphins vs. TE
1
3
0
32
326
2
76.9
15.4
X3

Noah Fant/Will Dissly (Weeks 6, 9, 10)
Tight end is once again a fantasy wasteland, outside of the privileged few managers who invested heavily in Travis Kelce, Mark Andrews, Tyler Higbee or Zach Ertz. A common refrain over the year is that we need to hope for a touchdown for our tight ends if we want them to be useful for fantasy purposes. Well, Seattle tight ends have scored five of them in five games. The problem is those five TDs have been caught by three different players. Dissly has three of them, but he is almost the very definition of a touchdown-or-bust option. None of Seattle's tight ends has more than four catches or 49 yards receiving in a game yet.
With that said, Arizona (Weeks 6 & 9) trails only Seattle when it comes to giving up massive fantasy point totals to the tight end position. Some of that is likely a product of facing Kelce, Darren Waller and Dallas Goedert already, but it is probably not a coincidence all three were targeted at least eight times against the Cardinals. Tampa Bay (Week 10) also had the misfortune of opposing Kelce as well but has been solid otherwise against the position, so fantasy managers should probably stick to the two matchups against the Cardinals for Fant and/or Dissly.
X2
Taysom Hill (Weeks 7-8)
Fantasy managers likely understand by now that Hill is not so much a tight end as he is an all-purpose weapon who does most of his damage on the ground. With all due respect to his underrated talent, everything he has touched has turned into gold in 2022. He has one pass attempt for the season (touchdown). Four of his 21 carries have been in the red zone, all of which have ended going for scores. Another way to look at his production to this point: he has six fewer carries than D'Andre Swift (27-21), three fewer rushing yards (231-228) and four more rushing scores. Make of that what you will, but it is unsustainable. Further consider that most of his production (112 rushing yards, 22 passing yards and four of his five TDs) came against arguably the worst defense in the league last week versus the Seahawks.
We should probably consider Hill a running back and Alvin Kamara's change-of-pace option despite his being listed as a tight end. His Week 7 matchup against the Cardinals and Week 8 game versus the Raiders are great for full-time tight ends, which is why he appears in this section. However, they are the 12th- and 13th-toughest matchups, respectively, for running backs. With tight end being what it is in fantasy, he probably needs to start for managers who have been forced to stream due to Dalton Schultz being injured or burned by the slow starts from Kyle Pitts and George Kittle. As long as it is understood that fantasy managers need to look at running back points allowed as opposed to tight end points allowed when deciding when and where to start him, Hill could pay off as a part-time fantasy starter.
Greg Dulcich (Weeks 10-11)
This is more of a deeper-league recommendation. It took a matter of a couple of weeks before the new regime gave up on Albert Okwuegbunam. There is no chance the new regime feels Eric Tomlinson or Eric Saubert is the answer at tight end. Dulcich (hamstring) could be activated from IR as early as Week 6. He was this regime's second draft pick (third round) and considered a likely option to replace the production Tim Patrick left behind once the veteran wideout was lost for the season this summer. Dulcich took first-team snaps during OTAs and minicamp, suggesting HC Nathaniel Hackett and his staff expected immediate contributions from him. Especially in light of what managers are dealing with at the tight end, he is well worth stashing on IR immediately in leagues that allow it.
Fantasy managers likely have the luxury of time with Dulcich. Not only has the Denver offense struggled mightily thus far, but their best tight end matchups also do not come for another month - Week 10 versus the Titans and Week 11 against the Raiders.
Likely every-week starters with two highly favorable matchups: Zach Ertz (Weeks 6 & 9), Tyler Higbee (Weeks 9-10), Pat Freiermuth (Weeks 6-7)
Mid-tier options who have two favorable matchups: Evan Engram (Weeks 6 & 9), George Kittle (Weeks 6 & 11), Gerald Everett (Weeks 7 & 9), Cole Kmet (Weeks 9 & 11), Irv Smith Jr. (Weeks 6 & 8), Logan Thomas (Weeks 8 & 10)
Less desirable options with two favorable matchups: Tommy Tremble and Ian Thomas (Weeks 7-8), Mo Alie-Cox, Kylen Granson and Jelani Woods (Weeks 7 & 10), John Bates (Weeks 8 & 10), O.J. Howard and Brevin Jordan (Weeks 7-8), Juwan Johnson (Weeks 7-8)
---
Doug Orth has written for FF Today since 2006 and been featured in USA Today's Fantasy Football Preview magazine since 2010. He hosted USA Today's hour-long, pre-kickoff fantasy football internet chat every Sunday in 2012-13 and appears as a guest analyst on a number of national sports radio shows, including Sirius XM's "Fantasy Drive". Doug is also a member of the Fantasy Sports Writers Association.