As we near the late stage of the season, let's shift away from a waiver wire focus toward a focus on who to start. Most teams are either out of FAAB money or simply don't have good options to pick up, or both. There may be some impactful players on the wire for your playoff push, but it becomes even more crucial to make the right decisions about who to start.

As we look at the usage data below, including both snap counts and opportunities, I will focus on which players I will start with confidence and which I will be avoiding.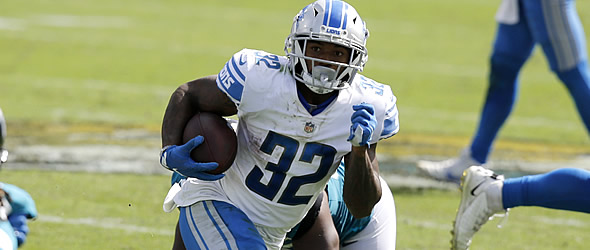 Running Back
The Coltsí running back situation is a complete mess. I am avoiding all of them the rest of the way, as Frank Reich insists on a three-way committee. Jonathan Taylor played on only 24% of the snaps in Week 10, Jordan Wilkins on 20%, and Nyheim Hines on 56%. While some will say Hines broke out and is a good play moving forward, just look at his game logs. Next week he may get 1 carry and 2 targets. Avoid this entire backfield if at all possible.


Talk about a rollercoaster season for the Bucsí running backs. It looks like Ronald Jones has a stranglehold on the job, then Fournette does, then back to Jones, and on we go. For this week, Jones appeared to be the superior back and finished with a ridiculous 192 rushing yards after his 98-yard TD run. He also out-snapped Fournette 47 to 29, though Fournette out-snapped Jones last week 33 to 16. I would say Jones is a superior start in any easy matchup, as heís a better rusher. Fournette is their pass-down back, so heís a superior start in any matchup where the Bucs are likely to trail.


Nick Chubb returned after his knee injury and looked good. He and Kareem Hunt both received 19 carries, though Hunt received 4 targets to Chubbís 1. Hunt played on 38 snaps and Chubb played on only 28. It is difficult to know if the coaching staff was just easing Chubb in after the time off Ė I think that is likely. I would say both are good starts going forward, but I think Chubb will end up getting just over half of the snaps.


Antonio Gibson played on only 38% of the snaps on Sunday, while J.D. McKissic played on 70%. Gibson received 17 opportunities and ended up with a big day, since he scored twice on the ground. But McKissic got 23 opportunities, catching 7 of his ridiculous 15 targets Ė and he also scored on the ground. This is a frustrating development for Gibson owners, particularly since Gibson is very skilled in the receiving game. I think they like the change of pace option and McKissic has more experience in pass protection. I will continue to start Gibson and hope his snap share increases as we move forward.


It seems like the Lionsí coaching staff has finally turned the corner. They played DíAndre Swift on 43 snaps, while Kerryon Johnson and Adrian Peterson played on only 9 and 7 snaps, respectively. Swift got 16 carries (81 yards) and caught all 5 of his targets for 68 yards and a score. Swift is looking like a great start the rest of the way.


Aaron Jones played on 63% of snaps. He did not produce much (13-46, 5-49), but at least he was involved and played more snaps than Jamaal Williams. He is always a must-start since he can go off in any game, but these results against the Jaguars were disappointing.


Miles Sanders returned and looked quick and healthy. He finished with 15-85, and 2-10 on 5 targets. He also watched his backups, Boston Scott and Corey Clement, both score. It was a frustrating game for Sanders and for the Eagles in general, but he looked good and should be started weekly down the stretch.


Wayne Gallman played on 59% of the snaps and went 18-53-2. We donít know yet whether he will continue starting once Devonta Freeman returns, but he has likely earned more playing time either way. Keep an eye on this one, as Gallman is a flex option down the stretch if he continues to be the starter.


Aside from utter desperation, there is no reason to start a Bills running back moving forward. Zack Moss went 7-20 and Devin Singletary went 4-15, and they both had negative receiving yardage. They are also splitting snaps almost equally. Avoid if at all possible.


Though healthy, Phillip Lindsay was a non-factor on Sunday. He received 4 touches, while Melvin Gordon got 11. The game was a blowout, so they abandoned the running game completely, but still it is very concerning. Neither Lindsay nor Gordon should be started unless you are utterly desperate.


Although Josh Jacobs owners were very happy with his 21-112-2 line, they were very irked by his back up, Devonte Booker, taking away 16 carries and two more touchdowns! It seems like Gruden wants to keep Jacobs fresh so he is giving him rest in-game, which is so maddening for those who banked on Jacobs being a true workhorse. I think that will be Bookerís biggest game of the season, but I still might pick him up if desperate for RB production. If Jacobs goes down he will be very useful.


Iím not sure what the Dolphins will do once Myles Gaskin and Matt Breida return, but for now Salvon Ahmed looks pretty good. He went 21-85-1 on 76% of the snaps. I would pick him up, in case Gaskin ends up being out for a few more weeks.


The Rams running backs should all be avoided because this is another Colts-like three-man backfield. Malcolm Brown played on 41% of the snaps, Darrell Henderson on 33%, and Cam Akers on 26%. Akers received the most carries, but the other two scored. This is a situation to avoid completely.


Boy, have the 49ers missed Raheem Mostert. Jerick McKinnon went 18-33, and the 49ers have to be looking forward to Week 12 when they get Mostert back on the field. If Mostert ended up your wire, pick him up.


In an excellent matchup for James Conner, he failed to produce (13-36, 2-12). If he cannot produce in a good game script against the Bengals, he really cannot be trusted. That doesnít mean he wonít have any more good games, but it means starting him is a riskier proposition than you should likely take in your playoff push.


The Ravensí running game should be avoided completely. All four of their backs got playing time on Sunday, and none of them could get going behind this offensive line.


Damien Harris looked great on Sunday night and continues to gain snap share in this offense. He played on 55% of the snaps and went 22-121. Rex Burkhead played on 34% and James White played on 17%. This was a run-heavy game in the rain, and it is always difficult to trust Belichick to give touches to a certain back, but it certainly looks like Harris has earned the extra snaps. He is a nice flex play down the stretch.

Wide Receiver
Michael Pittman Jr. appears to have taken over as the Coltsí No.1 receiving option. It didnít take him long. He is more dynamic than T.Y. Hilton and seems to now be totally up to speed in the offense. If you have held him, it was likely worth it. He played on 81% of the snaps and led the team with 8 targets, going 7-101. I will start him down the stretch in good matchups.


While A.J. Brown played on 75% of the snaps, leading all skill players, he received only 4 targets and went 1-21. This is going to happen in this low-volume passing offense from time to time. He did drop what would have been a 70-yard touchdown reception, but keep in mind he is never going to be a consistent 8-target-per-week player. He is a must-start most weeks because he is such a dynamic player.


Chris Godwin played on 90% of the snaps, Mike Evans on 80%, and Antonio Brown on 49%. However, Godwin received 6 targets, Evans received 11, and Brown received 8. It appears all will be involved, and it will be very difficult to know who to start. I would say to start all of them in a good matchup Ė but just be aware that with so many options, your guy might be the left out in the cold.


For the first time in a while, D.J. Moore received more targets (7) than Robby Anderson (6). Moore went 4-96-1 on those targets. This has been a frustrating situation all season, and it is likely to continue, as both are playing 75%+ of the snaps each week but the targets have fluctuated. I still think Anderson is likely to receive more targets on a weekly basis, even though Moore is the better overall player. Both can be started, though always with a bit of concern.


Marvin Jones finally looked like his old self on Sunday, going 8-96-1 on 10 targets. Golladay was out again, so Jones will likely return to a flex option once he returns.


Chris Conley received a team-high 8 targets on Sunday (4-43), and played on 86% of the snaps. He hasnít done much with his opportunities, but if he keeps getting that many chances, he could be a sneaky pick up, and a flex option in good matchups.


Marquez Valdes-Scantling played on 92% of the snaps and received 6 targets, going 4-149-1. Itís his second consecutive nice game. I am still not planning to start him, as his weekly output will be very inconsistent. In addition, Allen Lazard should return for next weekís game, muddying the waters.


Jalen Reagor played on 88% of the snaps and had 7 targets (4-47). I thought he would be more productive than Travis Fulgham since I thought Fulgham would be shadowed by James Bradberry. Fulgham caught only 1 pass for 8 yards, on 5 targets. Until Wentz starts playing better, Iíd avoid playing all Eagles.


Cole Beasley is a must-start in any matchup against a good offense. Weeks 12 (Chargers) and 14 (Steelers) look like good opportunities for him. When the Bills have to push to score, Beasley gets tons of looks underneath, which is what happened on Sunday (11-109-1 on 13 targets).


John Brown also had a nice game in Week 10 (6-72 on 8 targets), but suffered an ankle injury late. Although the Bills have a bye in Week 11, if itís a high-ankle sprain he could be out a while. You may want to add Gabriel Davis.


Both Jerry Jeudy and KJ Hamler played the vast majority of snaps, and both received plenty of targets (8 and 10). But both were victims of awful quarterback play. Drew Lock just doesnít have it, and I would avoid all Broncos moving forward as a result.


DeVante Parker received 7 targets, but only went 2-31. The passing offense has definitely taken a step back with Tua under center, but the Dolphins are winning with defense and special teams, so I donít anticipate them going back to Fitzgpatrick. Parker should stay on your bench until things start clicking for Tua.


The Josh Reynolds surge continues. He played on 80% of the snaps and led the team in targets with 10. He went 8-94 and was very effective. He makes a decent flex start in good matchups down the stretch.


Brandon Aiyuk received 14 targets on Sunday, going 7-75-1. The target numbers will decrease once Deebo Samuel returns, and with Nick Mullens under center the whole offense is limited. But, Aiyuk should be at least a flex option the rest of the way, even when Samuel returns.


Michael Thomas played on 78% of the snaps and got 7 targets, but only went 2-27. The Saints dominated this game and did not need to pass much, and Drew Brees got injured. It could simply be a lost year for Thomas, but in competitive games down the stretch, we could also see him start to resemble the 2019 Michael Thomas. He remains a must-start due to his talent and potential Ė but keep in mind that if Jameis Winston is starting, Thomas could struggle due to a lack of chemistry.


Tee Higgins continues to gain target share, and he continues to produce as a No.1 receiver in this offense. He received 9 targets on Sunday and produced 7-115-1. He should be started in all formats moving forward.


Meanwhile, A.J. Green continues his downward slide. He received 5 targets on Sunday but caught none of them. I will drop him where I need to and will not start him unless Iím desperate.


Another game, another instance of each of the Steelersí three receivers getting double-digit targets. As Iíve said, itís hard to know which is going to have a big game, but in this one they all did. All three are good weekly options down the stretch.


Marquise Brown is a huge fantasy disappointment this season. Again he did almost nothing, albeit in a terrible weather game. He received 6 targets, only catching 2 for 14 yards. He should be benched until he shows some signs of life. Meanwhile, Willie Snead went 5-64-2 on 7 targets, but his production is very up and down. I would avoid all Ravens skill players aside from Mark Andrews.


Jakobi Meyers continues to ascent, posting 5-59 on 7 targets in the rain, and also threw a beautiful 24-yard touchdown pass. He played on almost every snap and looks to be a great option for owners down the stretch.


Justin Jefferson appears to have inched past Adam Thielen as the No. 1 option in the Vikings offense. He received 10 targets on Monday night, going 8-135. While Thielen scored two touchdowns to make it a productive fantasy day, he had several drops and did not look nearly as dynamic as Jefferson. Both can be depended on down the stretch, since they are both very involved, but Jefferson has become the top dog.

Tight Ends
---
Kevin Scott is a fantasy pro who is the co-host for The Lowdown Fantasy Football Podcast. He plays in over 40 leagues annually and has made over $100,000 playing fantasy football. You can follow him @kevinscottff.