Regardless of what format you play in, the name of the game when it comes to drafting is maximizing value. I know we all have our sleepers and "our guys" and that's fine, but generally speaking we don't want to reach for players that aren't going to return value.

In this piece I will examine 10 players being drafted in the first 10 rounds of 12-team leagues (full PPR) that I feel are going too early. Many of these players I actually like but where they are being drafted is just too rich and you will be missing out on better value by reaching for them.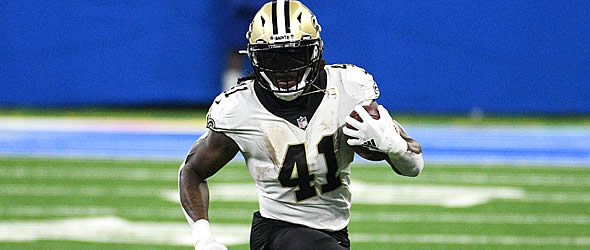 1. RB Alvin Kamara, NO (1.04)

Maybe itís because Kamara put up 50+ points against me in the championship last year that makes him number one on my list this year, or maybe heís simply THE reach of the first round in 2021 drafts.
Kamara is still in the prime of his career but things in New Orleans are about to change drastically, likely to the detriment of Kamaraís production. Drew Brees is gone and while we donít know for sure if Taysom Hill or Jameis Winston will be under center, we know each is a big downgrade in terms of throwing to running backs. In weeks 11-14 last year Kamara had a total of 10 receptions. In contrast, the previous four weeks Kamara had 29 receptions. Want to guess the main difference in those two sets of weeks? You got it, change in Quarterbacks from Hill (10 receptions) to Brees (29 receptions).
While Kamara can still produce solid numbers, there is no way he will come close to repeating his overall numbers from the previous two seasons, but he would need to justifying a top 5 overall draft pick.
There is a scenario where Kamara falls out of the top 12 backs if the quarterbacks struggle and the offense just canít get going. Pass on Kamara in the first round this year and go for a RB with similar upside but a safer floor.

2. QB Patrick Mahomes, KC (2.10)
Before you get all upset and tell me how good Patrick Mahomes is let me stop you there. I love Mahomes. He is the best QB in the game today and an awesome fantasy asset. The problem with Mahomes is EVERYONE loves him and thus, his ADP has skyrocketed into the late 2nd round.
The problem with taking Mahomes early in a single-QB league is there are studs in this draft range at much shallower positions than QB. My strategy with QB this season is to wait until at least the 5th round where guys like Dak Prescott, Aaron Rodgers, Justin Herbert, Russell Wilson, etc. are all likely available, or wait even longer to grab Jalen Hurts who has rushing potential.
But taking a QB in the second or third round is really going to handcuff what you can do with your roster on a week-to-week basis. While watching Mahomes play every week is certainly fun, watching value go down the drain in your draft is just the opposite; just say no.
3. TE Kyle Pitts, ATL (4.06)
Pitts has been one of the most hyped players, both in real life and fantasy football, for many months now. Of course, there is reason to be excited, as he may very well be the best tight end prospect of all time.
On paper, Pitts is in a great situation, with Julio Jones leaving a healthy chunk of vacated targets and on a team that should throw quite a bit. While I think it is very possible, even likely, that Pitts has a great season, the fact that you are going to rely on a rookie at a position that is historically hard to produce in the first year, is simply playing with fire. Jeremy Shockey (2002) had one of the best seasons ever for a rookie tight end and he put up a 74/894/2 stat line. Very good numbers, rookie or not, but not for a guy you draft in the early-to-mid 4th round.
With legit wide receivers still available as well as some upside RBís and more proven tight ends in round 4/5, taking Pitts is simply giving into the hype rather than doing what is smart. In dynasty leagues and TE premium leagues I get the appeal, but in standard redraft leagues it is silly to go against all that we know historically by taking Pitts this early.

4. RB Mike Davis, ATL (4.10)
Two Falcons in a row, and I swear I donít have anything personal against the team, it just happens to be they are a source of poor value this season.
After filling in for Christian McCaffrey most of last season, Davis finds himself at the top of the Falcons depth chart at RB to start the season. While I canít argue that the situation is in theory, a fairly juicy one, the biggest question mark is Davis averaging just 3.7 yards per carry for his career. He offered decent production last season but it was mostly built on volume and receptions, two things we really canít be sure he gets this year in Atlanta. The past three seasons combined, the leading RB in targets on the Falcons averaged just under 50 targets per season. Davis had over 50 receptions in Carolina last season.
Unless Atlanta completely bucks itís trend or Davis dramatically increases his efficiency at age 28, the return on investment here just does not add up. I think the odds are better that Atlanta becomes a full blown RBBC or Davis loses his starting role rather than fulfills his RB2 ADP.

With more exciting and safer players going in the late 4th (Kareem Hunt, Chris Godwin, Diontae Johnson) do yourself a favor and pass on Davis anywhere near his current ADP.

5. WR JaíMarr Chase, CIN (6.05)
The second rookie to make the list this season, Chase was the first wide receiver taken in the draft and reconnects with his college QB Joe Burrow. While I like Chase as a prospect I believe there are enough red flags to make me pass on him in the first 7 rounds of redrafts this season.
First, Chase did not play football last season and has been rusty in camp according to many reports. He recently had 3 drops in a quarter in the Bengals second preseason game and has struggled separating from defenders. While it is normal for rookies to go through growing pains, it may take half the season or more before Chase gets to where he wants to be and that is too long to wait on someone that you are drafting as an every-week starter in Round 6.
In addition, Burrow is coming off a major injury (ACL) and the Bengals O-line has some serious question marks.
Add all this to the fact that Tee Higgins showed out as a rookie last season, Tyler Boyd is still around to gobble up targets and Joe Mixon is a good receiver in his own right, and you start to build a ďtoo many mouths to feedĒ narrative that just may have some truth to it.
Chase may eventually be a true stud at the position but counting on him as a rookie, after a year off, with some other potential challenges around him, is just too big a risk to take in the 6th round of drafts this year.
6. WR Kenny Golladay, NYG (7.05)
Golladay was one of or perhaps the best wide receiver available this offseason and decided to take his talents to the Big Apple. There are a few issues that I see with Golladay and while none of them may be glaring red flags, I believe they add up enough to warrant avoiding him where he is currently being drafted.
First, receivers going to new teams is always tricky, as they need to adjust not only to a new playbook and scheme but to a new quarterback as well. For Golladay, he is downgrading from Matthew Stafford to Daniel Jones, which is a significant downgrade as Golladay is not a separator or a route technician, he needs someone to throw it up so he can go up and get it. Jones, to this point, does not fit that mold.
Second, Golladay has missed a good chunk of training camp with a hamstring issue, missing valuable time to get into rhythm with his new quarterback.
Finally, the Giants have a plethora of pass-catchers including Sterling Sheperd, Evan Engram, Darius Slayton, and Saquan Barkley. The Giants were in the bottom half of the league in pass attempts last year, meaning Golladay needs to be hyper-efficient and catch 8+ touchdowns if he wants to produce top 30 WR numbers this season. With so much going against him itís simply not worth taking Golladay at his current ADP.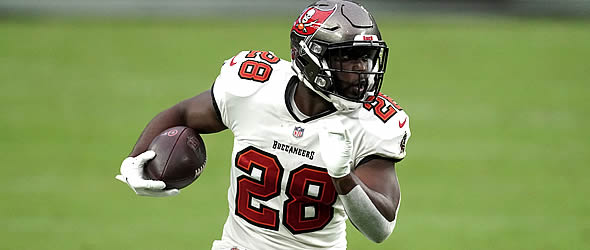 7. Leonard Fournette (7.08)
Lenny had a decent bounce back season last year, especially in the playoffs but I would not touch him in the first 8 rounds in any draft.
First, Bruce Arians isnít exactly fantasy friendly to running backs. Based on the past two seasons, Arians might start Fournette one week and run him 20 times then give him two touches the next week with seemingly no rhyme or reason.
Second, the backfield has some real competition and Fournette, at this point in his career, is no guarantee to be the lead back on a consistent basis. Ronald Jones had a career year last season and is still just entering his prime and newly signed Giovani Bernard, one of my favorite sleepers, has been getting a lot of praise in training camp. Gio fits what Tom Brady likely wants in this offense, and letís face it, if Brady wants it heís gonna get it.
While I think Fournette is likely to have a few good games, youíre going to need an injury to one of the other backs to trust starting Fournette with any sort of consistency or predictability.
RB is a relatively thin position, but there are simply bigger and more exciting names at other positions in the 7th/8th round that I would choose over Fournette (TE Logan Thomas, WR JuJu Smith-Schuster). Plan accordingly and make sure your RB position is stable before you get to this point so you donít have to rely on olí Lenny.
8. RB David Johnson, HOU (8.09)
Speaking of running backs that used to be good (ouch), David Johnson makes this yearís list of guys to avoid in the top 10 rounds of your draft.
I loved Johnson the first few years of his career and if he would have avoided injury we may still be talking about him as one of the games great all-time RBís. Unfortunately, the injury bug stung several times and Johnson looked like a shell of his former self this last time we saw him.
To make matters worse, Houston is an early favorite to be the worst team in the league especially (likely) if Deshaun Watson isn't under center.
Given what weíve seen in camp Johnson canít be tagged with a starterís designation and it seems likely this will be a RBBC, with Phillip Lindsay, Mark Ingram, and potentially even Rex Burkhead, all joining in on the fun.
With a porous defense, an average offensive line and a very likely below average QB under center, the running lanes and game script simply do not set up for success for whoever totes the rock for the Texans this season. This team is in major disarray and you are more or less wasting a pick if you are taking Johnson anywhere near single digit rounds in your fantasy draft.
9. WR D.J. Chark, JAX (8.11)
Chark has had some bright moments in his career and is still young enough to break out, but this is not the year. Getting a new franchise QB is a great thing for a young wide receiver, but surrounding issues make it a tough pill to swallow for Chark fans.
First, the team went out and signed veteran Marvin Jones, a player similar to Chark who has speed, size, plays mostly outside, and has big-play ability.
Second, the team expressed disappointment in missing out on Kadarius Toney (NYG) in the first round of the draft and then instead took a running back with receiver-type skills in Travis Etienne.
Third, the coach publicly called out Chark as a big player who did not play big last season. Ouch.

Finally, Chark has missed valuable training camp time with a finger injury that needed surgery. Not only is he missing valuable bonding time with his new QB but this could be an injury that lingers or gets re-injured during the season.
Chark looks like a guy that will fall down the depth chart and emerge somewhere new next season. This makes him a fine buy-low candidate for dynasty leagues but in redrafts, where he is going in the 8th/9th round he is simply a wasted pick. Chark should be off your radar anywhere near where the masses are taking him.
10. WR Mecole Hardman, KC (9.05)
The final name on the list, Hardman has been getting some buzz the past month or two and has seen his ADP rise quite a bit. With blazing speed and the NFLís best QB under center you would think there was a lot to like here but you would be wrong.
Under Mahomes the last three years, the WR2 in Kansas City has struggled to break into the top 50 (FPTs/G) with Sammy Watkins (WR38) the only receiver to do so in 2018. In 32 games, Hardman has one single WR1 performance. In addition, Hardman was top 10 worst in drop percentage in 2020 despite having a relatively low ADOT. Simply put, Hardman is foolís gold.
For best ball leagues, Hardman is a great late-round player because chances are he will blow up a few times this season. The problem is, we won't know when that is going to happen and the majority of the season he will underperform his ADP.
While you may be tempted to join the Hardman hype train, I encourage you to dig deeper and realize Hardman in a single-digit round is a reach that you should not be willing to make.