So no one can claim I am not fully transparent, let me say this has been the worst fantasy football season I've ever had. And I am actually okay with that. This season has been so silly, so utterly unpredictable, that if I were crushing it in all my leagues I'd wonder how I messed things up so badly.

There is no way to plan for the constant injuries, Covid-19 lists, strange coaching decisions, and upside-down results we have seen. The only way to plan for it is to build in variance in your projections so that you have exposure to a wide group of players – and are not overexposed to any one player. I might have failed at this, but for the most part I was as diversified in my rosters as I've ever been. Still, it's been awful. So I'll find a way to own my poor results this season without losing confidence. You should too. This season is as bizarre as any I've seen in 25 years of playing this game. So shake it off if you've struggled, and hope next year is less wacky and more predictable.

If you find yourself in the playoffs at this point, that doesn't mean you got lucky, either. It means that perhaps you made some key pickups that have really altered your season – maybe even due to this article. I hope you'll keep going and take down the championship(s)! Make us all proud. I'll keep grinding this data and giving you ideas for players to grab moving forward.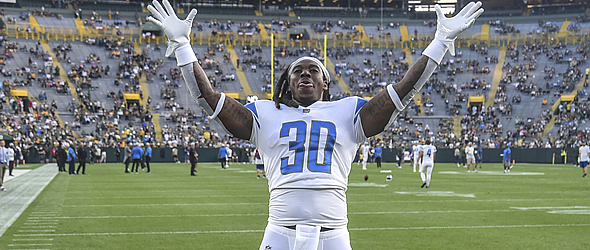 Running Back
David Montgomery was again given a workhorse role by the Bears, playing on 84% of snaps – while Khalil Herbert played on only 14%. Montgomery also got 20 touches, which he took for 74 yards. His efficiency was not there, which was disappointing since he played the Lions. But he is getting the work.


After D'Andre Swift was knocked out of the game in the first half, Jamaal Williams became the workhorse for the Lions, playing on almost every snap. He finished with 63% of snaps for the game and went 15-65, with 5 receptions for 18 yards. If Swift misses time, Williams could provide some very nice games for your stretch run.


Josh Jacobs is getting more work of late, making him a solid starting option for the stretch. He got 22 carries (87 yards and a score), and also received 4 targets (2-25). He also dropped a pass that would have been a very big gain. The Raiders look like they want to commit to him for now, so start him with confidence.


Devin Singletary got a legitimate shot at a starting role on Thanksgiving. Zack Moss was inactive, and Singletary got 68% of snaps and got 16 touches. Unfortunately, he only went for 48 total yards. Matt Breida worked in as the change-of-pace back (32% of snaps) and got 11 touches for 55 total yards and a score. Will we see the Bills give Breida a shot to lead this backfield? Breida should be rostered in case that does happen.


In a shocker, it was not Ty Johnson who led the backfield for the Jets with Michael Carter out, but rather Tevin Coleman. Coleman played on 45% of snaps to Johnson's 34%, and received 12 more opportunities. Johnson has been more effective all season, so I'm not sure what the Jets coaches are doing. But I'd avoid this whole backfield moving forward.


Leonard Fournette is on his way to finishing this season as a top-five running back for fantasy. He played on 82% of snaps and went 17-100-3 on the ground. His weekly involvement in the passing game is what is keeping him as a top option. He got 8 targets and finished 7-31-1 through the air. He is a must-start every week.


Cordarrelle Patterson continued his incredible efficiency in Week 12. On only 48% of snaps, he took 16 carries for 108 yards and two scores. He also caught 2 of 3 targets. Patterson has become one of the most productive and dependable fantasy football running backs in the league. Even though he's not playing every snap, he needs to be started everywhere due to his incredible ability to rack up yards on a bad offense.


In the strange Panthers-Dolphins game, it was Ameer Abdullah who replaced Christian McCaffrey after he left with another injury. By the end of the game, Abdullah had played on 49% of snaps, while Chuba Hubbard had played on only 20%. Abdullah also got lots of work in the passing game, garnering 6 targets (2-20). This might make Abdullah worth an add in your leagues, assuming this offense does anything positive over the rest of the season.


D'Onta Foreman and Dontrell Hilliard split snaps on Sunday, pretty much down the middle (51% for Hilliard and 49% for Foreman). They were both effective on the ground, with Foreman going 19-109 and Hillard going 12-131-1. Both had one reception. Both are nice players to grab off the wire if they are available, as they should stay involved the rest of the way.


It was an even three-way split in snap share for the Patriots backs, with none of the three playing more than 37% of snaps. None can be trusted for fantasy as a result, and all are desperation plays in the hopes that they score that week.


I'll take "Coaches who don't know what they're doing" for $500, please. Answer: Nick Sirianni! Boston Scott got 12 more snaps than Miles Sanders (ankle) on Sunday (51% to 33%), and took 6 extra carries for the same number of yards (64). It's not that Scott is bad, but the Eagles coaches simply refuse to utilize Sanders as a cornerstone of the offense. When he touches the ball he is effective, but they just don't seem to trust him. You must avoid the situation for now, but I don't say that with any confidence that I know what is going to happen next.


Saquon Barkley played on 87% of snaps for the Giants, but finished with only 13 carries (40 yards) and 4 receptions (13 yards). He is involved, which is a good sign. It's just that the Giants are not able to move the ball consistently, and I don't see that changing any time soon. Barkley also seems to lack some of his normal explosiveness. You likely can't consider sitting him with how few good options there are at running back, so you'll just have to hope he hits on some explosive plays down the stretch.


We are perhaps seeing the tiniest shift toward Javonte Williams in the Broncos backfield. He played on 58% of snaps, his highest mark of the season, after playing on 57% in the Broncos last game, his previous high. Melvin Gordon played on 42% in Week 12, after playing on 43% in their last game. Still, Gordon got 17 carries in this game and was effective again (83 yards). Williams only got 14 carries (54 yards and a score), but he did lead the team with 4 targets (3-57). It still looks to me like they want to equally use both backs the rest of the way, making it impossible to know which one to use in fantasy.


With the Packers likely protecting Aaron Jones after his knee injury, AJ Dillon got twice as many carries on Sunday. He finished 20-69 on the ground, while Jones went 10-23. Surprisingly, it was Dillon who got the receiving work, catching all 5 targets for 21 yards and a score. I could be wrong, but I think after the bye Jones will go back to getting more snaps and touches than Dillon.


With Dalvin Cook likely out for a while with a shoulder injury, Alexander Mattison could see significant volume for the Vikings. He took over Cook's role and finished with 7 carries and 3 targets. He is a must-start if he is on your roster, until Cook returns.


If there was any doubt about Elijah Mitchell's status as a favorite of Kyle Shanahan, on Sunday Mitchell played on 49 snaps (70%). Jeff Wilson played on 10. Mitchell got 27 carries (133 yards and a score) and also tied for the team lead in targets, with 6 (5-35). Mitchell looks like a locked and loaded top back the rest of this season, and possibly beyond.


It was a huge week for Antonio Gibson, who saw his highest snap share of the season on Monday night (68%). This says he is probably feeling healthy and ready to pull his weight in Washington's push for the playoffs. His usage gives that impression too, as he received a career-high 29 carries (111 yards) and also got 7 targets (7-35). J.D. McKissic only saw 39% of snaps and received 12 touches. However, he scored twice. McKissic was injured late, so check the practice reports this week. If he is out, Gibson could have another very big day, and Jaret Patterson might also be worth an add.
Wide Receiver
Tight Ends
---
Kevin Scott is a fantasy pro who has made over $100,000 playing fantasy football. Catch his podcast "Grinding the Data" and you can follow him on Twitter @kevinscottff.