Considering the smashing success that last week's article - Running With Purpose: RB Usage After 3 Weeks - was, it only seems right that receivers and tight ends get the same treatment. While I acknowledge the same metrics aren't quite as important to non-running backs, there is still value to be gained from analyzing at how much playing time receivers are getting and how often they are being utilized when they are on the field. I also wanted to avoid the same old (and maybe a bit tired) target recap article I have typically done around this time of the season in recent years.

Due to some inconsistencies with my data sources, I had to eliminate two of the metrics I used last week for running backs - Touch % and Util %. Thankfully, those metrics aren't quite as important at the two positions we'll be discussing in this article because very few players at those positions steal more than a handful of carries each season.

Key:

Snap % - percentage of total snaps played
Rush % - percentage of snaps played with a rushing attempt
Tar % - percentage of snaps played with a target

Note: Receivers and tight ends needed to average at least 20 snaps per game to qualify.

****The bulk of this chart was created using information provided by FantasyPros and Pro Football Reference.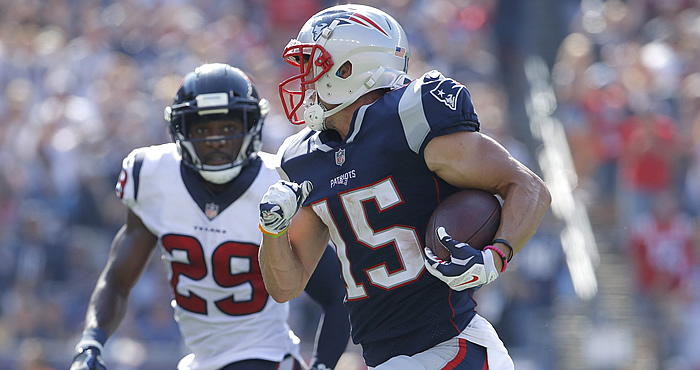 Chris Hogan's hot start can in part be attributed to the Pats limiting Amendola's usage in hopes of keeping him healthy.
As you can probably tell from the looking at the group when sorting "total," trying to find much deep analysis using snap counts isn't overly helpful, nor is it overly predictive of fantasy success. Playing time is the currency by which NFL players are "paid" on the field, but fantasy owners want to know what players are doing with that "cash" once they receive it. In short, we must dig deeper.
Target percentage is a much more telling metric, as it gives owners much more of an idea of how much the quarterback trusts him, how often the offensive coordinator is dialing up plays for him when he is in the game, or both. Doing a search in this column yields some interesting results, although it is somewhat predictable none of the top three entries (Jarvis Landry, Mike Evans and Corey Davis) have played as many games as the rest of the players. The more interesting entries to me are Keenan Allen and Danny Amendola, who also has one fewer game to his name than the majority of the players listed. Both players are being targeted 19 percent of the time they are on the field - which is different than being targeted on 19 percent of the pass attempts - and speaks to how important each player is to Philip Rivers and Tom Brady, respectively. The only thing keeping Amendola from being a Julian Edelman clone is playing time - just over 33 snaps per game - as the team desperately tries to protect him from himself. It is one key explanation as to why Hogan's snap count is so high.
Given how much Arizona and Houston rely on Larry Fitzgerald and DeAndre Hopkins, respectively, in the passing game, it probably comes as no surprise they lead all receivers and tight ends in total number of snaps so far. No. 3 (Chris Hogan) and No. 4 (Jaron Brown) have to come as a bit more of a surprise, however, since Hogan wasn't even guaranteed a primary role in New England's passing game before the start of the season.
Brown wasn't guaranteed anything heading into the season coming off a 2016 ACL tear, and a zero-target game in Week 1 (despite playing 55 snaps, no less) only seemed to cement his status as a bit player. Yet, there is Brown sitting 20th in PPR fantasy points per game (13.5) and sitting on a number of waiver wires. He has at least 11 targets in two of his games (six in the other) and wasn't too far away from catching two touchdown passes in the one game in which he didn't. It's not crazy to believe it will be Jaron Brown - and not John Brown or J.J. Nelson - who will remain the target of choice behind Larry Fitzgerald in the league's second-most pass-happy attack (64 percent pass, 36 percent run) simply because he is a bigger target who isn't as a prone to soft-tissue injuries as John Brown and Nelson seem to be.
Antonio Brown's appearance near the top is no surprise, but Julio Jones' presence might be considering he has seen exactly one target inside the red zone. It's a bit disconcerting when someone like Dez Bryant already has six inside the 10 alone and Fitzgerald has 10 inside the 20.
Moving on to the less obvious players, Adam Humphries' line across the board is almost identical to teammate DeSean Jackson's. Humphries' 16-percent target percentage is a bit of an eye-opener, especially for someone who was supposed to get lost in the wave of new talent that joined the Buccaneers this spring. Seeing as how Tampa Bay just got done playing the Vikings and Giants' impressive secondaries, there may be less of a need for Humphries' quick routes in an offense run by a coach (HC Dirk Koetter) who likes the vertical passing game as much as anyone. With that said, even the most aggressive NFL teams usually don't go downfield more than 25 percent of the time. Ultimately, how long Humphries stays relevant depends on how long Koetter chooses to go with three-wide sets over two-tight sets, which would I receive lead to more playing time for rookie O.J. Howard.
I fear I'm jinxing him by evening mentioning his name, but Bruce Ellington needs to be on more fantasy radars than he currently is. Despite the return of Will Fuller last week, Ellington still logged 66 snaps after getting 70 the week before in New England. One of the more snake-bitten players when it comes to injuries in recent memory, Ellington has taken over the "super" slot job from Braxton Miller. With the amount of playing time he is receiving and given the possibility that Deshaun Watson may begin to back away a bit from force-feeding DeAndre Hopkins - "Nuk" has a league-high 49 targets after four games - Ellington may end up absorbing the same intermediate looks that made C.J. Fiedorowicz valuable in fantasy last year. Furthermore, Watson proved over his last two years at Clemson he knows how to find his slot receiver, as Hunter Renfrow was more than just a little nuisance in both national championship games against Alabama. Ellington's biggest obstacle as a pro has always been durability; if he's finally moving past that, his role will only grow. And in case anyone was wondering, Fuller played 67 snaps in his return Week 4, so Ellington's high snap count last week was not a result of the Texans easing Fuller back into action.
Pierre Garcon may be disappointing some folks with his every-other-game production thus far, but did anyone really expect him to produce at Seattle in Week 2 or in shadow coverage against Patrick Peterson last week? He has been exactly what owners should have expected from him in August: a candidate for 10 or more targets in soft-to-medium matchups who is not going to score a lot of touchdowns or be unable to overcome Brian Hoyer being his quarterback in the more difficult ones. Owners should really embrace the fact he is seeing over eight targets on nearly 60 snaps per game. At his current rate (which is probably a little slower than expected), Garcon is on pace for 80 catches and 1,140 yards. Considering the likelihood he'll find the end zone three or four times over the last 12 games after failing to do so in the first four, those are WR2 numbers in a bad offense. If "business" picks up even a little bit over the next quarter of the season - and it should with upcoming matchups against Indianapolis, Dallas and Philadelphia's banged-up secondary - Garcon's production only figures to pick up.
On the other end of the activity spectrum, we have Washington's supposed "top" receivers, Terrelle Pryor and Jamison Crowder. I warned owners during the summer that HC Jay Gruden's history suggests he believed much more in a balanced offensive approach than former OC Sean McVay and that is how it is playing out so far. Whereas DeSean Jackson and Garçon were each targeted on 14 percent of their snaps in a more pass-heavy offense (Kirk Cousins had 606 attempts in 2016; he's on pace for 484 this season), Pryor is being targeted on 12 percent of his plays and Crowder 11. Throw Ryan Grant into the mix and an increase in activity for Josh Doctson and you have an offense that no longer comes anywhere close to resembling the 2016 edition.
Count me among the frustrated Kelvin Benjamin owners, but it is hard for a 6-5, 245-pound receiver to do the work he is expected to do in fantasy when he has two red zone targets through four games (none inside the 10). Meanwhile, teammate Devin Funchess has four red zone targets (scoring on two). Benjamin and Funchess both check in at a 13-percent target percentage, although that (and the 60-snap difference in Funchess' favor) is a bit misleading since Benjamin was injured in the first quarter (and did not return) in Week 3. While this week may not be the best week for KB to break out against Detroit, he has been targeted on 24 percent of his routes and the schedule the rest of the way appears to be about as soft as I projected in August. Stay the course. It's obvious Cam Newton loves throwing him the ball, and one can only hope last week versus the Patriots was exactly the spark this offense needed. If that is what ends up happening, there will be more Week 4-like performances ahead for Benjamin. Much like Julio Jones, Benjamin has yet to score and is more than 200 yards below his pace from last season - both of which were considered disappointing by their lofty standards. Unlike Jones, Benjamin's YPC is a career-high 16.5. The dam is about to break for both players, so stay patient.
Congratulations if you had Rob Gronkowski playing five fewer snaps than ironman Jason Witten a quarter of the way through the season. What is a bit scary is that while Witten has played all of his team's 263 snaps thus far, Gronk could have played almost 30 more than Witten if he wasn't being "monitored." Trusting a player with three back surgeries to hold up for 1,032 snaps when he has combined for 1,305 over the last two seasons seems foolish, but it is worth noting he played at least 809 snaps in the previous four years prior to logging 357 last year, per Football Outsiders.
Is Charles Clay really becoming a thing in 2017? Although mostly out of necessity, the removal of receiver talent in Buffalo - unlike Washington - has cleared a path for Clay to become the leading man. Or has it? Clay's 6.25 targets/game average is only marginally better than last season's 5.8, while this season's 72-percent catch rate is only a little bit better than last year's 65.5. So what gives? His highest YPC (12.6) since his rookie year is one reason. His five red zone targets might be another (13 all of last year). His snaps/game (53) only ranks 13th among tight ends, while his 12 percent target percentage is only two percent higher than last year. So why does it seem like he's "better" in 2017? Clay, who didn't score until Week 14 in 2016, already has two TDs. In short, he has simply carried over what he did at the end of last year into this season.
Sticking with tight ends, do you remember where you were Austin Seferian-Jenkins was supposedly out of shape? It was just two short weeks ago. For someone with fitness questions, I'd say 51 snaps/game and playing 77 percent of the snaps is doing all right. His 10 percent target percentage is low for a tight end - even by that position's relatively low standards - but probably better than most would have expected for someone who is just working his way into the offense. I have no desire to own more than one Jet on any of my teams, but Seferian-Jenkins is a player I have liked since he was drafted and an above-average talent for his position at the very least. Jermaine Kearse's first two weeks with Gang Green serves as proof the Jets can support at least one fantasy option in the passing game. I also don't think it's a coincidence neither Kearse nor Robby Anderson has seen a ton of volume since Seferian-Jenkins completed his suspension. And no offense to Kearse or Anderson, but ASJ is bigger and more athletic than both and will typically face less-skilled defenders given the position he plays. That's a good combination for fantasy owners. It also helps New York's next three opponents (Cleveland, New England and Miami) all rank inside the top 10 in terms of most points allowed to tight ends. I'm predicting a huge game for him this week versus the Browns, who have surrendered at least 17.1 PPR fantasy points to a tight end in three of the four games they've played this year. Even if you don't want to believe his role is going to grow like I do, it's hard to thumb your nose at three "soft" matchup for a player the Jets spent the summer bragging about.
Jimmy Graham is probably not a name fantasy owners particularly care to hear right now, even though he has performed much better for his owners over the last two games. The offense was clearly out of sorts in the first two weeks, and Graham was far from 100 percent in Week 2 at the very least, if not also Week 1. His 33-yard catch late in Week 4 on a beautiful out-and-up route was a sign he is starting to get right, while his 17 targets over the last two contests is an indication the chemistry between Graham and Russell Wilson is starting to build. The downside - and probably the only thing keeping his owners from rejoicing over that time - is the fact that Luke Willson has scored both of the touchdowns that have gone to Seattle tight ends. It says here the absence of Chris Carson - plus his continued return to near-full health - will actually be a good thing for his fantasy production going forward, particularly if Eddie Lacy and Thomas Rawls don't enjoy more success on the ground than they have to this point. I'm most encouraged by Graham's 14-percent target percentage, which is a high number considering how dreadful his first two weeks were.
****************

I'm going to end this week's piece with a bit of a warning. Not only is the NFL a small sample-size sport, it is a week-to-week sport as well. What appears so obvious today is not necessarily so obvious tomorrow. For as much good analysis as there is in the fantasy industry as a whole, there is a lot of lazy analysis as well, much of which assumes the NFL is static until the next tidal wave comes in and changes everything for the umpteenth time. Two weeks ago, the Saints' defense was a sieve. One month ago, the Patriots were supposedly a top-10 defense and a team some expected to go 16-0. Two weeks ago, the Baltimore Ravens' defense was an impenetrable force. Owners and analysts alike must be vigilant in asking and discovering why we were wrong and, in most cases, what changed.
In New England's case, I think much of the blame can be placed at the loss of veteran leaders such as Chris Long and Rob Ninkovich, although it is pretty obvious MLB Dont'a Hightower is more important to that defense that most people realized. He's played about 1 1/2 games and logged his first full game last week. All I'm saying with the Patriots is that owners should enjoy the plus-matchup they provide at the moment because HC Bill Belichick's track record suggests he and DC Matt Patricia will find answers to their problems sooner than later.
In Baltimore's case, it appears to be as simple as the loss of 340-pound run-stuffer DT Brandon Williams. While Williams' absence may not be the sole reason of the Ravens' demise - the offense isn't helping with its inability to sustain drives - it's probably not a coincidence the defense began hemorrhaging rushing yards just about as soon as Williams wasn't around to clog running lanes. When once-elite defenses can't get opponents into long down-and-distance situations, sack - and ultimately turnover - opportunities dry up because defenses must still play run and pass. It's a key part of basic football that doesn't get talked about nearly enough by fantasy owners or analysts when it comes to defenses and defensive efficiency. Baltimore's defense didn't just get bad overnight after collecting eight sacks and 10 turnovers in the first two weeks of the season. It lost a vital cog. Williams is without a timetable for return at the moment, but you can almost bet when he comes back, the Ravens will probably start looking a bit more like the Week 1-2 version that was absolutely destroying offenses.

---
Doug Orth has written for FF Today since 2006 and been featured in USA Today's Fantasy Football Preview magazine since 2010. He hosted USA Today's hour-long, pre-kickoff fantasy football internet chat every Sunday in 2012-13 and appears as a guest analyst on a number of national sports radio shows, including Sirius XM's "Fantasy Drive". Doug is also a member of the Fantasy Sports Writers Association.