There are some weeks where the most challenging thing I do in terms of writing a fantasy article is thinking of a unique title for this column. When I arrived at this one, I immediately flashed back to this scene in Batman (1989). (The particular scene I'm referring to starts around the 2:42 mark, although it's worth watching the whole bit if only to go down memory lane for a minute or two.)

For my money, Jack Nicholson is still the best Joker, although I'm not going to argue with anyone who believes the late Heath Ledger didn't give him a run for his money. (In the interest of full disclosure, I haven't seen Joaquin Phoenix's portrayal.)

Getting back on track, Nicholson's Joker says the following line in the iconic 1989 film: "And now folks, it's time for who do you trust? Hubba, hubba, hubba … money, money, money … who do you trust?"

I will not be playing the role of Batman or Joker this week, but we have reached the point of the fantasy season where it's important to figure out who we trust and, just as importantly, who we don't.

By now, I think we can say the following players are on the "trust list":

QB: Lamar Jackson, Russell Wilson, Patrick Mahomes (yes, even in light of his recent production) and Deshaun Watson. Others that are debatable and/or right on the edge include but are not limited to Dak Prescott, Josh Allen and Kyler Murray.

RB: Christian McCaffrey, Dalvin Cook (assuming he doesn't suffer a setback with his shoulder injury), Leonard Fournette, Derrick Henry and Ezekiel Elliott. Others that are debatable and/or right on the edge include but are not limited to Austin Ekeler, Nick Chubb and Mark Ingram.

WR: Michael Thomas, Chris Godwin, DeAndre Hopkins, Julian Edelman, Amari Cooper, Courtland Sutton, D.J. Chark, D.J. Moore, Julio Jones and DeVante Parker. Others that are debatable and/or right on the edge include but are not limited to Mike Evans, Cooper Kupp, Keenan Allen, Kenny Golladay and Allen Robinson.

TE: Travis Kelce, Darren Waller, Mark Andrews, Austin Hooper (when healthy), George Kittle and Hunter Henry. Others that are debatable and/or right on the edge include but are not limited to Zach Ertz, Kyle Rudolph and whichever tight end is facing the Cardinals in a given week. (I kid, kind of …)

As per usual, I'm not overly concerned with the "trust list"(or which players are on it versus which players are on the edge) but rather those players who may have emerged in recent weeks that we may be leery of trusting for one reason or another. Usually, it's a matter of a player not being in his current role long enough to draw a solid conclusion regarding his current standing in his offense. Other times, we don't know enough about the player in general or they have burned us before. It's not a great situation for owners to be in, but the majority of us find ourselves in that very position. Why? Because fantasy football is a highly volatile game built on probability and not certainty. Things we thought we knew this summer are typically no longer relevant and situations which appeared to be obvious two weeks ago no longer are. It's rare to run a championship fantasy playoff team that doesn't benefit from at least one player that greatly exceeds expectations.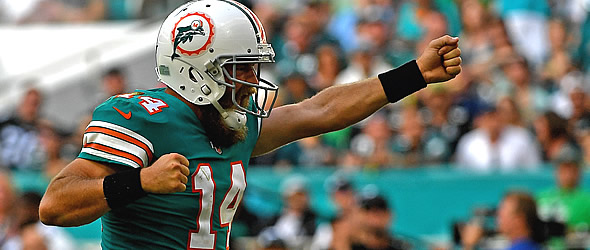 Quarterbacks
Ryan Fitzpatrick, Miami
Remaining schedule: Jets (Week 14), Giants (Week 15) and Bengals (Week 16)
The word "trust" is not usually associated with Fitzpatrick, who has consistently gotten on a hot streak at some point in just about every season in recent memory only to disappoint in spectacular fashion just as owners find themselves willing to open their hearts to him yet again. However, if we take an unbiased look at what he has done this year, he has generally performed well for his fantasy owners in softer matchups, done well in a difficult matchup or two (Buffalo and Pittsburgh) and performed poorly really only in one game (in Week 2 against New England, as should have been expected).
Do 10-plus years of wildly inconsistent play mean he is destined to fail yet again? I'm not so sure. Look, he's not a quarterback I want to throw into my lineup for the first time this season in Week 14 and pray he can keep it together for another week or three. It's almost a given he's going to turn the ball over at least once per game. And yet, I will consider starting him this week over Kyler Murray/Sam Darnold in one high-stakes league and Murray/Jameis Winston in another one. While recent performances against the Raiders and Bengals have lowered their recent points-against averages, the Jets are only two weeks removed from a four-game stretch in which they gave up an average of 272.3 yards and three passing touchdowns against Gardner Minshew, Fitzpatrick, Daniel Jones and Dwayne Haskins. They face the real possibility of being without their best defensive player - safety Jamal Adams - this week to boot.
Further enhancing Fitzpatrick's outlook: DeVante Parker has finally emerged as a playmaking force, while Mike Gesicki is starting to become a reliable option and flash some upside. Miami has rushed for 72 or fewer yards in all but three games - 50 in its Week 9 win over the Jets - so the responsibility of moving the offense is going to fall almost entirely on Fitzpatrick's shoulders once again. In my aforementioned situations, I wouldn't even consider Fitzpatrick if Murray wasn't facing the Steelers, Darnold hadn't fallen flat last week against the Bengals and Winston wasn't such an up-and-down performer opposing a Colts' defense that hasn't allowed more than two total TDs to a quarterback since Week 3. But if Fitzpatrick can simply replicate what he did against a healthier Jets team in Week 9 this week, I like my odds of him taking some of the sting out of facing Lamar Jackson in one league and Deshaun Watson in the other.
Trust in Week 14 (scale from 1-10): 8
Trust throughout fantasy playoffs: 6
Kyle Allen, Carolina
Remaining schedule: Falcons (Week 14), Seahawks (Week 15) and Colts (Week 16)
Fans and fantasy owners tend to live in the moment a bit more than they should. When Allen carved up Arizona for four touchdowns in Week 3, it was clear to most Cam Newton's starting job was on thin ice. Allen then barely topped his production in that game over the next four weeks combined. Since his forgettable effort against San Francisco in Week 8, he has been a solid streaming option for the most part, but the calls for him to take over for good and trade Newton somewhere else this spring have predictably subsided.
Allen has perhaps the most important quality for any quarterback attempting to be a fantasy playoff superstar: a very good supporting cast. For that reason alone, it's nearly impossible to discount the possibility he could be a very good streamer over the final three weeks of the fantasy season. Unfortunately, there's been little to no hint of consistency that he can deliver the goods on a weekly basis in fantasy just yet. Furthermore, we've seen him hit lows maybe only Fitzpatrick could appreciate since the Week 7 bye - throwing three interceptions versus the 49ers and four more against the Falcons. Were it not for that Week 11 performance at home against Atlanta, maybe owners could feel better about streaming him this week and possibly the rest of the month. Making matters worse, Seattle and Indianapolis (Weeks 15 and 16) haven't allowed many quarterbacks to have huge days at their expense in 2019.
The biggest problem now may not even be schedule-related. At the same time they fired HC Ron Rivera, the Panthers saw fit to reassign OC Norv Turner to special assistant to the head coach and promote son Scott from quarterbacks coach to his dad's former position. The last time that Scott officially called plays - at least according to his bio on the team's website - was in high school in 2006-07. It goes without saying this is not exactly an ideal situation for owners to be looking at when streaming a quarterback.
Trust in Week 14 (scale from 1-10): 6
Trust throughout fantasy playoffs: 5
Running Backs
Rashaad Penny, Seattle
Remaining schedule: Rams (Week 14), Panthers (Week 15) and Cardinals (Week 16)
Meet the overall RB4 over the last two weeks in PPR leagues and inspiration for this week's article - quite the achievement considering he was a virtual afterthought in the offense for the first 11 weeks. Over the last two games, Penny has accounted for 29 of his 65 carries for the season (44.6 percent), 203 of his 370 rushing yards (54.9), six of his 10 targets and three of his four total touchdowns. At this time, I'm reminded of something that Penny said over the summer - and RB coach Chad Morton seconded - about the Seahawks' backfield emulating what the Saints once had with Alvin Kamara and Mark Ingram. Maybe the last two weeks is what Seattle had in its mind for its backfield the whole time?
There's still little question in my mind Chris Carson is the leader of this backfield and will continue to be going forward. With that said, Carson's fantasy owners can't ignore the fact he has essentially split touches with Penny (35-30 in Week 12, 39-35 in Week 13) over the last two games). The good thing for fantasy owners is it may not matter if they continue to split work down the middle or not until next season, as the remaining schedule bodes well for the Seahawks to be able to repeat the 43 touches that Carson and Penny combined for in Week 13. The Rams (Week 14) bottled up Arizona last week but were gashed by Baltimore in Week 12 and have already surrendered one 100-yard game to Carson this year. The Panthers (Week 15) were trampled on the ground by the Redskins last week and have yielded the second-most fantasy points to running backs this season. The Cardinals (Week 16) sold out to stop the run against the 49ers in Week 12 - only to give up four touchdown passes to Jimmy Garoppolo - before surrendering 400-plus passing yards to Jared Goff and 142 rushing yards to the running back position last week versus the Rams.
Much like with Fitzpatrick, it's hard for me to believe Week 14 is the time to start a player who has been an afterthought for the entire season, but it's always important to remember coaches do not operate under the same schedule as fantasy owners. Their goal is not to make sure certain players deliver their best statistical performances in Weeks 14-16, but rather making sure they are putting their team in the best position possible - at least in their opinion - to make a run in January. It's entirely possible HC Pete Carroll and OC Brian Schottenheimer see a Carson-Penny split as the best way to establish the tone they want to set and keep both players reasonably healthy for the NFL Playoffs. Whether it took them two games or 12 to come to that realization doesn't matter; that's where the brain trust is at the moment and that's how fantasy owners need to view Carson and Penny until further notice - as a pair of high-upside RB2s.
Trust in Week 14 (scale from 1-10): 8
Trust throughout fantasy playoffs: 8
Derrius Guice, Washington
Remaining schedule: Packers (Week 14), Eagles (Week 15) and Giants (Week 16)
We're starting to get a taste of the immense ceiling of Guice, whose career has gotten off to a bit of a rough start due to injury. Is he THE future in Washington or just a part of it? There's a pretty decent chance team president Bruce Allen and his subordinates want to have an answer to that question by the end of the month. Does a long touchdown catch in Week 11 versus the Jets answer that question? Does the fact he ran for 129 yards and two TDs against one of the worst rush defenses in the league answer that question? All we know at the moment is that it helps.
With that said, it seems pretty clear since Guice's return that HC Bill Callahan has no intention of breaking away from the split backfield that has helped Washington go 2-1 over the last three games. The problem with trusting the second-year back moving forward is that it is hard to believe there will be much positive game script over the next two games being attached to such a poor offense. Unlike Seattle, the likelihood Washington is able to push for 40 touches between Adrian Peterson and Guice is also highly unlikely. And even if we are looking ahead to Week 16, the Giants have been better than average in terms of limiting the impact of running backs since Chase Edmonds blew up for 35 fantasy points in Week 7.
In short, Guice projects to be a flex-worthy option who will likely either need more involvement in the passing game or benefit from a big-play TD to pay off in fantasy. His ceiling to this point has been 12 touches, which is probably the bare minimum of what owners need to justify starting him in the fantasy playoffs - especially in this offense. The floor? We saw that in Week 12 when he was held to 38 total yards on 11 touches in what was supposed to be a favorable matchup versus the Lions.
Trust in Week 14 (scale from 1-10): 7
Trust throughout fantasy playoffs: 6
Raheem Mostert, San Francisco
Remaining schedule: Saints (Week 14), Falcons (Week 15) and Rams (Week 16)
Mostert has proven on several occasions he is a quality NFL back. However, after totaling 151 yards and a score in Week 2 the Bengals, it took him essentially four games to meet or surpass those totals. If last week was a changing of the guard in terms of the starting running back in San Francisco from Tevin Coleman to Mostert, then we may have something to discuss, but it seems unlikely that will be the case.
Also working against Mostert is the likely return of Matt Breida from a three-game absence in Week 14. If readers and owners buy into the possibility that Coleman is losing the starting job based on his lack of production since his four-TD game in Week 8 versus the Panthers, there is still the small little matter of Breida probably being the best running back - and likely the most explosive - on the team. Making matters worse for Mostert is that none of the remaining teams on schedule rank among the worst in the league in terms of giving up fantasy points to running backs. Never mind the fact Mostert is also considered a key special-teamer in San Francisco. It's entirely reasonable to suspect he will move back to his usual third-string role for that reason alone if Coleman and Breida can stay healthy for the rest of December.
Trust in Week 14 (scale from 1-10): 5
Trust throughout fantasy playoffs: 4
Wide Receivers
Anthony Miller, Chicago
Remaining schedule: Cowboys (Week 14), Packers (Week 15) and Chiefs (Week 16)
There was a fantasy analyst I respect who believed Miller would be the overall WR36 this summer. (Oh wait, that guy was me.) Needless to say, the last 2-3 weeks are what I had in mind when I tabbed him as a seventh-round value on my last PPR Big Board. Mitchell Trubisky has been abysmal at times and HC Matt Nagy has been his own worst enemy at other times, but the biggest obstacle to Miller's ascension has seemingly been Nagy's (or Trubisky's) love for Taylor Gabriel. It's probably not a coincidence Miller began to get "hot" in the same week Gabriel suffered his latest concussion, which has caused him to miss most of the last three games and will keep him out through at least Week 14. Over the last three games (mostly without Gabriel), Miller is the overall WR13 despite not scoring a touchdown.
So what does this mean for Miller moving forward? Is he only playable when Gabriel is out? Let's cross that bridge if/when the time comes. We began to see signs of Miller shaking off his preseason ankle injury around the Week 6 bye when Gabriel suffered his first concussion of the season. One has to wonder if Chicago has any incentive to throw Gabriel back into the fire with three weeks left (since he's already been ruled out in Week 14) and risk a possible third concussion in one year. Here's what we do know: in the last four games in which Gabriel has either sat out or missed the majority of the contest due to injury, Miller has no fewer than seven targets (an average of 9.5) and scored no fewer than 9.2 fantasy points (average of 13.8).
The remaining schedule isn't very favorable to receivers and the thought of relying on a player who is catching passes from Trubisky makes me about his uncomfortable as starting Ryan Fitzpatrick, but each of Chicago's final three fantasy opponents are probably weakest in the slot (where Miller has played roughly 68 percent of the time this season). Perhaps each opponent's slot "weakness" just means Allen Robinson will move inside more often in order to get a better matchup, but that seems like a stretch considering Miller has played fewer than 28 snaps in the slot once since the bye. The other reasons to buy Miller finishing strong: talent and positive touchdown regression. It's doubtful we're going to see more nine-catch, 140-yard days in his immediate future, but we have enough proof to feel good that he'll push for 10 targets without Gabriel around.
Trust in Week 14 (scale from 1-10): 7
Trust throughout fantasy playoffs: 6
Russell Gage, Atlanta
Remaining schedule: Panthers (Week 14), 49ers (Week 15) and Jaguars (Week 16)
Perhaps one of the most low-key breakouts - if that what we are going to call it in this situation - is Gage, who has attracted nine or more targets in three of the five games as the primary option in the slot since the Falcons traded Mohamed Sanu. The last two games have been perfectly encouraging, posting lines of 8-76-0 on 10 targets in Week 12 against the Buccaneers and 5-52-1 on nine targets versus the Saints. But is the beginning of a trend or just a tease?
We can probably assume Week 12 was a matter of negative game script and the Falcons knowing Tampa Bay has struggled against most receivers - especially in the slot - all season long. On Thanksgiving night, Gage saw the bulk of his looks after Atlanta fell behind 17-6 late in the second quarter. In fact, most of his targets in that game came during two-minute drill situations. Last but certainly not least, Julio Jones was inactive in that one.
It would appear owners can probably expect Sanu-like production from Gage moving forward - at least until Austin Hooper returns, which could be as soon as Week 14. And if for whatever reason Gage manages to carve himself out a role like Sanu did before his trade once Jones and Hooper are back, then there's the small issue of an unfavorable schedule to opposing receivers (especially in Weeks 15 and 16). All in all, it doesn't make a ton of sense to bet Gage will be the unlikely force that helps owners win fantasy championships.
Trust in Week 14 (scale from 1-10): 5
Trust throughout fantasy playoffs: 5
Robby Anderson, NY Jets
Remaining schedule: Dolphins (Week 14), Ravens (Week 15) and Steelers (Week 16)
Anderson came through in a big way for his fantasy owners about this time last season, scoring one touchdown in each week of the fantasy playoffs. He's delivered back-to-back WR2 - if not WR1 - level performances in each of the last two games this season, suggesting he might be ready to enjoy another late-season run.
The problem here is the long list of "easy" matchups that I spotlighted about two months ago for the Jets is about to come to an end. Even if we disregard Anderson's poor production in the first game against the Dolphins in Week 9, there's the small matter of asking him to find the end zone against Baltimore and Pittsburgh over the last two weeks of the fantasy season. Considering New York's lack of a dependable running game, a poor offensive line and the high-level pass rush both AFC North teams have, the odds of Anderson hitting a big play aren't particularly good. In fact, both of those contests have more of a Jamison Crowder feel to them.
When we combine the dud the Jets laid in Cincinnati last week with matchups against the Ravens and Steelers, I'm not sure fantasy owners of Anderson can actually feel overly confident about facing the Dolphins at home this week either. It's also probably worth mentioning that Crowder had his second-best performance of the season in the first matchup with Miami. The matchup suggests Anderson is well worth starting this week, but I probably wouldn't even if I owned him in a league.

Trust in Week 14 (scale from 1-10): 6
Trust throughout fantasy playoffs: 4
Tight Ends
Jack Doyle, Indianapolis
Remaining schedule: Buccaneers (Week 14), Saints (Week 15) and Panthers (Week 16)
Last year was something of a perfect storm for Eric Ebron as Doyle couldn't stay healthy and eventually landed on IR. T.Y. Hilton was far less than 100 percent for the second half of the season, ensuring Ebron's place at or near the top of the Colts' passing game hierarchy. This year, it appears the script may be playing out the same way but in Doyle's favor.
Doyle is what he's always been: a big target with dependable hands and the size to make a quarterback feel confident throwing him the ball in the red zone. He was coming off back-to-back disappointing performances before going off for 6-73-1 on 11 targets versus the Titans in Week 13, but he was a steady double-digit point producer in the three previous contests. It's no secret Indianapolis' top weapons in the passing game are hopelessly banged up, which means Jacoby Brissett must choose between throwing the ball to either Doyle or Zach Pascal on roughly 50 percent of his dropbacks at the moment. Perhaps Parris Campbell returns in the next week or two to give this offense some reason to open things up again, but it's also possible the rookie's first big NFL contribution won't come until 2020.
Bringing it back to Doyle, at least the next two opponents probably won't be giving up much on the ground, meaning Brissett will probably need to air it out around 40 times as he did in Week 13. That obviously played out well for Doyle then and it figures to be the reason he will remain relevant this month. It would not be terribly surprising if the 29-year-old tight end pushed for 10 or more targets in either or both of the next two contests.
Trust in Week 14 (scale from 1-10): 9
Trust throughout fantasy playoffs: 8
Mike Gesicki, Miami
Remaining schedule: Jets (Week 14), Giants (Week 15) and Bengals (Week 16)
Seemingly out of nowhere, Gesicki is the overall TE3 over the last two weeks, the TE6 over the last three weeks and the TE6 over the last five weeks. That seems almost impossible to comprehend considering how many people knew he was already a bust at the end of October. So what gives?
As many readers are well aware, opportunity means a lot in this hobby of ours. After seeing six or more targets only twice through Week 8, Gesicki has at least that many in every game since. As is usually the case, the shift from being something of an afterthought in the Miami offense to the second-most important pass-catcher on the team didn't just happen for no reason; the second-year tight end began to emerge in the same game Preston Williams was lost for the season in Week 9. Kenyan Drake was also shipped out of town about the same time, freeing up Parker and Gesicki to absorb most of the roughly 10 targets per game left behind by Williams and Drake.
So the question is: can and will it continue? I have my doubts, even if Gesicki has posted the second-best fantasy day of any tight end against the Jets this season. Williams and Parker were bigger priorities for New York in the first meeting. Gesicki's recent involvement should continue, but I feel as if owners would need to hope for a touchdown in order to have their investment in him pay off this time around against an opponent who has surrendered to two to the position all season. The Giants (Week 15) have been the third-stingiest defense against tight ends. The Bengals (Week 16) have a middle-of-the-pack defense against tight ends. The problem is even if we could say the remaining matchups are the easiest in the league, can we really trust Fitzpatrick & Co. to keep it together for the rest of the season? I think Gesicki will allow owners to get by at tight end, but I'll be waiting until next season before I'm ready to trust him with money on the line.
Trust in Week 14 (scale from 1-10): 6
Trust throughout fantasy playoffs: 6

---
Doug Orth has written for FF Today since 2006 and been featured in USA Today's Fantasy Football Preview magazine since 2010. He hosted USA Today's hour-long, pre-kickoff fantasy football internet chat every Sunday in 2012-13 and appears as a guest analyst on a number of national sports radio shows, including Sirius XM's "Fantasy Drive". Doug is also a member of the Fantasy Sports Writers Association.