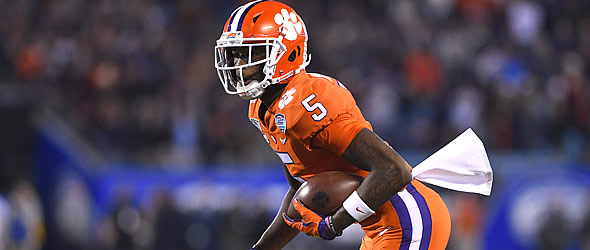 2.01 – WR Tee Higgins, Bengals
Height/Weight: 6' 4"/216
College: Clemson
NFL Comp: Tyrell Williams
Higgins opted not to work out at the NFL Combine, but his pro day reflected what many thought he was. He ran a 4.54, put up mostly disappointing jump numbers (31-inch vertical, 10' 3" broad) and a lackluster shuttle time (4.53). So how is he a second-round prospect? Well, maybe this example of body control and field awareness will help. In a nutshell, he has a number of positive qualities that don't get numbers attached to them in Indianapolis. While he was undoubtedly helped by having likely future No. 1 overall pick Trevor Lawrence running the show over the last two seasons, Higgins has the huge catch radius one might expect from someone with his frame and takes advantage of it by consistently stacking his defender and showing off some of the best ball skills in this class. His aforementioned big frame and strong hands should make him a quality red zone option right away, while his tracking skills and ability to adjust to the ball should make him a dependable chain-mover.
Higgins' testing numbers suggest he isn't a great run-after-catch player and the tape mostly confirms that. Although he did move around the formation quite a bit, he also wasn't asked to run a ton of different routes in college and tends to round off a lot of them downfield. Even though his ball skills suggest he could eventually become a team's primary receiver one day, Higgins has the feel of a quality long-term complementary receiver in the NFL. This pick may be a reflection on how the new regime feels about counting on A.J. Green and John Ross.

What does it mean in redraft? The presence of Green and Tyler Boyd figures to limit his immediate upside, and Auden Tate showed well when given the chance last season. Ross is also a consideration. With that said, Higgins figures to get every chance to work opposite Green while Boyd moves inside. Higgins could work his way up to WR4 territory if Green goes down again, but asking him to be anything more than a WR5 with a rookie quarterback - and if Green and Boyd stay healthy - might be asking too much.
Where should I expect him to go in my rookie drafts? 2.05. He's my 10th-ranked rookie receiver, although that's assuming Green is healthy.
2.02 - WR Michael Pittman Jr., Colts
Height/Weight: 6' 4"/223
College: USC
NFL Comp: Kenny Golladay
There's not an abundance of 6-4, 223-pound receivers with 4.52 speed available to be drafted every year, and certainly not a lot of those with only five drops on 176 catchable passes in his college career (per Pro Football Focus). The son of a long time NFL running back by the same name, Pittman plays to his size in terms of his ability to winning at the catch point and being difficult to tackle after the catch. Much like Golladay, he is able to get deep almost at will despite being a bigger receiver and tracks the ball extraordinarily well. On the down side, he doesn't explode off the line of scrimmage or create a ton of separation, but similar things were also said about the other three receivers in the link above. Pittman will almost certainly be one of those "even when he's not open, he's open" players at the next level, and his ability to block figures to keep him on the field in all situations. At worst, he should a quality No. 2 receiver in the league who will be a popular red zone target. More than likely, however, he will compare favorably to Golladay and Courtland Sutton once he gets acclimated to the NFL.
What does it mean in redraft? Zach Pascal has been put on notice. In all seriousness, Pittman should be a Week 1 starter opposite T.Y. Hilton and allow Parris Campbell to live in the slot - assuming the Colts plan on using 11 personnel as their base formation. Pittman becomes the immediate favorite in the red zone and can make a solid case to be a consistent WR4 in 2020.
Where should I expect him to go in my rookie drafts? 1.08. He's my fourth-ranked rookie receiver.
2.03 - RB D'Andre Swift, Lions
Running backs must have the trust of the coach in virtually all facets of the passing game if they hope to see more than half of the team's snaps. No worries here. Swift excels in space, typically picking up huge chunks on draw plays and screens, but his best attribute may be his receiving skills. He's also no slouch when it comes to running with power. He's not elite in that regard, but he has enough thump to run effectively between the tackles and convert in short yardage.

Swift didn't pull away from many second- and third-level SEC defenders and is also occasionally guilty of seeking out contact when he probably could drop his patented "dead leg" on a defender and pick up more yardage - something that might explain in part why his long run was 47 yards on 196 carries last season. Despite never playing more than 500 offensive snaps or logging 200 carries in any of his three seasons in college, Swift has a high ceiling. And while it's not always easy to tell from the film, it's obvious his football intelligence is also very high, making it much more likely he'll reach his upside.

What does it mean in redraft? The Lions have been hesitant to give Kerryon Johnson a full workload, and they've ensured he won't have to by adding Swift. Unfortunately for Johnson, Swift is a better back in most facets of the game and an immediate threat to be the lead back in Detroit. Despite the likelihood he'll begin a season in a committee, owners should view Swift as a high-end RB3.
Where should I expect him to go in my rookie drafts? 1.04. He's my third-ranked dynasty running back.
2.09 - RB Jonathan Taylor, Colts
Taylor owns several NCAA records, including most career 200-yard rushing games (12), most rushing yards by a freshman (1,977), most rushing yards through a sophomore season (4,171) and most rushing yards through a junior season (6,171). Maybe just as impressively, Taylor owns the second-, fifth- and sixth-best individual rushing seasons in school history. (Perhaps none of his 2019 runs define him better than this one.) He shows patience, steps through a couple of arm tackles, makes a slight jump cut to dodge another tackle in space and then carries a couple of defenders for about 10 yards.) It's almost ridiculous how often those four "abilities" show up on his tape, and it's a good thing for him because all four of those qualities tend to be effective in or carry over to the pro game as well.

Taylor's heavy usage (968 college touches, including 926 carries) in college isn't overly concerning by itself, but it is more of an issue when considering his propensity for fumbling (18 fumbles - 15 lost - in 41 career games). The Colts probably need to wrap their mind around Taylor being an early-down workhorse that initially needs to come off the field in critical passing-down situations. The New Jersey native can catch the ball, but dedication to his craft - not to mention his new position coach - will play a large role as to whether his career moves along the Frank Gore and Mark Ingram trajectory. How quickly it happens will depend on how quickly he can correct/curb his weaknesses in the passing game and with ball security.

What does it mean in redraft? While Marlon Mack isn't an elite back by any stretch, the fit in Indianapolis is curious for Taylor. Mack isn't going to be the third-down back with Nyheim Hines around, but he's too good to be a true backup. With that said, the rookie is too good to sit behind Mack for very long, so he probably needs to be viewed as an RB3 right away with high-end RB2 upside if it is clear during the camp/preseason he is on his way to grabbing the starting job.

Where should I expect him to go in my rookie drafts? 1.02. He's my second-ranked dynasty running back.
2.10 - WR Laviska Shenault, Jaguars
· Draft Profile

Shenault has the same kind of physical dimensions now that Dez Bryant and Larry Fitzgerald had entered the league with, yet Colorado regularly used him as a space player in between the 20s and as a Wildcat quarterback in short yardage. Despite this, he was anything but overmatched. Think about that for a second: a receiver powerful enough to be a preferred goal-line option as a runner and a 230-pound "space" player winning in contested-catch situations much more often than he lost (14 of 22 over the last two seasons, per Pro Football Focus). Perhaps the only thing that is clear at the moment is that it is almost impossible to evaluate Shenault as a typical receiver prospect.

The case can be made his production dropped in 2019 because he was used more traditionally, but isn't it more likely his September core muscle injury and a lack of refinement playing the receiver position had a much bigger effect? If it wasn't already clear, Shenault is in the odd position of needing a lot more time to develop while also being such an obvious talent that it would be a waste to treat him merely as a gadget player - he is so much more than that - just so Jacksonville can get some kind of immediate offensive contribution. The potential is there for Shenault to become a poor man's Julio Jones down the road (or at least a reasonable facsimile of Sammy Watkins) five years down the road. However, if new Jaguars OC Jay Gruden doesn't think outside the box, he could easily become the next Cordarrelle Patterson.
What does it mean in redraft? The emergence of D.J. Chark and presence of Dede Westbrook ensures Shenault won't need to be "the man" in Jacksonville in 2020. It would not be surprising if the rookie does take on more of a Swiss-army knife role as a result, but the odds are good he'll overtake Chris Conley before long. Unfortunately, that role didn't bear much fantasy fruit in 2019. Consider him a WR5 at best.
Where should I expect him to go in my rookie drafts? 1.11. He's my sixth-ranked rookie receiver.
2.11 - TE Cole Kmet, Bears
Height/Weight: 6' 6"/262
College: Notre Dame
NFL Comp: Kyle Rudolph

While it seemed as though Notre Dame was trying to force-feed Chase Claypool against Georgia (especially near the goal line), it was Kmet who was consistently running wide open over the middle against the Bulldogs. Even in that contest (9-108-1), it was clear very quickly he isn't a seam-stretcher at 6-6 and 262 pounds and more of a sure-handed underneath option that will move the chains. While he definitely has the size and shows enough determination to be a good blocker, he is still a work in progress there. Perhaps like a young Rudolph, Kmet could eventually emerge as Mitchel Trubisky's (or Nick Foles'?) favorite red zone weapon down the road because he is such a big target. He's unlikely to become much more than that in the NFL.

What does it mean in redraft? Kmet is one of 10 tight ends currently on the Bears' roster. And while an aging Jimmy Graham isn't a huge detriment, this Golden Domer isn't such a unique talent that he is going to send him to the bench. It's highly unlikely he'll come off the wire in most leagues in 2020.
Where should I expect him to go in my rookie drafts? 3.11. He's my second-ranked rookie tight end.
2.14 - WR KJ Hamler, Broncos
Height/Weight: 5' 9"/178
College: Penn State
NFL Comp: Tavon Austin

Hamler was yet another receiver who wasn't able to take part in the NFL Scouting Combine due to injury (hamstring), but it's a reasonable bet he would have performed exceedingly well in the "triangle numbers" (40 time, vertical jump and broad jump) that most evaluators look at to gauge explosiveness. Pro Football Focus credited him with a step or more of separation on 64 percent of his routes in 2019 and 41 plays of at least 15 yards in the slot over the last two seasons - both of which rank fourth in the country. The Michigan native is exceptionally quick off the line of scrimmage and can stop and start with the best of them - a pair of qualities that further help explain how he creates the separation he does.

While all of this should mean he projects as a high-level slot receiver at the next level, his hands have betrayed him too often. (PFF charted him with 12 drops on 70 catchable targets last season and 16 drops on 114 catchable targets in his career.) Along with his lack of ideal size and maybe his inability to play through much contact, it's his biggest concern. Hamler has caught only 80.7 percent of his catchable targets in the slot over the last two seasons, per PFF. Fortunately, at least some of those drops can be attributed to poor catching technique. While Hamler is not necessarily restricted to slot duty, he will almost certainly spend the majority of his time there in Denver with Courtland Sutton and Jerry Jeudy set to start.

What does it mean in redraft? As noted above, Hamler's path is going to be blocked by Sutton and Jeudy. Even Tim Patrick looms should either one of those players gets hurt. As such, Hamler figures to be more important to the Broncos as a rookie than any fantasy owner. He will almost certainly go undrafted in most 12-team leagues.
Where should I expect him to go in my rookie drafts? 3.05. He's my 17th-ranked dynasty WR.
2.17 - WR Chase Claypool, Steelers
Height/Weight: 6' 4"/238
College: Notre Dame
NFL Comp: Michael Floyd/Devin Funchess
Claypool's otherworldly combination of speed (4.42), vertical (40.5") and size (6-4, 238) might suggest he is positioned well to be the next Vincent Jackson, but his tape did not reflect his combine measurables (outside of his size) very often. Despite his athletic testing numbers, he is not particularly quick or light on his feet. His speed is more of the build-up variety, but his size figures to make him a favorite of Ben Roethlisberger's in the red zone and on shot plays. His performance against Navy (7-117-4) in 2019 is very much indicative of what is possible if he ends up getting used as a movable chess piece in the NFL.
On the downside, the Navy game was the only one of the four games in which he looked worthy of a Day 2 selection. He is considered a receiver at the moment and was announced as such during the draft, suggesting Pittsburgh views him as Martavis Bryant 2.0. A move to tight end cannot be ruled out, however. Considering the Steelers have JuJu Smith-Schuster, Diontae Johnson and James Washington locked in as the top three receivers on the roster, Claypool will almost certainly be a situational deep threat/red zone option as a rookie - assuming he remains at receiver.

What does it mean in redraft? Much like Bryant a few years back, it's possible - albeit unlikely - Claypool scores on enough big plays to find his way on the fantasy radar at some point. Owners should keep an eye for reports of a Bryant-like role, but it's doubtful he'll be a consistently useful fantasy option.
Where should I expect him to go in my rookie drafts? 2.10. He's my 13th-ranked rookie receiver.
2.20 - RB Cam Akers, Rams
The similarity to Le'Veon Bell in terms of his running style is almost uncanny. Akers runs a bit high in between the tackles and begins most of his runs with a bit of skip or hop behind the line of scrimmage before plowing through and doing a good job of picking up yards after contact. He never seems to get too much ahead of himself on many of his outside runs, making a spin move or juke to elude a potential tackle in the open field without losing much momentum.
But while Akers is certainly capable of becoming a feature back given the combination of his talent, size and elusiveness, it is going to take some time. It's fair to wonder if the Willie Taggart-led Florida State coaching staff was in over their head because while Akers doesn't have a long list of concerns, it is disappointing he is as lacking as he is in some of the most critical areas for a prospect at his position. He desperately needs his new position coach to work some magic if he is going to become a Bell clone.

What does it mean in redraft? Akers would have well-served to begin his career as the 1B option in the NFL. It should happen in LA, but the combination of Malcolm Brown and Darrell Henderson is not exactly daunting (even though Brown is a bit underrated and Henderson is highly explosive). As a result, Akers could easily emerge as the lead back before midseason. Owners should draft him as a high-upside RB4 - one capable of ascending to RB2 territory if he can take over as the featured back.
Where should I expect him to go in my rookie drafts? 1.07 (although he'll likely go earlier in most drafts with most people discounting Brown and Henderson). He's my fourth-ranked rookie running back.
2.21 - QB Jalen Hurts, Eagles
Height/Weight: 6' 1"/222
College: Oklahoma
NFL Comp: A poor man's Dak Prescott/Taysom Hill
It may not seem as though Hurts has led a blessed life in college football, but it's quite possible that he will have played with roughly 10 first- or second-round pass-catchers during his time at Alabama and Oklahoma when the dust settles on future draft classes. Hurts possesses a number of characteristics the league likes at the quarterback position nowadays, including above-average arm strength, above-average mobility and a compact build that should help him absorb punishment better than the typical college quarterback entering the league.

Perhaps the biggest concern regarding Hurts is that he is often at his best outside the design of the play, which tends to work a lot better on the playground than it does on the field. He is not a quarterback that will consistently throw quickly. The best part about Hurts, however, is that he is athletic enough that he could give his new team some Taysom Hill-like versatility while getting full-time instruction on how to manipulate coverage, learning the importance of speeding up his internal clock in the pocket, etc. It seems almost certain that will be the case in Philly with Carson Wentz locked into the starting job for years to come.

What does it mean in redraft? Outside of being the potential handcuff to Wentz, virtually nothing. He will almost certainly go undrafted in most 12-team leagues.

Where should I expect him to go in my rookie drafts? 4.03. He's my fifth-ranked rookie quarterback.
2.23 - RB JK Dobbins, Ravens
Dobbins is a bit of a walking contrast. He is a big play waiting to happen on just about every touch, but there are too many times where he doesn't pull away from defenders. He runs with power and flashes the ability to break tackles consistently, but he also gets stopped dead in his tracks too often on inside runs. He is a capable receiver, but it was hard to watch him in pass protection until the final few games of 2019. There's no question he has the goods to be a three-down back in the NFL, but being drafted by the Ravens should provide him a chance to get the necessary time to address the aforementioned dichotomies, as he will be an explosive change-of-pace back initially in Baltimore.
What does it mean in redraft? There's no chance he'll overtake Mark Ingram in 2020, but it's a pretty solid bet he'll play ahead of Gus Edwards and Justice Hill. That's a big deal in run-heavy Baltimore, as any handcuff - especially one with Dobbins' explosiveness - would likely be catapulted into RB2 territory if Ingram got hurt. As such, Dobbins is shaping up to be considered one of the more valuable handcuffs in fantasy.

Where should I expect him to go in my rookie drafts? 1.09. He's my fifth-ranked rookie running back.
2.25 - WR Van Jefferson, Rams
Height/Weight: 6' 1"/200
College: Florida

It only takes a few plays before it becomes obvious Jefferson is the son of a longtime NFL receiver and current NFL receivers coach (Shawn). Van is polished as a route-runner and has already learned so many tricks of the trade in terms of how to get open, such as reading leverage and changing up his releases off the line of scrimmage. There's also little wasted motion in his overall game. In short, he creates separation and a smooth operator even though his most distinguishing physical characteristic might be quick feet. Jefferson proved to be a handful in two of the three games above despite average quarterbacking and proved his ability to get open against SEC defenses was no fluke when he shined in Senior Bowl practices. It's probably just as well he didn't test at the NFL Combine - he was diagnosed with a Jones fracture in his right foot during a medical evaluation prior to running - because it's unlikely he would have stacked up well athletically against what is a loaded class at his position.

He will also turn 24 years old before he takes his first NFL snap, which suggests he is probably close to being maxed out as a prospect (especially when we consider his father's influence). Jefferson will probably be underrated for most of his time in the pros because he doesn't do anything particularly highlight-worthy and figures to live within 15 yards of the line of scrimmage, but he should enjoy a long career in the slot because he is so dependable, savvy and competitive.

What does it mean in redraft? This is an interesting landing spot for Jefferson, as Josh Reynolds is the only viable alternative to replace Brandin Cooks with Robert Woods and Cooper Kupp occupying the other two receiving spots. Jefferson is refined enough to overtake Reynolds in 2020, but a more likely outcome will be the two players sharing snaps. Unless he is clearly ahead of Reynolds on the depth chart before the start of the season, he will probably go undrafted in most leagues.

Where should I expect him to go in my rookie drafts? 3.06. He's my 18th-ranked rookie receiver.
2.27 - WR Denzel Mims, Jets
Height/Weight: 6' 3"/207
College: Baylor
NFL Comp: Kenny Britt
Mims is already plenty rangy, but once his near 34-inch arms, 4.38 speed, 6.66 three-cone and 10' 11" broad jump are factored in, he becomes a scary dude for teams to pass on. (Since 2000, there have only been 17 receivers at the NFL Combine who stand at least 6-3 and run a sub-4.4. Of that group, Mims' three-cone is tied for first with Julio Jones'.) As his measurables suggest, it almost takes a spectacularly poor throw from a quarterback to put a target on him that isn't within his catch radius. Mims finished in a tie for second in contested catches (20) in this draft class per Pro Football Focus last season. A few of which came on back-shoulder fades, which are easily some of his best routes along with a go. He's also sure to endear himself to pro coaches with his tenacity as a blocker and overall physicality - cornerbacks figures to get a three-hour, full-body workout against him.
Mims' biggest shortcomings at the moment are his drops (seven in 2019 and 18 over the last two seasons), a tendency to pop up as he's about to change direction on his route and the overall number of routes he runs well at the moment. With all that said, it's not hard to see shades of Vincent Jackson or Britt in his prime when he's at his best. Given how much he seems to enjoy the physical aspect of football and his overall unselfishness, he figures to be a matchup problem and very good second receiver in the league for years to come.

What does it mean in redraft? Breshad Perriman and Jamison Crowder will almost certainly start Week 1, but Mims is in play to be a dynamic deep-ball/red zone threat right away. It's more likely than not Mims will be more than an inconsistent WR5 this year, but it's also possible he becomes the top option in this offense if he shows he can handle a full NFL route tree in short order. He is definitely worth a grab in the late rounds.
Where should I expect him to go in my rookie drafts? 1.12. He's my seventh-ranked rookie receiver.
2.30 - RB AJ Dillon, Packers
Height/Weight: 6' 0"/247
College: Boston College
NFL Comp: LeGarrette Blount
NFL fans may remember the last bruising Boston College runner to enter the league with less than fond memories, but Dillon brings a little bit more to the table than Andre Williams. Dillon isn't a lost cause as a receiver (he can contribute in the screen game but his pass pro needs a ton of work), is almost 30 pounds heavier (247) than the weight Williams played at, a hair faster (4.53) and more explosive (41-inch vertical, 10' 11" broad). The Eagles' all-time leading rusher also has a bit of wiggle to his game - admittedly not much - and isn't quite the straight-line runner his dimensions suggest he should be either, much like a young Blount or maybe even Leonard Fournette.
Like many big college backs transitioning to the pros, however, he has been overworked (845 carries), has much work to do as a receiver and is at his best between the tackles. Dillon's bulldozing running style and ability to handle 30 carries could have easily made him a top 40-50 pick as recently as 10 years ago, but he will almost certainly be viewed as a committee back in today's NFL - one who should get the bulk of his work on early downs, four-minute situations and near the goal line.
What does it mean in redraft? Despite already having Aaron Jones and Jamaal Williams on the roster and capably sharing the load, the Packers add a two-down thumper to the mix. Dillon isn't going to overtake Jones, but he stands a pretty good chance of stealing most of the goal-line work in Green Bay. Although he could push for a handful of touchdowns in that role with the Pack, it's hard to see him being much more than an RB4 barring a rash of injuries in front of him.
Where should I expect him to go in my rookie drafts? 3.02. He's my ninth-ranked rookie running back.
---
Doug Orth has written for FF Today since 2006 and been featured in USA Today's Fantasy Football Preview magazine since 2010. He hosted USA Today's hour-long, pre-kickoff fantasy football internet chat every Sunday in 2012-13 and appears as a guest analyst on a number of national sports radio shows, including Sirius XM's "Fantasy Drive". Doug is also a member of the Fantasy Sports Writers Association.