For some time, I and many others have likened fantasy football to the stock market. Some stocks hold their value extremely well over time, others crash and burn and still others experience such fluctuation that it seems almost useless to try to predict what they will do from one week to the next.

In this respect, former head coach Jerry Glanville was right on point when he said the NFL stood for "Not for Long", even though he was talking about officiating at the time. Barring season-ending injuries, I tend to stick with the player values (in trade talks anyway) on my Big Boards four weeks into the season, although there is certainly some give-and-take to that. The reality is the fantasy stock market is highly volatile outside of the most elite of the elite players, so what we believed was true at the end of August may be completely different now, and what may be true now may be completely different in another 3-4 weeks.

As such, I thought it would be helpful this week to take every relevant fantasy player and place him into the tier he belongs in now. At the very least, it never hurts to do it exercise like this in order to get a better idea of what how we feel about each player nearing the end of the new preseason. (As I noted in a column last year, Hall of Famer Steve Young has suggested the regular season doesn't really begin until September is over given the relative lack of work players see in August. It's a sentiment I completely agree with, for what it's worth.) Perhaps at its best, this exercise can serve as a trade value chart of sorts, although I would caution against that since "trade value" is often determined by the scoring and size of a particular league.

Bear in mind these "rankings' are a reflection of what a player has done thus far combined with what I believe he can do the rest of the season. As such, just because a player is second or third at his position in total points doesn't necessarily mean he has necessarily graduated to top-tier status at his position, just like two mediocre performances doesn't mean a player isn't the same player we thought about a month ago.

Note: Rankings are based on full-point PPR in 12-team leagues.

QB1

Analysis: There is plenty of reason to be happy AND concerned with just about every player on this list. Newton is still a top-five quarterback despite facing two of the toughest defenses he'll go against all year in his first three games, but he is taking way too many hits (and not just on his usual planned runs). … Brees could very well be in shootout mode for the rest of the season, which is obviously good for his owners. The bad news: I'm not sure it's the best thing for a 37-year-old quarterback to attempt 46.7 throws per game, especially when he'll be in must-pass mode in the second half of many games this year. He is going to be taking some punishment … Rodgers' "slow start" has him ranked inside the top five at his position, yet he hasn't come close to utilizing all of his weapons yet. On the downside, his rushing touchdowns will not continue and he has yet to pass for more than 213 yards.

Brady has yet to play yet, but it could be argued this is one of his best supporting casts in years. While the early fast start of LeGarrette Blount should only help his cause, will New England instead try to be more balance even after Tom returns? I doubt it, but it is worth at least a bit of consideration. … Stafford is by far the biggest riser at quarterback thus far, although it could be argued he hasn't exactly faced the stiffest competition yet, which is my only apprehension about placing him this high. The good news for him is that the difficulty in his schedule doesn't figure to increase all that much, and Marvin Jones looks poised to prove he was a bargain at $8 M/year. … Even without Donte Moncrief for the next month, Luck still has plenty of weapons. Understandably, he isn't running as much this season and the touchdown passes have dried up over the last two games (Is it Moncrief-related, the fact the Colts have faced two stellar secondaries or a bit of both?), but the passing yards are there (304.3 per game). He should be fine, but the fear he'll likely have to operate in catch-up mode nearly as often as Brees may lead to more punishment and possibly another short season.

My only concern with Manning is that his production isn't matching up with his efficiency (71 percent completion rate) or the talent of his supporting cast. He has been the victim of several end-zone drops, however, so I don't think we are looking at a long-term problem here. He only had four passing touchdowns after three weeks last year and ended up with a career-high 35. … Big Ben has to be one of the more frustrating quarterbacks to own on a yearly basis, if only because his monstrous upside and occasional elite QB1 production almost always comes crashing back down to earth after a couple of weeks. Combined with his penchant for missing multiple games due to injury, owners usually need to make sure they have another QB1-caliber player to pair with him. … It's a testament to Rivers' ability and durability that I am keeping him in the QB1 conversation despite the Chargers' personnel losses already, but it is for that reason why I can't place him any higher either. Thankfully (from a matchup-perspective anyway), two games against Denver should present the only obstacles to Rivers performing at a QB1 level from now until the team's Week 11 bye.

QB2

Analysis: Ryan tops the list of QB2s simply because he is the overall QB2 in most leagues, but it is fair to wonder how long this is going to last. After facing perhaps the three worst pass defenses he is going to see all season in Tampa Bay, Oakland and New Orleans, he'll get Carolina, Denver, Seattle and San Diego over the next four weeks. I'll gladly moving up to QB1 if he navigates his way through that minefield. … Wilson should really be in the QB1 tier, but he is simply too injured right now for that to be the case. … Winston has already ran the gamut in only three weeks, sandwiching monster performances in Weeks 1 and 3 around a dud against Arizona in Week 2. Denver and Carolina await before the team's Week 6 bye. … It's easy to forget Philadelphia planned on mothballing Wentz early this season until the Sam Bradford trade became a possibility. Unlike most people, my biggest surprise regarding the rookie isn't that he is having success, but why the Eagles seemed so gung-ho on not playing him. With that said, I'm not exactly convinced last week's win over Pittsburgh was the game everyone thought it was. It'll be interesting to see what he does against the likes of Minnesota in Week 7 and the New York Giants in Week 9. … Palmer didn't throw a pick in his first two games, then was intercepted four times against a reeling Bills' defense. It's not going to be that bad the rest of the way, but the combination of getting beat up and the growing list of multi-turnover games is a problem. I'll be stunned if he lasts the season at this rate.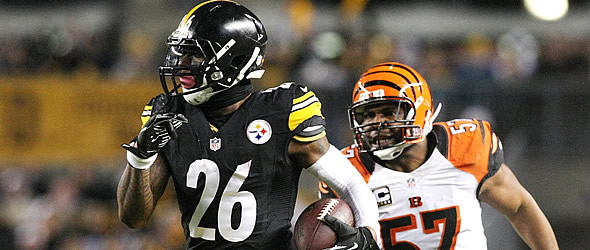 Bell owners are far from out of the woods yet given his recent history of injuries and/or suspensions.
RB1
Analysis: Most of us knew going into the season this list would be fairly small and we have been proven right so far. Injuries certainly helped the cause of players such as Gordon, while projected split backfields in New York and Tennessee have yet to really materialize, greatly helping Forte and Murray. Owners of Bell who weathered his suspension and came out with a 2-1 or 3-0 record can breathe a sigh of relief, although they are far from out of the woods yet given his recent history of serious injuries and/or suspensions. … Johnson has proven to be every bit as reliable as owners could have hoped for despite at least two very stiff matchups. He's likely only going to get better. … Gordon parlayed his offseason workouts with Adrian Peterson into a very good preseason showing, then needed only a little more than a week to take over the full-time job in San Diego. So long as the San Diego offensive line avoids falling apart due to injury like it did last year, Gordon could very well rival the top two players on this list.
Lost in the buzz amid the Cowboys' great offensive line is the fact it hasn't played all that well or stayed all that healthy so far this year. LT Tyron Smith missed Elliott's breakout performance last week, while LG La'El Collins will go on injured reserve due to a toe injury. The No. 4 overall pick talked about being much more comfortable this past week than he was in Week 1 and it showed not only in his running, but also in how much Dallas used him. He's probably not going to quite approach DeMarco Murray's workload circa 2014, but he's definitely the odds-on favorite to lead the league in carries. That kind of activity is going to lead to a pretty healthy floor. … The Jets don't seem overly concerned about Forte's workload yet. As long as they have dysfunctional performances every third week like they did in Week 3, they probably don't have to worry about it either. Still, it is a bit much to ask a 30-year-back to hold up when receiving 25 touches per game, but he's deserving of this spot as long as he does.
The Bills appear to be very aware of McCoy's touches each week, giving him either 19 or 20 in every game so far. With Sammy Watkins' status a bit of an unknown, that probably isn't going to change anytime soon. … Miller's healthy workloads may end up rivaling Elliott's, although it seems logical the Texans will try to use him slightly more as a receiver since their run-blocking has been average at best. The return of LT Duane Brown will help in that regard, and I have little doubt the touchdowns will start coming soon. … I don't have much faith in Anderson or Murray holding up for the season, which is why they round out the bottom of this list. While others seem to believe Anderson has the Denver backfield to himself, I see a player losing a few more touches to his backup (Devontae Booker) than most workhorses do. Murray has been the top back in fantasy so far, but 59.7 percent of his fantasy points are coming out of the passing game and Derrick Henry has stolen 24 of the backfield's 65 carries. It seems naïve to believe Murray can maintain his current level of efficiency based on those facts.
RB2
Analysis: Owners love garbage-time stats and that is where a huge chunk of Hyde's production has come from so far - during a blowout win against the Rams in Week 1 and a blowout loss the Seahawks in Week 3. In an offense that lacks a quarterback that strikes fear the defense, Hyde is proving to be Chip Kelly's favorite option to move the ball regardless of game situation. … The nightmare continues for Charles' owners, who will likely be without him again in Week 4 and watch Kansas City go on bye the following week. It makes too much sense for him to resume his old role once he gets a chance to get his feet wet and proves his readiness, but his owners might not be able to wait until Week 8 or 9 for that to happen. … Gurley led the offensive juggernaut known as the Rams to two of their five touchdowns last week against a stout Bucs' front seven, but volume doesn't exactly cure the ills created by a back averaging 2.9 per carry or one getting used so infrequently in the passing game.
Lacy scares me from the standpoint of how freely HC Mike McCarthy replaces him with Randall Cobb and Ty Montgomery - not to mention James Starks - in the backfield. I'm always also a bit leery of putting too much faith in a running back whose coach needs to remind himself to get his lead runner involved as often as McCarthy does. If you believe last week was the start of the "Free Eddie Lacy" campaign, then feel free to take advantage of the bye week and the fact he doesn't have a touchdown yet to acquire him now. … If I had any faith in Ingram staying healthy for a full season, he'd likely be in the RB1 tier. I don't. Travaris Cadet seems to be stealing most of the pass-catching opportunities that made Ingram so valuable last year, while the goal-line scores that were so commonplace in 2015 have dried up. It's fair to expect a market correction in that regard, but the Saints may not be playing enough close games to give Ingram multiple shots to score at the goal line or to routinely top 15 carries. … Coleman and Freeman are part of a dynamic rushing attack and will probably have at least one more tag-team performance like they did against the Saints in Week 3. Don't look for it to happen again anytime soon, however, as the Falcons face the Panthers, Broncos and Seahawks in succession.
Michael has been so good to this point that it is nearly inconceivable Thomas Rawls will be handed the lead-back role upon his return. Given my high ranking of him here, I'm suggesting he's probably not going to get the starting job back at all in 2016, barring injury. … Sims isn't the most exciting player to watch and has two far-from-ideal matchups (Denver then Carolina) as the Bucs' feature back ahead of him before his Week 6 bye, but his likely 15-18 touch workload (with roughly a third of those coming in the passing game) gives him such a very safe floor. Moreover, the Tampa Bay defense hasn't stopped anybody yet this season, meaning shootouts could be a way of life for this squad, which should keep Sims busy on a weekly basis. Doug Martin isn't losing his job, but shootout-mode means more Sims. … Murray leads all backs in yards after contact (3.0), has broken at least one tackle on 31 percent of his runs, scored in every game and runs behind one of the best lines in the NFL. HC Jack Del Rio stated in August he wanted Murray to have more touches than last year, so how is he not an RB1? Great question. Perhaps because the Raiders don't want him to become one. (At least not yet anyway.) Either Del Rio flat-out lied in the preseason about his desire to run Murray more often (a possibility) or the idea the whole time was to unleash him over the second half of the season (more likely). I'm not going to pretend like I know what the Raiders are thinking, but there really doesn't seem to be any kind of rhyme or reason to their substitution patterns at running back at the moment. That kind of chaos suggests to me they're trying to keep Murray fresh for November and December.
RB3
RB4
*** I'd just like to mention here that Williams and Booker - along with Derrick Henry above - are among my favorite targets in trade talks as I try to stash away lottery tickets on my bench at the position. It really shouldn't take much to acquire any of them and their current owners (assuming they don't have Bell, Anderson or Murray, respectively) can't ask for that much in return.
WR1
Analysis: A slow day at the office for Brown anymore is roughly eight catches and 100 yards. That's the kind of floor you hope for when you pick any player at No. 1. … OBJ hasn't caught a TD pass yet - he dropped a sure one two weeks ago and Manning overthrew for another one in Week 1 if memory serves - and he still ranks 15th in overall scoring. His eruption (we're talking fantasy here and not about taking his anger out on a kicking net) is coming soon. … Green has been all over the map so far, but eight catches and 77 yards against Denver last week is probably as bad as it is going to get for a while. Only the Patriots in Week 6 look like a speed bump for him before the Bengals' Week 9 bye. … With Vincent Jackson contributing next to nothing and Adam Humphries being the only other receiver around to steal targets, Evans should be a pretty solid bet for six catches, at least 70 yards and a touchdown just about every week. Denver and Carolina await, but he is primed for a huge season. … A 6-205-2 line three weeks into the season will almost always propel a receiver to the top of the mountain at his position. Marvin Jones took advantage the same Sam Shields-less secondary Stefon Diggs did one week earlier, so I don't think we have to worry about Jones holding onto the top spot, but who cares? Was Cincinnati really squashing his potential or is Matthew Stafford just that much better than Andy Dalton?
The Falcons appear to be committed to this whole spreading the wealth thing, which is a problem for Julio Jones. I'm pretty sure no one expected a repeat of his 204 targets from a season ago, but I don't think even the most pessimistic person had Jones pegged for 10 catches through three weeks either. There's a solid chance he'll actually perform better against tougher competition since those opponents will probably be less likely to send double-teams and safety help his way as often. … The deep ball doesn't appear to be there nearly as often for Robinson as it was last year, but the targets sure are. Expect his yardage to pick up starting this week versus the Colts and again after the Week 5 bye against the Bears, Raiders and Titans. … Well, Week 3 wasn't exactly what I had in mind when I suggested defenses attempt to be a bit more physical with Benjamin, but I thought consistency was going to be a problem for him. With that said, he shouldn't have any issues in at least two of the next three weeks versus the Falcons, the Bucs and the Saints. … Hopkins was always a candidate for regression given the arrival of Will Fuller and emphasis on getting Lamar Miller the ball, but he seems to be holding his low-end WR1 value just fine - at least when the Texans doesn't attempt to execute one of the worst offensive game plans of the season like they did in Week 3. … Landry might as well be Antonio Brown without the touchdown upside. His PPR floor is so ridiculously high that it is a slight disappointment if he doesn't score at least 15 points every week. He has seen no fewer than 10 targets in any game so far. … Marshall has been a disappointment for those folks who only read and care about the final numbers, but perhaps I'm still in amazement he's even still playing. I'm not concerned about him picking up the pace either, so long as his knee is not a problem. He might be 0-for-5 on end-zone targets thus far, but he was 9-for-21 in such situations last year with similar personnel. Yes, Ryan Fitzpatrick is probably always going to be a candidate to have a meltdown like he did last week, but if we've learned anything about the NFL over the years, most players tend to bounce back in a big way over the next week or two.
WR2
Analysis: The only reason Baldwin and Fitzgerald aren't in the WR1 group are because of their quarterbacks. As long as Russell Wilson continues to absorb a new injury each week, I fear for Baldwin's ability to maintain his current level of play. Trevone Boykin is a Wilson clone, but he's not a Wilson clone, if you catch my drift. … Fitz is doing the same thing he did early last year, but Carson Palmer is starting to become a concern. If/when Palmer misses game time this season, I can guarantee Drew Stanton will not be keeping Fitzgerald's stock at the level it is now. … Cooks is really a more consistent version of Hilton. Both deliver game-changing weeks on a fairly regular basis and most often make their money with the deep ball, but their splash games don't come often enough to be labeled a WR1. … Decker probably belongs in the WR1 group as well given how consistently good he is - his streak of 18 games with at least 80 yards and/or a touchdown ended in Week 3 - but his shoulder injury is enough of a concern at press time that he must downgraded. … Whereas Decker's injury concern appears to be a real threat, owners of Edelman are constantly living in fear of the same eventuality. It's hard to ignore his 100-catch potential, but it comes with so much risk that it is hard to rank him even as high as I have him.
On about 25 other teams, Cooper would be a clear WR1 and probably a threat for 1,200-plus yards and 10 touchdowns. In Oakland, he is seemingly avoided like the plague in the red zone. Both of his red-zone targets this year have come from the 2, but it is laughable he has a total of nine such targets in 18 career games. … Benjamin's battlefield promotion means more high-leverage situations for him, although it is interesting he has yet to hit 10 targets. His role isn't changing anytime soon, but perhaps Tyrell Williams will continue to see his targets increase instead.
Jeffery is being wasted in Chicago, while Matthews has probably already reached his peak in Philadelphia. Yet, the gap between the two is about six points in PPR. The Bears are looking very much like a dumpster fire at this point, but I think we can at least trust them to get their best offensive player involved more often. Or is that too much to ask too? … The inclusion of Cobb here will probably raise an eyebrow. While you can count me among the unhappy owners, don't include me among the overly concerned. As Jordy Nelson continues to divert attention away from the middle of the field, defenses will be more inclined to make Aaron Rodgers force the ball underneath to Cobb. His track record is much too good to believe his slow start will continue much longer. … Bryant suffers a knee injury in Week 3, then gets fined for missing team meetings and the MRI to diagnose his injury. Only in Jerry's World does this kind of thing happen. He's at the bottom of this list mostly due to the hairline fracture of his tibia that should keep him out a few weeks, but also because he hasn't been nearly as big of part of the offense as we might have expected.
WR3
Analysis: Injuries are obviously keeping Moncrief and Watkins outside the WR2 tier, while Tate's 7.2 yards per catch is obviously doing him no favors. Tate is a bit scary to pursue at the moment and even scarier to start if you own him, but his 7.3 targets per game - regardless of how close most of those targets are to the line of scrimmage - suggest he should be ranked much higher than WR71 (!!!!!). … I really only had a chance to draft Gordon in one league this summer and ended up with Doug Baldwin instead. Given the caliber of receivers Cleveland will have when everyone is healthy and the lack of decent quarterback play, I don't see Gordon having a great impact this season. … Hogan has apparently become drop-worthy in at least one of my leagues (20-man rosters). I doubt that will remain the case when Tom Terrific debuts next week.
TE1
Analysis: The return of Gronk was about as much fun to experience as watching the Texans put no effort into game planning last Thursday. The Patriots are likely hoping to match up his return to full-time duty up with the return of Tom Brady, so don't hesitate to sit Gronk one more week if you have a decent option. Feel free to unleash the beast after that. … Olsen brings such wonderful consistency to a position that otherwise lacks it. If he doesn't finish as the TE1 this year with a three-game head start on Gronkowski and a slow start from Reed, something is wrong inside the matrix. … Just once it would be nice to see what Kelce is capable of doing outside Kansas City. At least he's established a five-catch floor thus far, which is more than can be said about his usage in the past. … Jamison Crowder is tied for the league lead in red-zone targets, which should tell you just about everything you need to know as to why Reed hasn't scored yet. … It appears I was about 3-4 years too early on Rudolph, who is finally seeing the kind of usage I expected following his nine-TD campaign in 2012. Injuries have contributed to his slow "development", but there is plenty of reason to believe new TE coach Pat Shurmur has whispered in the ear of OC Norv Turner and QB Sam Bradford to get his pupil involved. I'm not sure it's going to last given Minnesota's offensive line problems, but his usage rate suggests he's going to remain heavily involved.
Hello, Coby Fleener! I'm not sure one great game against the league's worst defense against tight ends is necessarily worth a celebration, but it sure beats the lack of chemistry he had with Drew Brees before. Week 3 is definitely going to go down as one of his finest fantasy performances of the year, but at least the owners who spent a sixth-round pick on him now understand why he was worth the investment. … Thomas is fun to own for about 2-3 weeks of every year, if you are lucky. That is usually about how long it takes before he makes his weekly appearance on the injury report. … The main difference between Ebron and Pitta is that the former has seen a red-zone target. Both are incredibly injury-prone, but both are very important pieces of the offense when they are on the field. Both are also clear TE1s when they are healthy. … If Dez Bryant is going to miss multiple weeks with his leg injury, it's probably about time to fire up the Jason Witten bandwagon again. I don't think an average of 10 targets is out of the question while Bryant is sidelined. Outside of Cole Beasley, no other player seems to be on Dak Prescott's mind in the pocket more often than Witten.
---
Doug Orth has written for FF Today since 2006 and been featured in USA Today's Fantasy Football Preview magazine since 2010. He hosted USA Today's hour-long, pre-kickoff fantasy football internet chat every Sunday in 2012-13 and appears as a guest analyst on a number of national sports radio shows, including Sirius XM's "Fantasy Drive". Doug is also a member of the Fantasy Sports Writers Association.