This is my sixth year reviewing the July PPR Mock. With every year of experience playing this game that we love, I learn more. I learn new things; new concepts; new ideas. I learn some things I didn't even know were there to learn. But one thing that's remained constant over the years is the value and purpose of mock drafts. I wrote the following two paragraphs back in 2015 as an intro, but I doubt anyone will remember that. So here they are again (with some 2020 addenda) to get your mind focused on the information to come.

I once had a friend ask me what the point of a mock draft is. Much of the excitement and enjoyment of a draft is eyeing that player you want and actually being able to draft and root for him all season. A mock is not real. You don't actually own any of those players. And it's not like your actual drafts will mimic your mock drafts. This attitude made me realize that many people do not understand the underlying purpose of mocks – to educate you.

This article is going to discuss one mock conducted in July, roughly six weeks before the heart of draft season. A lot is going to change between now and then. Player perception will change. Player value will change. ADPs will rise and fall. Players will get injured. Your actual draft will look much different than this mock that I am about to discuss. So what's the point of discussing it at all? When reviewing this particular mock and reading this article, remember to focus on the concepts; focus on the why, not the what, or the who. Let's get to it.

Editor's Note: You can view the full FFToday July PPR Mock resuts here.

1. I noticed everyone understands the importance of drafting running backs early.
A little teaser for my annual late August draft strategy article Ė it will be centered around robust RB. In the six years Iíve analyzed the July PPR Mock, never have there been as many as 10 first round running backs. This movement towards pounding the position early has more to do with the state of the wide receiver position. We know there is no asset more valuable in fantasy football than the elite RB. We also know early round RBs are more likely to bust than early round WRs.
With that being said, in order to win, you need an edge over your competition and you donít get that edge by playing it safe. The gap between RB1s and RB2/3s is significantly larger than the gap between WR1s and WR2/3s.

Without overwhelming you with numbers, Iíll just highlight the 2019 disparity. The WR36 was 3.7 FPts/G worse than the WR12 while the RB24 was 3.1 FPts/G worse than the RB12. Is Tyreek Hill, who went at 2.01 in this mock, a better pick in a vacuum than Nick Chubb or Derrick Henry or Aaron Jones? Almost certainly. But that will be the case at almost every point throughout a draft Ė the WR will be the better option. At some point, you have to take an RB. The best time to do that is very early in your draft.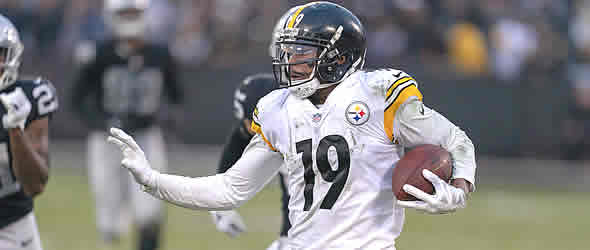 2. I noticed this group was very bullish on bounceback seasons from 2019 disappointments.
Todd Gurley went 2.09, David Johnson 3.04, JuJu Smith-Schuster 3.06, Adam Thielen 3.07, LeíVeon Bell 3.09, and Melvin Gordon 3.10. With the exception of JuJu, whose season was derailed due to a combination of injuries and two of the worst quarterbacks to ever throw passes in the NFL, these guys are all older veterans that could continue to decline. I tend to side with the drafters here in that Iím willing to roll the dice on these veterans, but we need to acknowledge the risks here.

Gurley has a degenerative knee condition and commanded just an 8% target share last season (16% in 2018 and 18% in 2017). DJ sustained knee and back injuries that completely sapped his explosiveness. Right now, we have no way of knowing if his athleticism has returned. JuJu hasnít proven heís a true NFL WR1. 2019 was supposed to be his chance, but there were mitigating circumstances, so we just donít know right now. Thielen is 30 years old on a run first offense coming off a season where he saw his target share plummet to 17.8%. Bell is 28 years old with a lengthy injury history playing on a bad offense with a bad offensive line for arguably the worst coach in NFL history. He saw massive volume in 2019 and couldnít do anything with it. Gordon is 27 years old with a lengthy injury history joining a new team with a bad quarterback, but a medley of talented offensive players around him and a backfield mate that has posted back to back 1,000-yard seasons.

None of these facts mean to automatically avoid these players, but these facts matter and must be considered in order to make an informed decision.

3. I noticed the early RB run resulted in a mid-round WR run.
To be clear, I fully endorse this and the caliber of WR available in the back of round three and all of round four is exactly why. The picks from 3.12 to 4.06 were all wide receivers. The reason I love pounding RB early is because this group right here isnít that much of a drop off from the top tier. Obviously Michael Thomas, Davante Adams, Tyreek Hill, and Julio Jones are better. They are the elite of the elite. However, would it really shock you if several of Robert Woods, Calvin Ridley, Cooper Kupp, Odell Beckham Jr., Amari Cooper, D.J. Moore, and A.J. Brown returned WR1 value? If you went WR early and were forced to take an RB in this spot, your choices were Mark Ingram, Devin Singletary, Jonathan Taylor, or James Conner. I much prefer a combination of one of Derrick Henry/Joe Mixon/Josh Jacobs and the 3.12 Ė 4.06 WRs than a combination of the aforementioned top four WRs and Ingram/Singletary/Taylor/Conner.

4. I noticed the massive gap between Lamar Jackson / Patrick Mahomes and the rest of the quarterbacks.
Jackson and Mahomes both went in the latter part of the second round. The next QB taken, Deshaun Watson, didnít come off the board until the middle of the sixth round. What was more interesting than Jackson and Mahomes going early was that no one really waited to the late rounds on the position. From 6.05 to 9.01, nine QBs were drafted. All but two teams had their starting QB by the start of the ninth round. While I wouldnít go so far as to call any of these picks bad (except one, which Iíll get to in the next section), I do feel like a lot of teams passed up on value in order to take a QB thatís not any better than one they couldíve gotten in the double digit rounds.

Carson Wentz went 9.09. Matthew Stafford went 9.11. Daniel Jones, Ben Roethlisberger, Jared Goff, and Baker Mayfield all went in the 11th round. I definitely prefer Drew Brees to these four QBs, but, to use Brees as an example, Ralphster passed on Michael Gallup, Diontae Johnson, Brandin Cooks, and Marvin Jones in order to take Brees. With his 11th round pick, he selected Duke Johnson. Give me any one of those WRs and a streamer at QB over Brees and Duke.

5. I noticed the worst pick of the draft occurred in the seventh round.
At 7.03, shovelheadt selected Aaron Rodgers. This would be a candidate for worst pick of the draft without considering anything other than the decision to select the 36 year-old Rodgers, last yearís QB14 who hasnít provided a relevant edge at the position since 2016, in the seventh round. When you factor in that shovelheadt already used his second round pick on Mahomes, it reaches unfathomably bad levels. It is the equivalent of lighting the pick on fire. He took Rodgers over a heap of productive players at other positions. All for what? Unless Mahomes gets hurt or infected, Rodgers will, in theory, start exactly one game for his fantasy team. To say thatís not the best use of a seventh round pick is an understatement. If you draft Mahomes or Jackson, or even Dak Prescott, Deshaun Watson, Kyler Murray, or Russell Wilson, you donít need a backup.

6. I noticed only one team went with a modified zero RB strategy.
While classic zero-RB entails taking wide receivers early and taking your QB and TE before an RB, itís kind of a defunct strategy at this point. Modern zero-RB is essentially just waiting until the fourth or fifth round before taking your first running back like Matt Mueller did. While Michael Thomas, Kenny Golladay, and DK Metcalf comprise a stellar WR corps, especially when you add in Lamar Jackson, the running backs just canít compete. He will be starting Mark Ingram and one of Ronald Jones, Damien Williams, Tevin Coleman, or Boston Scott. His RB1 is 30 years old with a supremely talented second round rookie waiting to take his job. His other four RBs have floors so low that it wouldnít be surprising if all four of them were on waiver wires by mid-season.

Meanwhile, someone like robb, who took his WRs in rounds four, six, and seven, is deploying Odell Beckham Jr., Courtland Sutton, and Diontae Johnson. Thatís obviously worse than Thomas, Golladay, and Metcalf, but Joe Mixon and Melvin Gordon blow Ingram and RoJo out of the water.

7. I noticed the Cowboys, Chiefs, and Bucs had nine players drafted, tied for the most from any NFL team.
Lumping the Cowboys in this group is suspect, because for reasons I cannot begin to understand, there were two Cowboys kickers drafted. It is not surprising that the Chiefs, the leagueís best offense, are a popular choice for fantasy drafters. The Bucs are interesting because they show how much difference a year can make. In last yearís mock, there were just five Bucs drafted. Jameis Winston was replaced by Tom Brady and in addition to last seasonís returnees, Mike Evans, Chris Godwin, Ronald Jones, and O.J. Howard, this mock saw Rob Gronkowski, KeíShawn Vaughn, Matt Gay, and the defense drafted. It is clear that drafters are more confident in the Bucs team due largely to the addition of Brady.

8. No one is really interested in rookie wide receivers.
The first rookie WR taken was CeeDee Lamb at 9.06. The next rookie WR off the board was Justin Jefferson at 10.10. Five more rookie WRs were taken from the 12th Ė 16th rounds. The pandemic is definitely playing a role in fantasy managers doubting the ability of rookie WRs to make an immediate impact. In normal seasons, first round picks like Henry Ruggs III and Jalen Reagor who are well positioned to earn significant targets throughout the season are typically drafted much sooner.

This does mark back-to-back July mocks where there was minimal interest in rookie receivers. NíKeal Harry was the first rookie WR taken in 2019 at 10.09, over a round later than where Lamb went this season, and the 2020 WR class is considered the best since 2014. I like the long term upside of many of these rookies, but I share in the concern over their effectiveness in 2020.

9. Four rookie running backs were drafted to be fantasy starters.
Clyde Edwards-Helaire went 3.02, well ahead of Jonathan Taylor at 4.11. I would be thrilled to get Taylor at 4.11 as I see him overtaking Marlon Mack very quickly. I am not as concerned about the lack of camp and preseason for running backs as I am for the receivers. Late fifth round, DíAndre Swift and Cam Akers went back-to-back. After that, J.K. Dobbins and KeíShawn Vaughn donít come off the board until 8.07 and 8.12. In total, there were a whopping 12 rookie running backs selected.

While only CEH, Taylor, Swift, and Akers are certain to have fantasy value, the remaining eight backs all have plausible upside. This is a unique season where a plethora of rookie RBs are taken and itís actually good process. Even more intriguing is the fact that only Darrynton Evans is a pure handcuff with no chance of being useful without an injury to the starter. Dobbins, Vaughn, Zack Moss, Antonio Gibson, AJ Dillon, Anthony McFarland Jr., and Joshua Kelley could all feasibly find their way into relevance by either playing their way into a rotational role or stealing the starterís job entirely.

10. I noticed the draft position of these 4 players…
4.10 Ė RB Devin Singletary, CHI: I felt like this was a bit high for Singletary. I was not a fan of Singletary coming out of college but he produced well as a rookie in a backfield devoid of all talent. His biggest competition was 89 year-old Frank Gore. I wanted to like Singletary more this season, but itís very difficult to do so. His athletic profile is putrid. He has 15th percentile speed, 46th percentile burst, and 18th percentile agility. Heís not a zero in the passing game, but at just 3.5 targets per game, heís not an asset either. The Bills added Stefon Diggs, who will command at least a 20% target share and, more importantly, the team watched what Singletary did as a rookie and still spent a third round pick on Zack Moss. Singletary only scored four touchdowns last season and only had one goal line carry. If your initial thought is there is room for improvement, youíre not wrong, but the evidence doesnít point to those numbers increasing. Sean McDermott has already talked about using Moss in the Frank Gore role. Gore had 11 goal line carries last season, eighth most in the league. Moss is going to be the goal line back on an offense that already has Josh Allen stealing rushing touchdowns. Taking Singletary over Jonathan Taylor, who went the very next pick, is just straight lunacy.

5.09 Ė WR T.Y. Hilton, IND: I am not a fan of taking old players. In my old age, Iíve learned that 30 isnít the age of decline - itís more like 32/33. Hilton will be 31 years old this season and has shown no signs of slowing down. Hilton was taken by worm as the WR24. That seems awfully late for a guy that was the overall WR5 at 18.1 FPts/G through the first seven weeks of 2019. Philip Rivers is washed, but heís not worse than Jacoby Brissett. Hilton is the undisputed alpha receiving option for the Colts and they have one of the best offensive lines in the NFL, which will give the old and immobile Rivers time to find Hilton. The injuries are a concern, especially for a speedster, but the upside of Hilton in the fourth round, let alone the fifth is undeniable.

10.02 Ė RB Sony Michel, NE: Now this is something I just love to see. In the past, drafters often relented and pulled the trigger on talentless two-down plodders in the mid-single digit rounds just because of the perceived workload. In 2018, Alex Collins went 3.07 and Jay Ajayi went 4.11. 2016 was the height of this issue with C.J. Anderson, Ameer Abdullah, Mike Gillislee, Rob Kelley, and Adrian Peterson all going in the fifth and sixth rounds. Credit to everyone in the 2020 July mock for allowing Sony Michel to make it all the way to 10.02. Michel is coming off a season where every favorable condition you could want for a running back was present and he couldnít even average 10 FPts/G. Michel is a spectacularly bad football player that has no business being on an NFL roster. I believe 10.02 is not only fair, but the highest he will be drafted for the rest of his career.

13.11 Ė WR Allen Lazard, GB: I donít necessarily love Lazard. I wouldnít call myself an Allen Lazard enthusiast. But the end of the 13th round is tremendous value given the upside. Lazard is the WR2 in Green Bay. Aaron Rodgers is a far cry from the unstoppable force he used to be, but he is still going to throw the ball at least 550 times and Davante Adams is not actually getting 200 targets. There legitimately is no other pass catcher of consequence. The Packers donít have a relevant tight end and they donít have a satellite back (Aaron Jones is a running back who catches passes, not a pass catching running back). Lazard is 24 years old and has upper percentile speed and burst. He was taken as the WR56 in a draft that saw 63 WRs drafted. When I look at the names ahead of him, thereís nothing egregious about them going before Lazard. This is more about the upside Lazard possesses and the zero cost it takes to acquire. Great pick.

On a final note, remember that every mock is different. Take a look at the June mock compared to this one and you'll see how very different they are. You can and should try different strategies and approaches. See what works and what does not. See what you like and what you do not like. Even if you disagree with everything I've written, you can still learn from it. I hope reading this article helps you as much as writing it helped me.