This coming season will mark the 11th year I have participated in The Huddle Expert Auction League. Over the first 10 seasons, FF Today has made the six-team playoff every time (last year's team was a No. 1 seed for the second straight time) and advanced to the championship game in seven of the last nine years - winning it all for the third time. Suffice it to say my approach has proven to be effective.
This year's draft was held on August 6 - two weeks earlier than last season and at least one week earlier than usual - so keep that date in mind as you review the prices below (both the price each player went for and the value at which I set for him).
Below, you will find the values I used to prioritize the players and the rationale I used in selecting my team.
Pre-draft
Due to how much earlier the draft was this year and the fact I had just finished my first Big Board less than 24 hours earlier, it's fair to say this is the least prepared I have felt entering an auction draft since probably the first time I participated in one back in 2009. In other words, I had a plan formulated but no time to actually test it out.
The plan entering this particular auction was securing one of my top three backs (Alvin Kamara, Christian McCaffrey or Saquon Barkley), another potential high-end RB1 at a discount price (someone like Todd Gurley or Dalvin Cook who has overall RB1 upside but was cheaper than usual for obvious reasons) and a top-end WR1. I also wanted either Travis Kelce, Zach Ertz or George Kittle, although securing either one of them was less important to me than satisfying my first three wishes.
Kamara was generally regarded as the fourth-best option at running back in July and early August drafts. Since he's the top player on my Big Board, it was a no-brainer to target him since he should come the cheapest of the four top backs. Short of landing Kelce or Kittle, I wanted to spend less than $15 at tight end. Given the depth at quarterback, I hoped I could show enough restraint to pay less than $10.
Each year, I also make it a point to pay less than my valuation on just about every player, knowing the depth at receiver will allow me to find a bargain or two. Ideally, I'll come away from a draft with two surefire starters at running back and another mid-priced player I believe will be an RB2 to use as my flex, but it doesn't always work that way.
Although it is a departure from conventional auction-draft strategy, I've never been a big fan of setting pre-draft positional budgets – such as spending 40 percent of my budget at receiver or $80 at running back. My method: isolate the players I want the most, highlight them on my spreadsheet and keep a record of how much a player goes for a little bit lower on the page. I stay true to my valuations with very few exceptions and stick with that "preferred" list of players as long as possible. A list of 300-plus players can be daunting, especially when trying to research how much players in a certain tier went for with no more than 10 or 15 seconds to make a decision, so it makes a ton of sense to focus in on about 50.
The Draft
Players with bolded names are ones I specifically selected before the draft as players I was targeting. The key is picking players from several different tiers and expected cost valuations.
Below you will find the actual prices that secured a player's services (Act $) and the price I valued them before the draft (My $). A dash in the first column reflects the fact a player was not nominated. The highlight represents winning bids for FF Today. Finally, I will follow each position with some brief commentary.
All values are based on a $200 cap and players are organized by "My $". All players that were nominated are included, but I removed a number of players that are unlikely to go in auctions in leagues with 12 teams and 18-man rosters or for other common-sense reasons.
Required starters: 1 QB, 2 RBs, 3 WRs, 1 Flex, 1 K and 1 Defense/Special Teams unit.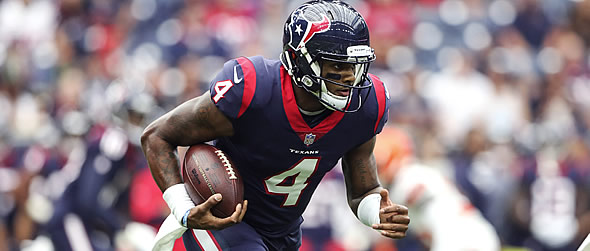 Quarterbacks
Actual $
My $
Player
Tm
14
16
Deshaun Watson
HOU
21
16
Patrick Mahomes
KC
12
15
Aaron Rodgers
GB
11
14
Carson Wentz
PHI
3
13
Kyler Murray
ARI
4
12
Cam Newton
CAR
13
12
Andrew Luck
IND
6
11
Russell Wilson
SEA
8
10
Matt Ryan
ATL
3
8
Jameis Winston
TB
13
6
Baker Mayfield
CLE
4
5
Jared Goff
LAR
3
4
Lamar Jackson
BAL
2
3
Dak Prescott
DAL
5
3
Drew Brees
NO
1
3
Ben Roethlisberger
PIT
1
2
Mitch Trubisky
CHI
1
2
Kirk Cousins
MIN
3
2
Tom Brady
NE
3
2
Philip Rivers
LAC
1
1
Jimmy Garoppolo
SF
 -
1
Sam Darnold
NYJ
 -
1
Andy Dalton
CIN
 -
1
Derek Carr
OAK
 -
1
Matthew Stafford
DET
1
1
Josh Allen
BUF



Observations:

Unsurprisingly, Patrick Mahomes ($21) set the market at the position. If he can come close to repeating last season, he's probably worth $7 more than every other quarterback. However, if he dips to 42 TDs - which is what I am projecting - and another quarterback such as Deshaun Watson ($14) or Carson Wentz ($11) can rekindle their magic from 2017, then it's going to be difficult for Mahomes' owner to justify the price tag. Only six quarterbacks drew a double-digit bid, further illustrating just how deep owners feel the position is nowadays. It was a bit surprising to see Andrew Luck ($13) to draw the bid he did considering he has been dealing with his mysterious lower-body injury since the spring. Kyler Murray ($3) was a stunner, as my above valuation suggests. In a league such as this one where quarterbacks get four points per passing touchdown and six for rushing scores, the value of an athletic signal-caller like Murray goes up. He comes with plenty of hype as well, which typically jacks up his price tag - even among industry analysts.

As the last sentence suggests, I strive for quarterbacks with the ability to provide at least 200 rushing yards and a few touchdowns on the ground in leagues such as this one. Short of that, I want a proven starter with a great supporting cast. While most owners draft two quarterbacks just to be on the safe side, I think there is plenty of merit of going with one in a 12-team league - especially if an owner lands one of the top five options at the position.

Total spent at QB: $17
Running Backs
Actual $
My $
Player
Tm
46
52
Alvin Kamara
NO
49
52
Christian McCaffrey
CAR
51
52
Saquon Barkley
NYG
42
49
David Johnson
ARI
45
48
Ezekiel Elliott
DAL
41
42
James Conner
PIT
40
41
Le'Veon Bell
NYJ
46
38
Dalvin Cook
MIN
37
33
Todd Gurley
LAR
34
31
Joe Mixon
CIN
21
30
Melvin Gordon
LAC
32
30
Kerryon Johnson
DET
33
30
Nick Chubb
CLE
19
29
Devonta Freeman
ATL
30
28
Leonard Fournette
JAC
28
28
Derrick Henry
TEN
26
27
Damien Williams
KC
28
26
Mark Ingram
BAL
13
26
Kenyan Drake
MIA
32
23
David Montgomery
CHI
25
23
Chris Carson
SEA
26
23
Marlon Mack
IND
26
22
Josh Jacobs
OAK
26
22
Aaron Jones
GB
21
19
James White
NE
8
15
Tarik Cohen
CHI
13
15
Sony Michel
NE
17
14
Phillip Lindsay
DEN
9
14
Lamar Miller
HOU
13
12
Miles Sanders
PHI
15
12
Tevin Coleman
SF
8
9
Jordan Howard
PHI
7
8
Jaylen Samuels
PIT
5
8
Rashaad Penny
SEA
7
7
Darrell Henderson
LAR
8
6
Royce Freeman
DEN
11
5
Austin Ekeler
LAC
3
4
Matt Breida
SF
2
4
Justice Hill 
BAL
15
4
Latavius Murray
NO
3
5
Dion Lewis
TEN
3
3
LeSean McCoy
BUF
1
3
Giovani Bernard
CIN
3
3
Ronald Jones
TB
1
3
Jerick McKinnon
SF
1
3
Damien Harris
NE
3
3
Kalen Ballage
MIA
1
2
Nyheim Hines
IND
3
2
Alexander Mattison
MIN
1
2
Chris Thompson
WAS
5
2
Derrius Guice
WAS
-
1
Jamaal Williams
GB
1
1
Darwin Thompson
KC
6
1
Adrian Peterson
WAS
-
1
Chase Edmonds
ARI
6
1
Peyton Barber
TB
7
1
Kareem Hunt
CLE
1
1
Mike Davis
CHI
-
1
Theo Riddick
DEN
1
1
Duke Johnson
HOU
3
1
Tony Pollard
DAL
1
1
Frank Gore
BUF
-
1
Ty Montgomery
NYJ
-
1
Jalen Richard
OAK
1
1
Ito Smith
ATL
-
1
Ryquell Armstead
JAC
2
1
Devin Singletary
BUF
-
1
C.J. Anderson
DET
-
1
Andre Ellington
TB
4
1
Justin Jackson
LAC
1
1
Malcolm Brown
LAR
5
1
Carlos Hyde
KC
-
1
Devine Ozigbo
NO
1
1
Rex Burkhead
NE
-
1
Kenneth Dixon
BAL
-
1
Corey Clement
PHI
-
1
Darren Sproles
PHI
-
1
Gus Edwards
BAL
1
1
Benny Snell
 PIT
1
1
Darius Jackson
DAL



Observations:

Although it is far from revolutionary, one auction strategy that has served me well in terms of preparing my pre-draft valuations is taking a look back to the last 2-3 years of winning auctions, especially at the running back position. In this particular league, the most elite running backs rarely attract $50 bids anymore. When an owner can confidently set his/her ceiling in terms of what the most coveted player at the position will bring in an auction, it makes the whole process so much easier. Without fail, I want an elite running back every year. I also don't want to be the owner setting the market at a position. As mentioned earlier, I recognized Kamara ($46) would probably be considered as the fourth-best player available in the draft, so he was a target. For the second straight year, my top target was the first player nominated. For the second straight year, I got my guy. That's another critical point to make about auctions: find a valuation sheet you trust and don't stray too far away from those prices, work out some possible scenarios before the draft and be ready to pounce when a player you like goes from well below the value you had set for him. Kenyan Drake ($13) was that player for me at running back; regardless of whether he starts or not, is there a likely scenario in which he isn't heavily targeted?

Cook ($46) was my primary RB2 target - as that potential RB1 who comes at a discount because of his injury history I mentioned earlier - after I landed Kamara, but the bidding for him quickly got out of hand, as he ended up going for the same price as Kamara. While Cook is definitely poised to explode this year, I would need to know Ezekiel Elliott ($45) was missing games for sure before I could justify that price. What made it even odder was that Cook was the fifth player to come up for bid, two spots ahead of Elliott. Another curious call by the league had to do with Melvin Gordon ($21). I'll be the first to admit that I'm not sure he is worth a first-round pick in fantasy drafts even before he decided to hold out given his durability issues. But $21? That was the same price as James White and $11 less than David Montgomery attracted. It's also $5 less than Marlon Mack, Josh Jacobs and Aaron Jones. Again, this happened within the first 20 minutes of the draft, so it's hard to blame it on lack of funds or significant tier drop. (David Johnson and Joe Mixon were among the backs still available.)

I quickly shifted gears to Gurley ($37), who may be the one player I was willing to bend my budgeting rules for. There's no question he comes with risk, but I maintain - as I have all summer long - that the Rams would have done more to address the position if they didn't think Gurley would only be a shell of himself. As I mentioned earlier this summer, even if we trim 25 percent of his production across the board (touches, yards, touchdowns, etc.) in each of the last two years, he still would have finished as the RB8 in 2018 and RB5 in 2017. I can live with the risk if he can deliver that kind of production, even if it is only for 10 or 12 games.

Had the draft been held one week later, I may have shifted my RB2 focus from Gurley to Chris Carson ($25) or Nick Chubb ($33). It's becoming pretty clear that for as much as the Seahawks drafted Rashaad Penny to eventually be the man, Carson isn't allowing it to happen. Chubb's stock got a nice boost once the Duke Johnson trade to Houston was announced a few days after the draft. Besides Cook, Montgomery ($32) and Latavius Murray ($15) jump out to me as the most obvious overpays. Like Cook, Montgomery could easily live up to his price tag, but he's probably going to need some help in the form of Mike Davis and/or Tarik Cohen getting hurt. While I love the talent, I'm not sure Chicago's depth will allow him to ascend into the Chubb-Mixon-Kerryon Johnson tier this year. Gridiron Experts admitted he overpaid a bit on Murray in order to secure some peace of mind with Elliott's situation in limbo. Then again, if we look back to how much owners were spending for Mark Ingram last year when everyone knew he would miss four games, then perhaps Murray could be considered a bit of a value here after all.

In terms of great values, it's hard not to like single-digit dollar acquisitions of potential high-end players such as Royce Freeman ($8), Jaylen Samuels ($7), Penny ($5), Ronald Jones ($3), Justice Hill ($2) and Duke Johnson ($1). While none of the players figure to be "league winners," all have reasonably clear paths to be solid flex plays and could ascend to RB2 status if things break right.

Total spent at RB: $98
Wide Receivers
Actual $
My $
Player
Tm
48
49
DeAndre Hopkins
HOU
47
48
Julio Jones
ATL
41
46
JuJu Smith-Schuster
PIT
47
46
Davante Adams
GB
41
42
Michael Thomas
NO
34
42
Antonio Brown
OAK
41
40
Odell Beckham Jr.
CLE
40
40
Tyreek Hill
KC
37
38
T.Y. Hilton
IND
33
38
Mike Evans
TB
30
36
Adam Thielen
MIN
34
35
Keenan Allen
LAC
29
34
Amari Cooper
DAL
27
34
Chris Godwin
TB
30
34
Julian Edelman
NE
33
33
Stefon Diggs
MIN
24
31
D.J. Moore
CAR
21
31
Robert Woods
LAR
20
30
Calvin Ridley
ATL
15
29
Tyler Boyd
CIN
14
28
Mike Williams
LAC
24
28
Brandin Cooks
LAR
20
26
Tyler Lockett
SEA
18
26
Kenny Golladay
DET
16
25
Cooper Kupp
LAR
16
23
Allen Robinson
CHI
14
20
Larry Fitzgerald
ARI
14
15
Robby Anderson
NYJ
11
15
Christian Kirk
ARI
20
15
Curtis Samuel
CAR
10
14
Alshon Jeffery
PHI
3
14
Dede Westbrook
JAC
3
13
DeSean Jackson
PHI
21
12
A.J. Green
CIN
9
11
Geronimo Allison
GB
4
10
Anthony Miller
CHI
3
9
Sammy Watkins
KC
10
8
Sterling Shepard
NYG
9
8
Jarvis Landry
CLE
5
8
Marvin Jones
DET
3
6
Trey Quinn
WAS
5
6
Courtland Sutton
DEN
3
6
Jamison Crowder
NYJ
10
6
Dante Pettis
SF
8
6
Keke Coutee
HOU
6
5
Will Fuller
HOU
5
5
Donte Moncrief
PIT
2
4
Michael Gallup
DAL
4
4
Golden Tate
NYG
1
4
Parris Campbell
IND
13
4
Corey Davis
TEN
1
3
D.K. Metcalf
SEA
2
3
Albert Wilson
MIA
2
3
DeVante Parker
MIA
1
3
Kenny Stills
MIA
4
2
Tyrell Williams
OAK
- 
2
Mohamed Sanu
ATL
4
2
Devin Funchess
IND
4
2
Emmanuel Sanders
DEN
3
2
John Brown
BUF
2
2
Robert Foster
BUF
2
2
James Washington
PIT
7
2
Marquez Valdes-Scantling
GB
1
1
Cole Beasley
BUF
1
1
Danny Amendola
DET
-
1
Keelan Cole
JAC
1
1
DaeSean Hamilton
DEN
-
1
Nelson Agholor
PHI
-
1
A.J. Brown
TEN
-
1
Antonio Callaway
CLE
-
1
Breshad Perriman
TB
-
1
Josh Doctson
WAS
1
1
Maurice Harris
NE
-
1
John Ross
CIN
1
1
Andy Isabella
ARI
1
1
Trent Taylor
SF
1
1
KeeSean Johnson
ARI
1
1
Marquise Goodwin
SF
-
1
David Moore
SEA
-
1
Tre'Quan Smith
NO
-
1
Adam Humphries
TEN
-
1
Willie Snead
BAL
-
1
Deebo Samuel
SF
-
1
Marquise Brown
BAL
1
1
Miles Boykin
BAL
1
1
Quincy Enunwa
NYJ
-
1
Zay Jones
BUF
-
1
Taylor Gabriel
CHI
-
1
Hunter Renfrow
OAK
1
1
Marqise Lee
JAC
-
1
Chris Conley
JAC
3
1
Josh Gordon
NE
-
1
Randall Cobb
DAL
-
1
Ted Ginn Jr.
NO
-
1
JJ Arcega-Whiteside
PHI
2
1
N'Keal Harry
NE
-
1
Deon Cain
IND
-
1
Mecole Hardman
KC
-
1
Travis Benjamin
LAC
-
1
Jaron Brown
SEA
2
1
Phillip Dorsett
NE
-
1
Ryan Switzer
PIT
-
1
Emmanuel Butler
NO
-
1
Justin Watson
TB
-
1
DJ Chark
JAC
-
1
Jake Kumerow
GB
-
1
Preston Williams
MIA
- 
1
Jakobi Meyers
NE
1
1
Paul Richardson
WAS



Observations:

It's always fascinating to see what elite (or near-elite) receivers fall through the cracks in auctions. Antonio Brown ($34) wasn't a huge shock given his departure from Pittsburgh and all the drama he has recently brought to the table. It's a bit more surprising that Mike Evans ($33) and Adam Thielen ($30) didn't go for a bit more given that the former will be playing for a coach who embraces the vertical passing game more than perhaps any other coach in the league, while the latter has been a top-10 fantasy WR in each of the last two seasons.

On the other of the spectrum, A.J. Green drawing a $21 bid when there is very little certainty he will be ready in September was an eye-opener. I realize Hill ($40) has been cleared by the NFL, but I am still treating him very much as a high-risk player. The degree to which some owners are unfazed by the likelihood of him either getting himself in hot water again baffles me probably about as much as my willingness to believe in Gurley baffles everyone else. The difference between the two cases is there is a limited number of running backs capable of performing at Gurley's level even if he only handles 75 percent of his usual workload and/or misses a few games. I have 15 receivers projected for at least 80 catches, 13 projected for at least 1,100 yards receiving and five for at least 10 touchdowns. Of course, that's not to say every one of those players will reach those benchmarks, but there's a much stronger possibility of it than a similar number of running backs doing what Gurley is capable of doing - even at 75 percent of his usual workload.

Given the quality and quantity of potential WR2s this year, there will inevitably be a few players who draw lower bids than expected. In this draft, Kenny Golladay ($18), Allen Robinson ($16), Tyler Boyd ($15) and Mike Williams ($14) were some of the more surprising. Even in an offense that should see depressed volume, Golladay should live up to his price tag in this draft. Robinson will be nearly two years removed from ACL surgery by the start of the season and did some solid work over the second half of 2018 - highlighted by his 10-143-1 performance in the playoff loss to the Eagles. Boyd may not be a one-for-one replacement for A.J. Green while the latter recovers, but he should see a healthy amount of volume regardless. Williams has as good a chance to lead his position group in touchdowns as anyone.

It seems like there is at least one zero-RB owner in every draft and this league's advocate has routinely been RotoViz (Stefon Diggs, Hill, JuJu Smith-Schuster, Sammy Watkins, Dede Westbrook, etc.). It's hard not to like what USA TODAY Sports did at the position even if he didn't secure one of the recognized elite options (Geronimo Allison, Chris Godwin, Golladay, Donte Moncrief, D.J. Moore and Golden Tate). USA TODAY Sports did well to land Carson, Josh Jacobs and Marlon Mack as his starting backs, making his team as balanced and deep at the most important positions as any team in the league. Even with two owners acquiring that much receiver talent on their teams, there was still plenty left for the majority of owners though.

Some of the better bargains at receiver: Fitzgerald ($14), Christian Kirk ($11), Alshon Jeffrey ($10), Jarvis Landry ($9), Moncrief ($5), Anthony Miller ($4), Westbrook ($3), DeSean Jackson ($3), Jamison Crowder ($3), Watkins ($3), Michael Gallup ($2) and Parris Campbell ($1).

Total spent at WR: $67
Tight Ends
Actual $
My $
Player
Tm
33
28
Travis Kelce
KC
26
24
George Kittle
SF
20
23
Zach Ertz
PHI
14
15
O.J. Howard
TB
10
14
Jared Cook
NO
13
13
Evan Engram
NYG
6
10
Eric Ebron
IND
11
10
Vance McDonald
PIT
9
10
Hunter Henry
LAC
3
7
Delanie Walker
TEN
2
6
Austin Hooper
ATL
3
4
Darren Waller
OAK
3
4
David Njoku
CLE
1
4
Mark Andrews
BAL
1
3
Chris Herndon
NYJ
4
3
Jordan Reed
WAS
3
3
Jimmy Graham
GB
1
2
Kyle Rudolph
MIN
1
Dallas Goedert
PHI
2
1
Trey Burton
CHI
1
Jason Witten
DAL
1
T.J. Hockenson
DET
1
Noah Fant
DEN
1
Mike Gesicki
MIA
1
Ian Thomas
CAR
4
1
Jack Doyle
IND
1
1
Greg Olsen
CAR



Observations:

It was pretty much a given Kelce ($33) was going to be expensive, although I'm not sure I expected the highest bid I can remember a tight end going for in this league. While I certainly don't have a problem with paying up for a tight end who produces like a WR1, the question is whether 2018 is going to become the new normal with Mahomes as his quarterback or if it was a well-timed career year. I also struggle with Kelce going for $13 more than Ertz ($20) and more than twice as much as O.J. Howard ($14), Evan Engram ($13), Jared Cook ($10) and Hunter Henry ($9).

It can be a bit scary to go cheap at tight end when you consider that at least 25 percent of the owners in a 12-team league will be starting Kelce, Kittle or Ertz almost every week, but there is significant talent that will be available cheap at the end of just about every auction. Delanie Walker ($3) is a steal if he can go back to being the same dependable option he was prior to last year's season-ending ankle injury. At his price, it's worth finding out if he's got one more year left in his 35-year-old body. It was odd to see Hooper ($2) go so cheap. I'm personally not a fan of his ability to repeat his overall TE6 finish last year, but he's still a serviceable starter in my book and a bargain at that price. The same can probably be said for Mark Andrews ($1).

Darren Waller ($3) has been a consistent target of mine all summer and will continue to be. David Njoku ($3) has overall TE1 talent, but is there going to be enough volume in Cleveland? Last but not least, Chris Herndon ($1) should not be going for a buck in any league that has an IR spot or two like this league does. He's a great stash in those leagues and allows owners to free up a spot on the roster for another high-upside talent before the season starts.

Total spent at TE: $15
Kickers
Actual $
My $
Player
Tm
5
1
Greg Zuerlein
LAR
2
1
Justin Tucker
BAL
1
1
Wil Lutz
NO
3
1
Harrison Butker
KC
1
1
Ka'imi Fairbairn
HOU
1
1
Robbie Gould
SF
1
1
Stephen Gostkowski
NE
1
1
Jake Elliott
PHI
1
1
Giorgio Tavecchio
ATL
1
1
Mike Badgley
LAC
1
1
Josh Lambo
JAC
1
1
Ryan Succop
TEN



Observations:

Year after year, I look for the same qualities in a kicker. I want someone with a strong leg in a good offense. Additionally, I often target kickers who play on teams with good or great defenses since coaches are more apt to settle for field goals when they are confident their defense can keep the opponent off the board. Short of that, I want a team who I believe will have a good offense but bogs down in the red zone because it lacks a strong running attack. I'm not sure why I've been able to land Tucker ($2) in as many as "expert" drafts as I have so far, but he's about as much of a sit-it-and-forget-it option as there is at the position. I have no problem spending the extra dollar for him, especially when Zuerlein went for $5 and Butker for $3.

Total spent at K: $2


Defense / ST
Actual $
My $
Team
6
1
Bears
2
1
Rams
2
1
Chargers
1
1
Broncos
1
1
Vikings
1
1
Cowboys
1
1
Eagles
1
1
Jaguars
1
1
Ravens
1
1
Bills
1
1
Texans
1
1
Panthers
1
1
Patriots



Observations:

Almost every year it seems, someone in this league spends at least $5 on a defense. I value a rock-solid defense more than most, but owners who bid that much are paying (and hoping) for roughly 3-4 huge weeks at most, all while sacrificing a potential handcuff or low-end starter at another position. Unless a D/ST unit goes on to have a truly historic year, they are unlikely to yield a good enough return on investment to be worth that bid. Without having done my matchup analysis on defenses at the time of this draft, I went with my belief in Vic Fangio and the impressive talent Denver has at some of the more important positions (Von Miller, Bradley Chubb and Chris Harris).

Total spent at D/ST: $1

Post-draft

The FFToday team
QB: Deshaun Watson, Jameis Winston*
RB: Alvin Kamara, Todd Gurley, Kenyan Drake, Giovani Bernard, Malcolm Brown
WR: Julio Jones, Larry Fitzgerald, James Washington*, Paris Campbell, Miles Boykin, Maurice Harris, Danny Amendola
TE: O.J. Howard, Chris Herndon
K: Justin Tucker
D/ST: Denver Broncos

* Since traded for Josh Allen and Anthony Miller

Through about two hours of the draft, I could not have been much happier. My biggest self-critique at that point was not bidding more on Smith-Schuster ($41), which would have saved me a few bucks over Julio Jones ($47). But two momentary lapses in judgment at quarterback cost me from building the kind of team I was capable of putting together. To be clear, I have no problem with Watson (my overall QB2) and Winston (QB10). But spending $17 on the two of them when I had set my sights on Kyler Murray and Lamar Jackson - who ended up going for $3 apiece - entering the draft made it nearly impossible to get the WR3 I could have otherwise landed. That was a bitter pill to swallow late when I did not have enough left to secure wideouts such as Dede Westbrook or DeSean Jackson. While I will place some of the blame on not having the time I would've liked to prepare for this draft, it was still a foolish mistake to make. Thankfully, if I'm going to enter the season with a weakness - and every team has one - it would be at my WR3 spot.

I'll admit I was not happy with myself when I realized the impact my "decision" at quarterback had at receiver. (I feel I corrected that somewhat via my aforementioned trade, but it's still a position I should not have put myself in.) Thankfully, I took a look at last year's draft as I began to write this article and realized only one of my low-end WR1 selections (Stefon Diggs, Doug Baldwin and Emmanuel Sanders) from 2018 was still contributing to my team at the end of the year. Throw in the fact how little return on investment I got from Rob Gronkowski and it's reasonable to wonder how my team won the league going away.

Regarding the composition of this team, I'm not sure there's much to discuss at quarterback. Few will argue Houston and Tampa Bay should field two of the more explosive offenses in 2019. Of course, my trade changes things. I'm not a big fan of Allen this year, so the odds are strong he will be off my roster sooner than later. I have also started to move away from keeping a backup quarterback on the roster in recent years anyway, so I may use Allen's roster spot to add depth at running back or receiver.

There is obvious risk at the running back position. Yet, I'm not sure I've ever entered a season in this league with a better trio. Kamara is about as safe as they come at running back because so many of his touches come as a receiver AND he isn't asked to carry a heavy load as a runner. RB2s almost always come with some kind of risk, so if the price I have to pay for potential top-five production at the position is a surprise inactive or two or four over the course of the season, that's OK. Show me another back capable of what Gurley can do.

I was thrilled to get Drake at $13. While owners fret about whether he will start over Kalen Ballage or not, I'll take my chances Miami will face plenty of negative game script. I see a cheaper version of 2018 James White who should get more touches than his New England counterpart did. I had no intention of nominating Brown as early as I did and equally surprised no one bid him up. While handcuffing isn't exactly a goal of mine anymore, securing Brown makes me feel even better about landing Gurley. Bernard also strikes me as an underrated option in 2019. It wouldn't surprise me much if he sees more usage than Darrell Henderson AND I think he'll be asked to serve as the primary back in the event Mixon is forced to miss a game or two.

I feel much better about the receiver position now than I did in the moments following the draft. No one is going to quibble about Jones as a WR1, especially on a team that has Kamara and Gurley at running back. The mistake I made with Fitzgerald last year wasn't taking an older receiver, but one from a team with a bad offensive line paired with a largely immobile quarterback and an offensive coordinator with a poor recent track record. I have no problem with him being my WR2 this year. Getting stuck with James Washington as my WR3 was what really upset me, even though I believe Campbell can ascend to that status before the end of the season. Getting Miller in a trade - trades don't happen very often in this league - was a big deal for me, as I consider him to be a viable WR3 right away. Harris is a complete wild-card who flashed for Washington last year, and he appears to have a bit of edge to become a starter in New England. We'll see about that, but he's worth a flier at $1. Amendola was honestly a poor call on my part when players like Hardman and particularly Sanu were still on the board. Both went undrafted, however, so I still have a chance to right that wrong.

The tight end position has long been a sore subject for my team in this league. I thought I ended it last year by nabbing Rob Gronkowski, but I was too late to that party. Beginning with my primary dynasty team this spring, I identified Howard as a player I believe is capable of making the jump into elite TE1 territory. Durability has been the only thing to hold him back through his first two seasons. Even though he is staring at a four-game suspension to begin the season, Herndon for $1 was another stunner to me. Not only can I place him on IR to begin the season and open up a roster spot, but I think he makes for great insurance for Howard.

Tucker is about as good as it gets at kicker, so I should be set there. The Broncos begin their season with the Raiders, Bears, Packers, Jaguars, Chargers and Titans. Given the talent and coaching acumen Denver has, I would be surprised if four of those matchups weren't favorable. I'm hoping the Broncos will be my defense for the whole season, but I'll probably revisit where I stand with them when September ends.
---
Doug Orth has written for FF Today since 2006 and been featured in USA Today's Fantasy Football Preview magazine since 2010. He hosted USA Today's hour-long, pre-kickoff fantasy football internet chat every Sunday in 2012-13 and appears as a guest analyst on a number of national sports radio shows, including Sirius XM's "Fantasy Drive". Doug is also a member of the Fantasy Sports Writers Association.