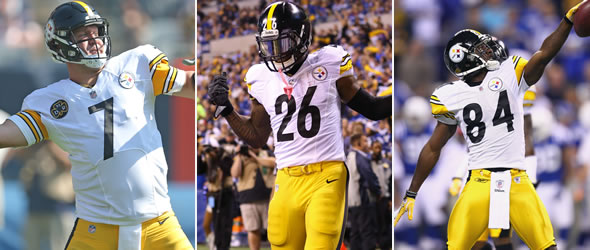 Pittsburgh has the triplet market cornered while other teams are scrounging to find one fantasy star.
When the term "Triplets" comes up while talking about the NFL, it conjures up the names – Troy Aikman, Emmitt Smith and Michael Irvin. Their careers intertwined from 1990-99 and they helped the Dallas Cowboys win three Super Bowls (1992, 1993 and 1995).
However, by today's statistical standards, they won those three titles with fairly ordinary offensive numbers. Aikman only threw for 300 yards a total of 10 times … in 10 seasons. Irvin posted 100 yards or more just 44 times. Only Smith's production stands the test of time as he rushed for 100 yards 63 times and posted at least two rushing touchdowns 34 times.
Contrast that to the current "Triplets" in Pittsburgh – Ben Roethlisberger, Le'Veon Bell and Antonio Brown. Although the Steelers trio have been together for just five seasons (2013-17), Ben has cracked the 300-yard mark 29 times and thrown at least three touchdown passes in a game 21 times. Aikman managed three scores just 10 times. Brown has posted 34 100-yard receiving games and Bell has 18 100-yard rushing games while still being a major force in the passing game.
Below I have ranked each team's 2018 "Triplets." There aren't many teams who can boast top quality at all three positions. In fact, after the top-five threesomes from Pittsburgh, Atlanta, L.A. Chargers, L.A. Rams and New Orleans, the question marks begin.
Tier 2
Minnesota - Will Dalvin Cook be healthy to start the season?
Philadelphia - How much will the Eagles actually use Jay Ajayi while protecting his chronic knee issues? Will Carson Wentz be ready on September 6 against Atlanta?
Houston - Whether Lamar Miller (3.7 ypc) even will be the starter is likely to be determined by the health of D'Onta Foreman's Achilles. I'd like them better with a 100% healthy Foreman.
Green Bay - How will the return of Ty Montgomery and Aaron Jones change Jamaal Williams' workload? Will Jimmy Graham's goal-line ability hurt Davante Adams (six TDs from inside the 15-yard line)?
Kansas City - Is Patrick Mahomes ready to lead the Chiefs offense?
Tampa Bay – Is the threat of rookie Ronald Jones running the ball enough to free up the talented Evans?
Tier 3
New England – It's hard to have a star RB when four running backs are involved in the offense.
New York Giants – If I knew the OL would hold up for 16 games I'd have this trio a lot higher because Barkley and Beckham have out-of-this-world talent.
Seattle – Russell Wilson and Doug Baldwin are a proven combination, but this team hasn't produced a running game since Marshawn Lynch "retired." Not including Wilson's 586 yards on the ground, the Seahawks managed just 1,043 yards from seven running backs averaging 3.35 ypc.
Carolina – Will newcomer C.J. Anderson steal enough carries to drag Christian McCaffrey down? In this era of passing, Cam Newton has never thrown for more than 4,051 yards and that was in his rookie season (2011).
Tennessee – As in Carolina will newcomer Dion Lewis cut into Derrick Henry's thunder? After two solid seasons to begin his career, Marcus Mariota took a step backward last season.
Arizona – Assuming Bradford gets hurt on the opening drive … Rosen will have to learn on the job. Good thing he has the return of highly-skilled David Johnson and Mr. Reliable Larry Fitzgerald to lean on for support.
Oakland – If Jon Gruden really does go "old school" that's a bad thing most fantasy owners.
Buffalo – Josh Allen will likely be the starter before the halfway point, but LeSean McCoy is the only sure thing here.
Detroit – The Lions haven't had a 1,000-yard rusher since 2013 (Reggie Bush) and won't in 2018 where Kerryon Johnson and LeGarrette Blount will share rushing duties and Theo Riddick will catch the passes. Meanwhile, Marvin Jones and Golden Tate split the workload fairly evenly.
Chicago – Jordan Howard averages 118 ypg in wins, which hasn't been often for the struggling Bears, and 64.8 ypg in losses, and Allen Robinson hasn't been elite since 2015. Mitchell Trubisky should take a step up in Year 2, but it better be a giant leap after managing just seven touchdown passes in 12 games.
Tier 4
By the time you reach No. 22 on the list, there are multiple major flaws.
Cincinnati – Andy Dalton hasn't been worthy of a fantasy start since 2013 and I'm not convinced Joe Mixon is the answer after averaging just 3.5 ypc last season.
Miami – Kenyan Drake looked like a stud RB over the second half of 2017, but injury-prone Ryan Tannehill and DeVante Parker have to prove they are ready to carry a team.
New York Jets – Josh McCown played well last season before injuries stopped him, but Robby Anderson's availability is a question mark and the running back workload will be split.
Denver – Opponents won't fear their running game which will make it tougher on Case Keenum and Demaryius Thomas. Remember when Thomas was elite? It was 2014 and Peyton Manning could still throw. Keenum is not Manning … OK, maybe he's Cooper.
Dallas – Dak Prescott is coming off a disappointing season and will have to produce with a below-average receiving corps which will be missing Dez Bryant and Jason Witten. At least Ezekiel Elliott is elite.
San Francisco – Jimmy Garoppolo took the league by storm in the second half of 2017, but defensive coordinators have had an entire offseason to dissect his play. Jerick McKinnon is more third-down back than bell cow and is aging veteran Pierre Garcon the best of the receivers?
Cleveland – Changes, changes everywhere don't lead to continuity. Individually, Tyrod Taylor, Carlos Hyde and Jarvis Landry are solid veterans, but I'm not ready to say they can produce at a top fantasy level.
Indianapolis – I'll believe Andrew Luck can withstand a grueling 16-game schedule if he's still standing under center on December 30. He's got no running game and one talented, but wildly inconsistent receiver in T.Y. Hilton (three games of 150 yards or more and eight games of 30 yards or less).
Jacksonville – A bruising running back in Leonard Fournette and a great defense means the Jaguars won't ask a lot of their passing game. That's good for hometown fans, but bad for fantasy owners of anybody other than the tailback.
Tier 5
And the bottom two teams, Baltimore and Washington, in my mind, have question marks everywhere! It's going to be a tough pro football season around the nation's capital.

---
Steve Schwarz served as the fantasy sports editor of The Sports Network and is the 2014 FSWA Football Writer of the Year.