For most fantasy football leagues, we are in the homestretch of the regular season, making these weeks the most important to get correct. So as I dive into some usage statistics from Week 11 for running back, wide receiver, and tight end, my focus will be on helping you choose the best players to start in these crucial weeks.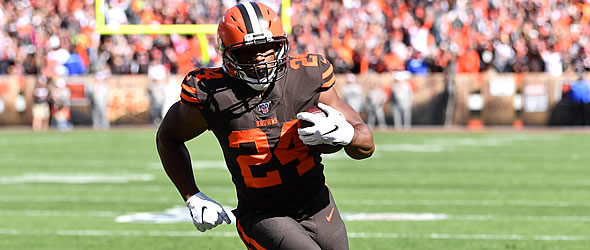 Running Back
Kenyan Drake (ankle) got most of the work on Thursday night in the Arizona backfield, but he actually played 3 fewer snaps than Chase Edmonds. Drake finished with 15 touches to Edmondís 6, but Edmonds remains a high upside flex option since heís the preferred pass-down back and is getting plenty of snaps.


Carlos Hyde had a nice game in Week 11, going 14-79-1 on 70% of snaps. But donít overreact, as Chris Carson should be back in the lineup soon. Hyde remains a low-upside handcuff.


It looks like the Ravens might have changed course and decided to give J.K. Dobbins a shot at leading the backfield. However, be cautious as it looked this way a couple weeks ago and then they changed course. I donít think this coaching staff knows what it wants to do, honestly. As for Week 11, Dobbins played on 41 snaps (the other 3 backs played on 26 snaps combined). He received 17 touches and produced 85 yards and a score. Dobbins and Mark Ingram have hit the COVID-19 list so Gus Edwards should receive a lot of action in Week 12.


Miles Sanders played on 60% of snaps and Boston Scott played on 40%. That split doesnít reflect their talent levels, so I donít understand what this Eagles team is doing right now. Sanders did receive 19 touches to Scottís 8, but the constant swapping does keep him from getting into a groove. I will hesitate to play Sanders if I have a comparable option due to how awful this team looks right now.


Nick Chubb played 6 fewer snaps than Kareem Hunt. Chubb was far more effective on the ground, going 20-114 while Hunt went 13-11-1. Chubb is the superior runner, but when they are splitting snaps fairly evenly it is tough to trust either one in these important matchups. Still, you likely donít have a better option.


After a hot start, Damien Harris rode the bench for long stretches of Sundayís loss to the Texans. He ended up playing on 36% of snaps, finishing 11-43-1 on the ground. Since the Patriots trailed most of the game, itís reasonable to assume James White played more snaps this week, but I honestly have no idea when it comes to Belichick. Harris is their top back, but playing him or White is a true gamble.


Duke Johnson played on 75% of snaps for the Texans but went only 10-15 on the ground and 3-20 through the air. No running back in this offense can be trusted, so avoid them all down the stretch.


James Conner played on 69% of snaps and received 16 touches. He produced nicely against the poor Jaguars defense, finishing with 99 total yards. However, he failed to score, instead watching Benny Snell gobble up the goal line touchdown. I am extremely hesitant to start Conner the rest of the way. Look for better options if possible.


Todd Gurley played on only 37% of snaps, while Brian Hill played on 42%. I think Gurley is being phased out, as he has looked slow and has been ineffective overall. I would bench him if you can.


What to do with Alvin Kamara? He has been one of the top options for the whole season, but it is clear that he will take a huge step back with Taysom Hill under center. He received only 13 touches in Week 11, and got only 1 target he did not catch. Meanwhile, Hill ran in two scores and finished with a much bigger rushing game than Kamara or Murray. You likely have to start Kamara but lower your expectations.


Antonio Gibson played one more snap than J.D. McKissic. Gibson received 17 touches to McKissicís 9, and outplayed him as well. Gibson is coming on strong, but McKissic will stay involved on passing downs. I have been playing Gibson in many leagues and will continue to do so in good matchups. He is figuring out the pro game even though he is losing half the snaps to McKissic.


Aaron Jones and Jamaal Williams played exactly 50% of the snaps on Sunday. Jones went 10-41-1 on the ground while Williams went 5-12, and Jones went 4-30 through the air while Williams went 1-4, though Williamsí 1 catch was for a touchdown. This split is one of the most maddening situations in fantasy and it doesnít appear it will change any time soon. Jones still must be started, but his upside is extremely capped.


In a total switch from Week 10, we saw Jonathan Taylor play the most snaps of the three Indianapolis running backs. He played on 56%, while Nyheim Hines was at 33% and Jordan Wilkins was at 11%. Taylor had a nice game (22-90, 4-24), but keep in mind this might change completely next week, and this was against the poor Packers defense. I will continue to avoid starting Taylor unless I have no other comparable choice (or until Reich commits to him).


Ezekiel Elliott played well in Week 11, a relief to his owners. He went 21-103 and also caught a touchdown pass, on 70% of snaps. Continue to play him weekly.


Clyde Edwards-Helaire is following a similar path to what Damien Williams did last season. He has been used minimally at times this season, and it appeared LeíVeon Bell was going to take touches away. But CEH continues to be a stud for the Chiefs when he gets opportunities, and played on just over half the snaps on Sunday. He rushed 14 times for 69 yards and two scores. Bell and Darrel Williams are still involved, but it looks like it is going to be primarily the CEH show down the stretch. Start him weekly.


The Rams continue to use their backs in a three-way split, and barely ran it on Monday night. Avoid all Rams backs until one starts getting 50-60% of the snaps.


Bruce Arians continued his flip-flopping on Monday night, ping-ponging between Ronald Jones and Leonard Fournette, keeping both from getting into a rhythm. Even though we have seen some big games from Jones, I do not recommend playing him in these important matchups simply because he might receive 5 touches the week after he received 25.
Wide Receiver
Tight Ends
---
Kevin Scott is a fantasy pro who is the co-host for The Lowdown Fantasy Football Podcast. He plays in over 40 leagues annually and has made over $100,000 playing fantasy football. You can follow him @kevinscottff.