For most, Week 14 was the first week in the fantasy playoffs, and it brought some difficult lineup decisions. The choice on Miles Sanders was a struggle as he's been used in such a poor and limited fashion. He finally got it going against a good defense and with a rookie quarterback in the game. He went off on many benches, mine included. In case you are new around here, this game is tough.

This season continues to be perhaps the most difficult ever, due to injuries and the Covid-19 fallout. If you are still in your playoffs, with a chance to win the championship, congratulations. You should wear that as a badge of honor. In order to try to help you grab some trophies, we will take a look at snap and usage data from Week 14, seeing what we can learn for the final two weeks.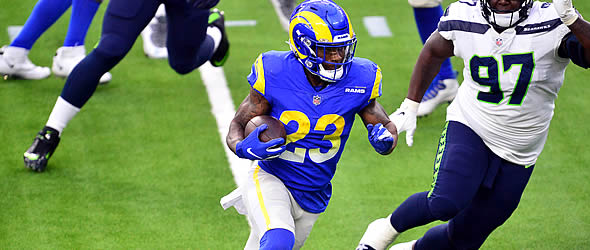 Running Back
The awful running back situation in New England continues. Damien Harris was effective (11-50), but only played on 37% of the snaps. Sony Michel played on 25% and took 7 carries, and James White played on 46% but only got 4 touches. You simply cannot play any of them in the last few weeks.


Cam Akers went off in Week 14, running away with the starting job. He received a whopping 29 carries and 3 targets, and totaled 194 yards from scrimmage. It is Sean McVay so I cannot say for certain if Akers will remain the workhorse, but it seems likely. I will be starting him in the leagues where I have him.


With Christian McCaffrey out again, Mike Davis went 11-51-2 on the ground and also 5-42 through the air. For those who were counting on getting McCaffrey back for the playoffs, this was especially painful. It sounds like Davis will start again in Week 15, and possibly the rest of the way.


David Montgomery continues to produce as the centerpiece of the Bears offense (11-113-1 and 3-42 on Sunday). He has another good spot in Week 15 against the Vikings, and I will continue to ride him where I have him. He is getting consistent targets in the pass game and has been effective running the ball of late.


Ezekiel Elliott played on 32 snaps and Pollard played on 19 snaps, but Elliott received only 1 more touch than Pollard. They are essentially splitting touches, making neither a good play the rest of the season.


James Robinson saw a concerning dip in usage on Sunday. He played on only 56% of snaps, where he had been up around 90% for most of the season. Dare Ogunbowale played on 31% and Devine Ozigbo played on 8%. He still received all but 5 touches among the running backs, but this is a concerning development if you have Robinson. Carefully consider your options for Week 15, especially since the Jags play the Ravens.


Now that the dust has settled, Clyde Edwards-Helaire firmly holds the starting job for the Chiefs. Le'Veon Bell is purely a backup and occasional change-of-pace option. On Sunday CEH played on 74% of snaps while Bell played on 18%, and CEH out-touched Bell 21-4. Edwards-Helaire is difficult to trust since he is not getting touches near the goal line and the Chiefs have not been effective running the ball.


Lynn Bowden Jr., who was drafted by the Raiders, finally saw significant action for the Dolphins on Sunday, playing 71% of snaps. (He was traded to the Dolphins mid-season). He got only 1 carry, but he received 9 targets, catching 7 for 82 yards. If you are desperate for a running back, he is someone to consider picking up, especially since it sounds like DeVante Parker, Jakeem Grant and Mike Gesicki are all dealing with injuries.


Kenyan Drake played on 56% of snaps and Chase Edmonds played on 51% of snaps. Drake got 23 carries to Edmonds' 7, but Edmonds received 5 targets while Drake only got 1. This split diminishes the value of both backs, and I will avoid them both if possible for the final weeks. If you need them, both can be started, with Drake the slightly better play due to the higher number of touches.


Ronald Jones injured his finger during the Week 14 game, but played through it and finished with 18-80-1. Leonard Fournette was a healthy scratch, perhaps meaning he has also worn out his welcome in Tampa. The Bucs get the Falcons in Week 15, so if Jones can play 67% of the snaps again, he could be one of the top plays of the week.


Jonathan Taylor finally seems to have broken out. On 56% of snaps he ran for 150 yards and two scores, on only 20 carries. Nyheim Hines still got 11 touches and played on 36% of snaps, but this finally feels like Taylor's backfield. I would play him with confidence against the Texans in Week 15.


Josh Jacobs did play in Week 14, and went 13-49 on the ground against a good Colts defense. He also caught three passes for 25 yards. It's been a hard stretch for Jacobs, but he does get the struggling Chargers in Week 15. The only issue is that he is not receiving enough snaps (only 43% on Sunday). That should increase in Week 15, with another week to heal up.


Aaron Jones played on 70% of snaps on Sunday, and Jamaal Williams on 30%. This split is widening from the 55/45 we saw in the first half of the season, but still Jones is not getting any opportunities in the red zone. Perhaps Aaron Rodgers' desire to win the league's MVP award has played a factor. The Packers get another golden opportunity against the Panthers in Week 15, so Jones should have a chance to put up big numbers again.


D'Andre Swift returned and played on 53% of snaps. He led the team in rushes and also received 5 targets, and he looked healthy. He gets the Titans in Week 15, but his upside will be capped with Stafford likely to sit.


Todd Gurley is done. He received only 6 carries and went for 19 yards, while Ito Smith went 11-42. Gurley's heart appears to be in it, but it seems his body has declined. Avoid him going forward.


Austin Ekeler played on 60% of snaps and made them count. He went 15-79 on the ground, so over 5 yards per carry, and then caught all 9 of his targets for 67 yards. He is a must-play against the Raiders in Week 15.


Alvin Kamara was again involved in the passing game on Sunday, even with Taysom Hill. He received 10 targets and went 7-44, and also went 11-50-1 on the ground. He should remain very involved in Week 15 against the Chiefs, no matter who starts at quarterback.


Miles Sanders played on 81% of snaps and received 18 touches on Sunday, a week after playing on 56% of snaps and receiving 10 touches. Did the coaching staff finally figure out he is a superior player to Boston Scott? It is hard to know. It's a frustrating team in every sense, but with this new-look offense, he might be a good play against the Cardinals in Week 15.


Raheem Mostert (ankle) split snaps evenly with Jeff Wilson (40 to 39). Mostert, predictably, was far more effective, but Wilson received the goal line carry and scored. This is infuriating for those who drafted Mostert, and is yet another example of a coach who hands out touches seemingly without a solid reason behind it.


James Conner seems to have fallen out of favor with the coaching staff. He played on only 40% of snaps and went 10-18 on the ground. He should not be started in these final weeks unless you are completely desperate.


In a reversal from last week, Zack Moss played more than Devin Singletary in Week 14. He played on 59% of snaps, while Singletary played on 40%. He also received 13 carries, compared to 7 for Singletary. It is impossible to know who will lead the way each week, meaning both players should be avoided.


With Mark Ingram seemingly phased out of the offense, J.K. Dobbins and Gus Edwards split the rushing work. Dobbins played on 62% of snaps and Edwards played on 27%, with Dobbins getting 13 carries and Edwards 7. Both were effective. If Ingram stays on the sideline, both players can be used in your flex, although you must remember they can get you very little in any given game given Lamar Jackson's rushing ability.


Nick Chubb and Kareem Hunt basically split snaps (53% and 47%), but Chubb got more work in the rushing game (as he should). He finished with 17-82-2, and Hunt went 6-33-1, but Hunt also led the team in receiving with 6 catches for 77 yards and a score. Chubb remains the superior weekly play because his weekly role is more secure, but Hunt remains a good option most weeks.

Wide Receiver
Tight Ends
---
Kevin Scott is a fantasy pro who is the co-host for The Lowdown Fantasy Football Podcast. He plays in over 40 leagues annually and has made over $100,000 playing fantasy football. You can follow him @kevinscottff.