Each week, I'll look at snaps, usage, touches, target shares and pull out the highlights you need to know from each game. Snap shares are in parenthesis next to each player's name.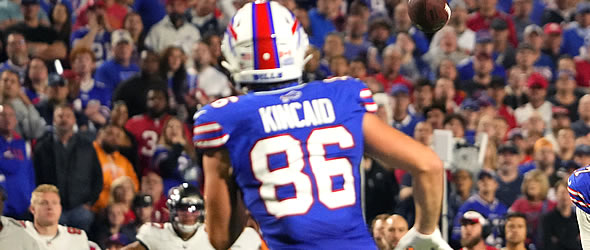 TB @ BUF
Offensive Snaps
Buccaneers: 69
Bills: 68
The Bucs aren't a running team but Rachaad White (82.4%) is maintaining his RB2 value through receptions and play volume. He has at least three catches in every game but one this season. He had a 17.9% target share in Week 8.
Trey Palmer has solidified himself as the No.3 wideout playing 80.9% of the snaps against the Bills alongside Mike Evans (85.3%) and Chris Godwin (85.3%).
James Cook (66.7%) and Latavius Murray (33.3%) continue to operate as the one-two bunch in the backfield for the Bills. Cook had 15 touches to Murray's 6.
Khalil Shakir (65.2%) was the beneficiary of the Bills using a lot of 11 personnel in this game. Trent Sherfield (31.9%) was the 4th wideout while Deonte Harty played only 6 snaps.
With Dawson Knox out and Quintin Morris inactive, Dalton Kincaid played 84.1% of the snaps and had his best game of the season (5-65-1). Kincaid is a TE1 moving forward.
JAX @ PIT
Offensive Snaps
Jaguars: 71
Steelers: 67
The dominant role for Travis Etienne (88.7%) continues. 30 opportunities for him this week. Tank Bigsby (8.5%) played just 6 snaps.
This was a better matchup for Calvin Ridley (85.9%) and he led the wide receiver group with a 31.3% target share.
TE Evan Engram (78.9%) also had a 31.3% target share.
Status quo for the Steeler running back situation. Najee Harris (52.2%) and Jaylen Warren (47.8%) are splitting time. Both saw five targets.
Diontae Johnson (91.0%) saw a huge 35.0% target share but only caught 8 passes as Kenny Pickett (41.8%) left this game with a rib injury.
TE Connor Heyward (73.1%) - not Darnell Washington (14.9%) - is filling the shoes for Pat Freiermuth.
NYJ @ NYG
Offensive Snaps
Jets: 64
Giants: 75
Dalvin Cook (12.5%) will continue to be unhappy about his playing time as he plays behind Breece Hall (64.1%) and Michael Carter (23.4%).
Randall Cobb was inactive so the Jets rotated Malik Taylor (35.9%) and Xavier Gipson (25.0%) through the No.3 spot behind Garrett Wilson (89.1%) and Allen Lazard (81.2%). Only Wilson is fantasy viable.
The Giants are a mess. Tyrod Taylor (33.3%) left with a rib injury which allowed Tommy DeVito (66.7%) to see some action. The two QBs threw the ball a combined 14 times for 7… yes… 7 passing yards. Daniel Jones (neck) is expected back in Week 9.
Because the passing game was inept, Saquon Barkley (89.3%) saw 41… yes… 41 opportunities including 36 carries. Matt Breida (10.7%) was the only other running back to see an offensive snap.
HOU @ CAR
Offensive Snaps
Texans: 58
Panthers: 67
It looks like the Texans are going stick with their even split between Dameon Pierce (43.1%) and Devin Singletary (39.7%). Both got 12 opportunities.
Noah Brown (72.4%) filled the No.3 WR role with Robert Woods inactive. He played behind Nico Collins (72.4%) and Tank Dell (77.6%). Dell had the lowest target share of the group at 16.7%.
Coming out of the bye with a new play-caller, Chuba Hubbard (67.2%) took over the lead RB role in Carolina, getting 17 opportunities to just 2 for veteran Miles Sanders (17.9%). Raheem Blackshear (14.9%) got more touches than Sanders.
Carolina had a tight WR rotation with Adam Thielen (97.0%), Jonathan Mingo (98.5%) and D.J. Chark (92.5%) basically playing the whole game.
TE Tommy Tremble (53.7%) played 36 snaps compared to 22 snaps for Hayden Hurst (32.8%).

NE @ MIA
Offensive Snaps
Patriots: 53
Dolphins: 77
Rhamondre Stevenson (58.5%) an Ezekiel Elliott (41.5%) continue to split time in an uninspiring backfield.
Kendrick Bourne (60.4%) tore his ACL and will miss the remainder of the season. That may for force the Patriots to play JuJu Smith-Schuster (34.0%) more along with Demario Douglas (77.4%). DeVante Parker (43.4%) was also injured in this game. This is a situation to avoid.
Jeff Wilson (24.7%) and Salvon Ahmed (24.7%) split time evenly behind Raheem Mostert (55.8%). This three-man committee is hurting Mostert's value. He has just 23 touches the last two games.
Both Tyreek Hill (75.3%) and Jaylen Waddle (75.3%) had over 100 yards receiving and a TD in this game. Braxton Berrios (53.2%), Cedrick Wilson (29.9%) and Chase Claypool (14.3%) also saw the field.
ATL @ TEN
Offensive Snaps
Falcons: 68
Titans: 68
Desmond Ridder (45.6%) was pulled in this game for ineffectiveness? Head coach Arthur Smith says "No" as Ridder was evaluated for a concussion, cleared but didn't return. Taylor Heinicke (54.4%) played the second half going 12-of-21 for 175 yards and a touchdown.
A week after the Bijan Robinson shenanigans, he played 73.5% of the snaps against the Titans and saw 11 carries and 0 targets. Tyler Allgeier (22.1%) got 8 carries while Cordarrelle Patterson (17.6%) has worked his way back into the mix.
Drake London (54.4%) left this game with a groin injury which allowed Van Jefferson (70.6%) to play the most snaps. The hodgepodge of other receivers included KhaDarel Hodge (42.6%), Scotty Miller (33.8%) and Mack Hollins (20.6%). None of this group is fantasy worthy.
Kyle Pitts (60.3%) was out-snapped by Jonnu Smith (70.6%) but Jonnu had only 1 target compared to 5 targets for Pitts (3-35-0).
Will Levis (97.1%) played the majority of the game at QB for the Titans finishing 19 of 29 for 238-4-0 and 11 yards rushing. Malik Willis (2.9%) had two carries on zero pass attempts. QB is a dumpster fire across the league so Levis will be an option on the waiver wire.
Trade rumors continue to swirl around Derrick Henry (64.7%). Tyjae Spears (44.1%) would see a spike in value if Henry gets moved.
DeAndre Hopkins (63.2%) caught 4 passes and three went for TDs.

MIN @ GB
Offensive Snaps
Vikings: 72
Packers: 68
Kirk Cousins (84.7%) tore his Achilles and is out for the season. The Vikings QB options included Jaren Hall (15.3%), Nick Mullens (IR-back injury, Wk10?) and Sean Mannion who is on the practice squad.
The RB split continues favor Alexander Mattison (61.1%) over Cam Akers (23.6%) with Mattison out-touching Akers 17 to 10.
Jordan Addison (94.4%), K.J. Osborn (86.1%) and Brandon Powell (52.8%) continue work as the top three receivers. All take a hit with Cousins out.
Aaron Jones continues to be limited with his hamstring injury but did play the same number of snaps (35) as AJ Dillon. Jones had 12 opportunities while Dillon had 11.
Poor play from Jordan Love makes Christian Watson (82.4%), Romeo Doubs (82.4%) and Jayden Reed (77.9%) risky business on a weekly basis.

LAR @ DAL
Offensive Snaps
Rams: 62
Cowboys: 65
Matthew Stafford (67.7%) injured his thumb in this game allowing Brett Rypien (32.3%) to get some run in garbage time.
Once again, the Rams split the RB work between Darrell Henderson (46.8%) and Royce Freeman (53.2%). This should be sticky until Kyren Williams returns. Myles Gaskin did not play an offensive snap.
Tony Pollard (64.6%) can't get on track this season. He's a volume-based mid-range RB2.
CeeDee Lamb (81.5%) saw a whopping 41.2% target share and posted a monster game (14 targets- 12-158-2). Brandin Cooks (61.5%) and Michael Gallup (50.8%) combined for 7 targets.

PHI @ WAS
Offensive Snaps
Eagles: 63
Commanders: 72
Status quo for the Eagles backfield. D'Andre Swift (69.8%) and Kenneth Gainwell (30.2%) are handling the work. Boston Scott played 1 snap.
A.J. Brown (98.4%) continues to be an alpha on the field, posting his sixth-straight game of 125 receiving yards.
DeVonta Smith (96.8%) came back to life (7-99-1) against the weak secondary of the Commanders.
Brian Robinson Jr. (48.6%) and Antonio Gibson (51.4%) shared the workload this week while Chris Rodriguez Jr. didn't play a snap.
Sam Howell had 52 passing attempts in this game. Jahan Dotson (84.7%) had easily his best game of the season (8-108-1) with Curtis Samuel (19.4%) banged up. Jamison Crowder (31.9%) and Dyami Brown (30.6%) both played a similar number of snaps.

NO @ IND
Offensive Snaps
Saints: 66
Colts: 71
All three Saints running backs got in the mix: Alvin Kamara (57.6%), Jamaal Williams (22.7%) and Kendre Miller (13.6%). Kamara still managed to get 22 opportunities.
Rashid Shaheed (27.3%) did what he does best - break off big plays (3-153-1). Chris Olave (74.2%) had a 32.1% target share.
TE Taysom Hill played 43.9% of the snaps and scored twice on the ground (9-63-2), smashing for all of your best ball teams. He also completed a pass for 44 yards and caught one for 14 yards.
TE Juwan Johnson (60.6%) returned to action but Foster Moreau (69.7%) was also in the mix. Taysom's presence kills any fantasy value for Johnson.
Puzzling usage for Jonathan Taylor (60.6%) as he had 11 carries 94 at halftime. Then got 1 carry in the second half. There was no injury to Taylor according to the Colts so WTF? Zack Moss (39.4%) came into the game Questionable and got most of the work in the second half.
Alec Pierce (94.4%) continues to be on the field more than Josh Downs (80.3%) but it's Downs that is earning targets (23.7% share).

CLE @ SEA
Offensive Snaps
Browns: 78
Seahawks: 58
Jerome Ford (33.3%) was active in this game but was obviously limited as he touched the ball just 10 times. Kareem Hunt (34.6%) got 15 touches while Pierre Strong Jr. (30.8%) got 11 touches also. Three-man committees aren't good for us.
You know the drill with the Browns WRs: Amari Cooper (80.8%), Elijah Moore (82.1%) and Donovan Peoples-Jones (83.3%) soak up all the work.
TE David Njoku (78.2%) had a 26.7% target share and finally got into the endzone. Too bad it took 8 weeks. He has 17 targets the last two weeks.
Zach Charbonnet (58.6%) played more snaps than Kenneth Walker (41.4%) this week as Walker was dealing with a calf injury coming into the game.
Jake Bobo (31.0%) played just enough to be a thorn in the upside of DK Metcalf (77.6%), Tyler Lockett (84.5%) and Jaxon Smith-Njigba (65.5%). Metcalf led the group with a 38.9% target share.

KC @ DEN
Offensive Snaps
Chiefs: 61
Broncos: 71
Despite averaging 5 yards per carry, a disappointing effort from the Chiefs offense led Isiah Pacheco (54.1%) with too few opportunities (11).
Justin Watson (36.1%) returned to further muddy with waters at wide receiver in Kansas City. Kadarius Toney (19.7%) and Skyy Moore (54.1%) are busts. Rashee Rice (60.7%) is the only fantasy viable option.
Javonte Williams (63.4%) touched the ball 30 times in what was by far his best fantasy game of the season. Jaleel McLaughlin (11.3%) barely saw the field but is the preferred bench stash, while Samaje Perine (23.9%) operates on third downs.
Marvin Mims played 39.4% of the snaps but needs a Courtland Sutton (78.9%) or Jerry Jeudy (59.2%) trade to increase his fantasy value.
CIN @ SF
Offensive Snaps
Bengals: 63
49ers: 59
Joe Mixon (74.6%) had his best fantasy day of the season (16-87-1, 3-23-0). Trayveon Williams (17.5%) continues to fill the backup role but doesn't get enough touches.
Tee Higgins (66.7%) remains somewhat limited by his rib issue allowing Trenton Irwin (27.0%) and Andrei Iosivas (15.9%) to fill in the gap.
Ja'Marr Chase (88.9%) had a 37.5% target share.
Christian McCaffrey (96.6%) missed two snaps on his way to 12-54-1, 6-64-1. Elijah Mitchell (11.9%) is firmly ahead of Jordan Mason (0.0%).
Another week of Deebo Samuel being out, led to Brandon Aiyuk (91.5%) to a 30.0% target share. Jauan Jennings (84.7%) didn't see a target.
TE George Kittle (93.2%) saw a 36.7% target share.

BAL @ ARI
Offensive Snaps
Ravens: 65
Cardinals: 77
Gus Edwards (52.3%) and Justice Hill (47.7%) are still splitting snaps relatively equally but it's Edwards (19-80-3, 2-14-0) that's finding the endzone. Hill had 8 touches and 55 yards.
Zay Flowers (75.4%) saw 7 targets but had a disappointing 5-19-0 line. He's the only fantasy viable WR in the Ravens offense.
Emari Demercado (54.5%) was the clear lead RB for the Cardinals handling 21 touches. Keaontay Ingram (37.7%) only had 3 touches.
Marquise Brown played 94.8% of the snaps but doesn't have a ceiling with Joshua Dobbs at quarterback.
TE Trey McBride (81.8%) is a thing. He had a 38.9% target share and should be rostered.

CHI @ LAC
Offensive Snaps
Bears: 66
Chargers: 69
Roschon Johnson (36.4%) finally returned from his concussion to formed a three-man committee with D'Onta Foreman (31.8%) and Darrynton Evans (27.3%). Not great. Nobody is playable in this scenario. Both Foreman and Johnson had 10 touches.
D.J. Moore (87.9%) and TE Cole Kmet (83.3%) are the only receiving options to consider. Kmet had a 27.0% target share.
Austin Ekeler (66.7%) got going in the receiving game (21.1% target share) while Joshua Kelley (21.7%) worked as the No.2 RB.
Josh Palmer (68.1%) missed some time in this game to have his right knee looked at. He did return, but his absence allowed rookie Quentin Johnston (69.6%) to see a 15.8% target share.
With TE Gerald Everett out, Donald Parham (62.3%) saw five targets. He's a viable streamer whenever Everett is out.

LV @ DET
Offensive Snaps
Raiders: 46
Lions: 86
The disparity in play volume tells you how this game went. It was a monster for Jahmyr Gibbs who played 69.8% of the snaps with David Montgomery out. Gibbs handled 31 touches and finished as the highest scoring RB of the week. Craig Reynolds (27.9%) handled 15 touches (14-74-0, 1-12-0).
Amon-Ra St. Brown (91.9%), Josh Reynolds (82.6%) and Jameson Williams (39.5%) played the most at WR with Kalif Raymond (24.4%) seeing the field as well. ASB and Reynolds are the only two that are fantasy viable.
Josh Jacobs (76.1%) totaled 88 yards and found the endzone. Ameer Abdullah (21.7%) was working as the No.2 back.
A visibly frustrated Davante Adams (95.7%) was targeted 7 times but only caught one for 11 yards. Jakobi Meyers (97.8%) and Hunter Renfrow (60.9%) combined for three catches as Jimmy Garoppolo completed just 10 passes on the night.
TE Michael Mayer played 91.3% of the snaps.