Preseason football is so many things, yet so very few things. Millions of people love the idea football is back but can't stand the fact games don't mean anything for another month. Most people would also tell you there isn't much that can be learned from preseason football, at least as it applies to fantasy football.
Let me begin by saying if more than two percent of your draft-day preparation changed because of what you saw last weekend, you're probably not playing this game right. It's good to note "surprise starters" and things of that nature, but it is much more important to see how individual players look - particularly those who were hyped endlessly during the spring and early summer. Week 1 of the preseason gives us our first taste of that, but starting up a player's bandwagon after one or two series of action - which is all they are going to get in the first game in most cases - is akin to calling a basketball player who hits his first two shots or baseball player who goes 2-for-2 in his first two at-bats a "breakout star." Enjoy the first two full weeks of the preseason for what they are: no game-planning for the regulars and a lot of back-end players fighting for jobs over the final three quarters.
With that said, rankings tend to be highly volatile after one week of preseason action. Prolonged camp injuries create some of the mayhem, while a surprising trade or two - like the ones that went down for Sammy Watkins and Jordan Matthews - shake things up for every skill-position player as it affects playing time and targets. Some of the most important things to remember: draft late this month and/or early next month and be flexible in your opinions about a player right up until the draft.
Let's get to this week's series of Big Boards…
For all of those unfamiliar with my Big Boards, allow me to explain the color-coding system before we start:

Red – For lower-level players, a red matchup means they should not be used in fantasy that week. For a second- or third-tier player, drop your expectations for them at least one grade that week (i.e. from WR2 to WR3). For elite players, expect them to perform one level lower than their usual status (i.e. RB1 performs like a RB2).
Yellow – For lower-level players, he is a borderline start at best. For a second- or third-tier player, they can probably overcome the matchup if things fall right. For the elite players, expect slightly better than average production.
White – This one that could go either way. In some cases, I just don't feel like I have a good feel yet for this matchup. Generally speaking, these matchups are winnable for all levels of players.
Green – For non-elite players, the stage is basically set for said player to exploit the matchup. For the elite player, this matchup should produce special numbers
Note: Later this week, I will release my first Big Boards for The Fantasy Championship (TFC) and FFPC. In the final set of Big Boards over the following two weeks, I will rank 200 players and present my final rankings for kickers and defense/special teams.
Here is the scoring system that I used to rank the players in the Half-Point PPR format:
Most folks can pretty much agree on the top six running backs, with the order of Nos. 3-6 (following the Ezekiel Elliott six-game suspension) somewhat up in the air due to some minor issue(s). For Devonta Freeman, he figures to have a somewhat capped workload and runs the risk of losing touchdowns to Tevin Coleman. For LeSean McCoy, his age (29) and likely touchdown regression are potential issues. (The list goes on.) However, none of the first six backs are under any real threat to lose significant work. The same can actually be said about each of the next four as well (Todd Gurley, Jordan Howard, Jay Ajayi and Leonard Fournette). However, all four have a "fatal flaw" that makes it nearly impossible to significantly separate them from one another.
Gurley's workload is secure and it sounds as if HC Sean McVay is happy enough with his abilities as a receiver, but the offensive line is very much work in progress and faces a division full of potential good - if not great - defensive lines. Landing Sammy Watkins last week make everyone's job easier, which is why Gurley is the most likely of the second group to succeed. Howard has a firm grasp of early-down work in Chicago and the team wants him to the be the focal point of the offense, but the Bears figure to be the worst of the four teams we'll discuss in this paragraph and the next one. The presence of rookie Tarik Cohen cannot be overlooked either. Chicago did not spend a fourth-round pick on a highly-elusive, pint-sized speedster to return kicks and/or punts. Howard struggled mightily with drops last year, so he is probably the one back of the four who will be most impacted by either game flow or a lack of favorable running situations.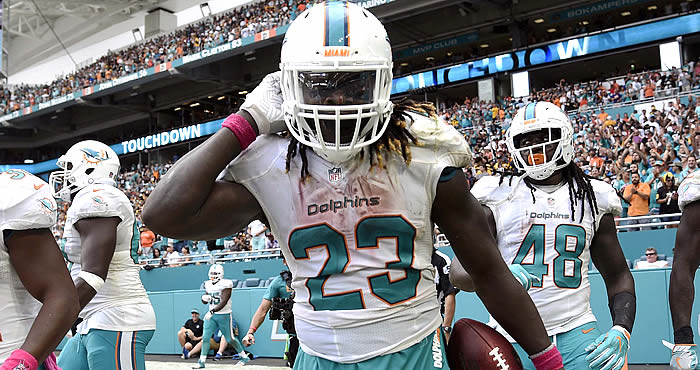 Jay Ajayi is one of a group of top running backs with "issues" that make them difficult to separate from one another.
Next up is Ajayi, who should also have no real challengers to a consistent supply of touches each week for a coach who wants to feed him the ball. He's also reportedly made significant strides in the passing game. So what's the problem? The Dolphins have arguably downgraded up front after finishing 22nd in the league in Football Outsiders' adjusted line yards, 28th in power success (late-down or goal-line runs from the 2 or closer which achieved a first down or touchdown) and 31st in stuffed percentage (runs where the running back is tackled at or behind the line of scrimmage). Ajayi was wildly inconsistent from Weeks 10-17 and struggled to be a RB2 over that time just about as often as he served as one. The Jaguars are probably more committed to running the ball than any of the aforementioned teams, but Fournette probably has the most competition for carries in his own backfield. Is it a long-term concern for someone with his talents? No. But even if he shares work for the opening month, it's going to be difficult for him to keep pace with all the backs mentioned earlier. And if T.J. Yeldon steals even half of the work in the passing game, the rookie's avenues toward reaching fantasy stardom may be delayed until 2018.
The third round isn't an ideal time to start taking big-time risks, but this year's draft is shaping up to be one in which the hit-or-miss rate is going to be extremely high. We have Rob Gronkowski's injury history, Joe Mixon's potential for shared backfield touches, Allen Robinson's "situation" (uneven quarterback play plus run-heavy offensive philosophy), T.Y. Hilton's "situation" (possibly without Andrew Luck), Ezekiel Elliott's suspension and the list goes on. With so much uncertainty surrounding so many potential high-end players in this area, a strong case can be made to invest into a top-three quarterback (Tom Brady, Aaron Rodgers or Drew Brees), even though I spent some time earlier this summer advocating waiting on the position. Although he enters his age-40 season, Brady may have the best set of offensive weapons he's had in 10 years (2007; Randy Moss, Wes Welker, etc.) and perhaps in his career. While I'm not going to predict another 50-touchdown season like he had a decade ago, a year in which he goes for 4,500 yards and 40-plus touchdowns seems more than doable against a fantasy schedule that contains four games against the NFC South and five inside the Patriots' own division. While Peyton Manning's 2013 campaign doesn't figure to be topped anytime soon, Brady could very easily have the best fantasy season from a quarterback we have seen since. Although the position has been devalued in fantasy, was Manning worthy of a third-round pick four years ago?
Note: Bear in mind the scoring system I am using here is six points for ALL touchdowns. (If you desire rankings where passing touchdowns are worth four points, you are in luck. My TFC Big Boards are coming out in a couple of days and are standard-scoring PPR leagues that give four points per passing TD.)
The fallout from the Elliott suspension is that Dallas figures to rely a bit more heavily on Dez Bryant … or does it? Defenses will still respect Darren McFadden, but not to the point they did with Elliott, meaning more attention can and probably will go to shutting down Bryant. That last part was already going to be an issue given the level of cornerbacks Bryant is expected to face in 2017, so it is becoming increasingly more difficult to consider him even a third-round value. It is much more likely Cole Beasley (and perhaps rookie Ryan Switzer) gets peppered with targets as the slot receivers become even more of an extension of the running game than they were in 2016.
There's been a recent clamor for Martavis Bryant as a top-10 fantasy receiver. In order for him to do that - assuming no one between Antonio Brown and Michael Thomas on my board gives up their spot - he would have to outperform Brandin Cooks, Amari Cooper and/or Doug Baldwin. Is the talent there for him to do so? Sure. However, let's consider the major hurdles he needs to overcome to reach that goal: he's likely no better than the third option in his own passing game, relies heavily on the big play and plays with a quarterback with dramatic home-road splits in recent years who is almost guaranteed to miss at least a game or two again this season. I may buy him sometime in the fourth round just to say I own a share or two of him, but it's obvious he needs a lot to work in his favor to be the WR1 some people are making him out to be.
Fantasy owners can be a curious lot, constantly hoping and praying for someone (preferably a coach) to say something positive about a running back only to overcompensate by sending him skyrocketing up their draft boards the minute it happens despite any and all past transgressions. I fear that is happening with Carlos Hyde. Let's start with what we know: in 297 career runs out of the shotgun, he is averaging 4.8 YPC. In 118 carries under center, the average is 3.1. Just as a point of reference, Atlanta ran a total of 919 plays out of the shotgun formation in two years under then-OC Kyle Shanahan, who is now the San Francisco 49ers' head coach. A total of 150 of those plays over the two seasons were runs. Understand I have as much faith in Shanahan to mold his offensive system to his running backs as any play-caller, but Hyde has never really enjoyed much success outside of anything but a shotgun-based offense. He is playing for a team likely to face a ton of negative game scripts due to a poor secondary and has never played a full season in college or the pros. Those kind of questions marks might be acceptable for a running back operating behind the Dallas or Tennessee offensive lines, but you'd be hard-pressed to find even one 49er offensive lineman who would start on either one of those teams. I dig the fact Shanahan likes where Hyde is from conditioning standpoint, but that only potentially changes one of the question marks (durability). And in case anyone cares, the Niners' top back faces a murderer's row of tough run defenses beginning in Week 8.
Doug Martin represents a potential rare value pick at the running back position this year, although his three-game suspension and relative lack of use as a receiver makes him an early fifth-round pick for me at best. GM Jason Licht's threat last month that Jacquizz Rodgers could hold onto the starting job after Martin returns seems hollow at best and came shortly after Licht suggested Martin may be one of those players who may need a "carrot" to be dangled in front of him. He's a potential steal as a RB3/flex option and a very good option for owners who opt to go WR-WR-WR.
I'm expecting to own about 10 money-league teams this year. It would not surprise me if Jeremy Maclin ends up on about five of them. (Before we go any further, my ranking of Maclin assumes Joe Flacco will be ready for the season.) Greatly undervalued in the mid-to-late seventh round, Maclin seems to be getting punished for either playing last season with a torn groin muscle, heading to Baltimore to play with an average quarterback like Flacco or both. Danny Woodhead could come close to absorbing all of the targets Dennis Pitta (121) is leaving behind, but someone has to replace the targets left behind by Steve Smith (101), Kyle Juszczyk (49) and Kamar Aiken (50). Sure, Mike Wallace (116) and Breshad Perriman (66) could take on bigger roles, but this offense needs someone to fill the void left behind by Smith. Last year, a 37-year-old Smith finished with 70 catches, 799 yards and five touchdowns and finished as the WR41 in half-point PPR leagues in total points despite missing two games. If Smith merely hit his 10.4 point-per-game average in half-point PPR scoring over those two "other" games, he would have finished as the WR24, just ahead of Wallace.
Sammy Watkins is among the many players who has the widest range of potential outcomes facing him. He claims to be fully healthy at the moment, but his foot problems will remain an issue until they aren't. Jared Goff has the skill to be a good quarterback in this league, but can he make even one receiver fantasy-viable this year? And good luck against one of the most difficult schedules for a receiver, which includes two dates apiece against Patrick Peterson and the Legion of Boom, one each against Janoris Jenkins and Josh Norman as well as games against the vaunted defenses of Houston and Minnesota. Watkins should create some big plays regardless of his "situation", but I have a hard time seeing him piling up the number of catches he needs to be a force in a half-point or full-point PPR leagues to make up for the relative lack of touchdowns he figures to score.
Duke Johnson has been a favorite of mine since he entered the league in 2015, although he had the misfortune of being in the same draft class as Isaiah Crowell, who was a first- or second-round talent who went undrafted due to some off-field red flags. The turnstile that has become the quarterback position in Cleveland has really worked against the all-purpose back as well, as it is hard for seven different quarterbacks (not including Terrelle Pryor) over a two-year time period to make sure a receiving back gets his touches. At the very least this year, it appears HC Hue Jackson has a supporting cast in place to utilize his backfield the same way he did in Cincinnati with Jeremy Hill and Giovani Bernard. The main difference with Jackson is he is a more gifted runner than Bernard and looks to be in position to double as the team's primary slot receiver, which sounds something relatively close to a Theo Riddick-like role, only with a more talented player. Further consider he should be running behind one of the better offensive lines in the NFL and figures to have a number of negative game scripts (positive for him) in an offense that will likely struggle to score. It's not hard to imagine Johnson finishing among the top 20 players at his position, especially if he sees even a moderate increase in carries.
How is it possible that some by like Martellus Bennett is flying under the radar in this day and age? Despite lacking what most would consider quality options, Green Bay has targeted the tight end position 103 times in each of the last two seasons. Imagine how much that number might go up with a Pro Bowl-caliber player like Bennett on board. Yes, Lance Kendricks may be able to steal as many as 40 looks, but I laid out a very plausible scenario in my NFC Workload Projections article in which Bennett pushes 80 targets. Two years ago, Richard Rodgers finished as the TE10 on 85 targets, albeit with Jordy Nelson on the sidelines. Last year, Jared Cook averaged 5.1 targets (works out to just over 80 for a 16-game season) and he hardly had time to build a rapport with Aaron Rodgers during the season. History and talent both point to Bennett seeing at least 80 targets, while his size (6-7, 250) screams "red zone option." Bennett fought through an ankle injury for most of last season and still finished as the TE8 in half-point PPR. His floor is probably in the 60-catch, 700-yard and six-score neighborhood. His ceiling? Try 75-80 catches, 850-900 yards and 8-10 scores.
The trade of Watkins to the Rams plus the subsequent acquisition of Jordan Matthews and earlier signing of Anquan Boldin leaves Buffalo with three players who are probably best suited for a slot role, at least initially. At 36 years of age, Boldin is almost certainly going to get those duties. Matthews ran 329 of his 490 routes out of the slot last year for the Eagles (per Pro Football Focus) and has essentially been deemed a slot receiver by two different regimes, so it may a bit much to ask him to handle No. 1 duties. As a result, Zay Jones seems pretty much locked into one starting spot and is the only receiver Tyrod Taylor could possibly have built any chemistry with so far. Thanks in large part to a college offense that use him quite often on bubble screens and quick-hitters, the rookie has been a bit miscast as a possession receiver. While that figures to be his long-term role, his 4.45 speed at the combine and ability to get behind defensive backs at the Senior Bowl showed me he has what it takes to be a No. 1 receiver … in time. Buffalo has very little behind its top three receivers and probably isn't planning on more than 150 combined targets from LeSean McCoy and Charles Clay, meaning there is probably at least 100 targets waiting for whatever receiver steps into the lead role.
The Seahawks surprised many by unleashing Thomas Rawls as the first back through in their preseason opener and, as I talked about earlier with Hyde, he's going to fly up draft boards. There's obviously nothing wrong with moving Rawls up if you believe he will hold off Eddie Lacy for the early-down job, but it really doesn't change all that much about what we knew with Seattle a week ago. Lacy would still seem to be the obvious pick for goal-line duties, while C.J. Prosise is pretty much be locked in as the main option on passing downs. Rawls is a violent runner who has a poor history of staying healthy and a running style that doesn't lend itself to long-term durability. I would argue Seattle is one of the last places I would look this year for a potential bell-cow runner to emerge from a committee, and I would also argue the one back most likely to do it is the one who will be the last in line to get a chance (Prosise).
It's the preseason, so it must be time to talk about Nelson Agholor again. The Eagles went all-in with him as the primary slot receiver following the trade of Jordan Matthews, who was beloved by most - if not all - members of the Philadelphia locker room. With Alshon Jeffery facing one of the more difficult slate of matchups of any receiver in the league, it wouldn't be shocking if Agholor finishes third behind Jeffery and Zach Ertz in targets. Whether that is a 50-catch season or something much bigger - if he can push Torrey Smith for first-team snaps on the outside - remains to be seen, but he warrants a selection at the end of drafts. Another name to keep an eye out for in the slot: TE Trey Burton. OC Frank Reich went into some detail with Philadelphia reporters following a recent practice about that very possibility. He even referenced the fact QB Carson Wentz likes having him (Burton) on the field, and we saw the combination work in small doses last season.
It's getting harder and harder to rank Paul Perkins inside the top 150. Yes, you are reading that correctly. HC Ben McAdoo called out Perkins following the preseason opener for failing to get a first down in the open field. Orleans Darkwa has been stealing at least a few first-team reps from Perkins and Shane Vereen - for however long he can stay healthy - has a firm grasp on passing-down work, taking away one of the things Perkins does best. The shame of it all is Perkins could handle all the work if McAdoo truly wanted him to do so, but that doesn't appear to be something the latter wants to happen.
Fans of Corey Davis figure to be outraged by his ranking on this list. That's OK, because I wish I didn't have to him as low as I have him. The No. 5 overall pick got some work in during rookie camp and was a full participant during minicamp before pulling his hamstring about a week into training camp, so he's not quite in the same position as someone like San Diego's Mike Williams from a preparation perspective. However, his current week-to-week status makes him a very dicey proposition for a team that does not lack for talent at receiver. Asking a rookie - no matter how gifted - to beat out Eric Decker and Rishard Matthews during the season is a tall task and probably only something that will happen if the front office wants it to happen. If Davis can show he's ready before the end of the preseason, I might be willing to put them inside the top 100. If not, Matthews is looking like a value pick once again this year.
ESPN's Adam Caplan on Sunday (Aug. 13) remarked on Mike Clay's Sirius XM show that Travis Benjamin has been "the best receiver in camp and is faster than ever." The offseason and training camp is littered every year with coaches and front-office types hyping their players, but I tend to take peer-on-peer praise a bit more seriously. Then again, are we really surprised? Benjamin played through a knee injury last season that required arthroscopic surgery over the winter after coming out of the gate fast in his first season as a Charger. The situation is obviously changed, as Allen is healthy again, Tyrell Williams has emerged and Mike Williams is waiting in the wings. However, we are only a season removed from Benjamin being a fantasy football darling in Cleveland of all places, doing so with Josh McCown, Johnny Manziel and Austin Davis throwing him the ball. Mike Williams appears to be doing better and is reportedly eyeing a return in October, but Benjamin is really only another Allen injury away from being in a similar position to the one he was in around halftime of the first game last season. At worst, he projects to be the best deep threat on what should be a very high-scoring offense. At best, a healthy Benjamin emerges as a poor man's Brandin Cooks.

Next: Non-PPR Big Board

| PPR Big Board

---
Doug Orth has written for FF Today since 2006 and been featured in USA Today's Fantasy Football Preview magazine since 2010. He hosted USA Today's hour-long, pre-kickoff fantasy football internet chat every Sunday in 2012-13 and appears as a guest analyst on a number of national sports radio shows, including Sirius XM's "Fantasy Drive". Doug is also a member of the Fantasy Sports Writers Association.