As I enter my 12th year of writing this postseason column, I hope I have helped some of you along the way supplement your regular-season fantasy prize winnings.

The layout of this column will remain mostly unchanged from last season. While I will continue to play the NFL.com Playoff Challenge and small-slate DraftKings Classic tournaments, I have ended my 11-year association with Fuzzy's Fantasy Football for reasons I may get into at a later date.

The first part of this week's column will be devoted to those owners who participate in the Playoff Challenge or any other format in which it is best or required to keep the players you draft for the duration of the postseason. The second half of the column is for owners who play in leagues in which you reset your lineup each week, such as a salary cap setup like DFS. Regardless of which format(s) you choose to play in, my goal over the next four articles will be to help each of you through your decision-making process as you attempt to boost your bottom line.
NFL.com Playoff Challenge/Multi-Week Leagues
For a complete rundown of how players will score fantasy points for your team, click on the "Rules & Prizing" link on the NFL.com entry page. Some of the content immediately below is included on the "How to Play" page, although the information I provide below should be more than enough to follow along easily.

NFL.com Playoff Challenge scoring system

The requirements: one QB, two RBs, two WRs, one TE, one K and one D/ST. You will earn fantasy points based on their on-field performance during their game, and if your player's team wins, you will have the option to carry that player over to the next round, where he will earn a bonus point modifier to his score (which will be referred to as 2x, 3x and 4x from here on out).
For example, if you pick Drew Brees in the Wild Card round and the Saints win, you can carry him over to the Divisional Round, and earn two times (2x) the points he earns in his divisional round game. If New Orleans wins again, you can carry Brees into the Conference Championship round for 3x the points and, if the Saints make the Super Bowl, you can earn 4x the points. In addition, a user can select a player/defense in the Wild Card round even if their team has a bye into the Divisional Round. In this case, the user would not earn any points for the Wild Card round, but be eligible to earn 2x points in the Divisional round, since the player was on the teamís roster for two weekly scoring periods. Further bonus point modifiers would also apply as long as that playerís team continues to advance in the NFL Playoffs.
Before we get into the picks, let's briefly review the rules and how we may use them to our advantage: 1) passing TDs are worth four points, so passing yards are valued the same as DraftKings; 2) all field goals under 50 yards are worth three points, which means we are more concerned about the volume of field goals than distance – unless we can find a kicker who regularly converts from 50-plus (DraftKings does not use kickers); 3) this is a non-PPR format, which obviously favors the big-play threats (DraftKings is PPR); and 4) team wins are worth five points in the NFL.com Playoff Challenge, so picking a "winning" defense is worth almost a touchdown before factoring in the modifiers.
Let's get the No. 1 rule of this game out of the way right now: if you have a good feeling about which two teams will meet in the Super Bowl, it is advisable to build your lineup exclusively with players from those two teams. Most previous playoff challenge champions' lineups are made up entirely of 4x Super Bowl participants. (In other words, it is important to project the Super Bowl entrants first and figure out what players from those teams to use afterward.) The multipliers are everything in this contest, so playing the week-to-week matchups are nearly meaningless. Think about it this way: if I told you that your regular-season fantasy team's scoring would double in Week 2, triple in Week 3 and quadruple in Week 4 if you simply left it the same, would it affect your draft strategy? Of course it would. The big week your team might post in the first week of this challenge - in the somewhat unlikely event you played the matchups perfectly - is going to seem rather insignificant in early February when every passing touchdown is worth 16 points, every other TD is worth 24 and the top teams in this competition are scoring 200-300 (or perhaps more) points per week.
As noted earlier, the main challenges are (in order): 1) correctly predicting the two conference winners and 2) forecasting the best fantasy players in that hypothetical Super Bowl matchup. This will be the only Playoff Challenge write-up I do this postseason, as I have reached the conclusion that any alterations I make to my lineup in the third and fourth weeks would be in response to a wrong pick on my part, and my analysis of a 1x or 2x player isn't going to matter very much. Much like in daily fantasy, the chalk plays probably aren't going to win. (Of the hundreds of thousands of entries NFL.com receives, how many do you think are going to line up their fantasy squads exclusively with Lamar Jackson or Patrick Mahomes just because they are the "best" fantasy quarterbacks?) In other words, be bold whenever possible! It's a free contest after all, so crashing and burning - even if it is in front of an audience like what I'm doing - isn't such a bad thing when you consider the reward is much greater than the risk involved.
Below you will find 14 playoff teams ranked in order of the (percentage) odds I believe they have of making the Super Bowl. I'll spend a bit of time after that attempting to nail the bracket before talking a little DFS.
1. Green Bay (40%)
2. Kansas City (35%)
3. Buffalo (30%)
4. New Orleans (30%)
5. Tampa Bay (20%)
6. Baltimore (15%)
7. Pittsburgh (10%)
8. Seattle (6%)
9. Indianapolis (6%)
10. LA Rams (2%)
11. Tennessee (2%)
12. Cleveland (2%)
13. Chicago (1%)
14. Washington (1%)
With that out of the way, let's next focus on my week-to-week playoff projections and then the players I feel are realistic alternatives for this four-week sprint to the finish:
With that out of the way, let's next focus on my week-to-week playoff projections and then the players I feel are realistic alternatives for this four-week sprint to the finish:
AFC - Wildcard: Bills over Colts, Steelers over Browns, Ravens over Titans
NFC - Wildcard: Saints over Bears, Seahawks over Rams, Buccaneers over Washington
AFC - Divisional: Chiefs over Ravens, Bills over Steelers
NFC - Divisional: Packers over Buccaneers, Saints over Seahawks
AFC - Conference Championship: Bills over Chiefs
NFC - Conference Championship: Packers over Saints
Super Bowl: Bills vs. Packers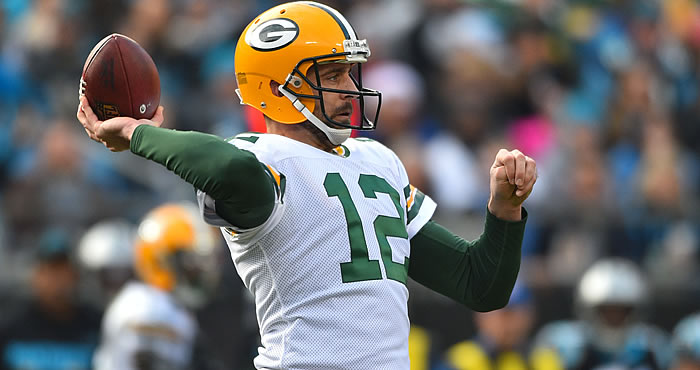 The rankings below are for those readers in similar leagues that require you to draft players this week and keep them for the duration of the postseason. The number inside the parentheses refers to how many games I expect that player/unit to play.

Quarterbacks

Tier 1
1. Aaron Rodgers (3)
2. Josh Allen (4)
3. Patrick Mahomes (2)

Tier 2
4. Lamar Jackson (2)
5. Russell Wilson (2)
6. Tom Brady (2)

Tier 3
7. Drew Brees (3)
8. Ben Roethlisberger (2)
9. Ryan Tannehill (1)

Tier 4
10. Philip Rivers (1)
11. Baker Mayfield (1)

Tier 5
12. Jared Goff/John Wolford (1)
13. Mitchell Trubisky (1)
14. Alex Smith/Taylor Heinicke (1)

The chalk plays figure to be in full effect for this competition. Rodgers and Mahomes will likely see the most action (likely by far) from fantasy players who understand how important the multipliers are in this competition, so it behooves us to go contrary right from the start. Historically speaking, both top seeds don't make it to the Super Bowl very often, although it has happened four times since 2013 after occurring only nine times in the first 47 Super Bowls. Rolling with Allen does not come without risk, however, as I believe Buffalo could easily suffer a first-round upset. Still, the upside of locking in a quarterback who produces like Rodgers and Mahomes AND can potentially give us four full games of production instead of the usual three could be the difference in finishing near the top or middle of the pack.

Jackson probably belongs in the first group given how he is essentially a QB2 as a passer and an RB1 as a runner in the same body. Baltimore could easily exceed expectations and make up for last year's early exit, but let's consider the Ravens' resume: they finished 4-4 against playoff teams. The four wins came against 7-9 Washington, No. 7 seed Indianapolis (when the Colts were playing without T.Y. Hilton and believed Jordan Wilkins had earned more work) and No. 6 Cleveland (twice). One of the four losses came against the Titans, but Tennessee's defense may be worse now than it was in Week 11. Wilson has perfected the second-half fade in recent years, although Seattle's offensive approach consistently seems to be the culprit. The Seahawks' desire to do everything in their power to minimize their best player in the name of "protecting" him when he has yet to miss a game in his pro career is admirable but baffling at the same time. It's hard not to rank Brady any higher given his track record, but Tampa Bay is the NFC's version of Indianapolis as far as I'm concerned. Anything from a first-round loss to Super Bowl run is possible depending on who might (or might not) be available due. What does that mean? Stud LB Devin White (COVID) won't play, Mike Evans (knee) appears to be highly questionable and top CB Carlton Davis (groin) is ailing.

New Orleans has made some surprising early exits in recent years, but the Saints are arguably the most complete team in the league at the moment. Brees should get at least two games and is a decent candidate for four should the Bucs win this week and repeat their Week 6 domination of the Packers in the projected divisional round matchup. Pittsburgh (and Roethlisberger, for that matter) has played about one good half of football since Thanksgiving, so I'm not crazy about hopping on that bus. Tannehill figures to be underappreciated for the foreseeable future in fantasy. With that said, the Titans could easily ride Derrick Henry as long as possible in an effort to hide their defense. It's also difficult for a quarterback to light up the fantasy scoreboard consistently when he is consistently attempting 27 or fewer passes (as Tannehill did in his last four regular-season games and five of his last six) unless he also has 100-yard rushing upside like Lamar Jackson.

Rivers heads the list of the best of the rest only because I believe the Colts have a very good shot at making a decent run. With that said, picking him in this kind of competition is a needless gamble because there is no salary cap savings to be realized and virtually no upside that comes along with selecting a quarterback with virtually no rushing ability. It's hard to love Mayfield versus the Steelers, and it's hard to imagine how the Browns beating Kansas City in the off chance they upset Pittsburgh. Even if all of the Tier 5 quarterbacks were promised two games, I would be hard-pressed to move any of them into Tier 3.

Running Backs

Tier 1
1. Aaron Jones (3)
2. Alvin Kamara (3)

Tier 2
3. J.K. Dobbins (2)
4. Clyde Edwards-Helaire (2)
5. Chris Carson (2)
6. Ronald Jones (2)
7. Jonathan Taylor (1)
8. Derrick Henry (1)
9. Zack Moss (4)
10. Devin Singletary (4)

Tier 3
11. Latavius Murray (3)
12. Gus Edwards (2)
13. Nick Chubb (1)
14. David Montgomery (1)
15. Cam Akers (1)

Tier 4
16. Jamaal Williams (3)
17. AJ Dillon (3)
18. J.D. McKissic (1)
19. James Conner (2)
20. Leonard Fournette (2)
21. Carlos Hyde (2)
22. Kareem Hunt (1)
23. Nyheim Hines (1)
24. Antonio Gibson (1)
25. Le'Veon Bell (2)
26. Rashaad Penny (2)

If there's one position fantasy owners can sometimes get away from just relying on what teams will make it to the Super Bowl, it might be a running back. Jones is the closest thing to a feature back that any of my three Super Bowl favorites have, and even he accounted only for just over half of his team's carries and receptions from running backs. Jones gets the top spot above because he seemingly has the best chance of any lead back to hit the 4x multiplier and make it pay off in a big way. If Kamara gets three games as I have predicted, he should give Jones a run for his money. With that said, Kamara's uncertain status for the first round following his positive COVID tests makes him less of a lock than we could have imagined about a week ago.

I would not hesitate to put Dobbins into Tier 1 if I was certain the Ravens would make it as far as the conference championship. Unfortunately, they are far from certain to last more than one game and highly unlikely to beat the Chiefs should they face off in the divisional round. Edwards-Helaire might be the savviest pick on the board. The majority of the players in this competition figure to be down on him based on what they felt was a somewhat disappointing rookie season, but it seems highly likely the Chiefs will ask their first-round pick to begin shouldering more of the load now in much the same way they featured Damien Williams down the stretch last season. If both top seeds (Kansas City and Green Bay) make the Super Bowl, a 4x combination of Jones and CEH would be more of a contrarian paring at running back than one might expect. Seattle does not seem primed for a Super Bowl run, not do the potential matchups (Rams and then most likely the Saints) look all that great for Carson. The Bucs are probably better bets to play four games than the Seahawks, but Tampa Bay's coaching staff takes just enough meaningful work away from RoJo to make him a poor bet in this competition.

The idea that Taylor and Henry could do more in one game than either of Buffalo running backs could do in four is unsettling, to say the least. With that said, the primary reason why Taylor and Henry are placed higher than Moss and Singletary above is that both play on teams capable of pulling off a first-round upset. It's also an indictment on just how pass-heavy Buffalo has become down the stretch. Especially in a non-PPR challenge such as this one, Moss' lack of consistent usage and Singletary's low touchdown upside makes both fringe options despite the possibility they could each play three or four games.

Tier 3 gives us the last of the decent fringe options at running back. The combination of three potential games and maybe a game with a limited Kamara makes Murray slightly appealing. He becomes much more appealing if Kamara's conditioning suffers as a result of his bout with COVID. Edwards has done nothing but deliver with the opportunities he's been given this season and would warrant a spot in Tier 2 behind Henry if Baltimore had a reasonable chance to make it to the conference championship. Chubb, Montgomery and Akers are all Tier 2-caliber running backs stuck in a bad situation as it relates to this challenge. The Browns into the weekend extremely shorthanded due to COVID issues, the Bears have little shot of upsetting the Saints and Akers is still not 100 percent playing for a likely one-and-done team that is hoping its backup quarterback can keep the ship afloat.

Wide Receivers

Tier 1
1. Davante Adams (3)
2. Stefon Diggs (4)
3. Tyreek Hill (2)

Tier 2
4. Michael Thomas (3)
5. John Brown (4)
6. Chris Godwin (2)
7. Diontae Johnson (2)

Tier 3
8. DK Metcalf (2)
9. Antonio Brown (2)
10. Chase Claypool (2)
11. JuJu Smith-Schuster (2)
12. Mike Evans (2)
13. Emmanuel Sanders (3)
14. Marquise Brown (2)
15. Tyler Lockett (2)
16. Sammy Watkins (2)
17. Gabriel Davis (4)

Tier 4
18. Marquez Valdes-Scantling (3)
19. Mecole Hardman (2)
20. A.J. Brown (1)
21. Corey Davis (1)
22. Allen Robinson (1)
23. Allen Lazard (3)
24. Terry McLaurin (1)
25. Jarvis Landry (1)
26. T.Y. Hilton (1)
27. Robert Woods (1)
28. Cooper Kupp (1)
29. Zach Pascal (1)
30. Josh Reynolds (1)
31. Darnell Mooney (1)
32. Michael Pittman Jr. (1)
33. Donovan Peoples-Jones (1)

Especially in this non-PPR format, it could be argued Adams is in a class all by himself. He's arguably the most valuable player in this competition. Diggs takes second place by virtue of my four-game projection for him. He doesn't boast near the touchdown upside of Adams or Hill, and it should be noted three of his eight TDs this year came in Week 16. For those owners who believe Kansas City and Green Bay are destined to meet in the Super Bowl, pairing Hill with Adams is obviously a formidable (but chalky) combination.

Very few players receive what we may consider highly favorable matchups during the NFL Playoffs, but projected home games against the Bears and Seahawks make Thomas a reasonable contrarian alternative to all the owners who figure to ride two of the top three in this competition. John Brown's four-game projection pushes him way up the board, as does the fact that Cole Beasley is week-to-week with a knee injury. Diggs popped up on the injury report with an oblique injury to begin this week, so if that limits him in any way moving forward, Brown becomes an even more interesting option. Projected matchups against Washington and Green Bay aren't great for Godwin's ceiling, but Mike Evans' Week 17 knee injury may lead to more targets. He should have the best matchup of any Bucs' receiver in both games. Injuries and drops kept Johnson from truly realizing his fantasy potential in 2020, but he's still an 88-catch receiver who was targeted at least 10 times in 10 of 15 contests this season. Cleveland stud CB Denzel Ward rarely traveled with receivers this year, so he's not a huge threat to Johnson even if he returns from the COVID list this week.

Tier 3 boasts a plethora of great redraft options that carry some degree of uncertainty into the postseason. Metcalf has emerged as Russell Wilson's favorite target this year, but he's certain to face off with Jalen Ramsey much of the time this weekend. Never mind the fact the Seattle offense is hardly clicking on all cylinders anyway. Antonio Brown's relatively high ranking is due primarily to the health of Evans, who I believe will be a decoy for at least one week. Pittsburgh HC Mike Tomlin suggested Claypool's reps were being scaled back near the end of the season in an effort to keep him from hitting the rookie wall. Unsurprisingly, Claypool's production has picked up in recent weeks as his snaps and routes have returned to early-season levels.

Smith-Schuster has effectively replaced the Steelers' running game. His average depth of target in 2020 is an absurdly low 5.5 yards (8.8 in 2018 and 9.7 in 2019). He also appears to be Ben Roethlisberger's most trusted target near the end zone. Sanders was easily the most productive receiver for New Orleans as Michael Thomas finished the season on IR. Thomas' expected return figures to have a dramatic effect on his target share, but he should live up to his ranking if the Saints can play three games. It took more than half of the season, but Lamar Jackson rediscovered his fondness for Marquise Brown. He was the overall WR14 over the last five games of the season and gets a first-round matchup against a weak Tennessee defense. A sure sign Seattle's offense isn't right is the inability of the Seahawks to get Metcalf and Lockett going in the same game. With a quarterback like Russell Wilson pulling the trigger, there's no excuse why a receiver as refined as Lockett has been so inconsistent this year. It's playoff time, so it's about time once again for Watkins to remind us of what his career could have been. Davis' relatively high ranking is due to the uncertainty of Beasley, whose injury status is up in the air. If Beasley can't return anytime soon and/or Diggs is limited in any way, Davis could quickly emerge as a household name.

Tight Ends

Tier 1
1. Travis Kelce (2)

Tier 2
2. Robert Tonyan (3)
3. Mark Andrews (2)
4. Rob Gronkowski (2)

Tier 3
5. Dawson Knox (4)
6. Jared Cook (3)
7. Eric Ebron (2)
8. Logan Thomas (1)

Tier 4
9. Jonnu Smith (1)
10. Austin Hooper (1)
11. Jacob Hollister (2)
12. Tyler Higbee (1)
13. Cole Kmet (1)
14. Jimmy Graham (1)
15. Greg Olsen (2)
16. Gerald Everett (1)
17. Will Dissly (2)
18. Anthony Firkser (1)
19. Jack Doyle (1)

Consider for a minute Darren Waller just had a 100-catch season and scored 100 more fantasy points in PPR leagues than all but one tight end. Now consider Kelce somehow still made Waller's 276.6 points in 16 games look pedestrian compared to his 312.6 points in 15 contests. Even if Kelce only plays two games as I have predicted, he is still easily the best option on the board.

Tonyan finished 24th among tight ends but third in overall fantasy scoring. How did he do it? Efficiency (caught 52 of 59 targets) and making his opportunities count (one TD for every 4.7 receptions). He's unlikely to keep pace with Kelce should the Packers and Chiefs both make it to the Super Bowl, but he has a decent shot of doing so if his regular-season TD rate carries over and Green Bay allows him to hit the 4x multiplier AND Kelce makes an early exit. Andrews is probably the best bet of the Tier 2 tight ends to push Kelce in terms of fantasy scoring average this postseason, but we've already discussed how unlikely Baltimore is to make an extended run. Gronkowski is basically an older and less efficient version of Tonyan at this point in an offense that spreads the wealth more than Green Bay. Gronk only registered more than two catches in a game twice over the second half of the season, meaning he is extremely touchdown-dependent.

Among the Tier 3 tight ends, Knox earns his high ranking only because he has realistic four-game upside and was a regular part of the offense down the stretch. Cook gets the edge over Ebron because he is clearly a favorite target of his quarterback near the end zone and has a better chance at hanging around longer in the postseason. Ebron hit much more often than he missed once Pittsburgh fully committed to its short passing attack, but he is also arguably no higher than the fourth-best receiving option on his team. If Thomas had a realistic chance at playing two or more games, he would move into Tier 2. Washington has to figure out its future at quarterback, but Thomas has proven he belongs. He will be one of the few tight ends available in drafts this summer that has a realistic chance at providing elite production that won't cost fantasy owners a pick in the top three rounds.

Kickers

1. Tyler Bass (4)
2. Mason Crosby (3)
3. Wil Lutz (3)
4. Justin Tucker (2)
5. Harrison Butker (2)
6. Ryan Succop (2)
7. Jason Myers (2)
8. Stephen Gostkowski (1)
9. Dustin Hopkins (1)
10. Chris Boswell/Matthew Wright (2)
11. Rodrigo Blankenship (1)
12. Cody Parkey (1)
13. Matt Gay (1)
14. Cairo Santos (1)

Defense/Special Teams

1. Bills (4)
2. Saints (3)
3. Packers (3)
4. Chiefs (2)
5. Steelers (2)
6. Ravens (2)
7. Buccaneers (2)
8. Seahawks (2)
9. Rams (1)
10. Washington (1)
11. Colts (1)
12. Browns (1)
13. Titans (1)
14. Bears (1)

NFL.com Playoff Challenge Roster
QB: Aaron Rodgers
RB: Aaron Jones
RB: Alvin Kamara
WR: Davante Adams
WR: Stefon Diggs
TE: Travis Kelce
K: Tyler Bass
D/ST: Bills
DraftKings
Below you will find my position-by-position projections. Please note I have included DraftKings' dollar value for each player, followed by their projected point total. Because I went into some detail above, I won't spend a great deal of time explaining each projection here - only some of the more notable ones. Each position is sorted by my DraftKings' projected point total.
Key for quarterbacks, running backs, receivers and tight ends:
P Yds - Passing Yards
P TD - Passing Touchdowns
INT - Interceptions
Ru Yds - Rushing Yards
Ru TD - Rushing Touchdowns
Rec Yds - Receiving Yards
Rec TD - Receiving Touchdowns
Rec - Receptions
Quarterbacks
Player
Tm
DK$
P Yds
P TDs
INT
Rec
Re Yds
Re TDs
Ru Yds
Ru TDs
DK
Lamar Jackson
BAL
$7,800
231
2
0
77
1
30.9
Josh Allen
BUF
$7,500
334
2
0
15
0
25.9
Ryan Tannehill
TEN
$6,600
242
1
0
41
1
23.8
Tom Brady
TB
$6,900
258
3
0
22.3
Ben Roethlisberger
PIT
$6,100
334
2
0
20.4
Russell Wilson
SEA
$6,600
231
1
1
46
0
16.8
Drew Brees
NO
$5,700
291
2
0
15.6
Philip Rivers
IND
$5,500
273
1
1
13.9
Baker Mayfield
CLE
$5,400
239
1
2
22
0
13.8
Mitchell Trubisky
CHI
$5,300
270
1
2
12.8
John Wolford
LAR
$4,900
246
0
1
26
0
11.4
Alex Smith
WAS
$5,100
183
1
1
10.3
Taysom Hill
NO
$5,000
1
13
0
14
1
9.7
Jacoby Brissett
IND
$4,200
6
1
6.6
Taylor Heinicke
WAS
$4,100
81
0
1
2.2
Joshua Dobbs
PIT
$4,100
9
0
0.9

DraftKings did a fine job of pricing quarterbacks this week. I would argue there are only four options that have a decent shot of accounting for more than two touchdowns, and all of them are priced at $6,600 or more. About the only prayer Tennessee has of keeping Jackson from being a top-two option is putting together four or five time-consuming drives and reduce the number of possessions Baltimore has. We know it's possible because we saw the Titans do it to the Ravens last year in the playoffs, and Tennessee's offense is geared toward producing those kinds of games. We also know the Titans have surrendered at least 40 points in each of their last two contests, so they may not be able to pull off another unlikely upset. If Baltimore has any kind of success early stopping Derrick Henry, Jackson could have a field day.

The Colts' defense has proven itself this season, but it would be ridiculous to bet against Allen at this point. Had he not been pulled early from Buffalo's Week 17 rout of the Dolphins, he could be entering the playoffs with at least 35 fantasy points in three straight games. We need to monitor injury reports throughout the rest of the week regarding Stefon Diggs' status, but he sounds like a go for now. Tannehill appears to be the only mid-priced option that can offer fantasy owners some cap relief, but fantasy titles and big DFS prize payouts rarely come as a result of betting against the Ravens' defense.
Running Backs
Player
Tm
DK $
Rec
Rec Yds
Rec TDs
Ru Yds
Ru TDs
DK
Derrick Henry
TEN
$9,200
1
3
0
117
1
22.0
Latavius Murray
NO
$4,500
4
33
0
83
1
21.6
David Montgomery
CHI
$6,900
5
34
0
63
1
20.7
Chris Carson
SEA
$5,900
3
29
0
72
1
19.1
Jonathan Taylor
IND
$7,900
2
23
0
85
1
18.8
J.K. Dobbins
BAL
$6,600
1
6
0
87
1
16.3
James Conner
PIT
$5,000
3
19
0
44
1
15.3
Ronald Jones
TB
$5,500
1
6
0
76
1
15.2
J.D. McKissic
WAS
$4,900
7
63
0
11
0
14.4
Nyheim Hines
IND
$4,700
6
55
0
18
0
13.3
Cam Akers
LAR
$5,100
3
32
0
68
0
13.0
Zack Moss
BUF
$4,600
1
11
0
44
1
12.5
Alvin Kamara
NO
$8,500
4
45
1
28
0
11.3
Antonio Gibson
WAS
$5,700
3
19
0
63
0
11.2
Nick Chubb
CLE
$6,700
1
14
0
78
0
10.2
Devin Singletary
BUF
$4,300
3
25
0
38
0
9.3
Kareem Hunt
CLE
$4,800
3
23
0
26
0
7.9
Gus Edwards
BAL
$4,400
1
8
0
56
0
7.4
Jeremy McNichols
TEN
$4,000
3
22
0
12
0
6.4
Leonard Fournette
TB
$4,500
2
12
0
18
0
5.0
Carlos Hyde
SEA
$4,400
1
5
0
26
0
4.1
Anthony McFarland Jr.
PIT
$4,000
1
7
0
16
0
3.3
Malcolm Brown
LAR
$4,100
1
3
0
14
1
2.7
Benny Snell
PIT
$4,200
1
4
0
12
0
2.6
Mark Ingram
BAL
$4,000
0
0
0
16
0
1.6

People often refer to the phrase "volume is king" at the running back position, so it should come as no surprise that the two running backs that saw the heaviest volume over the final five weeks of the regular season are near the top of the table above. Neither Henry nor Montgomery require much explanation, but I'll be willing to bet Murray will have relatively low ownership in the likely event Kamara is cleared Saturday. Assuming that happens, he will not have practiced with the team since his six-TD explosion in Week 16. Conditioning could very well be an issue, and one would have to think his role in the offense would be scaled back simply because he won't have a chance to take any reps with the team between now and Sunday's game.

If Indianapolis can rediscover the defense that was usually stout through the first 10 weeks of the season this weekend, Taylor has a shot to pay off in a big way. However, upside is a big factor to consider in DFS, and there may be no running back that has a better combination of matchup, talent and upside than Dobbins. Baltimore running backs totaled 47 catches during the regular season and the Ravens haven't reached 30 pass attempts in any game since Week 10, so Dobbins most likely won't get bailed out with a lot of work in garbage time should Tennessee take early control of the game and create a script similar to the one that played out last postseason between the teams.

McKissic and Hines are two of the better values on the board considering the likely game script in their respective contests. It could be argued McKissic might serve as Washington's lead back this weekend if Tampa Bay's run defense once again lives up to its reputation. Terry McLaurin also isn't anywhere close to 100 percent, so a number of swing passes and/or check-downs to McKissic could be the order of the day with the Football Team likely chasing points in the second half. Hines is a bit riskier because Indianapolis can hang with Buffalo's offense - at least for a while - if Philip Rivers doesn't go off the rails and the Colts' defense holds up. If one or both of those things fall apart, Hines might have 10-catch upside.
Wide Receivers
Player
Tm
DK$
Rec
Rec Yds
Rec TDs
Ru Yds
Ru TDs
DK
Chase Claypool
PIT
$5,200
5
106
1
24.6
Stefon Diggs
BUF
$7,700
8
112
0
22.2
A.J. Brown
TEN
$7,100
6
96
1
21.6
Allen Robinson
CHI
$6,600
7
78
1
20.8
Chris Godwin
TB
$7,000
6
78
1
19.8
Marquise Brown
BAL
$5,400
5
84
1
19.4
JuJu Smith-Schuster
PIT
$5,500
6
66
1
18.6
John Brown
BUF
$4,700
5
75
1
18.5
Diontae Johnson
PIT
$6,200
8
91
0
17.1
Tyler Lockett
SEA
$6,900
4
52
1
15.2
Michael Thomas
NO
$6,400
7
78
0
14.8
Antonio Brown
TB
$6,100
7
77
0
14.7
Zach Pascal
IND
$3,700
4
45
1
14.5
Gabriel Davis
BUF
$4,000
3
46
1
13.6
Terry McLaurin
WAS
$6,300
6
67
0
12.7
Jarvis Landry
CLE
$5,800
6
63
0
12.3
Darnell Mooney
CHI
$3,900
5
68
0
11.8
Corey Davis
TEN
$4,800
5
67
0
11.7
Emmanuel Sanders
NO
$5,000
5
62
0
3
0
11.5
Mike Evans
TB
$6,500
2
34
1
11.4
DK Metcalf
SEA
$6,700
5
58
0
10.8
Robert Woods
LAR
$6,200
4
46
0
16
0
10.2
Cooper Kupp
LAR
$6,000
5
51
0
10.1
T.Y. Hilton
IND
$5,100
4
58
0
9.8
Josh Reynolds
LAR
$3,600
4
51
0
9.1
Cam Sims
WAS
$3,900
4
45
0
8.5
Michael Pittman Jr.
IND
$3,500
3
41
0
7.1
Anthony Miller
CHI
$3,200
3
37
0
6.7
Rashard Higgins
CLE
$4,100
3
34
0
6.4
Cameron Batson
TEN
$3,000
2
25
0
4
0
4.9
Isaiah McKenzie
BUF
$3,300
2
27
0
4.7
Willie Snead
BAL
$3,500
2
24
0
4.4
Freddie Swain
SEA
$3,000
2
23
0
4.3
Lil'Jordan Humphrey
NO
$3,000
2
21
0
4.1
Dez Bryant
BAL
$3,000
2
21
0
4.1
David Moore
SEA
$3,000
1
28
0
3.8
Donovan Peoples-Jones
CLE
$3,200
1
17
0
2.7
Miles Boykin
BAL
$3,400
1
16
0
2.6
Scotty Miller
TB
$3,400
1
14
0
2.4
Steven Sims
WAS
$3,000
1
12
0
2.2
Ja'Marcus Bradley
CLE
$3,000
1
12
0
2.2
Van Jefferson
LAR
$3,100
1
8
0
1.8
James Washington
PIT
$3,000
1
8
0
1.8
Marquez Callaway
NO
$3,100
1
6
0
1.6
Devin Duvernay
BAL
$3,000
1
4
0
1.4

Claypool worked over the Browns in each of the first two meetings with two different quarterbacks. There's not much reason to expect that to change now. Even if Denzel Ward plays, he doesn't travel with receivers. And even if he did, he would follow Diontae Johnson - the Pittsburgh receiver I expect to draw the most attention. Claypool has perhaps the best combination of scoring upside and value on the board. Diggs expects to play despite dealing with an oblique issue. Assuming he gets a full complement of snaps, Diggs has an incredibly high floor; he has at least seven catches in eight straight games.

New Orleans boasts a formidable secondary, but it should be noted seven receivers have scored at least 10 fantasy points against the Saints over the last three weeks. While the jury is still out on whether or not Trubisky is starting to turn a corner or just feasted on a string of favorable matchups down the stretch, Robinson has been about as consistent as they come. There are not too many receivers I believe have two-touchdown upside this weekend, but Marquise Brown is one of them. Marvin Jones, Davante Adams and Brandin Cooks have each tallied at least 10 catches, 112 yards and a touchdown against the Titans over the last three weeks. My only hesitation with the second-year wideout is that Baltimore might be able to run almost at will, and the Ravens are one of the few teams that don't feel the need to pass just to change things up. With that said, Brown has 30-point upside if things break right for him.

I gave Claypool a touchdown that could just as easily go to Johnson. If that happens, he could easily be the WR1 this weekend. The rookie will likely be in more of my DFS lineups because he is significantly cheaper, but I think I will have at least one - if not both - in just about every lineup. Evans may be the biggest boom-bust option in this round. I tend to believe he will serve more as a decoy who may see some usage in the red zone this week while Godwin and Antonio Brown do the heavy lifting and run the most routes. With that said, the matchup isn't a particularly strong one for any of them.

DFS players in search of some cap relief may want to take a look at Reynolds. Rolling with a fringe receiver tied to a backup quarterback is not my idea of fun, but his production versus the Seahawks this season is hard to ignore compared to his production against everyone else. In two games against Seattle, Reynolds averaged seven catches on 10 targets and 79.5 yards receiving. He topped four catches only one other time and did not exceed 60 yards in his other 14 outings.
Tight Ends
Player
Tm
DK$
Rec
Rec Yds
Rec TDs
DK
Logan Thomas
WAS
$4,900
6
58
1
17.8
Mark Andrews
BAL
$5,200
5
68
1
17.8
Austin Hooper
CLE
$3,900
5
57
1
16.7
Jared Cook
NO
$4,600
4
33
1
13.3
Rob Gronkowski
TB
$4,000
2
26
1
10.6
Dawson Knox
BUF
$3,100
4
38
0
7.8
Jack Doyle
IND
$2,900
4
38
0
7.8
Eric Ebron
PIT
$3,700
4
33
0
7.3
Tyler Higbee
LAR
$3,400
3
36
0
6.6
Cole Kmet
CHI
$3,000
3
31
0
6.1
Greg Olsen
SEA
$2,500
2
20
0
4.0
Gerald Everett
LAR
$3,000
2
19
0
3.9
Jimmy Graham
CHI
$3,300
2
17
0
3.7
Jonnu Smith
TEN
$3,200
2
17
0
3.7
Jacob Hollister
SEA
$2,700
2
16
0
3.6
Trey Burton
IND
$2,800
2
13
0
3.3
Anthony Firkser
TEN
$2,700
2
12
0
3.2
Cameron Brate
TB
$2,700
1
11
0
2.1
Harrison Bryant
CLE
$2,600
1
11
0
2.1
David Njoku
CLE
$2,800
1
8
0
1.8

The reports of Washington using a quarterback rotation this week shouldn't fill DFS players with optimism regarding Thomas, but he's been too good for too long despite catching passes from Alex Smith, Dwayne Haskins and Taylor Heinicke in recent weeks. He's also the only healthy respectable pass-catcher Washington has besides J.D. McKissic. Although Andrews seems less likely to succumb to game script than Marquise Brown, I'm not crazy about the idea of spending $5200 at tight end unless I'm confident I'm getting at least 12-15 points. With that said, Andrews and Gronkowski may be the only tight ends that have a reasonable chance at scoring two touchdowns.

There are only four other options I'll consider after Thomas and Anders: Hooper, Cook, Gronkowski and Ebron. If Pittsburgh grabs a two-score lead on Cleveland as I believe it will, Hooper should have volume on his side. My biggest concern for him is HC Kevin Stefanski being out for this game and the offense collapsing as a whole as a result. Even though Chicago surrendered 12 touchdowns to tight ends this year, Cook is still too reliant on finding the end zone for my tastes. I'm more confident in Ebron's volume than Cook's, but I opted to not go crazy with my projection for the Steelers' offense and give Big Ben three passing TDs for a second straight contest after he failed to post more than two in five straight despite some favorable matchups. Gronkowski at $4000 seems like a smart pivot for those owners who don't want to pay up for Thomas or Andrews. The obvious downside is he hasn't seen near the volume they have of late. He will need a touchdown to be worth the price of admission.

Key for defense/special teams units:
PA - Points allowed
TD - Defensive/return touchdowns
TO - Total turnovers
PA Bonus - Points allowed bonus for DraftKings
Defense / Special Teams
Team
DK $
PA
Sacks
TD
TO
DK Bonus
DK
LA Rams
$2,900
$20
5
0
2
1.0
10
Tampa Bay
$3,400
$17
4
0
2
1.0
9
Pittsburgh
$3,600
$14
4
0
2
1.0
9
New Orleans
$3,800
$17
3
0
2
1.0
8
Seattle
$2,700
$16
2
0
1
1.0
5
Buffalo
$3,500
$27
1
0
2
0.0
5
Baltimore
$3,300
$27
2
0
1
0.0
4
Washington
$2,400
$31
3
0
1
-1.0
4
Cleveland
$2,500
$24
1
0
1
-1.0
2
Chicago
$2,800
$27
1
0
0
0.0
1
Indianapolis
$2,300
$30
2
0
0
-1.0
1
Tennessee
$2,200
$34
1
0
0
-1.0
0

It's uncertain how the Browns will react without their head coach and play-caller on the sideline this week, but it hard to spin it in a positive way for Cleveland. DFS players can probably justify paying up for the Steelers as a result, although the Browns have done a good job of avoiding turnovers for the most part. Otherwise, the only other AFC team I might go with is Buffalo, and that's only if I want to bet on Philip Rivers throwing two or more interceptions for the first time since Week 5.

The NFC side offers a bit more upside. The Rams compiled 11 sacks in two games versus the Seahawks, so there is some potential for a mistake turning into a touchdown in that matchup. Bucs DC Todd Bowles brings the blitz often enough to force Washington into some mistakes, although it will be critical for Tampa Bay to jump ahead early and get the Football Team out of its conservative offensive attack to reach its ceiling. The Bears did a fine job minimizing their turnovers and sacks allowed throughout December, but they also didn't play an opponent with a run defense like the Saints. New Orleans has the most expensive defense/special teams on the board for a reason (most likely due to DK's belief Mitchell Trubisky will fall apart), but $3800 is a bit too much to pay for a defense that had forced three turnovers in its previous four games before collecting five interceptions in Week 17.



---
Doug Orth has written for FF Today since 2006 and been featured in USA TODAY's Fantasy Football Preview magazine since 2010. He is also a high-stakes player who often appears as a guest analyst on a number of national sports radio shows, such as Sirius XM's "Fantasy Drive." Doug is also a member of the Fantasy Sports Writers Association.