1.01 - QB Bryce Young, Panthers (Draft Profile)
Team Fit: Carolina has cycled through Kyle Allen, Teddy Bridgewater, Sam Darnold, Baker Mayfield and P.J. Walker since Cam Newton's last full season as the Panthers' starting quarterback in 2018. The selection of Young will end the madness. Young possesses a great football mind and could easily become the best passer in franchise history in short order, but the reason he is not one of the most sought-after quarterback prospects in recent memory is his lack of bulk (204 pounds at the NFL Combine, but played most of his college career around 10-15 pounds lighter). He is likely to play in the 190-pound range in the NFL, which will make him one of the frailest quarterbacks in recent league history. At least for 2023, he figures to be at the helm of a run-heavy offense that will try to get by with D.J. Chark, an aging Adam Thielen and Hayden Hurst as its top pass-catchers after parting with D.J. Moore.

What does it mean in redraft (12 teams)? Young is unlikely to run much and lacks the kind of supporting cast he needs right now to be considered as anything more than a middling QB2 option.
Where should I expect him to go in my rookie drafts? Check back on the website next week for his overall ranking, but he will be my QB2.
1.02 - QB C.J. Stroud, Texans (Draft Profile)
Team Fit: No NFL team could possibly match the comfortable living Stroud enjoyed at Ohio State behind a solid offensive line with a plethora of past, present and future first-round draft picks at receiver. However, Houston is starting to build a solid offensive line and has some reason to be optimistic at receiver if John Metchie (illness) can hit the ground running and Nico Collins fulfills his promise reasonably soon. The addition of Dalton Schultz should also give Stroud some peace of mind. The biggest question regarding Stroud is if his final college game (348 passing yards, 71 rushing yards before factoring in the four times he was sacked, four TDs and no interceptions) against a Georgia defense full of future NFL prospects was him playing out of his mind or a hint of things to come.

What does it mean in redraft (12 teams)? Even if Stroud runs more than he did in college, it is hard to imagine he will push for anything more than low-end QB2 production in a passing attack that will have little choice but to lean heavily on Robert Woods, Collins, Metchie and Schultz.
Where should I expect him to go in my rookie drafts? Check back on the website next week for his overall ranking, but he will be my QB3.
1.04 - QB Anthony Richardson, Colts (Draft Profile)
Team Fit: Of course the Colts would favor Richardson, who was the quarterback in this draft most like the one new HC Shane Steichen just coached in Philadelphia (Jalen Hurts). Make no mistake about it, however, as Hurts has things a lot better with the Eagles right now than Richardson does with the Colts. For starters, Hurts entered the league with plenty of college experience and now has A.J. Brown, DeVonta Smith, Dallas Goedert and a great offensive line. Richardson has 13 career starts and a mere 455 drop-backs on his college resume behind what used to be a great offensive line. The beauty of this pick is that Steichen has proven to be very good at developing quarterbacks and/or getting the most out of their unique skill-sets. Even better, the cupboard is not exactly bare in Indianapolis; Jonathan Taylor is more than capable of carrying an offense and Michael Pittman Jr. is a serviceable No. 1 receiver at worst.
What does it mean in redraft (12 teams)? Richardson is going to be a tough player to peg in redraft, simply because he is not close to being ready to be a starting NFL quarterback. However, his otherworldly athleticism should put him in the conversation as a low-end QB1 option if/when Gardner Minshew cannot play in 2023.
Where should I expect him to go in my rookie drafts? Check back on the website next week for his overall ranking, but he will be my QB1.
1.08 - RB Bijan Robinson, Falcons (Draft Profile)
Team Fit: Robinson is arguably the most complete running back prospect to enter the draft in the last five or so years and would have been a good fit in any kind of offense. It is hard to argue that his fit in Atlanta is not one of the best, as HC Arthur Smith has already established he can build a running game around different types of running backs (Derrick Henry with the Titans, Cordarrelle Patterson with the Falcons in 2021 and Tyler Allgeier with Atlanta in 2022.) In Robinson, he gets the best all-purpose back he has ever worked with - he reminds me a lot of Hall of Famer Edgerrin James - and a player that can take advantage of the Falcons' improved offensive line play more than Allgeier did. The presence of Kyle Pitts and Drake London should only open up running lanes for him and make his job easier. Robinson also gives the team a dynamic weapon as a receiver as well.

What does it mean in redraft (12 teams)? Contrary to the masses who believe no running back should be a top-10 selection anymore, Atlanta was one of the best landing spots imaginable. Allgeier will remain in the mix somewhat, but Robinson is a strong candidate to handle 20 touches per game right away. Managers should be prepared to take him as early as the middle of the first round and consider him a value if he lasts until the early second round of fantasy drafts.

Where should I expect him to go in my rookie drafts? The overall RB1 and the No. 1 player in rookie drafts, regardless of format.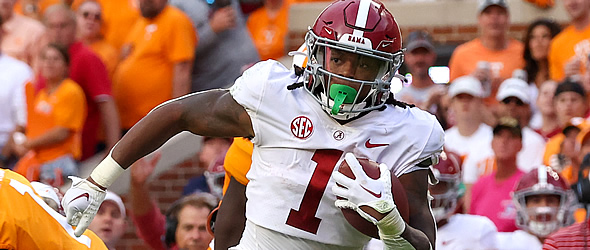 1.12 - RB Jahmyr Gibbs, Lions (Draft Profile)
Team Fit: Tell us how you really feel about D'Andre Swift, Dan Campbell and Brad Holmes. The mere fact that my high-end comp for Gibbs is a smaller Swift should be an indication that Detroit loves what Swift could have been had he managed to stay healthy. The selection of Gibbs suggests the Lions will move on from Swift shortly, perhaps as soon as this weekend. Assuming that happens, Gibbs will be the change-of-pace to David Montgomery and the primary option on long down-and-distance situations. At 199 pounds, it would be unrealistic to believe Gibbs is capable of handling much more than a third of the work in a backfield that accounted for 519 touches in 2021.

What does it mean in redraft (12 teams)? Swift finished as the overall RB21 last season despite missing three games and being limited in several others. Gibbs will almost certainly play the same kind of role in Detroit's offense that Swift did, so he could legitimately push for low-end RB1 upside if the Lions go out of their way to justify this pick and lean on him in the receiving game. Considering he will likely cede most of the early-down and goal-line work to Montgomery, it seems more likely Gibbs will be a high-ceiling RB2 with a modest weekly floor.

Where should I expect him to go in my rookie drafts? The overall RB2 and the No. 2 player in rookie drafts, regardless of format.
1.20 - WR Jaxon Smith-Njigba, Seahawks (Draft Profile)
Team Fit: With DK Metcalf and Tyler Lockett likely to be the co-No. 1 options in the passing game for at least another year or two, Smith-Njigba feels a bit like a luxury pick - at least for this season - for an offense that has long prided itself on running the ball. With that said, the Seahawks also have to look a bit into the future with Lockett entering his age-31 season and due to make over $15 million in 2024. While Seattle decides how to handle that situation, Smith-Njigba figures to fill the slot role the team hoped Dee Eskridge was drafted to handle two years ago. It is hard to find fault with the selection, if only because Smith-Njigba immediately becomes great immediate insurance on a team that has little at receiver behind Metcalf and Lockett. There is a slight chance this pick is signaling that the Seahawks are ready to open things up because they feel very comfortable with Geno Smith moving forward.

What does it mean in redraft (12 teams)? Smith-Njigba may be the most pro-ready receiver in this class, but some questions remain if he can be anything more than a great slot option right away. In an offense where he falls behind Metcalf and Lockett, opportunities could be somewhat limited if Seattle sticks to its run-heavy ways and utilizes more 12 personnel (one running back, two tight ends) than expected. Smith-Njigba should be considered a WR4/5 option for now.

Where should I expect him to go in my rookie drafts? Check back on the website next week.
1.21 - WR Quentin Johnston, Chargers (Draft Profile)
Team Fit: No receiver from this draft class is stealing many (any?) snaps from Keenan Allen or Mike Williams. With that said, it is not as if Allen or Williams have been the most durable players in their pro careers. When everyone is healthy, Johnston figures to team up with Williams to give the Chargers two dynamic perimeter receivers that allow Allen to do his thing in the slot. Working in Johnson's favor is that he is among the best among his position group in this draft class after the catch. In short, Johnston should be able to help keep this offense afloat in any game Allen and/or Williams are sidelined. Also, do not forget about the arrival of new OC Kellen Moore, who should dial up more vertical shots than former OC Joe Lombardi. As one of the bigger receivers in this class, Johnston will have his fair share of opportunities in contest-catch and/or red zone situations.

What does it mean in redraft (12 teams)? Johnston figures to be among several of the best receiver prospects in this draft class with decent fantasy upside that will struggle for regular snaps behind experienced studs. As was the case with Palmer last year, Johnston will be in the WR3 conversation if Allen or Williams are injured. If they are both on the field, however, Johnson should be expected to ride the fantasy bench in most leagues.

Where should I expect him to go in my rookie drafts? Check back on the website next week.
1.22 - WR Zay Flowers, Ravens (Draft Profile)
Team Fit: Baltimore had to rely heavily on Sammy Watkins and Demarcus Robinson to catch Tyler Huntley's passes at the end of last year. The Ravens have gone to great lengths to avoid that in 2023, adding Odell Beckham Jr. and Flowers to a receiver room that will also welcome back Rashod Bateman. In Flowers, Baltimore should be getting a wideout that may spend the early part of his rookie season playing behind OBJ, but it should not come as a shock if he ends up pushing Bateman for snaps rather quickly since the former first-round pick has seemingly fallen somewhat out of favor in Baltimore. Under new OC Todd Monken, Flowers should expect to see most of his snaps initially out of the slot in what figures to be a much more wide-open offense than it ever was under former OC Greg Roman. The one issue Flowers may have is Baltimore also needs to find snaps for Isaiah Likely. It cannot be assumed Flowers will immediately overtake Bateman or that Baltimore will transition into an offense that uses three receivers more than half of the time.

What does it mean in redraft (12 teams)? Beckham and Bateman present a serious hurdle for Flowers to overcome, but both players have also struggled to stay healthy recently. If/when either one or both veterans get hurt, Flowers could make a case to be in the WR4 conversation. Until then, he will likely be little more than modest fantasy bench depth.

Where should I expect him to go in my rookie drafts? Check back on the website next week.
1.23 - WR Jordan Addison, Vikings (Draft Profile)
Team Fit: Minnesota could have put off adding a receiver in favor of strengthening its defense, but the team instead opted to replace an aging route-runner (Adam Thielen) with a much younger model. Addison's 173-pound frame makes him a bit of a dicey proposition to hold up physically in the NFL, but one of his many upsides is that he is elusive enough to be great after the catch. His two years at Pitt probably are probably a better representation of the complete receiver he can be, whereas his one year at USC featured him a lot more often on screens. While K.J. Osborn is certainly no slouch, there is a very good chance he becomes more of a situational deep threat for the Vikings while Jefferson and Addison try to dominate the short and intermediate parts of the field. There is also the small matter of competing for targets with T.J. Hockenson, which makes it unlikely that Addison will be a huge factor right away.

What does it mean in redraft (12 teams)? Addison may have landed in the best situation of the first-round receivers to contribute immediately, although he could also have his hands full trying to compete with Hockenson, Osborn and Dalvin Cook for targets - never mind Jefferson. Nevertheless, it would be reasonable to project him as a potential WR4 in most fantasy leagues.

Where should I expect him to go in my rookie drafts? Check back on the website next week.
1.25 - TE Dalton Kincaid, Bills (Draft Profile)
Team Fit: Less than one year after it handed Dawson Knox a four-year, $52 million extension, Buffalo has found an upgrade and his likely successor. Immediately, Kincaid's arrival may not signal the end of Knox's usefulness, as Kincaid is fluid and athletic enough to become a regular "big slot" for the Bills. This selection also suggests that Buffalo may no longer want to be in the business of employing smaller slots after not getting much out of Jamison Crowder or Isaiah McKenzie in 2022. The fact that the Bills gave up an extra pick to move up two spots to get the Utah product further hints at a big role right out of the gate while also reaffirming Buffalo wants to give Gabe Davis another chance to shine.

What does it mean in redraft (12 teams)? The history of getting solid fantasy production from rookie tight ends is not great. If there is one tight end in this draft that can be the exception, it would probably be Kincaid. Fantasy managers should leave the door open to drafting him in the final rounds later this summer, but there are enough mouths to feed in Buffalo that it may be tough to get a low-end TE1 season out of him.

Where should I expect him to go in my rookie drafts? Check back on the website next week, but he will be my TE1.
---
Doug Orth has written for FF Today since 2006 and been featured in USA Today's Fantasy Football Preview magazine since 2010. He hosted USA Today's hour-long, pre-kickoff fantasy football internet chat every Sunday in 2012-13 and appears as a guest analyst on a number of national sports radio shows, including Sirius XM's "Fantasy Drive". Doug is also a member of the Fantasy Sports Writers Association.