1.01 - QB Trevor Lawrence, Jaguars (Draft Profile)
Team Fit: Jacksonville will almost certainly run some version of the spread offense that was a signature of new HC Urban Meyer's offenses at Utah, Florida and Ohio State. Lawrence operated almost exclusively out of the shotgun spread at Clemson and possesses the kind of high-end running ability Meyer has sought in his quarterbacks over the years (Alex Smith, Tim Tebow, J.T. Barrett, etc.). The fact Lawrence is regarded as the best quarterback prospect since Andrew Luck should speak for itself. Long-term, the arrival of Lawrence should allow D.J. Chark to maximize his abilities as a vertical receiver, while the combination of Meyer and Lawrence should allow Laviska Shenault to evolve into the same kind of mismatch weapon that Percy Harvin and Curtis Samuel did under Meyer in college.
What does it mean in redraft? High-end QB2. With legitimate 400-yard rushing upside, an offense with three good receivers (Chark, Shenault and Marvin Jones) and a defense that is still in transition, a top-12 fantasy finish is possible, albeit unlikely.
Where should I expect him to go in my rookie drafts? Check back next week.
1.02 - QB Zach Wilson, Jets (Draft Profile)
Team Fit: New OC Mike LaFleur is a graduate of the Kyle Shanahan finishing school for play-callers, and Wilson's ability to throw on the move is a great fit for a Shanahan offense. There's no question Wilson tries to model his game after Patrick Mahomes and Aaron Rodgers. He possesses plenty of confidence in his ability to throw against his body, improvises well and uses just almost every imaginable arm angle when the situation calls for it. Wilson also shows a surprising amount of touch and is remarkably accurate for a young player with so much arm strength. It's the main reason why a handful of talent evaluators have suggested they prefer Wilson over Trevor Lawrence. While Corey Davis was a big-time addition for the team in free agency, Wilson's strengths match up well with Denzel Mims, who only got to show fans a small sample of his ability in contested-catch situations and down the field. One concern about Wilson: he's a bit on the light side and reckless as a runner. He's already had surgery on his right shoulder and right thumb, so concerns about his durability are legit.
What does it mean in redraft? QB2. The Jets already have more pieces around Wilson than they ever provided Sam Darnold, but the offense as a whole is still a work in progress.
Where should I expect him to go in my rookie drafts? Check back next week.
1.03 - QB Trey Lance, 49ers (Draft Profile)
Team Fit: HC Kyle Shanahan and GM John Lynch made the bold move to trade two future firsts (in addition to this year's pick) to get the quarterback of the future, not for 2021. Despite his relative inexperience and the fact he didn't play at the FBS level, Lance is probably the right choice if only because he gives San Francisco something more than what it has now in Jimmy Garoppolo. Frankly, the idea of putting a quarterback capable of rushing for 600-plus yards and 8-10 touchdowns in the same offense as some of the best run-after-catch threats in the NFL in George Kittle, Deebo Samuel and Brandon Aiyuk is frightening. Cut from the same cloth as Steve McNair and Dak Prescott, Lance is incredibly football-smart (made his own line calls as a redshirt freshman) and values the football like few others (one interception across 17 college starts).
What does it mean in redraft? Superflex bench depth (for now). The 49ers obviously have a great supporting cast in place, but Shanahan is highly unlikely to put Lance into the lineup when he is so raw and making such a big jump in competition. This pick was made with 2022 and beyond in mind. However, his dual-threat ability makes him a real threat for low-end QB1 value right away if Garoppolo gets hurt or misses time.
Where should I expect him to go in my rookie drafts? Check back next week.
1.04 - TE Kyle Pitts, Falcons (Draft Profile)
Team Fit: A player with the ability to force defensive coordinators to dramatically alter a game plan due to his presence on the field or his particular set of skills is what makes a skill-position player worthy of a high first-round pick. Don't make the mistake of thinking that Pitts will be underutilized just because new HC Arthur Smith didn't use Jonnu Smith as much as some would have liked in Tennessee. Not only is he the proverbial "too big for safeties and too fast for linebackers" tight end, but he is also a 6-6, 245-pounder with a massive wingspan (83-plus inches) that can run receiver routes against NFL-caliber cornerbacks and win those matchups. He's also an immediate threat for roughly 60 catches and 8-10 touchdowns. Why? Because defenses simply can't take their attention away from Julio Jones and Calvin Ridley. Pitts needs to be viewed by the fantasy public as more of a big slot who plays in-line every so often as opposed to a tight end who can play in the slot.
What does it mean in redraft? TE1. It's a scary proposition to put any rookie tight end into the TE1 mix, but Pitts may be the best tight end prospect most draft observers have ever seen.
Where should I expect him to go in my rookie drafts? Check back next week.
1.05 - WR Ja'Marr Chase, Bengals (Draft Profile)
Team Fit: What does it say about a player's talent (and upside) when his college coordinator opted to make him the featured receiver over a record-breaking rookie receiver? (Full disclosure: Justin Jefferson's versatility had something to do with that decision.) At any rate, Chase's strong hands - and his confidence in them - shows up repeatedly on film, easily plucking passes all over his catch radius with the greatest of ease. He is a beast after the catch as well (23 broken tackles and 411 yards after contact in 2019 were the most by an FBS receiver). In Cincinnati, he'll pair up with his college quarterback (Joe Burrow). While you'll have the benefit of easing into his role a bit with Tyler Boyd and Tee Higgins already in tow, there's a reason I comped him to Sterling Sharpe. It shouldn't take long for him to exert his dominance on the league.
What does it mean in redraft? WR3 with high-end WR2 upside. There are simply too many good receivers in the league right now to push Chase into the top 24 as a rookie. With that said, the fact I'm uncomfortable in saying that and the likelihood he has an A.J. Brown-like rookie season makes him someone worth reaching for on draft day.
Where should I expect him to go in my rookie drafts? Check back next week.
1.06 - WR Jaylen Waddle, Dolphins (Draft Profile)
Team Fit: If there was one thing Miami was lacking last season, it was game-breaking speed. The Dolphins added Will Fuller in free agency, but it was a one-year deal. No receiver from a Power Five conference with 100-plus career receptions since 2014 has averaged more yards after the catch per reception than Waddle (9.8). In Waddle and Fuller, Miami has two players who can score from anywhere and create separation - the latter of which was a very sore subject for Dolphins receivers in 2020. Waddle has drawn numerous comps to Tyreek Hill throughout the draft process, but a more realistic aspiration is Brandin Cooks. Waddle should also immediately upgrade the Dolphins' special teams after averaging 19.3 yards per punt return and 23.8 yards per kick return with three special teams touchdowns for the Crimson Tide. There is no question he can eventually become his new team's featured receiver one day, but it might come a bit later in his career that most coaches and/or general managers will want to wait. His familiarity with college teammate Tua Tagovailoa should help that process.
What does it mean in redraft? WR4. Waddle should provide the occasional week-winning effort as a rookie, but it's probably too much to ask of him to consistently produce DeVante Parker and Fuller in 2021.
Where should I expect him to go in my rookie drafts? Check back next week.
1.10 - WR DeVonta Smith, Eagles (Draft Profile)
Team Fit: Outside of his 166-pound lanky frame, name an area or attribute necessary for a receiver to succeed and there's a good chance Smith has an abundance of it. While questions about his frame are legit, one has to dig far into the film to find the SEC corner who was able to jam him at the line of scrimmage. Smith plays with much more physicality than one would expect for a player of his size. But let's get to the good stuff: there's no question Smith will quickly become the alpha receiver in Philadelphia. He is amazing in contested catch situations and proved to be uncoverable down the stretch en route to win in the Heisman Trophy last season. Smith drew comps to Marvin Harrison throughout the spring. I comped him to Tyler Lockett, but there's little doubt my mind he'll succeed where other smallish receivers have failed because he does so much so well. It also helps his cause that he'll reunite with former Alabama teammate Jalen Hurts.
What does it mean in redraft? WR4. Because Philadelphia figures to be a bit of a slower-paced offense with plenty of RPO elements, there may not be enough volume for Smith to be an immediate fantasy starter.
Where should I expect him to go in my rookie drafts? Check back next week.
1.11 - QB Justin Fields, Bears (Draft Profile)
Team Fit: One can't help the feeling that GM Ryan Pace sees a little bit of Deshaun Watson in Fields after passing on him for Mitchell Trubisky a few years ago. The first thing that jumps out about Fields is his 4.4 speed, but fans should not make the mistake of believing he is a Lamar Jackson or Robert Griffin III clone. He did most of his work from the pocket at Ohio State and handled his responsibilities well, as Pro Football Focus charted him with only 18 turnover-worthy plays in his college career. If Chicago can somehow convince Allen Robinson to stick around past 2021, the Bears may be on the verge of putting together a solid supporting cast for their rookie quarterback (joining David Montgomery, Tarik Cohen, Darnell Mooney and Cole Kmet). The primary reason Fields stayed on the board as long as he did was his tendency to hold onto the football a split-second too long. (I explained why this may not be all that big of a concern for him in his draft profile.)
What does it mean in redraft? Superflex bench depth (for the moment). Andy Dalton was added in free agency as a placeholder, but there's no question Chicago will make the change to Fields when it feels like he is ready. When that moment occurs (and it will almost certainly happen before the end of this season), Fields' dual-threat ability should make him a quality QB2 option.
Where should I expect him to go in my rookie drafts? Check back next week.
1.15 - QB Mac Jones, Patriots (Draft Profile)
Team Fit: Is it really surprising that one year after one of the most celebrated anticipatory passers in league history (Tom Brady) moves to another team that the Patriots somehow end up with perhaps this draft's most cerebral signal-caller? Jones plays with a discipline and intelligence that belies his 17 career starts, winning with his ability to anticipate, process and throw with accuracy like an NFL veteran. Jones' work ethic is also reaching legendary status. If Jones can get knocked on anything, it is his athleticism relative to the rest of his contemporaries in this draft class and the number of easy throws he had in 2020. (Per Pro Football Focus, Jones only threw into 44 tight windows all season. For the sake of comparison, Joe Burrow threw into 124 in 2019.) The Florida native figures to sit behind Cam Newton for a bit in 2020, but he will benefit from New England's investment in Hunter Henry and Jonnu Smith in free agency - and likely lean on them while the Pats continue to build up their receiving corps - once he becomes the starter.
What does it mean in redraft? Superflex bench depth, at least until Newton misses time. If Newton goes down early, he could serve as a low-end QB2 as a rookie.
Where should I expect him to go in my rookie drafts? Check back next week.
1.20 - WR Kadarius Toney, Giants
Team Fit: Back during the Detroit Pistons' "Bad Boys" heyday, they had a sixth man named Vinnie Johnson. His nickname was "The Microwave." That moniker would fit nicely for Toney, who not only heats up fast when he gets the ball but can also cook a defense just as quickly. The ease at which he is able to start and stop as well as create separation is unreal. Toney has legitimate upside in terms of developing as a route-runner. However, it also has to make talent evaluators a bit upset that Florida used to more as a gadget player early in his college career; the Gators did him an injustice by not developing that part of his game more. He also possesses dependable hands, as Pro Football Focus credited him with only three drops on 123 catchable targets in his college career. On the downside, Toney has dealt with multiple shoulder injuries and had some off-field issues early on at Florida that to be accounted for and/or explained. General managers and scouts are the only ones that have answers to those questions and the risk they feel Toney represents, but his on-field exploits suggest he could help take an offense from good to great with his ability to play in space and turn a short throw into a touchdown on just about any play. In New York, he gives the offense a second playmaker (Saquon Barkley being the other) that is nearly impossible to game plan for and should draw significant attention away from Kenny Golladay.
What does it mean in redraft? WR4 with immediate WR3 upside. Toney is a smaller version of Deebo Samuel and should be used in similar ways. It's up to Daniel Jones and OC Jason Garrett to use him that way.
Where should I expect him to go in my rookie drafts? Check back next week.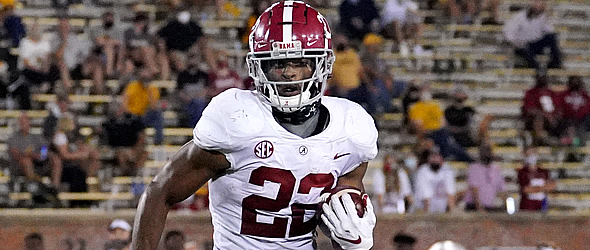 1.24 - RB Najee Harris, Steelers (Draft Profile)
Team Fit: The Steelers desperately need to address their offensive line, but their goal entering the offseason was to overhaul the running game. Drafting the best three-down back is a good way to start. A player who projects favorably to Steven Jackson and Matt Forte, Harris will almost certainly step into a bell-cow role right away and be used in much the same way Le'Veon Bell was during his time in Pittsburgh. At 230-plus pounds, he is built to handle and dish out punishment. The difference with him is that he is surprisingly quick and elusive for a big back as well. Harris lost one fumble over the entirety of his college career (718 touches), so he is extremely dependable. However, it might be his work as a receiver that separates him from the majority of big backs. Harris was charged with only one drop last season en route to 43 catches. He is one of the better backs in pass protection in this draft as well.
What does it mean in redraft? RB1. HC Mike Tomlin has gone on record several times to say he believes in having a bell-cow. While Benny Snell and Anthony McFarland Jr. are sure to steal a few snaps in relief, Harris should have the volume to finish as a top-12 back.
Where should I expect him to go in my rookie drafts? Check back next week.
1.25 - RB Travis Etienne, Jaguars (Draft Profile)
Team Fit: Maybe it shouldn't come as a shock, but this pick comes as a bit of a surprise - even if new HC Urban Meyer felt as if someone needed to take a bit of the load off James Robinson. At the very least, the addition of Etienne ensures there will be very little drop-off when one of the other needs a blow. Clemson's all-time leading rusher is lauded for his big-play ability for good reason (47 runs of 20 or more yards, 16 career touchdowns of 44-plus yards), but he's more than just a home-run hitter. He is a fearless runner with a strong base that gets his fair share of yards after contact and has turned himself into a very good receiver during his time in college. Comps to Alvin Kamara are a bit lazy and unwarranted, but he does project favorably to another versatile running back in Tiki Barber. Like Barber early in his career, Etienne entered the league with ball security issues (eight career fumbles, including four in 2020). The latter is an unforgivable number given his 168 carries last year.
What does it mean in redraft? RB3. This is not a great landing spot for him to contribute immediately. Unless Meyer is planning on bumping one of the best backs in the league last year (Robinson) from his starting perch, Etienne will likely be limited to 10-12 touches and perhaps the bulk of third-down work until Robinson misses time.
Where should I expect him to go in my rookie drafts? Check back next week.
1.27 - WR Rashod Bateman, Ravens (Draft Profile)
Team Fit: The search for a receiver to a dependable alpha receiver has been an ongoing one, although Bateman is a talented enough player to bring it to an end. The Minnesota product is an elite route-runner who showed surprising 4.39 speed at his pro day. The 2019 Big Ten Receiver of the Year has no issue working over the middle and does some of his best work after the catch (36 broken tackles on 147 career catches). The 21-year-old disappointed with his blocking ability - a big deal playing for Baltimore - and sported a career drop rate of 8.7 percent. On the plus side, Bateman does profile favorably to Keenan Allen and is dealing with many of the same supposed "shortcomings" as the Chargers' stud did coming out of college. More than likely, Bateman's career will mirror that of Corey Davis or Jerricho Cotchery.
What does it mean in redraft? WR5. It's hard to imagine Bateman will enjoy much immediate success competing for targets with Mark Andrews, Marquise Brown and Sammy Watkins among others. The Ravens' run-heavy offense figures to limit his chances for fantasy success even more.
Where should I expect him to go in my rookie drafts? Check back next week.
---
Doug Orth has written for FF Today since 2006 and been featured in USA Today's Fantasy Football Preview magazine since 2010. He hosted USA Today's hour-long, pre-kickoff fantasy football internet chat every Sunday in 2012-13 and appears as a guest analyst on a number of national sports radio shows, including Sirius XM's "Fantasy Drive". Doug is also a member of the Fantasy Sports Writers Association.