Not all industry drafts are created equal. The FFPC Pros vs. Joes competition is a special one to be a part of, in part because it attracts some of the best in the fantasy industry but also because of what is at stake. Six industry analysts (Pros) compete against six veteran (and usually very successful) FFPC players (Joes) in a free best-ball competition for the privilege of gaining a free entry ($1900 value) into the FFPC Main Event the following season.
The only downside is that it is a winner-takes-all format. If ever there was a time to cite the immortal Ricky Bobby, Pros vs. Joes is the ultimate "if you ain't first, you're last" competition. Pros vs. Joes is the brainchild of Fantasy Mojo's Darren Armani, who I met for the first time at the King's Classic in 2018 and have competed with ever since. Darren beat me in the title game in the inaugural event when he "reached" for Christian McCaffrey. (Yes, there was a time when drafting CMC at No. 12 was considered a reach.) I got my title in 2020, so all is well between Darren and me now. All kidding aside, I am very appreciative of Darren for inviting me to participate yet again.
Below is a list of the competitors and the order in which we drafted. Players without a site affiliation next to their name are "Joes."
1. Matt Marcou and Mike Stanowski
2. Josh Hayes - RotoBaller
3. Lou Tranquilli
4. Doug Orth - FFToday
5. William Van Ormer
6. Pat Kerrane - NBC Sports Edge
7. Philip Hooton
8. Dan Williamson - Goat District
9. Jon Hurd
10. Liam Murphy - Fantasy Points
11. Shane Wingard
12. Bob Lung - Big Guy Fantasy
Unlike last year when I focused mostly on my team and rationale, I thought it would be more helpful if I analyzed what I liked and disliked about each team this year.
The FFPC uses tight end premium scoring (1.5 points per reception), so it is common for the elite tight ends (such as Travis Kelce and Mark Andrews) to come off the board within the first 15 picks. Most teams have at least one tight end in place by around the sixth round.
Please click on the draft board link here so you can follow along. (It beats having to type out 240 names and/or posting 12 20-man teams on this page.)
Starting lineup requirements (eight starters): QB (1), RB (2), WR (2), TE (1), RB/WR/TE Flex (2)
1. 28.313 Percent - Matt Marcou and Mike Stanowski
What I like: Taking Christian McCaffrey No.1 overall requires a bit of faith given his recent durability issues, but he remains the biggest cheat code in fantasy football. It is becoming more and more likely that Alvin Kamara will avoid a suspension this season. While his 80-catch days with Drew Brees are likely gone for good, he is still a solid value at RB14. Pairing up a reliable QB1 like Russell Wilson with the value that Deshaun Watson could provide if his six-game suspension holds likely ensures consistently great quarterback production for Matt and Mike. Cole Kmet is a popular value pick at tight end given what few options Chicago has in the passing game.
What I did not like: A healthy McCaffrey tends to make up for a shortcoming at another position, but this team has a fair amount of risk attached to it. Even if we assume CMC stays healthy all season, Kamara could still be suspended later in the season. Deebo Samuel should be fine as a WR1, but what if Trey Lance starting at quarterback means less volume for him? What happens to Marquise Brown once DeAndre Hopkins returns? How much can we expect from Amari Cooper while Watson is out? If Watson ends up missing six games, Cooper may only produce one or two flex-worthy efforts with Jacoby Brissett. If Watson misses something closer to 12 games, then Cooper could be almost worthless in half of his games in 2022.
2. RotoBaller - Josh Hayes
What I like: Hayes should be able to go five-deep at receiver in a league where only have to start two (but can start as many as four). Keenan Allen may begin to fall off one of these years, but precise route-runners like him tend to age well. While DK Metcalf is unfortunately tied at the hip to Drew Lock and/or Geno Smith, he is a great flex option who should still be able to deliver the occasional WR1 week. There is virtually no chance Russell Gage finishes as the WR42, which is where he was drafted here. He may not be a one-for-one replacement for Antonio Brown, but he will certainly be more dependable and should finish as a top-35 option. DeVante Parker was a player I was contemplating with my 10th-round pick. Assuming he can stay healthy, he will have his share of spike weeks and could finish 20 spots higher than his WR54 draft spot.
What I did not like: Josh likely knew about Round 10 that tight end was going to be his weak spot, so he did well to attack it with quantity (four picks devoted to the position) when the quality started to run out. His problem could end up being that three of them may end up blocking a lot. The exception (David Njoku) will probably end up being the best of the bunch, but he has the same Deshaun Watson problem that I mentioned earlier with the first team. Additionally, Josh's running backs after Leonard Fournette do not have much of a history of contributing in the passing game, which means they could fall victim to game script. Even Fournette is not guaranteed to hold on to the same kind of work he had in the passing game in 2021.
3. Joe's Head - Lou Tranquilli
What I like: If a team is going to start the draft with three straight running backs, it had better be the strength of the team. Getting Jonathan Taylor with the third pick was a gift. Having Travis Etienne or Nick Chubb as a flex option each week is also a luxury. Burning a 10th-round pick on a second quarterback probably was not necessary after spending a fourth-rounder on Lamar Jackson, but it virtually locks up very good production at the position. Tranquilli probably has the best tight end room in a tight end premium format with T.J. Hockenson and Dallas Goedert. It may seem extreme to spend that kind of draft capital at tight end, but it is hard to argue about the logic of guaranteeing yourself a top-eight tight end finish at the position most weeks.
What I did not like: Tranquilli has been around the fantasy industry for a while, so he does not need me to tell him that he will need at least two of his three WR3 types (Rashod Bateman, Chase Claypool and/or Allen Lazard) to ascend to WR2 territory. Bateman could do that, but it seems unlikely Claypool and Lazard will consistently be able to do the same. There is even a chance both could become their own team's third-best option at some point. As much as I love the strength of his running backs, it may not be enough to make up for the weekly disadvantage he will likely have at receiver. Speaking of his running backs, he only drafted five. Lou probably can afford one injury to his Big Three, but Jerick McKinnon and Jeff Wilson are weak options even if Kansas City and San Francisco suffer multiple injuries in the backfield.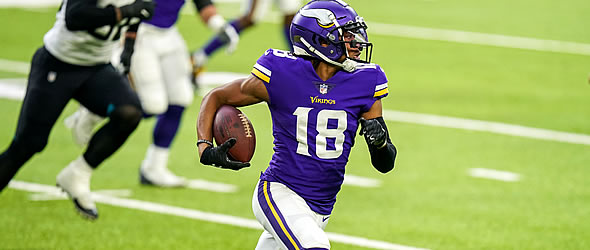 4. FFToday - Doug Orth
What I like: There is a distinct possibility that Justin Jefferson will be the No. 1 overall player on my Big Boards next week. (That has yet to be determined, however.) Regardless, Jefferson was the player I expected (hoped for?) when I found out my draft slot. What was not expected was landing three receivers who have top 15 upside with my first four picks. With Chris Godwin (knee) a question mark to play at his usual level any time before November, Mike Evans has a decent chance of being a top-five option over the first half of the season. As much as I wanted Chubb at 3.04, Breece Hall could easily emerge as a clear RB1 option later in the season. The talent is there, it is just a matter of OC Mike LaFleur making him the featured back. I do not expect AJ Dillon to be anything more than the 1B back in Green Bay, but I do like the blend of his upside and David Montgomery's likely volume. Zach Ertz was the last of the no-brainer starters at tight end, in my opinion, while Tom Brady was the last of the rock-solid - if not elite - QB1s available. There is virtually no chance he finishes as the QB12.
What I did not like: The disadvantage of pounding receivers early is that it usually means a fantasy manager has to roll the dice at running back. My team lacks the studs that my fantasy teams usually start every draft with, so I have several "one thing needs to happen in front of them" options at that position on my team. The counterpoint is that if fantasy managers are forced into that spot, they would do well to draft backs who are one injury away from a likely featured role - as I feel like I did with Dillon and Isaiah Spiller.
5. Billy's Boys - William Van Ormer
What I like: If any squad in this league can match the firepower of my top-end receivers, it might be this team. Ja'Marr Chase, Tyreek Hill and Allen Robinson all have top-15 upside. Van Ormer continued to hammer upside at receiver with DeVonta Smith and Brandon Aiyuk. Top to bottom, this team has the best group of receivers in this league. It should not come as a surprise if Kyle Pitts manages to finish as the overall TE1. He would have been my selection instead of Mike Evans at 2.09 (given the TE premium nature of this league), while Gerald Everett makes a ton of sense as an upside TE2 option.
What I did not like: For as strong as this team is at receiver and tight end, it is equally weak (or uncertain, at the very least) at quarterback and running back. J.K. Dobbins will flash occasional RB1 upside, but he should not be a fantasy team's RB1 option - especially given he may need some time to trust his knee completely after such a significant injury. Antonio Gibson and Clyde Edwards-Helaire are dicey regular starting options at best. I am not sure his dart throws at the position after Kenneth Gainwell will help him much either. It is also possible Van Ormer's desire to build up his running back room clouded his judgment in the eighth round when he passed on Tom Brady for CEH. A much more high percentage play (with better upside) would have been taking Brady and coming back with either Cordarrelle Patterson or Rhamondre Stevenson.
6. NBC Sports Edge - Pat Kerrane
What I like: It is rarely ever a bad idea to lock up Travis Kelce in a tight end premium league. The advantage Kelce provides his managers in such leagues may be decreasing as he enters his age-33 season, but that does not diminish the fact he still provides a significant edge. Javonte Williams has top-five upside in his range of outcomes, especially if reports about the new coaching staff giving him more of the workload prove correct. The wide receiver trio of Tee Higgins, Courtland Sutton and Gabriel Davis provide major upside given their archetype - bigger receivers who can win in contested catch situations and have a prominent role in the red zone. Much like 28.313 Percent and Joe's Head, very good quarterback production each week should not be an issue with Kyler Murray and Jalen Hurts.
What I did not like: Miles Sanders certainly has RB2 upside, but that is only if he is used as he was before 2021. Hurts likely will cap his touchdown upside as he did last year, while Gainwell likely does the same to his receiving upside. The second flex spot figures to be an issue until DeAndre Hopkins returns in Week 7. Can Albert Okwuegbunam hold the fort in that spot so this team does not fall too far behind in the total points race? The logic of spending sixth- and seventh-round picks at quarterback in a one-QB league is also questionable. Passing on Hurts for someone like Kadarius Toney or Tony Pollard and taking a similar option like Justin Fields or Deshaun Watson rounds later seems like a more advantageous route to take.
7. Bullseye - Philip Hooton
What I like: Hooten won the FFPC Main Event in 2020. This draft is proof he knows how to build a winner. Honestly, I feel as if he applied a similar strategy to NBC Sports Edge but just executed it better. This team has four clear top receiver options (Stefon Diggs, Diontae Johnson, Brandin Cooks and Elijah Moore), an elite option at tight end (Darren Waller) and another potential one at running back (D'Andre Swift). This team also hit the sweet spot of balancing upside (Trey Lance) with a solid floor (Derek Carr) at quarterback while not using significant draft capital to do it. Hooten also did a fine job of landing good running back depth with solid standalone value in Nyheim Hines and Michael Carter. Brian Robinson Jr. and D'Onta Foreman could also fit under that description.
What I did not like: This team only has a few minor concerns, but they could be enough to cost Hooten a title. Waller is in the odd territory of being a value pick in this format AND a player who may not be much more valuable than Ertz, who goes about four rounds later. At receiver, does losing Ben Roethlisberger and adding George Pickens into the mix significantly hurt Johnsonís volume? Will Nico Collins take more quality looks from Cooks this season? Garrett Wilson from Moore? The biggest issue for this team figures to be Jacobs, who appears as if he will be a committee back in 2022. This team desperately needs Swift to stay healthy because it lacks the "one thing needs to happen in front of them" backs I spoke about on my team to survive a lengthy absence from him.
8. Goat District - Dan Williamson
What I like: Williamson might have the most complete roster in this league. Even if Austin Ekeler fails to come close to matching last season, he should be a low-end RB1 at worst. So long as Saquon Barkley stays healthy, he also has a low-end RB1 floor. George Kittle is about as good as it gets after the first two or three tight ends are off the board. Justin Herbert may end up being my overall QB1 this season. Williamson also selected a bunch of upside at receiver in Jaylen Waddle, Michael Thomas, Kadarius Toney and Treylon Burks. Rhamondre Stevenson also represents a palatable starting option at running back should Ekeler or Barkley miss some time.
What I did not like: As I alluded to earlier, there is a lot to like about this team. My major concern with it is at receiver. Can Waddle get enough volume in what figures to be a run-heavy offense with Tyreek Hill around? Can Thomas stay healthy? It is almost certain he will not have the same kind of massive target share he is accustomed to now that Chris Olave and Jarvis Landry are in town. Can Toney stay healthy? That was a problem in 2021. Even though Burks was drafted to replace A.J. Brown, he cannot be viewed in the same light. Furthermore, Brown never had someone as good as Robert Woods across from him to steal looks. There is a strong possibility Woods ends up leading the Titans in targets.
9. E11Even - Jon Hurd
What I like: Hurd has as good of a 1-2 punch at running back as anyone in the league with Derrick Henry and Aaron Jones. He even has some reasonably good depth at the position that can serve as flex options in Tony Pollard and James Cook. Raheem Mostert makes for a great dart throw in the 16th round as the potential early-down option in Miami. Hurd also has arguably the best fantasy quarterback in Josh Allen. Robert Woods should prove to be a steal in the 10th round, while the combination of Dalton Schultz and Hunter Henry should give this team a real chance for a top-10 player at tight end just about every week.
What I did not like: Hurd did a good job of finding value at receiver when he took them, but it is a big ask for Amon-Ra St. Brown and Adam Thielen to go toe-to-toe with most of the established WR1s in the league. I would have preferred to go with Courtland Sutton, Allen Robinson or even Terry McLaurin over Schultz and pair him with St. Brown and Thielen. My biggest issue with Hurd's draft may be with taking Schultz when he did. Not only are the odds against Schultz replicating last season (I don't believe he is dynamic enough to replace Amari Cooper as the team's second option), but I highly doubt he offers much more to fantasy managers this year than T.J. Hockenson or Zach Ertz.
10. FantasyPoints.com - Liam Murphy
What I like: CeeDee Lamb could easily lead the league in targets this season. A.J. Brown is about as good as anyone can hope at a WR2 spot. Mike Williams provides huge upside as a WR3. Investing only an eighth- and 13th-round draft choice into the quarterback position and coming away with Dak Prescott and Trevor Lawrence shows Murphy has a good understanding of how much depth is available at quarterback. Skyy Moore was a strong consideration for me at 9.04 (I went with Cordarrelle Patterson) and could easily lead all Kansas City receivers in targets this season. Assuming Dawson Knox can maintain his touchdown efficiency, Murphy should have tight end on lockdown with Mark Andrews and Knox in tow.
What I did not like: I'm not sure Murphy's top three receivers give him anything more than the third-best trio in this league despite his particular attempt at Zero RB. I believe Darnell Mooney would have been a much better choice at 5.10 than JuJu Smith-Schuster, who may not be able to hold off Moore as the team's primary receiver. Andrews will go in the first or second round of most tight end premium leagues, but he could easily fall back into the TE5 range again without the Tyler Huntley bump he got last year. It is one thing even Elijah Mitchell was guaranteed the kind of workload he had last season, but there is reason to believe Tyrion Davis-Price was drafted - to keep Mitchell's floor around 15 to 18 touches. While Murphy did well to land high-upside backup running backs, I will probably never be a fan of taking a multi-game hit at one spot in my weekly lineup in hopes that a handcuff will save me from a weakness I created for myself on draft day. Maybe Rachaad White or Darrell Henderson carves out some kind of standalone value while Murphy waits for an injury, but that is a lot to ask from either player. Drafting two more tight ends after taking Andrews early and Knox a bit later also seems like a waste of late-round resources.
11. CEO Squad - Shane Wingard
What I like: Wingard drafted himself a couple of workhorses in Najee Harris and Joe Mixon. I also have no problem with his decision to sandwich Patrick Mahomes with four receivers more than capable of easily attracting 100 targets apiece. I am personally not a fan of Rashaad Penny again this season, but there is nothing wrong with having some volume on the bench at running back in case heavy workloads end up sending Harris and/or Mixon to the repair shop. Although Wingard did not lock up a high-end tight end, he selected three (Pat Freiermuth, Noah Fant and Hayden Hurst) that should give him a fighting chance to hang with the big boys at the position most weeks.
What I did not like: I only have minor issues with Wingard's squad. Passing up Dalvin Cook for Harris could end up coming back to haunt him if Minnesota's desire to get the former more involved as a receiver ends up sending him into the Jonathan Taylor and Christian McCaffrey stratosphere of running backs. Penny was a solid pick for the volume he SHOULD bring; however, his injury history and lack of contributions in the passing game could make him a bit of a roster clogger in a best-ball format.
12. Big Guy Fantasy Sports - Bob Lung
What I like: Dalvin Cook may end up being my RB3 this summer, so landing him at the 1-2 turn represents good value. Davante Adams may not have the same kind of upside he did with Aaron Rodgers in Green Bay, but I would be willing to bet he finishes better than the overall WR6. Lung did a fine job getting plenty of upside at quarterback with Joe Burrow, Jameis Winston and Ryan Tannehill; each quarterback has at least two very good options at receiver. Unlike some in the fantasy community, I believe Ezekiel Elliott and James Conner represent good value at the 3-4 turn. Lung's top three backs all have massive workload and touchdown upside. The selections of Kareem Hunt, Kenneth Walker and Dameon Pierce further solidify what is already a strong position for Lung and give him several "one thing needs to happen in front of them" options.
What I did not like: I am not sure I can justify taking Burrow at 5.12 when someone like Tom Brady went almost three rounds later. While I like the value of Elliott and Connor at the 3-4 turn (I was hoping one of them was going to fall back to me - Elliott more than Conner - at 4.09), I'm not sure it was the right move for this team. Especially considering how long Lung waited to add another receiver after Adams and invest at tight end, I think it will end up being the wrong move. Chris Godwin could end up being a huge value as the 29th receiver off the board, but the possibility exists he will not be his usual self until November too. While Drake London possesses a ton of upside, can he fill Godwin's WR2 shoes for the first two months? Lung was the last manager to invest a pick at tight end. While he did grab some quality options late, taking four players to fill one position on a team is questionable roster construction. That is especially the case when we consider Lung's receiver corps and Godwin's current injury status.