After some shocking results, like the Jets beating the Titans and the high-scoring Vikings only posting 7 points, we are reminded yet again of the ridiculous level of weekly fluctuation we see in this game we play. The most challenging and important skill we can develop is the ability to see the bigger picture in the midst of the weekly grind, to react quickly when trends are developing and yet not overreact to one week of data.

As we move along, I will try to point out when the data we are seeing in a given week looks to be an anomaly, and when it looks to be a trend. Of course this is to some degree always an educated guess, but I will try to alert you when a data point doesn't require an immediate action.

Let's dive in with a look at some important usage points from each of the primary skill positions.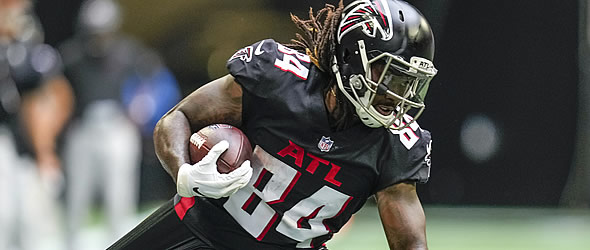 Running Back
James Robinson played on 95% of snaps in Week 4, since Carlos Hyde (shoulder) was out with an injury. Donít overreact to this, since Hyde will be back and will continue taking about a third of the snaps when healthy. If Robinson did take over his snaps, he could be a top weekly option, so keep watching.

Joe Mixon (ankle) played on 69% of snaps, his lowest mark of the season. He only received 17 touches, and was banged up late in the game. Keep an eye on the practice reports this week; Samaje Perine could be a nice play in Week 5 against the Packers if Mixon canít play.

Antonio Gibson played on only 55% of snaps, his lowest of the season. This is very concerning for those who drafted Gibson early, and looks like it might be a trend that is going to stick around. J.D. McKissic saw 40% of snaps and received 12 touches to Gibsonís 16. Gibson has played fewer snaps each week (65%-61%-57%-55%), so things are trending in the wrong direction. You likely need to continue starting him, but I donít have any good news for you at this point.

What a confusing situation at running back for the Falcons! Mike Davis played on 67% of snaps on Sunday and got 13 carries, but he only went for 14 yards. Meanwhile, Cordarrelle Patterson got 6 carries and went for 34 yards, and Wayne Gallman got 6 carries and went for 29 yards. Clearly it seems Davis is ineffective, but he continues to play a high percentage of snaps. Patterson played on only 30% of snaps and Gallman on 13% but Patterson got 12 opportunities to Davisí 15, and scored three receiving touchdowns! Pattersonís production through four weeks, while never playing more than 42% of snaps, is truly baffling. I do not think it will continue, but he has been proving me wrong so far. If you roster either player, keep them and see what develops.

David Johnson played on 57% of snaps for the Texans on Sunday. That is the only positive thing I can say for the Texans Ė perhaps they are starting to figure out they should use him more than Mark Ingram. Still, he only got 9 opportunities on a terrible team, so you donít want to pick him up.

Zack Moss led Devin Singletary in snaps on Sunday, playing 8 more snaps (56% to 44%) but itís still a fairly even split. They each had 14 carries and 1 target. Moss had fewer yards but scored the TD. Either can be used weekly, but just know that their upside will likely remain capped due to the timeshare.

DíAndre Swift saw his highest snap share of the season on Sunday, playing on 73% of snaps. Jamaal Williams played on 30%. However, they both saw 14 opportunities. Six of those opportunities were targets for Swift, adding value, but he needs to see a higher percentage of the teamís carries to become a weekly top scorer among running backs. He saw only 8 carries while Williams saw 14 in Week 4.

Ezekiel Elliott played on 75% of snaps in Week 4 and got 20 carries, while Tony Pollard played on 30% and got 10 carries. Both were effective. Elliott needs to be started every week, and Pollard is a decent flex play depending on the matchup.

Marlon Mack returned to action in Week 4 and played on 31% of snaps. Nyheim Hines also played on 31%, and Jonathan Taylor on 51%. This does not bode well for any of them moving forward, but at least Taylor had a nice game, rushing for 103 yards on only 16 carries, and also scoring. He also caught all three of his targets for 11 yards. If the Colts ever give him 70%+ of snaps, he could become one of the top-producing backs but it doesnít look like that is going to pan out anytime soon.

Hines, meanwhile, got only 2 carries and 2 targets, right when it was looking like he could be a good weekly option in PPR leagues. I would play Taylor if I have him, and only consider Hines in a pinch, due to sporadic usage.

Kareem Hunt played on more snaps than Nick Chubb on Sunday, despite a close game throughout. Hunt played on 53% of snaps to Chubbís 47%. Chubb did get more opportunities (22 to 18), but this is a very equal timeshare. If I have either on rosters, Iím starting them weekly on this run-first team.

Dalvin Cook was still hurting on Sunday, as his snaps were limited to 49%. Alexander Mattison played on 34%. Mattison had one more carry than Cook, but Cook got 6 targets (2-10). The Vikings struggled on offense, but it is likely that Cook will return to better fantasy outputs once he is fully healed.

Alvin Kamara played on 87% of snaps, his highest mark of the season, and logged 26 carries, a very high number for him. He went for 120 yards but was not able to score. Amazingly, he was not targeted in the passing game, which I donít remember ever happening before. Jameis Winston seems to be severely limiting the explosiveness of this offense.

Derrick Henry played on 59% of snaps and still got 33 carries, which he took for over 150 yards and a score. Backup Jeremy McNichols played on 40% and only got 1 carry, but he led the team in targets with 12, and caught 8 for 74 yards. Itís unclear if Darrynton Evans will regain the No. 2 role when healthy, but for now, McNichols is a back to watch Ė particularly if A.J. Brown and Julio Jones remain sidelined for longer.

Michael Carter eclipsed 50% of snaps for the Jets for the first time, playing on 51%. He had 13 carries far more than Tevin Coleman (4) and Ty Johnson (3). This is very promising, but temper your expectations since the Jets have struggled terribly to run the ball. He finished with 13 carries for 38 yards and a score. I recommend stashing him on your bench in any leagues where he is available.

It was a frustrating day for those who roster Clyde Edwards-Helaire, despite the solid production. He played on only 52% of snaps, while Darrel Williams played on 36%. He got 14 carries to Williamsí 10, and Williams got the rushing score. He got 3 targets to Williamsí 2. This was CEHís lowest snap share of the season (72%-65%-62%-52%), and it is concerning. It is tough to put up good numbers like he did on Sunday on only 16 touches. Darrell Williams needs to be rostered everywhere, in case this split continues.

It was even more frustrating for those who roster Miles Sanders. It got so bad on Sunday that Eagles fans literally starting chanting ďRun the ball! Run the ball!Ē The coach actually listened, but handed it off to Kenneth Gainwell for the score, not Sanders. Sanders finished with 7 carries, a week after finishing with 2 carries. Sanders is a talented back, but the coaches simply do not seem to trust him. Gainwellís share in the offense keeps growing, and he got 11 opportunities on Sunday to Sandersí 10. Sanders played more snaps (64% to 39%), but that doesnít matter if he is not getting opportunities. Iíd recommend benching Sanders until his workload increases. Gainwell is worth an add if he is on your wire.

James Conner again took both the rushing scores for the Cardinals, but Chase Edmonds played on 67% of snaps to Connerís 42%. Edmonds rushed 12 times for 120 yards, and also caught 4 of 5 targets for 19 yards. Conner got 18 carries (50 yards) and caught both of his targets for 16 yards. This is a equal timeshare. If you have either back, you can start them, just know the production will vary from game to game since they are sharing work.

Darrell Henderson played on 90% of snaps on Sunday, relegating Sony Michel back to the bench. Henderson rushed 14 times for 89 yards, an excellent line, and also caught 5 of 6 targets for 27 yards. Michel might have been benched due to an early fumble, but if this usage continues Henderson will be a top fantasy running back.

It was a very concerning game for those who roster Chris Carson. He played on only 45% of snaps and got 14 touches, while Alex Collins played on 39% and got 12 touches. Further, Collins was more effective, going for 78 yards and a score. Carson only went for 31 yards. This may be a sign of a shift. I recommend picking up Collins everywhere, in case Pete Carroll decides to make him the starter or at least keep it an equal timeshare.

Trey Sermon was very effective on Sunday, playing on 51% of snaps and carrying it 19 times for 89 yards. He did not have a target. We have absolutely no idea if Sermon, Elijah Mitchell, or some other back will lead the way for the 49ers going forward, so be very cautious.

TyíSon Williams was a healthy inactive for Week 4, which is baffling. The Ravens chose to go with the old guys this week. Williams can be dropped unless you are in a very deep league. None of the other backs are worth rostering except for Latavius Murray. He played on 62% of snaps and finished with 18 carries for 59 yards and a score.

For the first time this season, Javonte Williams played on more snaps than Melvin Gordon (51% to 49%). Still, it remained an equal timeshare. I will avoid starting either unless they are against a poor defense, even though both have been effective.

Aaron Jones saw his snap share fall in Week 4 to 62%. He got 15 carries (48 yards), but AJ Dillon also got 15 carries and went for 81 yards. Dillon also had a 16-yard reception. Jones got more targets (4) and went 3-51, but it was concerning that they so equally shared the work (Dillon was in on 40% of snaps). You have to play Jones weekly no matter what at this point, but watch how this shakes out carefully over the next week or two. For those who roster Dillon, if this continues you might finally be able to start him as a Flex option.

Leonard Fournette played on 82% of snaps and seemed to take over all of Giovani Bernardís role. He finished with 20 carries (91 yards) and caught 3 of 5 targets for 47 yards. Ronald Jones can be dropped in most leagues.

Damien Harris played the most snaps among the Patriots running backs (61%), but they barely rushed the ball (likely due to the imposing Bucs front). It looks like he will remain the starter for now, but keep an eye on Rhamondre Stevenson. He is getting the Belichick rookie treatment, but once he is active I could see him getting a lot of snaps.

Josh Jacobs returned to his normal role in Week 4, playing on 63% of snaps. Kenyan Drake played on 35% and Peyton Barber on only 1 snap. Jacobs got 13 carries and a surprising 5 targets. He caught all of his targets and went for 57 total yards. Those arenít the numbers you want, but it was encouraging to see him healthy and the primary option again.

Austin Ekeler played on 60% of snaps and looked great on Monday night, finishing with 18 touches, 145 total yards, and two scores. When Ekeler was injured for a bit, Justin Jackson did appear to be his direct back up. He came in and got 3 carries and 4 targets until Ekeler returned, at which point Jackson returned to the bench. However, Larry Rountree III appears to have a consistent role in the offense as the ďthunderĒ piece, regardless of whether Ekeler is in the game or not. He finished with 29% of snaps and got 11 carries. Neither player will produce much unless Ekeler is injured, but both are worth holding if you have the roster space.


Wide Receiver
Tight Ends
---
Kevin Scott is a fantasy pro who has made over $100,000 playing fantasy football. Catch his podcast "Grinding the Data" and you can follow him on Twitter @kevinscottff.