A d v e r t i s e m e n t
Fred Jackson in Seattle to join old buddy Marshawn Lynch in Seattle? Montee Ball on the verge of getting released and on his way to Dallas (or Houston)? Just another day in the NFL news cycle as all the teams in the league decide what 53 men they want to move forward with today.
We have reached the end of our "Five Big Boards in Five Days" extravaganza. We kicked off September with my PPR Big Board and followed it with the Half-Point PPR Big Board and the Non-PPR Big Board. The TFC Big Board hit the site on Sept. 4.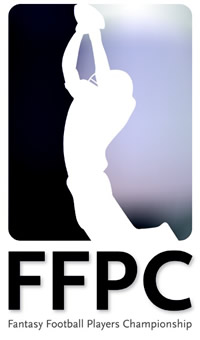 As I have established over the last couple of weeks, both high-stakes giants (the TFC and FFPC) use scoring that is very similar to the PPR scoring I have used in my Big Boards for years. The other notable differences are as follows:
1) the TFC rewards four points (instead of six) for passing touchdowns, penalizes one point (instead of two) for interceptions and hands out a point for every 20 yards passing (instead of 25).

2) the FFPC uses the same scoring as I just laid out for the TFC, but rewards tight ends 1.5 points for every catch and one point for every other position.

Before I get to the boards, I would like to remind readers about two key points:

1) I doubt you will find another draft board like this one and further doubt you will find a similar set of rankings anywhere else. The standard the industry uses to measure accuracy among analysts is overall scoring, but I am more concerned with projected consistency and matchups. Consistency tends to lead to big fantasy numbers at the end of the season and championships while inconsistency and bad matchups at the wrong time usually lead to frustration. Someday, I hope the industry catches on to my way of thinking. Until then, I'll try to win as many titles as possible and help you do the same.

2 ) Much like the past three seasons, I want to provide readers with a clear risk sign. If a player is a moderate risk – be it due to injury, off-field, etc. – you will see a

next his name. If I feel a player is a severe risk, you will see a

next to his name. While I feel like I have accounted for each player's "risk" with their spot on the Big Board, you may be more or less inclined to deal with that risk than I am. This is just another way of helping you take a look at the board and quickly identifying which players stand a good chance to frustrate you at some point this season.

As I have done in previous years, I have taken the additional step on the final set of Big Boards to designate players to their "fantasy position". Keep in mind that just because there may be 12 teams in your league, it doesn't mean there are 12 players worthy of being designated as a QB1, RB1, WR1 or TE1.

QB1/RB1/WR1/TE1 – A player I am comfortable starting every week, regardless of matchup.

1/2, 2/3, 3/4 (All positions) – A player that can occasionally post numbers with a player in the tier above him, but is usually either too inconsistent to be considered in that tier or has a poor track record of staying healthy.

QB2/TE2 – A bye-week or matchup-based quarterback or tight end.

RB2/WR2 – A back or receiver that can post RB1/WR1 numbers with high upside, but has an obvious flaw that makes him less consistent than a RB1 or WR1.

RB3/WR3 - Usually is an inconsistent "splash" player that can win his fantasy team with a huge performance, but is best utilized when the matchup is right.

RB4/WR4 – Usually a steady, lower-upside option that can be spot-started and used as a bye-week fill-in. In some cases, he is a high-upside player blocked by two top-level players in front of him.

RB5/WR5 – Usually a "handcuff", but a player who is on the roster generally to keep the ship from sinking due to injury.

RB6/WR6 – Extreme longshots due to any number of factors, but with enough talent to be viable at some point in fantasy.

I have taken the additional step this year of adding color to the "Pos" column below; it is my hope taking this step will further enhance an owner's ability to delineate where one tier ends (regardless of position) and where another one begins, essentially using the same concept NFL teams do with a horizontal board during the NFL Draft. (Although it is not a perfect example, here is the kind of thing I am talking about in case the term "horizontal board" is unfamiliar to you.) The change of colors from blue to white don't necessarily represent rounds here, but tiers.

Let's revisit the color-coding system before we start:

Red – A very difficult matchup. For lower-level players, a red matchup means they should not be used in fantasy that week. For a second- or third-tier player, drop your expectations for them at least one grade that week (i.e. from WR2 to WR3). For elite players, expect them to perform one level lower than their usual status (i.e. RB1 performs like a RB2).

Yellow – Keep expectations fairly low in this matchup. For lower-level players, a yellow matchup is a borderline start at best. For a second- or third-tier player, they can probably overcome the matchup if things fall right. For the elite players, expect slightly better than average production.

White – Basically, this matchup is one that could go either way. In some cases, I just don't feel like I have a good feel yet for this defense. Generally speaking, these matchups are winnable matchups for all levels of players.

Green – It doesn't get much better than this. For non-elite players, the stage is basically set for said player to exploit the matchup. For the elite player, this matchup should produce special numbers..

Key:


OVR – Overall Rank
PR – Position Rank
FPts – Fantasy points scored
FPts/ G – Fantasy points/game
Success score (SSI) – The sum of several position-specific attributes that I feel are important to fantasy production, weighted and scored. A perfect score is 1000, but it may help to move the decimal point one spot to the left and think of each score as a percentage. It may also help to think of the final score as the likelihood that player will produce at the level I have projected him if his current environment stays roughly the same as it is now.

Just so you know what you are getting yourself into, here are some of the attributes I weighed and scored at each position:

Quarterback – Talent, job security, four-game stat projection, red-zone projection (how often I believe the quarterback will either throw or run the ball himself inside the 20) and the degree to which I believe his offense is conservative or will play that way because of an elite defense.

Running back – Talent, job security, durability, four-game stat projection, three-down back (based on projected snaps) and the run-blocking prowess of his offensive line.

Wide receiver – Talent, job security, four-game stat projection and projected red-zone scores.

Tight end – Talent, job security, projected red-zone scores and projected targets in relation to his peers at the position.

Here is the scoring system that I used to rank the players in the PPR format:





Next:

TFC

---
Doug Orth has written for FF Today since 2006 and been featured in USA Today's Fantasy Football Preview magazine since 2010. He hosted USA Today's hour-long, pre-kickoff fantasy football internet chat every Sunday in 2012-13 and appears as a guest analyst on a number of national sports radio shows, including Sirius XM's "Fantasy Drive". Doug is also a member of the Fantasy Sports Writers Association.