Every year about this time, there are plenty of folks in the fantasy industry who call it "ridiculous" to put much stock into analyzing potential matchups. While none of these folks have every aimed their arrows directly at me when they say this, it pains me a little bit. Why? It's bad advice.

Let me begin by saying their rationale is understandable. We don't know what November and December holds. For that matter, most of us don't even know what Week 1 holds. Just because a lot changes between now and then doesn't mean we shouldn't try to predict the future with what we know at the moment. After all, it is our job as owners to predict the future the best we can.

Fantasy football is a stock market game, and our job as analysts is identifying when stocks may be poised for an increase or ready to tank. The schedule is one of the most assessable, easy-to-understand tools we have at our disposal to warn us of when impending doom may hit or success may be forthcoming. The trick is understanding how offseason additions and subtractions - both from a coaching and personnel standpoint - on defense can affect what offensive players do this year. A lot of folks don't have the time or desire to do this. I've done it for roughly 10 years, and I'm pretty certain I owe a great deal of my success to it.

Having said that, it's important to understand my PMAs have never been about ranking players based solely on projected matchups, but rather using it as a (small) part of my evaluation. In fact, the schedule is worth no more than 10 percent of my grade at any position and among the last of the five to seven factors I consider at each spot. The schedule alone does not make Odell Beckham Jr. or David Johnson an elite player at their position. My PMAs have always been about using matchup analysis to help unearth potential gems in the middle-to-late rounds.

Circling back to the original premise, Week 16 is not the time to find out Beckham will almost certainly be shadowed by Patrick Peterson. Owners should know that before they draft him. Does that mean OBJ is not a top-five fantasy pick? Of course not. It means owners should know the odds are somewhat unfavorable Beckham is going to be an elite player during their league's championship week before they choose him. If that sounds like more detail than one should consider, perhaps are getting an idea how much thought I put into this.

Don't get me wrong, there is plenty of good analysis in the fantasy industry. However, analysis without giving a second thought to potential matchups is incomplete, just as if a financial market analyst on TV didn't mention the history of the CEO in his/her second-quarter recommendation of a stock and based his/her opinion only on "recent trends." Like the stock market, fantasy football is full of plenty of moving parts, and it is important to be able to account for as many of the important variables as possible.

Now back to our regularly scheduled programming …

I am still fine-tuning my updated Success Score Index (SSI), which involves meticulously grading and assigning certain weights to several attributes that I feel are critical to fantasy success at that position, so that score will not appear on the first round of Big Boards this week or next. It is the number that allows me to compare apples to oranges across the positions. I also am not finished yet with scoring averages for each player, although I anticipate that will be included with the SSI for the second round of Big Boards starting in two weeks.

For all of those unfamiliar with my Big Boards, allow me to explain the color-coding system before we start:

Red – For lower-level players, a red matchup means they should not be used in fantasy that week. For a second- or third-tier player, drop your expectations for them at least one grade that week (i.e. from WR2 to WR3). For elite players, expect them to perform one level lower than their usual status (i.e. RB1 performs like a RB2).

Yellow – For lower-level players, he is a borderline start at best. For a second- or third-tier player, they can probably overcome the matchup if things fall right. For the elite players, expect slightly better than average production.

White – This one that could go either way. In some cases, I just don't feel like I have a good feel yet for this matchup. Generally speaking, these matchups are winnable for all levels of players.

Green – For non-elite players, the stage is basically set for said player to exploit the matchup. For the elite player, this matchup should produce special numbers

Note: Later this week, I will set up the first non-PPR Big Board. Next week, I will release my first Big Boards for 0.5 PPR leagues as well as The Fantasy Championship (TFC) and FFPC Big Boards. In the final set of Big Boards over the following two weeks, I will rank 200 players and present my final rankings for kickers and defense/special teams.

Here is the scoring system that I used to rank the players in the PPR format:




Other players who were considered:





QB:

Sam Bradford, Blake Bortles



RB:

Jacquizz Rodgers, Darren McFadden, Rex Burkhead, dirty Andre Washington, Jalen Richard, Giovani Bernard, Chris Thompson, Donnel Pumphrey, Marlon Mack, Kyle Juszczyk, Shane Vereen, Joe Williams and Latavius Murray



WR:

Tyler Lockett, Kenny Golladay, Breshad Perriman, Nelson Agholor, Marqise Lee, Josh Doctson, J.J. Nelson, Braxton Miller and Devin Funchess



TE:

Jason Witten, Austin Seferian-Jenkins, Coby Fleener, Dwayne Allen, Jared Cook, Evan Ingram, O.J. Howard and Charles Clay

Since I don't check ADPs before setting my Big Boards, I'm sure my rankings will shake each of you to your very core. Since I believe each of the players I have listed below are ranked considerably lower than I have seen from the few mock drafts I have either seen or taken part in, I will spend my time this week addressing the ones I feel are the most noteworthy.

- Ezekiel Elliott checks in at No. 6 and will remain there until the NFL decides whether to suspend him or not. Given his matchups during the fantasy playoffs (at least two of them), he may remain at this ranking regardless. A two-game suspension would probably push him back to No. 9.

- LeSean McCoy is probably the best bet outside the top three running backs to break into that group the season, but back-to-back years with hamstring injuries makes me believe he isn't going to be able to play all 16 games yet again. Devonta Freeman has remained healthy to this point in his career, plays on a more explosive offense, is younger and has a softer schedule. For all of those reasons, I'll slightly lean with him over McCoy, who is also a prime target for touchdown regression after scoring 14 times in 2016. However, even if he loses 4-5 touchdowns and bumps his reception total to 60-plus - a very likely possibility - the effect should be negligible. The real reason for concern with McCoy is his age (29) and the aforementioned injury history.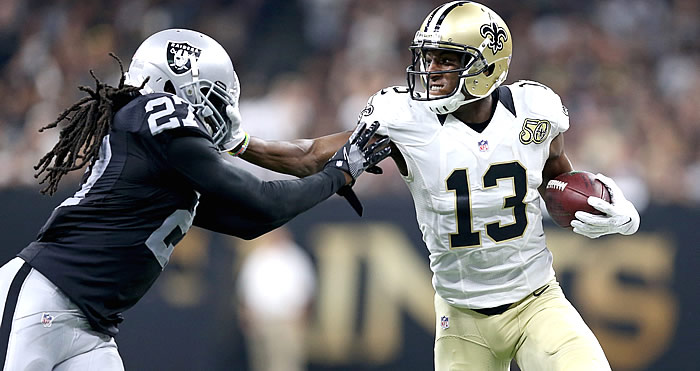 First-Round Worthy: Michael Thomas' floor and position in the Saints high-powered offense makes him a reliable WR1.
- Michael Thomas established a pretty high floor last year and the automatic assumption is he can only benefit with Brandin Cooks now in New England. Owners hoping for such a scenario to play out will be betting against 11 years of wide receiver history under HC Sean Payton and QB Drew Brees. With that said, his production doesn't figure to go down either unless the Saints' running game absolutely bludgeons opponents, which is a possibility but not a likelihood given, among other things, the continued question marks on defense.

Thomas' floor last year was first-round worthy, and so I'll take that over the age of DeMarco Murray (never mind the threat of Derrick Henry stealing a few more carries), the capped workload of Melvin Gordon, the lack of dominance Todd Gurley has shown since the midpoint of the 2015 season and the rollercoaster ride that was the second half of Ajayi's 2016 season (less than three yards per carry in three of eight games, two total touchdowns and an average of 12.4 fantasy points per game even with his 206-yard explosion against a weak Buffalo defense in Week 16).

I'm also of the belief A.J. Green will post WR1 numbers at the end of the season but return to his inconsistent ways of doing so, which is why Thomas slots above him as well.
- Until Andrew Luck is cleared to throw a football (and not just a tennis ball), expectations for T.Y. Hilton and Donte Moncrief need to be dropped accordingly. Under normal circumstances, I would probably plug Hilton in around No. 19, while a healthy Luck would be a strong consideration in the sixth round. However, these are not normal circumstances, and so it would be wise to assume Luck may need September to serve as his preseason.
- Dez Bryant at No. 32, Terrelle Pryor at No. 58 and Alshon Jeffery at No. 74.
As many long-time readers already know, I put a fair amount of weight into probable individual matchups and durability. Over the years, I have placed less and less emphasis on individual matchups as it has become clear most offensive coordinators will move their stud wideouts around the formation while most defensive coordinators tend to leave their stud cornerbacks in one spot. There are occasions when one or both scenarios do not end up playing out like that, and most of them seem to be playing out in the NFC East this year.
Barring unforeseen preseason injuries, Bryant will begin his season facing shadow coverage from Janoris Jenkins (Week 1) and Patrick Peterson (Week 3) with a side of Aqib Talib and Chris Harris (Week 2). His schedule right around or during the fantasy playoffs isn't much better: Josh Norman (Week 13), Jenkins again (Week 14) and the Legion of Boom (Week 16). Bryant was already a bit of a risk coming into this season based on his recent injury history - he's missed 10 of 32 games over the last two years - but Dallas' growing reliance on using the slot receiver in between the 20s and this season's schedule makes Bryant a longshot to return WR1 value. Bryant lined up in the slot 22.8 percent of the time last year, so he could save his fantasy value somewhat by keeping that up. However, the team has Cole Beasley in there most of the time (85.4 percent in 2016) and drafted Ryan Switzer, who will reportedly "complement" and not back Beasley up, so Bryant may not be able to escape all the aforementioned cornerbacks as much this season.
Pryor does not have the same durability concerns as his other two NFC East counterparts and should be a fine WR2 for his owners for the first half of the season. Unfortunately for him, the meat-grinder of a schedule that splits almost equally at the beginning and end of the year for Bryant hits Pryor all at once in the second half of the season. I gave Pryor the benefit of the doubt in road games against New Orleans (Week 11) and Dallas (Week 13) because neither defense should have a cornerback capable of checking him - although I expect both secondaries to be improved over last year by that point - but there is no getting around the other six matchups. Over that time, he will either see plenty of the following: Richard Sherman, Xavier Rhodes, Janoris Jenkins, Jason Heyward or Jason Verrett, Patrick Peterson and Aqib Talib or Chris Harris.
The real stunner here is probably Jeffery, although it shouldn't be. His injury history is lengthier than Bryant's, plus he faces one of the most brutal pre-bye stretches of any receiver this season. All the same after aforementioned cornerbacks who will be checking Pryor in the previous paragraph late in the season will be doing so against Jeffery, with an added helping of Josh Norman.
Let it be said all three of these receivers are more than talented enough to win their fair share of these battles, but that's not really the point. Fantasy football is sometimes as much about avoiding what we know can and should be difficult matchups, even if it flies in the face of a player's talent. Can Bryant, Pryor and Jeffery high-point a ball in the end zone, catch four passes for 55 yards and finish with a 5-75-1 line against any of the cornerbacks mentioned so far? Of course they can. That's why they are where they are on the list despite the fact they would be lower if they were average talents. When you subscribe to my line of thinking, you are in part acknowledging - like I do - that players such as Bryant, Pryor and Jeffery will not be able to consistently churn out productive box-score numbers against the level of competition they are facing in 2017.
- Nestled in between Pryor and Jeffery on my list is Jarvis Landry at No. 68. I know it's sacrilegious to rank a player guaranteed for 90 catches in the sixth round, but what if I told you that has a good chance of not happening? The first clue of a possible reduced role for Landry in 2017 is the fact Miami did not attempt to extend his contract this offseason. Here's what else might be working against him:
1) Beginning with Week 5 last season (the week Jay Ajayi emerged as the clear starter) and the running game started to become the focal point of the offense, Landry averaged 7.2 targets, 5.3 catches, 63.4 yards and 0.25 touchdowns. Those numbers were spiked by his performances in two of the Dolphins' three losses over that stretch - games in which he averaged 13 targets, 10 receptions and 81.5 yards. In his other 10 games, Landry averaged six targets, 4.3 catches and 59.8 yards.
2) Jay Cutler befriended exactly one "slot receiver" during his days in Denver and Chicago, Eddie Royal. While the process of a quarterback figuring out who his No. 1 guy isn't exactly a science for fantasy owners, Cutler has favored bigger receivers throughout his career, especially those who can get downfield and take advantage of his strong arm. Based on the aforementioned contract talks alone, the Dolphins' brass has shown their hand in terms of what they want their offense to be: a physical running team with DeVante Parker and Kenny Stills gouging the defense vertically.
3) Julius Thomas may only be able to play 10 to 12 games per year, but he is also a threat to Landry because they will be fighting for the same kind of targets (within 10 yards of the line of scrimmage).
- As I mentioned above, I don't check ADPs before setting my Big Boards, so I can only assume I am among minority when it comes to ranking Sammy Watkins outside of the top three rounds (No. 40, to be precise). As a dynasty owner of his since he came into the league - before trading him this summer - I feel I am well-qualified to know what he brings and doesn't bring to a fantasy team. (In his rookie season, I won the title in large part because he played all 16 games. In the following two years, I did not. While there were other extenuating circumstances that contributed to my non-title runs over the last two seasons, having Watkins available for only 20 games over that time did not help my cause.) If he plays 14 games this season - in a contract year, no less - he will probably make this ranking look silly. But foot problems are no joke, and upside is only good if it stays on the field. I think WR20, which is where I have him, is the perfect spot for him considering his injury history and upside. Ditto for my WR18 (Keenan Allen) and WR21 (Martavis Bryant).
- I can't imagine I'll be holding any shares of Marshawn Lynch after draft season wraps up. As I discussed last week in Workload Projections - AFC, players who miss a season for whatever reason need time to shake off the rust, running backs over the age of 30 and were injured throughout their last season of action are bad investments. Needless to say, all three apply to Lynch. It's highly probable Lynch start off the season on fire given how "rested" he is, but can we really expect him to sustain it? It's also highly probable Lynch's 2015 injury-plagued season was a sign of his career workload catching up to him. Lynch's "job security" - as the big back in what should be a very good offense again - is the only thing keeping him from being ranked lower.
- Putting Mike Gillislee inside the top 50 feels so much like a reaction to LeGarrette Blount's franchise-record breaking 2016 season, especially because Rex Burkhead looms as a potential and realistic threat to his overall workload. However, as the frontrunner for early-down and goal-line work on what may be the best offense in the NFL this season, it's not hard to project him for 1,000-plus yards and 10-plus touchdowns. Those numbers are RB2-worthy in any format in any season, even if I fully expect him to be as inconsistent on a weekly basis as any player with the potential to amass those kind of numbers can be. By now, we should know the drill with Patriots' running backs - one I don't imagine is going to change much this year: one game will feature Gillislee, the next one could be all about James White and the next could be a Burkhead game. Were this a "normal" team, Burkhead would be my favorite for fantasy stardom, but HC Bill Belichick himself said he sees Burkhead as a "four-down player," which is good for his real value but essentially makes him the new-and-improved Brandon Bolden for fantasy purposes, at least until Gillislee gets hurt.
- If there are some particular themes I will be trying to follow throughout each of the Big Boards I build this month, they would probably be good players on good teams (as opposed to good players on bad teams), valuing durability even more and keeping an even closer eye on age this year. Jordan Reed will be gone before the 64th pick in most drafts. That's OK. Hitching your wagon to a severe injury risk at a position that requires one starter means you will probably have to draft another player at that position. Roster space is limited in most leagues, so carrying a second tight end to protect yourself against your first pick at the position is a poor use of roster space since tight end is almost, without fail, the lowest scoring of the four key positions in fantasy. The sixth round is a good time to bet on players like Reed, who is almost certain to miss multiple games during the course of the season.
- Get it out of your system now: there's no way any self-respecting analyst can put Spencer Ware in the seventh round. (Oops.) Ultimately, training camp and the preseason will determine how things get divvied up in September, but Kareem Hunt is going to be a BIG problem for any owner hoping they can count on Ware to replicate last season's numbers. It may take until late October or early November before we notice much of a shift in the Kansas City backfield, but I feel pretty certain Hunt will out-produce Ware. To what degree, I don't know. What I do know is that my ranking on the rookie is aggressive and one which I think will pay off for owners around fantasy playoff time. Whether or not he turns out to be the 26th overall running back at the end of the season doesn't matter to me (and it shouldn't to you either). If he's a playing like a high-end RB2 in November and December, he's going to be worth the sixth- or seventh-round draft choice you invested in him. Of course, readers will take all of this as a slight to Ware, but I assure you it is not. If Hunt happens to get hurt during the preseason or somehow lands in the doghouse, I will have no problem moving Ware inside the top 40.

Next: Non-PPR Big Board

| .5 PPR Big Board

---
Doug Orth has written for FF Today since 2006 and been featured in USA Today's Fantasy Football Preview magazine since 2010. He hosted USA Today's hour-long, pre-kickoff fantasy football internet chat every Sunday in 2012-13 and appears as a guest analyst on a number of national sports radio shows, including Sirius XM's "Fantasy Drive". Doug is also a member of the Fantasy Sports Writers Association.