It was Michael Jordan who famously said, "The ceiling is the roof." He was actually just trying to say the sky is the limit, but it came out humorously and that's all anyone remembers. But Michael has a point. He wanted his football team to reach for lofty goals.

Similarly, you want your football team (read fantasy players) to reach the heights of their ability. For some, that's to become elite at their position. For others, their abilities are much more limited as are their goals. We only want players who "reach the ceiling."

Of course that's not for everyone because some of those with high ceilings players also have extremely low floors. We might call them "boom or bust" players. They're only for fantasy owners who are gamblers.

If you are the more conservative type, you want the men with the "highest floor." You want your guy to produce each week, perhaps not at the elite level, but enough that you have the chance to win week in and week out.

In today's exercise we are going to analyze the "highest ceiling", "highest floor", and "most likely to bust" for each round based on a 12-team, PPR league and using FFToday's ADP.
Round 1 –

Highest Ceiling – Christian McCaffrey must be considered the highest ceiling based on his healthy performances in the past. No other current running back has produced at the 29-point level for a full season and even his 2018 season at 23.8 FPts/G would have been better than Jonathan Taylor's top-ranked RB at 22.2 average last season.

Highest Floor – Given that Derrick Henry has averaged more than 20 FPts/G in each of the last three seasons and is healthy, it's hard not to say this is the safest first-round bet. Had Henry not returned for the 2021 playoffs to prove his health, I would likely have gone with Jonathan Taylor. Henry has elite usage and until last season had played in 63 of his last 64 games.

Bust Potential – D'Andre Swift's issue isn't talent-related, it's his inability to stay on the field in his first two seasons. He's missed seven games and left others early. He also has a solid backup in Jamaal Williams, so the team doesn't hesitate to sit him when his health is questionable. When on the field he has top-five potential due to his pass-catching ability and a quarterback who loves to check down to his running backs.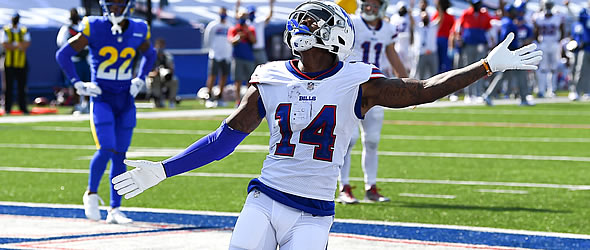 Round 2 –
Highest Ceiling – Without Tyreek Hill, Travis Kelce may see a few more defenders crowding into his area, as might CeeDee Lamb without Amari Cooper, so I'm going with Stefon Diggs as the highest ceiling. He has an elite quarterback who feeds him the ball (9.6 targets per game). The emergence of young Gabriel Davis will only make it harder for teams to double Diggs or roll the defense in his direction.
Highest Floor – If only to justify spending all the draft capital and money spent on him, Hill will see more than enough volume to guarantee solid production each week and vindicate his second-round selection (21 ADP).
Bust Potential – Leonard Fournette was going in the late first and early second round this summer, but injuries to the offensive line should be very concerning (Ryan Jensen, Tristan Wirfs and Aaron Stinnie). I had also added the absence of Tom Brady, but he apparently has returned from his family vacation and is ready to play. The Bucs under Brady have always been pass first (league leading 719 attempts last season) meaning his rushing numbers (only 180 attempts last season) could continue to be limited. Additionally, when they get ahead on the scoreboard they have a tendency to rest starters which could lead to more rookie Rachaad White usage.
Round 3 –

Highest Ceiling – Kyle Pitts' only deficiency in his rookie campaign was not getting into the end zone (one TD catch). That should rectify itself in season two. He's in line for more than the 110 targets of a season ago with only rookie Drake London, Bryan Edwards and Olamide Zaccheaus competing for looks. He was already one of only three tight ends who cracked 1,000-yards. If Marcus Mariota (or rookie Desmond Ridder) can play well, Pitts might even challenge Mark Andrews and Travis Kelce.

Highest Floor – How could anyone argue that Mike Evans isn't the player by which we should all measure consistency? He's played eight seasons and cracked 1,000-yards in all eight. In Year 9 he'll likely begin the season with either a sidelined or a less-than-100% Chris Godwin. And under Tom Brady's direction, Evans has caught 13 and 14 touchdown passes the past two seasons. Evans is a fantasy player's security blanket.

Bust Potential – James Conner isn't an explosive back (averaged 3.7 ypc in 2021), but made his living getting into the end zone (scored in 12-of-28 attempts inside the 10-yard line). It's a bit concerning that he's so touchdown-dependent with 41.9% of his points coming from scores. It could be even more of a concern if quarterback Kyler Murray runs as he did in 2020 when he rushed for 11 scored, six times inside the 10-yard line.
Round 4 –

Highest Ceiling – J.K. Dobbins will lead the Ravens' running back room in yards and touchdowns for 2022. The last time we saw him was 2020 when he rushed 134 times for 805 yards (6.0 ypc) and nine touchdowns. That was despite sharing the workload with Gus Edwards and Mark Ingram. And his nine touchdowns were despite Lamar Jackson rushing for seven scores and Edwards six. Edwards was just put on the PUP list and will miss at least four games leaving only Mike Davis (who was horrible last season in Atlanta) behind him to eat into his workload. Dobbins should get off to a great start and go from there.

Highest Floor – In his three seasons, Terry McLaurin has caught touchdown passes from Case Keenum, the late Dwayne Haskins, Kyle Allen, a one-legged Alex Smith and Taylor Heinicke. Despite this quarterback roulette, McLaurin has averaged 1,030 yards and 5.3 touchdowns. I'm not a big Carson Wentz fan (well, except for 2017 when he led my Eagles to great heights), but he's better than all of those guys. He'll be helped by a quality deep threat on the other side in rookie Jahan Dotson. I think McLaurin puts up the best numbers of his career (though he still won't crack the top-10).

Bust Potential – Antonio Gibson's fantasy value has been dropping faster than the price of gas this month. Fantasy owners are scared that rookie Brian Robinson Jr. (Alabama) could eat into Gibson's first- and second-down workload while J.D. McKissic is still set to be the third-down and receiving back. I'm concerned too.
Round 5 –

Highest Ceiling – Will the real Michael Thomas please stand up? It was just three years ago that Thomas was the No. 1 receiver in the league posting 149-1,725-9 totals (23.4 FPts/G). The last two seasons have been non-existent (seven games in 2020, zero in 2021), but he's back. Unfortunately, his Hall-of-Fame quarterback isn't (retired Drew Brees), but we know his replacement, Jameis Winston has plenty of ability. With a 61.7 ADP and as the 24th receiver off the board, Thomas could be a huge steal if he regains form. Probably not 2019 value, but perhaps top 15 and that's still a nice ceiling.

Highest Floor – Brandin Cooks has managed to crack the 1,000-yard mark in six of the last seven seasons no matter the quarterback. Sure, it was probably easier in the years he had Brees and Brady throwing to him, but he also managed to break the 1K mark under Jared Goff and in 2021 with the combination of Tyrod Taylor and Davis Mills. The Texans return Mills under center and with only Nico Collins on the other end, Cooks should continue his string of 1,000-yard seasons.

Bust Potential – Chris Godwin is returning from a late-season ACL tear and even if he comes back early in the season it's unlikely he'll be at full strength. It's why the Bucs brought in Russell Gage and Julio Jones. Don't expect the former Penn Stater to return to 100% health/production until the 2023 season or at the earliest this year's playoffs. I'd expect the team to control (read limit) his usage until it really counts. I'd rather select Allen Robinson (another Penn State alum) at this point in the draft.
Round 6 –

Highest Ceiling – Marquise Brown had his best season in 2021 (91-1,008-6) while stuck in a run-centric Ravens' offense. In Arizona, he reunites with his Sooner quarterback Kyler Murray and should see plenty of early work with DeAndre Hopkins suspended for the first six games. What will determine whether he's a "boom" is whether he can continue even when "Nuk" is back on the field. I believe he can and will. At Oklahoma, Brown had to share the receiving workload with CeeDee Lamb and made it work.

Highest Floor – I hear all the complaints about Eagles' quarterback Jalen Hurts. Weak arm, slow decision making. And yet he still averaged 24 FPts/G in his first full year under center. I'd be hesitant to throw open Jalen Reagor and some of the others too. His receiving corps has been drastically upgraded with the addition of A.J. Brown along with second-year DeVonta Smith and a solid tight end in Dallas Goedert. If all else fails he can still run and running quarterbacks will always be elite fantasy options.

Bust Potential – Clyde Edwards-Helaire would seem to be the easy choice here, but I thought long and hard about putting Damien Harris and his ultra-touchdown-dependent fantasy value here. In the end, CEH has proven to be subpar in two straight seasons. He lost 300 yards in rushing from season one to last year and his touchdown production seems stuck at a maximum of six. Andy Reid simply likes to pass a lot so CEH's rushing is limited and now there is a threat from rookie Isiah Pacheco for early-down work. It's too high a price to pay for someone who has yet to produce as expected in two seasons.
Round 7 –

Highest Ceiling – JuJu Smith-Schuster was better as the No.2 guy in Pittsburgh with Antonio Brown getting all the attention than when he became "the guy" in 2019. Now with the Chiefs', he'll again be the No.2 guy with tight end Travis Kelce getting all the attention. He should thrive in this role. And in Patrick Mahomes, he's got the best quarterback he's played with (Ben Roethlisberger was already starting to slide by 2019 when Smith-Schuster was supposed to carry the load).

Highest Floor – Kareem Hunt can run. Hunt can catch the ball. He just needs opportunities. Even with yielding early-down duties to Nick Chubb, Hunt has produced 12.7, 13.7 and 13.5 FPts/G in three seasons with the Browns. There are rumors that Hunt could be traded. Imagine what he could do with more touches. As a starter in Kansas City he averaged 18.6 and 20.9 FPts/G. No matter how the season works out, Hunt should get his points and be a fantasy-worthy starter.

Bust Potential – It's not Devin Singletary's fault that the Bills don't run the ball enough. He saw just 188 attempts in 2021 and produced 870 yards (4.6 ypc) and seven scores. Now add in Bills' management selection of Dalvin Cook's baby brother in the second round (James Cook). They still have Zack Moss too. Too many mouths to feed with too few chances.
Round 8 –

Highest Ceiling – Hunter Renfrow is a great receiver, but there are too many pass-catchers on the Raiders for him to reproduce last year's results. Marquise Brown is in Arizona meaning Rashod Bateman likely only has to fight with Mark Andrews for targets in Baltimore. Bateman should exceed Brown's totals of a year ago and at this price (WR34) should be a huge steal.

Highest Floor – Renfrow may not have a high ceiling with the arrival of Davante Adams, but he still runs some of the best patterns in the league. Even Chargers' safety Derwin James admitted to such, just a couple of days ago. A year ago Renfrow caught 103-of-128 targets. That's over 80% and pretty much unheard of at the wideout position. He'll get enough work to keep you in the game every week.

Bust Potential – Elijah Moore had a nice season in 2021 for a rookie (43-538-5) in 11 games, but the competition for targets will be a lot tougher in 2022. Corey Davis was injured for a lot of 2021 and the team spent a No.1 pick on Ohio State's Garrett Wilson. They also used a second-round selection on running back Breece Hall a do-everything guy from Iowa State. Moore might actually be a better player than last season and still not see a drastic increase in fantasy value due to all the talent the Jets have brought in on offense to help their young quarterback Zach Wilson.
Round 9 –

Highest Ceiling – Remember what I said about Hurts, that running quarterback make elite fantasy options? Trey Lance could be one of those guys. I think he has the talent. He certainly has the pass catchers (Deebo Samuel, Brandon Aiyuk and George Kittle). It's a matter of how quickly he puts it all together. It could be this year or it might not happen until 2023, but it's more than likely going to happen.

Highest Floor – Robert Woods is a huge talent who appears to be healthy after a November ACL injury. He's going to be the steadying force in the receiver room for quarterback Ryan Tannehill and likely his first look early in the season before rookie Treylon Burks is ready to be the WR1. Woods played opposite Cooper Kupp and managed to average 15.7 FPts/G. He should be able to produce close to that in Tennessee.

Bust Potential – We just mentioned the Jets drafting of Hall a little bit earlier, but that probably puts Michael Carter on the back burner as far as rushing chances. He's a nice back and a handcuff for Hall, but he's not a standalone guy like Hunt, and can only have value if the starter is injured.
Round 10 –
Highest Ceiling – Marlon Mack was supposed to win this job, but the fourth-round pick Dameon Pierce, appears to be on the way to winning the starting role in Houston. If that's the case, he could be a RB2 despite being the 41st running back off the board. He'd still have to fight off journeyman Rex Burkhead and Mack, and the fact that the Texans play from behind more than with the lead, but he's got the best upside of this group.
Highest Floor – When you play behind Jonathan Taylor you better make the most of your opportunities and Nyheim Hines has done that. He's averaged 4.5 ypc and 52 catches a season the past two years, but didn't get enough work in 2021. The coaches admitted that and claimed they would get him more work in 2022.
Bust Potential – Chase Claypool exploded on the scene in 2020 (62-873-9), but regressed a bit last season (59-860-2). Some of that was due to Big Ben's failure. Smith-Schuster is gone, but the team brought in talented George Pickens who has looked pretty good this preseason. Claypool and Pickens will have to fight for the leftovers after Diontae Johnson gets his share. If Pickens is for real, Claypool could be the odd-man out.