Week 2 is often a reaction week in the NFL. If teams do not change up their game plans from Week 1, often they struggle in Week 2. This seems to be what we saw from a team like the Saints, who crushed the Packers in Week 1 only to be embarrassed by the Panthers in Week 2. We also saw the Chiefs have their top option, Tyreek Hill, completely shut down by the Ravens.

The same is true for fantasy in a sense. Often we think we have our teams figured out after Week 1, and a dominant win has us thinking our team is going to stroll into the playoffs. This can lead to a rude awakening in Week 2. But whether you are 2-0, 1-1, or 0-2, remember that itís still early. Donít get overly confident, or overly down. Now is the time to grind, and learn, and use data to help you make the smartest decisions possible. So letís dive in to some important data from the skill positions...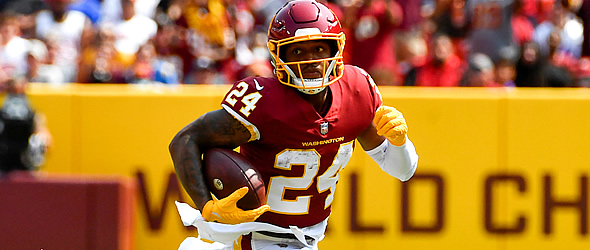 Running Back
Wide Receiver
Kenny Golladay played on 84% of snaps for the Giants and saw 8 targets (3-38). He struggled, dropping a few balls and looking out of sync with Daniel Jones. Meanwhile, Sterling Shepard played on 93% of snaps and received 10 targets (9-94). It certainly appears that Shepard is Jonesí favorite target, and thatís two weeks in a row heís led the Giants receivers. Golladay has more season-long upside, but I would avoid him for now. Shepard is a decent flex play for as long as this hot streak lasts.


With Curtis Samuel out, Dyami Brown played on 87% of snaps and received 6 targets (3-34). Heís still learning the pro game, but if youíre desperate at receiver he could have a nice week or two during this stretch without Samuel (out at least until Week 4).


Terry McLaurin played on 100% of snaps, impressive for any receiver. He received a whopping 14 targets, a 30% target share. He turned those into 11-107 and a score. He is a weekly must-start, regardless of who is at quarterback.


Adam Humphries surprised in Week 2, playing on 70% of snaps and clicking immediately with Taylor Heinicke. He received 8 targets (7-44). I would not add him at this point unless you are in a very deep league. Most weeks he will have closer to 2 or 3 receptions.


Marquez Callaway played the most snaps among the Saints receivers (73%), but got only 4 targets (2-8). I am not taking much from this Saints game, although any team looking this bad is concerning for season-long fantasy upside.




D.J. Moore, for the second straight week, showed that he is clearly the No.1 receiver in Carolina. He played on 88% of snaps, 9 more snaps than Anderson, and received 11 targets (8-79-1). Thatís a 29% target share, which is elite. Start Moore every week, regardless of matchup.


The Bengals played in 11 personnel (3 wide receivers) almost the entire game. All three of Tyler Boyd, Tee Higgins, and Ja'Marr Chase played over 87% of snaps. Chase actually played 1 more snap than Higgins and 3 more than Boyd, but he received the fewest targets (4). He salvaged his day with a late score (2-54-1). While the output was frustrating for fantasy managers, he is out there a ton and it was a frustrating day overall for the Bengals offense. Higgins received a 33% target share, garnering 10 of 30 targets (6-60-1) and Boyd got 9 (7-73). These players will trade off having big weeks, but Higgins and Chase are worth a start every week.


It was another encouraging day for Darnell Mooney. He played on 89% of snaps and led the team with 8 targets. That was good enough for a 33% target share on a day when they only threw 24 passes. If this offense ever starts clicking, Mooney could be a league winner. Iíd grab him now if you can, but just remember it might be mid-season before the offense picks up steam.


Brandin Cooks played on 92% of snaps in Week 2 and received a ridiculous 14 targets on only 29 throws (48% target share). He turned those into 9-78-1. I knew Cooks would be their only option in the passing game, but I did not expect them to have this much success. If you took Cooks in the middle rounds, you have to like his production so far.


Cooper Kupp was again the top receiver for the Rams, with Robert Woods their 1A. Kupp played on every snap, and Woods played on all but 1 snap. Kupp received a 37% target share and Woods a 30% target share. Kupp had 9 catches for 163 yards and 2 scores, and Woods had 5 catches for 64 yards. There will be weeks when Woods out-produces Kupp, but for the second week in a row it was Kupp going hog wild. Both are every-week starters.


Michael Pittman Jr. did in Week 2 what I was expecting him to do in Week 1. He took over the receiving work for the Colts, garnering a 33% target share and producing 8 catches on 12 targets for 123 yards. It seems he is clicking with Wentz (ankles), and this could make him a very viable option this season.


With Jerry Jeudy injured, Courtland Sutton came to play. He received a 35% target share, going 9-159 on 12 targets. No other receiver saw more than 4 targets (Fant got 6), so it was truly the Sutton show. It was extremely encouraging that he was clicking with Bridgewater, and bodes very well for the rest of his season. The only thing to keep in mind is that it came against the Jaguars, so he will face tougher tests.


Tim Patrick and KJ Hamler both played on more than 70% of snaps. Patrick received 4 targets (3-37-1) and Hamler received 3 targets (1-5). It seems that either Hamler is simply not very good or he is just not clicking with Bridgewater. Patrick is a low-end flex option while Jeudy is out, but Hamler looks like he can be dropped.


The Jaguars have looked awful two weeks in a row, and neither receiver has been able to produce much. In Week 2, D.J. Chark had 4 targets and only caught 1 for 19 yards. Laviska Shenault had 7 targets but only caught 2 for -3 yards. While they both played on 80% of snaps, until the offense starts clicking (if they ever do), both will be fairly useless. Marvin Jones (88% of snaps) seems to be Lawrenceís favorite target and had 6-55-1 on 11 targets. But, it is difficult to trust any Jaguars players at this point.


The Billsí receiving group is clear. It is Stefon Diggs, then Emmanuel Sanders, then Cole Beasley, then Gabriel Davis. Thatís the order we have seen in the first two weeks for snap share and target share, so thatís how I see it playing out. Sanders and Beasley will both have spike weeks and both will disappoint in other weeks. Davis will have weeks when he scores, but other weeks when he doesnít see a target (like Week 2).


With Will Fuller out, it was DeVante Parker and Jaylen Waddle who dominated the work for the Dolphins at receiver. Preston Williams did return and played on 30% of snaps, and Albert Wilson got 55%. But Parker (74%) and Waddle (64%) got most of the looks, garnering 9 and 8 targets, respectively. The offense looked bad and lost Tua Tagovailoa early in the game to a rib injury, but these are two to keep an eye on as we move forward.


Jakobi Meyers and Nelson Agholor both played over 85% of snaps, but neither did much (4-38 and 4-28, respectively). Neither should be started until this offense shows it can produce more yards and points.


Passing games donít get much worse than the Jets. Zach Wilson threw four interceptions and zero touchdowns. Elijah Moore led the receivers with 78% of snaps, so that was encouraging, and he also received 8 targets (4-47). Corey Davis only produced 2 catches for 8 yards on 5 targets. This is not surprising, since Belichick always tries to take away the top option for the opposing team, and he again did it effectively. Better days are ahead for Davis and Moore, as long as Wilson can figure out how to protect the ball.


Deebo Samuel led the way again for the 49ers receivers, playing on 70% of snaps and receiving 8 targets (27% target share). He caught 6-93. He is clearly the top option in the passing game, so start him with confidence until that changes.


Meanwhile, Brandon Aiyuk saw about half the snaps (54%) and received only 2 targets (1-6). He must be benched until he is playing more.


DeVonta Smith received 7 targets, a 30% target share, but caught only 2 for 16 yards. Reagor saw 5 targets, a 21% target share, but only caught 2 for 5 yards. Hurts went 12-23, so it was a rough day for the Eagles offense in general, which is concerning.


It was the best game of Henry Ruggsí young career. He played on 67% of snaps and got 7 targets, catching 5 for 113 yards and a score. Certainly his day would not have looked as good without the 61-yard score, but that counts. He moves into weekly flex consideration.


The Steelers worked hard to get Chase Claypool involved, peppering him with 9 targets. Unfortunately, he only caught 3 of them. His upside is immense, but he must continue to improve his overall game in order to reach that upside. Meanwhile, Diontae Johnson again led the way with 12 targets, and caught 9 for 105 yards. He is a weekly must-start due to his involvement in the offense. Finally, JuJu Smith-Schuster was third with 7 targets, catching 6 for 41 yards. However, JuJu led the way in snap share (96%) and also is worth a weekly start, despite having a much lower upside.


Adam Thielen played on 100% of snaps and scored again. He got 7 targets, a 22% target share. Justin Jefferson played on 87% of snaps and also scored, but received 10 targets (an elite 31% target share). Jefferson only went 6-65-1, but it could have been a bigger day. KJ Osborn played on 59% of snaps and caught 5 of 6 targets for 91 yards and a score. Most of his production came on an early 64-yard touchdown, so he is definitely behind the other two from a snap and target share perspective.


Rondale Moore led the Cardinals in receiving in Week 2, catching 7 of 8 targets for 114 yards and a score. That included a 77-yard touchdown reception and he finished with a 22% target share. This was a breakout performance, but donít overreact since without the long touchdown the stats would not be dominant. He also only played on 46% of snaps. Still, this was a very encouraging performance.


DeAndre Hopkins received only 4 targets on the day, an 11% target share. He caught them all for 54 yards and a score, salvaging his day. The Vikings schemed to take him away, so Iím not concerned about this result. A.J. Green also scored, his first TD as a Cardinal, and he caught 3 of 6 targets for 44 yards. Even Christian Kirk was involved, catching 3 of 4 for 65 yards. All three played on more snaps than Rondale Moore, but that is likely to change.


As expected, Mike Evans bounced back from a sub-par Week 1, catching 5 of 9 targets for 75 yards and two scores. Keep him in your lineups. Yes, he is volatile, but yes, he will win you weeks.


Meanwhile, Antonio Brown showed why he was selected after both Evans and Godwin in drafts. He played on 44% of snaps and caught one of his three targets. He is even more of a boom-bust option, and whether or not you start him should depend on your other options and the Bucs opponent.


Amari Cooper and CeeDee Lamb both played almost all of the snaps. Cooper finished with only 5 targets (3-24), as the Chargers looked to take him away. Lamb finished with 9 (8-81), and looked great. Lamb will continue to push for lots of targets every week, and both should always be in your lineups.


Mike Williams and Keenan Allen both played over 75% of snaps and both were busy. But it was Williams who again led the team in targets, with 10. That was a 24% target share, while Allen received 8 (19%). Williams turned those targets into 7 catches for 91 yards and a score, his second elite line in as many weeks. He is looking like one of the steals of draft season early on, and you should have him in your lineups. Allen went 4-108 and will have some huge games too, and is still a weekly must-start.


Julio Jones had his welcome party to the Titans, leading the team with 6 receptions for 128 yards. Teams are going to have a hard time knowing who to double-team on a weekly basis. A.J. Brown struggled and finished with 3 receptions for 43 yards, on 9 targets. However, he played on 84% of snaps, so I am confident bigger days are coming for him.


Tyler Lockett had another huge day, finishing with 8-178-1 on 11 targets. That was good enough for a 35% target share! DK Metcalf also had a 35% target share in this concentrated offense, but was only able to produce 6-53. Both should be in your lineups weekly, as the spike weeks will come for Metcalf.


Tyreek Hill played all but one snap and was simply doubled on every play. He finished with only 4 targets (3-14), likely his worst game of the season. The Chiefs will work on this and find ways to get him the ball, as it made a big impact. Without him being open the other receivers did step up, with Hardman going 5-55 on 8 targets, Robinson 3-46-1 on 4 targets, and Pringle 2-63-1 on 2 targets. But KC missed Hill.


Marquise Brown has had a fantastic start to his season. He again led the Ravens in receiving, catching 6 of 10 targets for 113 yards and a long touchdown. In any game where the Ravens will need to throw the ball, he is an excellent start.


With Tyrell Williams out, it was Quintez Cephus who stepped in as the No. 1 option for the Lions. He got 7 targets (4-63-1), and played on 89% of snaps. Since he played well, he may have earned himself the chance to remain a full-time player. As a result, he is worth a pick-up in most leagues.
Tight Ends
---
Kevin Scott is a fantasy pro who has made over $100,000 playing fantasy football. Catch his podcast "Grinding the Data" and you can follow him on Twitter @kevinscottff.