"You can't really know where you are going until you know where you have been."
- Maya Angelou
I am about to begin my 17th season of being an analyst for FFToday. In that time, I have never submitted a ranking list in June or July. There are several reasons for this, including that I do not want to be tempted to defend my "priors" under any circumstance. One of the more annoying trends I see now in the fantasy industry is people that have their "research" and rankings done a week or two after the NFL Draft. Those same people somehow feel the need to refresh their rankings multiple times over the summer for what I can only imagine must be either sheer boredom or the need to conform to consensus rankings.
The bigger reason that I have never done early rankings is that I believe there is more bad than good that can be gained from drafting early. For every early April draft where a manager benefits from landing Breece Hall in the fifth or sixth round, I believe there are at least two times as many mistakes made - whether we know them at the time or not - that make early drafts (before mid-August) an exercise in futility. Did you love that mid-summer Gus Edwards pick in the 12th round in the two or three days following J.K. Dobbins' ACL tear last summer? How about the June or early July selection of Travis Etienne? Cam Akers?
So why the change this year? There are multiple reasons, including the money that is now available to be won in best-ball drafts. Another equally important reason - and I would argue the most important - is to show how important having a process can be in constructing accurate rankings. At the very least, plenty can be learned from evaluating where we stand on a player and/or his situation in early June versus late August or early September.
To recap, I have not made a single projection or analyzed a single matchup yet. This top 150 list is merely how I feel right now about each player, his situation and most likely role in his offense. My goal with this article is to discuss several key players and why their early ADP could be a blessing or a curse.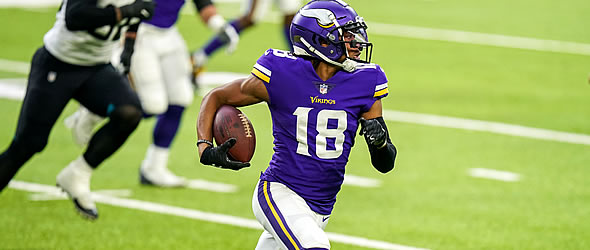 Top 10
Jonathan Taylor figures to be a popular 1.01 selection in an overwhelming number of drafts, but there are at least a few reasons why that should not be the case:
1) The Colts figure to have a lot more confidence in Matt Ryan throwing the ball than they did Carson Wentz over the second half of last season, making it unlikely Taylor sees another 332 carries. (All of Taylor's 20-plus carry games came in Week 10 or after.)
2) While Taylor could theoretically make up for a reduced rushing workload with more targets (he had 53 last year), it is also possible that HC Frank Reich and his staff will use Ryan's tendency to lean on his running backs in the passing game as an excuse to get Nyheim Hines more work than he saw in 2021.
3) Will new DC Gus Bradley's defense enjoy the same kind of success keeping opponents off the board as former DC Matt Eberflus' units did? Indy has the talent to maintain its defensive reputation, but Bradley's track record - especially recently - is not all that great. His defenses typically struggle to turn opponents over and have consistently ranked in the bottom half of the league in stopping the run.
Taylor's potential warts are likely less concerning to fantasy managers than those of any other back, however, which is why he tops the chart.
Christian McCaffrey's injury history figures to scare more than a few managers, and there is reason to suspect Carolina wants to lighten his load. The addition of D'Onta Foreman suggests the Panthers may want to cap CMC at 18-20 touches each week and avoid the games where he handles 28-30. McCaffrey would still be a high-end RB1 if that comes to fruition, but he may not be able to challenge for overall RB1 production in such a scenario.
Najee Harris may be the odds-on favorite to lead the league in touches for a second straight season, especially considering he could play about half of his games with a rookie quarterback (Kenny Pickett). Even if Mitch Trubisky somehow holds onto the starting quarterback job all year, he is not the kind of player Pittsburgh wants throwing the ball 40 times per game. Much like Taylor, Harris is built to take a pounding, so it does not feel like a stretch to believe he can handle another 350-plus touches if needed. On the downside, the Steelers' offensive line should be better than it was a year ago, but it is still probably the weakest of any surefire fantasy starter at running back.
Austin Ekeler does not carry near the injury concern McCaffrey does at the moment, but he lacks the potential workload upside. The Chargers have made it clear in recent years that they want to preserve Ekeler with their early Day 3 choices of Larry Rountree III and Joshua Kelley. Isaiah Spiller is their most recent attempt at trying to solve their RB2 problem and most likely their best. Before last year's 276 touches, Ekeler's high water mark was 224. That seems more reasonable this year, especially if Spiller proves he is up to the challenge. Spiller is a strong bet to steal at least a handful of Ekeler's 20 TDs from 2021, making it unlikely the veteran will match any of his numbers from a year ago.
Cooper Kupp will likely be the most popular choice to be the first receiver taken off the board. Much like Taylor, however, there is reason to be skeptical though. The 29-year-old (birthday is on June 15) scored an NFL-high 16 receiving touchdowns last season after posting 24 in his first four seasons combined. Kupp's 37 red-zone targets (13 of which were TDs) and 18 looks inside the 10 (nine TDs) were all league-leading marks. While we can attribute some of that success and volume to his overall improvement, a massive upgrade in quarterback play and the chemistry he has with Matthew Stafford, the undeniable truth is that Kupp was the team's best red zone weapon even when everyone was healthy. The arrival of Allen Robinson casts some doubt on that distinction. Kupp's 2022 production was already unlikely to be repeated due to sheer luck, but Robinson's presence also makes it highly improbable that Kupp will come close to matching any of the touchdown or red zone numbers mentioned earlier. A healthy Kupp is almost certain to push for 120-plus catches, but fantasy managers need to expect something closer to 1,300-1,400 yards and 8-10 TDs as opposed to what he did in 2021 (145-1,947-16).
11-20
I could care less about June ADP and only minimally care about it in August or September. However, early returns suggest Saquon Barkley, Aaron Jones, D'Andre Swift, Leonard Fournette and Nick Chubb are coming off the board no earlier than the mid-second and sometimes as late as the early-to-mid third round. That is insane. A case can be made for Fournette being too high on early draft boards if Rachaad White manages to impress in training camp and builds enough trust to split work in the passing game. It is not a strong case, but one worth pondering. With the others, I don't get where they are valued in mid-June. Consider:
Barkley - I appeared recently on the Ride or Dynasty podcast (shout out to JJ Wenner). Since I went into a fair amount of detail as to why I like Barkley this year and beyond on the pod, I will make this one short. (Pick it up right around the 34-minute mark for Barkley.) It is worth mentioning that while New York could add another decent running back for cheap in free agency at any time this summer, the Giants appear ready to enter camp (and potentially the season) with Matt Breida as the main backup to Barkley. In short, Barkley appears to be a near-lock for at least 70 percent of the backfield work this year. If he stays healthy this year, it is not out of the question he could make a serious run at the 91 catches he made as a rookie in 2018.
Jones - Since the start of the Matt LaFleur era in 2019, Jones has averaged 5.5 catches (on 6.5 targets) for 55 yards per game without Davante Adams (seven-game sample). Even if he does not somehow experience a bump in passing-game work in 2022 with Adams off the roster, that pace puts Jones on track for 94 receptions, 110 targets and 935 receiving yards over a full season. Those are solid to very good WR2 numbers. Now, how will Adams' 169 targets from 2021 be redistributed? How about Marquez Valdes-Scantling's 55 targets? That is 224 vacated targets that will not all go to Robert Tonyan, Sammy Watkins, Allen Lazard, Randall Cobb, Amari Rodgers or rookies Christian Watson and Romeo Doubs.
Never mind that Jones has scored at least 10 times every year under LaFleur and averaged at least 4.6 yards per carry in all five of his seasons as a pro. At worst, Jones should have a floor of a younger Alvin Kamara and a ceiling of 2021 Austin Ekeler. AJ Dillon is a real threat to lead the team in all rushing categories this year, but Jones' relative lack of (perceived) rushing volume isn't going to matter all that much if his receiving floor in PPR leagues starts somewhere around 160-170 fantasy points.
Swift - While attention spans and memories appear to be shorter than ever in the world today, I could not have imagined how quickly people would forget about how much of a beast Swift was before his Week 12 injury. Through 11 weeks, he led all running backs with 53 catches and 67 targets. He ranked 13th among running backs with 137 carries. Swift was also the overall RB5 (in total points) over that span.
What has changed from last season to this season? His offensive line got healthy. His supporting cast improved. Former OC Anthony Lynn was let go. Swift added muscle. Jamaal Williams proved he is more of a backup running back as opposed to a 1B option. What stayed the same? Jared Goff is still the quarterback, which makes it unlikely speedsters like rookie Jameson Williams and/or D.J. Chark will see the kind of volume they might be getting in an offense led by Patrick Mahomes or Justin Herbert. Barring another injury, it is hard to fathom how Swift won't enjoy the best season of his pro career. Last year, he totaled nearly 1,100 yards and seven touchdowns despite seeing very little action after Week 11. If Swift can play more than 13 games for the first time as a pro in 2022, he is a strong candidate to be this year's Ekeler.
Chubb - In two seasons under HC Kevin Stefanski, Chubb has finished as the RB12 (2021) and RB9 (2020) in fantasy points per game. It only makes sense then that he is typically the 11th or 12th back off the board. Right? Not so fast. Yes, Kareem Hunt is a nuisance to Chubb and his managers. Yes, Hunt takes too much of Chubb's receiving work. Now, here is why Hunt is not enough of a reason to let the 26-year-old slide in drafts to the point where he can be paired up with Jonathan Taylor or Kupp. Cleveland's all-world offensive line struggled to stay healthy last season. Behind essentially the same line one year earlier, Chubb was on pace to run for over 1,400 yards and 16 TDs. He did that with a quarterback few feared and one receiver who warranted defensive attention (but struggled to stretch the field). Amari Cooper represents a slight upgrade on Jarvis Landry, David Njoku is a sizable upgrade over Austin Hooper and Deshaun Watson is an enormous upgrade on Baker Mayfield.
Imagine what Chubb's ceiling could be if he was capable of rushing for 5.5 YPC in an offense with no viable run threat under center or a quarterback/receiver group mostly incapable of scaring defenses deep. Watson's presence - whenever it officially happens - is a scary proposition for opponents because it means the Browns have two players who can make Stefanski look good even when he is wrong. Crash down too hard to stop the run with Chubb and Watson comes out the backside and runs for 25 yards. Wait for Watson to roll out and watch one of the best pure runners in the league exploit the cutback lane for a 40-yard gain. There is little question Watson will make the Browns a better offense, which should give Chubb more scoring opportunities. If Watson somehow manages to avoid a lengthy league suspension (it seems almost pointless to guess what the NFL will rule at this point), Chubb could push for 15-plus scores. If Watson sits more than half of the season, then the Browns are almost certain to be as run-heavy as any team in the league with Jacoby Brissett taking snaps. That benefits Chubb too.
21-70
While his ADP varies slightly from site to site, Marquise Brown appears to be going in the fourth round quite frequently. This seems like a sizable overreaction to what he did while Rashod Bateman was recovering from injury. He will likely only be his team's top receiver for six games this year. (How likely is it that he would overtake DeAndre Hopkins?) Even while Hopkins serves his suspension, Brown may have to share the title of No. 1 target in Arizona with Zach Ertz. Brown is highly unlikely to experience a huge spike in touchdowns regardless of whether Hopkins is on the field. At best, fantasy managers should expect Brown to be an upgrade on Christian Kirk - albeit a slight one. The idea he can be a top-20 receiver this year is not far-fetched, but I would much rather have players like Travis Etienne, Brandin Cooks, Darnell Mooney or Allen Robinson around the same area.
Speaking of Hopkins, he becomes a screaming value if he lasts until the seventh round. Ask most drafters what they would be willing to pay for roughly eight weeks of WR1 or high-end WR2 production (and had the benefit of time to prepare for his absence - as opposed to a receiver getting hurt in Week 1). The answer would likely be somewhere around Round 5. In the seventh round, there is a very good chance managers will already have three receivers and three running backs on their rosters. Hopkins is a known quantity and a lineup staple; while his suspension removes him from the non-WR1 conversation, how is he much different from Chris Godwin entering the season? After all, there is no guarantee Godwin (ACL) will be his usual self by the time Hopkins returns. It is conceivable that Godwin begins the season at less than 100 percent and needs to work on a snap count in September. He may not suit up until October. Where will he be physically when Hopkins is back in Week 7? Who will fantasy managers prefer at that point? At the very least, Hopkins belongs in the same tier as Godwin.
Las Vegas is an interesting team for fantasy purposes for multiple reasons in 2022, in part due to the arrival of HC Josh McDaniels. It likely means good things for every key member of the passing game. The same cannot be said at running back. On one hand, the Raiders' decision to decline Josh Jacobs' fifth-year option could be a sign that Las Vegas will run him into the ground. However, McDaniels' history suggests that will not be the case, as he was one of the first coordinators to rely so heavily on specialization in the backfield. Drafting Zamir White and adding Brandon Bolden and Ameer Abdullah to the backfield mix that already includes Jacobs and Kenyan Drake also does not suggest Jacobs will see a fourth straight season of 250-plus touches.
Some sites have his ADP in the fourth-round range. It seems highly improbable that he will return that kind of value unless he finds the end zone at a ridiculous rate, which is a possibility considering the firepower the passing game now possesses. With that said, it is not good process to pin your hopes on a running back scoring at a career-high rate when he is almost certain to see a career low in touches. Furthermore, White is physical enough to steal at least some - if not most - of the goal-line work if McDaniels takes the committee backfield approach to the next level.
71-150
Two receivers that are starting to grow on me as the summer begins are Hunter Renfrow and Kadarius Toney. The reasons are simple: McDaniels' offenses in New England routinely leaned heavily on the slot receiver. From Wes Welker to Julian Edelman to Danny Amendola and Jakobi Meyers, the slot was usually busy. Was that just a Tom Brady thing? Let's assume I am right for a second and McDaniels makes Renfrow a priority.
To be clear, I do not expect a repeat of Renfrow's 103-1,038-9 line from a season ago. Davante Adams will take a large chunk of Renfrow's 23 red zone targets (18 receptions, nine TDs) and 13 targets (eight catches, six TDs) inside the 10. Darren Waller will almost certainly take more than he did last year as well with Adams likely to draw most of the defensive attention. Even though he will be fighting for attention with two of the best players at their positions in the league, Renfrow is too creative as a route-runner and gets open too quickly behind what projects to be a shaky offensive line (allows quick pressure, in other words) to be cast aside. A seventh-round fantasy draft pick sounds about right for him, so anything after that should be a solid value.
Toney may end up on 90 percent of my teams if he continues to hang around until the ninth or 10th round. Anyone who followed him during his rookie season knows it was a bumpy ride - one that was defined by immaturity and injuries. Most of us also saw how dynamic of an athlete he is in the open field. I made it clear how I felt about him in the short write-up I did about him on the night he was drafted in April of 2021. Early reports suggest he is taking positive steps toward being a pro football player with his work in the classroom this offseason, and we can probably trust new HC Brian Daboll will be able to use him in a much better way than former OC Jason Garrett did. Daboll figures to covet Toney's ability to create yards after the catch, and it would not surprise me if he sees shades of Deebo Samuel in the second-year wideout (as I noted in my aforementioned draft write-up of Toney).
I know, I must be crazy for ranking Rashaad Penny outside the top 100 and ranking him about 2-3 rounds behind Kenneth Walker. I am somewhat surprised most ADP sources seem to have the rookie over the veteran, but it is not that hard of a call to make. Last year's second-half surge against a slate of bad run defenses was the first extended run of good health Penny has enjoyed in his pro career. While I do not believe in "injury-prone" players, we have plenty of evidence to tell us Penny is not a great bet to hold up for a full season. Let us take a deeper look at what is working against him:
1) he has not played more than 10 games since he was a rookie in 2018,
2) he is working on a one-year deal and will face competition from a second-round draft choice,
3) he has yet to catch 10 passes in a season,
4) Chris Carson (neck) could return at some point,
5) Seattle figures to work in negative game script a fair amount this year.
There are probably more obstacles working against him, but that is a decent list. Penny legitimately needs his backup to miss time for him to reach his upside. Even then, he would likely only be an early-down back on a rebuilding team that figures to start two rookies at offensive tackle at some point. Unlike Penny, Walker would likely be featured in the likely event the former misses more time, so he has more upside than the former first-round pick. When both are healthy, they will likely split time. There are not too many avenues Penny can take to be a fantasy RB2 option. It might even be tough for him to maintain consistent RB3 status if he cannot secure more of a role in the passing game.