One of the more difficult tasks each year is creating a set of realistic team projections when no roster remains the same from season to season. Team projections are often necessary for fantasy enthusiasts because it keeps our individual projections in check. To create accurate individual projections each summer, it is vital to be able to set expectations. Expectations can be hard to set without established parameters.
For the most part, fantasy analysts who take this kind of approach to projections can generally assume teams will attempt somewhere between 500 and 650 passes. It is a wide range, but understanding each team's personnel, scheme and overall philosophy are pieces to the puzzle. Understanding which pass-catchers will get their targets almost regardless of what the defense does is another key factor.
The goal in this space will be to set realistic individual target expectations as we inch closer to Big Board season.

See 2021 Target and Reception Data table listed below.
Arizona
Due to injury, Kyler Murray only played in four of the seven games DeAndre Hopkins missed last season (Weeks 15-18) - not including the playoffs. In those contests, Zach Ertz had a 26.4 percent target share (43 of 163 total targets during that stretch). Christian Kirk was next at 20.2 percent and A.J. Green was third at 16. This is noteworthy because Marquise Brown is expected to assume the alpha role in this offense with Hopkins serving a season-opening six-game suspension. Furthermore, it seems likely Hopkins will return to his usual target hog role when he is able.
The above four-game sample from late last season also would seem to suggest that Brown is not guaranteed to be an alpha before Hopkins comes back either. Sure, Green will probably slide back into the 10 percent range and Brown should be able to pick up where Kirk left off, but fantasy managers need to account for an increased role for Rondale Moore and the possibility Ertz remains a target hog himself. Last but not least, HC Kliff Kingsbury's offenses (college and pro) have long been about spreading the wealth when a clear alpha does not exist on the roster. Can we assume Brown will not only quickly establish himself as the No. 1 target in Hopkins' absence, but also share the title with him and knock Ertz out of the equation when the three-time All-Pro returns? It is a big assumption to make.
Atlanta
It is not hard to find a path for Drake London to attract 100 targets as a rookie since he figures to fill the void left behind by Russell Gage, who fell just shy of the century mark despite missing three games. Pitts managed a 20 percent target share as a rookie despite being a tight end working out of the slot (241 snaps) and out wide (188) more than in-line (120). Will Cordarrelle Patterson work more as a receiver or a running back in 2022? (Patterson played 294 snaps in the backfield versus 65 in the slot and 97 out wide in 2021.)
Some of that will likely depend on how effective rookie Tyler Allgeier is doing what Atlanta hoped Mike Davis was going to do last year. Another season of 153 (or more) carries for Patterson - combined with another target share of around 12.5 percent - is entirely possible given the alternatives on the roster after Pitts and London. Bryan Edwards may be the difference. If HC Arthur Smith can find more use for him than the Raiders did (and, dare I say, unlock him as he did Patterson), it might be enough to make Patterson more of a lead back in a committee - with his main focus being on a runner - than being a Swiss Army knife.
Carolina
Easily the most important factor in the Panthers' target distribution is Christian McCaffrey's durability, if only because it accentuates D.J. Moore's run-after-catch ability and bumps Robby Anderson into more of a third receiver role. In his three healthy seasons, McCaffrey has never recorded fewer than 113 targets or settled for a target share of less than 22.7 percent. A healthy CMC probably means Moore settles for something approaching 140 targets and a 25 percent target share (as opposed to 163 and 28.5 last year, respectively). It is not a big drop, but he needs some positive touchdown regression (and/or better quarterback play) if he is going to reach the ceiling that so many believe he has.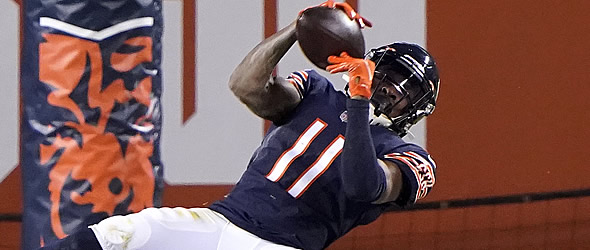 Chicago

If Darnell Mooney was able to garner a 27 percent target share with Allen Robinson around for roughly three-fourths of the season, then 25 percent in an offense better suited to the talents of Justin Fields and his top receiver should be his floor in 2022. The same might be true for Cole Kmet, who should only be more involved with the likes of Jimmy Graham no longer around. Both players should be a lock for 100-plus targets and a combined target share of around 45 percent.

After that, it gets tricky. Byron Pringle and Velus Jones will obviously be involved, but a 10 percent target share for each one might be worth about only 55 looks. If David Montgomery had stayed healthy all of last season, he might have pushed for 60-plus targets. Under new OC Luke Getsy, it seems like a safe bet he will pass that mark.

Dallas

The first noteworthy thing to mention about targets with the Cowboys is that they have three players top 100 in consecutive seasons. Since Michael Gallup's ACL injury figures to keep him from joining CeeDee Lamb and Dalton Schultz this year in that club in 2022 and Dallas has little reason to pass less this year (637 targets in 2021), there should be roughly 165 targets to fill left behind by Amari Cooper and Cedrick Wilson.

Lamb is a strong bet to take around a quarter of those looks and get into the 160 range, but what happens after that? If we assume that Dalton Schultz adds a target per game to last year's involvement (6.1), are we to believe that Jalen Tolbert and James Washington will take the other 105? Tony Pollard will have to be more involved almost by default, if only because most of his routes figure to be in the short and intermediate areas (unlike Tolbert and Washington). Do his targets come from what is left of the Tolbert/Washington bucket or from Ezekiel Elliott's 65 targets in 2021?

Detroit

One of the great mysteries entering the 2022 season is how much Amon-Ra St. Brown's second half was a product of him fully acclimating to the pro game versus being the last man standing. As a rule, receivers do not tend to keep up with a record-setting Cooper Kupp for a prolonged stretch unless they are legitimate. Were his numbers inflated because of T.J. Hockenson and D'Andre Swift's absences? Absolutely. Will his activity in the offense (119 targets, 21.2 percent target share) take a hit with D.J. Chark joining the group? How about when Hockenson, Swift and rookie Jameson Williams are healthy? Yes. Make no mistake, however; Detroit thinks he is still the man now in the passing game.

Let us draw up a plausible redistribution scenario in which the Lions do not exceed last year's 562 targets (33.1 targets/per game), especially since they want to run the ball and should be improved as a team overall. Let us keep Hockenson (7.0) and Swift (6.0) at their combined 13 targets per game since that is about where they were when they were healthy. A healthy Williams and Chark will probably combine for about eight per game since Detroit will want to take it easy on the rookie but also prepare him to be a full-time starter by midseason. That leaves us with 11 or 12 targets per game remaining, three or four of which will likely go to backups and role players. At worst, that puts St. Brown right back at the 119 targets and 21 percent target share he enjoyed last year.

Green Bay

How does any team redistribute 169 targets from one player? The answer is that the Packers will not redistribute them all, instead relying more heavily on Aaron Jones and AJ Dillon on the ground. Aaron Rodgers has thrown his support behind Allen Lazard as the likely beneficiary of Davante Adams' departure, and that is not a bad place to start. Quarterbacks tend to rely on the receiver(s) with which they have built some trust - especially Rodgers. That means Randall Cobb needs some love from fantasy managers again as well. Do not be shocked if Cobb (6.8 percent) more than doubles last year's target share and Lazard (10.5) comes close. HC Matt LaFleur promised reporters last month that Sammy Watkins is "going to be a big part of our offense," but his injury history would suggest he might have to settle for the Marquez Valdes-Scantling role in this offense.

As noted earlier, the biggest beneficiaries - outside of maybe Lazard - figure to be the running backs. Since the start of the LaFleur era in 2019, Jones has averaged 5.5 catches (on 6.5 targets) for 55 yards in seven games without Adams. This tweet thread provides some context on that seven-game sample and suggests Jones' supporters need to dial back their expectations. It is hard to imagine those marks decreasing if the receivers are only going to account for 55-60 percent of the target share. Dillon's focus should remain on the ground, but he could his target share move into the 10 percent range as he plays the Mark Ingram to Jones' Alvin Kamara from the Saints' offense a few years ago.

LA Rams

The connection between Matthew Stafford and Cooper Kupp will not be going away anytime soon. However, the 191 targets and 31.7 percent target share will not be repeated this year. History is not on his side and the arrival of Allen Robinson almost guarantees it cannot happen. Kupp's largest target share pre-Stafford was around 23 percent. While Kupp has firmly established himself as one of the league's premier receivers now and probably will not dip below 25 percent with Stafford at the helm, we have to understand that injuries to Robert Woods and Cam Akers and the inability of DeSean Jackson to get involved in the offense all contributed to Kupp's historic campaign.

It would be convenient to combine the targets and target share of Woods and Odell Beckham (117 and 19.5, respectively) to arrive at Robinson's potential activity in this offense, but his strengths and their strengths do not exactly match up. In a likely worst-case scenario, the Rams use Robinson in the same way the Bucs have utilized Mike Evans with Tom Brady in town. In a likely best-case scenario, Robinson and Kupp split around 300 targets fairly evenly. Van Jefferson's target share figures to fall from 14 to about 12 after he benefited greatly from Woods' extended absence. Tyler Higbee could also take a minor hit as well with Robinson serving as a more attractive option near the goal line.

Minnesota

Justin Jefferson has a strong case to be taken No. 1 overall in drafts this summer as a receiver who averaged nearly 10 targets per game (and enjoyed a 28.9 percent target share) in a run-based offense. The target share might come down a bit if Adam Thielen doesn't miss another four games in 2022 (although he has missed 11 over the last three seasons), but the number of targets available figures to go up dramatically from last year's 577 under new HC (and former Rams OC) Kevin O'Connell. The new ball coach told PFT Live back in March that Jefferson would be the Cooper Kupp of the new offense. Of course, that does not suggest Jefferson is in line for 191 targets this season, but it seems clear he (and not necessarily Dalvin Cook) will be the focal point of the passing game - if not the offense.

Somewhat by extension, Thielen and K.J. Osborn may end up becoming the new Robert Woods and Van Jefferson, respectively. Thielen's overall numbers should increase merely by playing more than the 13 games he did last year, although his 2021 target average (7.3) sounds about right. Cook might get the biggest boost of any Viking, however, as Minnesota has routinely underutilized him in the passing game. With at least 50-60 more targets available than last year, there is enough room to get Jefferson, Thielen and Cook 20 more targets apiece AND allow Irv Smith to replicate Tyler Conklin's 87 targets from a season ago.

New Orleans

The Saints played at a snail's pace last season and did not throw the ball much when they did snap the ball. With Alvin Kamara's status to begin the season still undecided, New Orleans may pick up where it left off last season. However, the Saints' offseason additions of Chris Olave and Jarvis Landry suggest they will have more than 474 targets available to pass-catchers in 2022, if only because they have more capable and/or proven receivers on the roster in 2022. Fantasy managers probably need to consider Michael Thomas a high-risk wild-card for the foreseeable future. It is more than a bit unnerving that he still has not been cleared yet from last fall's ankle surgery, no matter what the organization says about taking it easy on him.

Assuming Thomas is not 100 percent in September, Olave will likely handle WR1 duties and handle a target share of around 18 percent. Considering what the Saints gave up for him, he might stay at that mark for most of the season. Landry might as well be Thomas insurance for New Orleans. While Landry makes sense as the primary slot with Kamara and Thomas on the field, he also fits into the same general mold as Thomas as a short and intermediate receiver. With a healthy Thomas, Landry might settle for a target share of 10-12 percent. Without a healthy Thomas, he could go toe-to-toe with Olave. It is also worth noting Kamara only had 22 targets in Winston's six full games last season (good for a 20 percent target share). With all the receiving talent now in New Orleans, he might be hard-pressed to top 15 percent.

NY Giants

There may not be a shred of useful information regarding targets about New York players last season. Kenny Golladay was often hurt and rarely targeted downfield or in contested-catch situations, which are his strengths. Evan Engram is gone, Darius Slayton may not make this year's team, Saquon Barkley and Kadarius Toney were often not healthy and Sterling Shepard is coming off Achilles surgery.

Barkley averaged 7.6 targets as a rookie and only 5.0 in 28 games since. There is a distinct possibility he could match or even exceed his 121 targets from his remarkable NFL debut. At the very least, he should handle most of the 45 looks Devontae Booker is leaving behind in addition to the 57 he had a year ago. Golladay may never return to his banner days in Detroit, but there is a good chance he will be used correctly under new HC Brian Daboll - even if his target share does not rise above 16 percent. Toney could double last year's targets simply by absorbing the ones Slayton is likely leaving behind. If Shepard has to start the season on the PUP list, rookie Wan'Dale Robinson could have a sizeable role in the 10 percent range. More than likely, however, he will spend most of the season splitting snaps in the slot with Shepard.

Philadelphia

The Eagles have made it clear with their actions - especially the trade for A.J. Brown - that they would rather be more pass-heavy than run-centric, so it makes sense to look back at the first seven weeks of 2021 when they operated that way. Over that span, DeVonta Smith held a 53-31-31 target advantage over Zach Ertz and Kenneth Gainwell. Even Jalen Reagor (30) and Quez Watkins (26) saw significant looks. Ertz (4.4 targets through seven contests) is no longer around and Reagor (4.2) could be phased out as a result of Brown's arrival, leaving behind just enough targets to keep Brown busy while also not taking away looks from Smith (7.6).

A question worth pondering is if Smith is the WR1 in Philly as Brown suggested recently. That seems unlikely; it was probably more of a way for the ex-Titan to ingratiate himself to his new tag-team partner. Nevertheless, both players are more than worthy of handling a 20 percent target share; it is more of a matter of Hurts making those looks count. Dallas Goedert (16.3 target share) and Watkins (13.3) appear to be the biggest losers in 2022, as neither player can be expected to command a huge share with Brown and Smith expected to be so active.

San Francisco

Much like last season, there should not be much mystery about the 49ers' passing game in terms of who will get the ball. The one obvious difference in 2022 is what Trey Lance's presence means for the parties involved. While we cannot place much faith in the 71 throws Lance made as a rookie, it is at least notable that Deebo Samuel was the intended receiver on 23 of them. (George Kittle only finished with four targets, but he also missed one of the three games in which Lance saw significant action. Jimmy Garoppolo was hurt midway through another one of those contests.) Brandon Aiyuk only saw 10 looks.

Samuel emerged as the clear alpha in the San Francisco passing game last season and seems like a good candidate to come close to last year's 24.6 target share, especially if the 49ers back off on their usage of him as a running back as expected. Kittle is too good to just go away and will remain a key part of the offense, but San Francisco could end up being so devoted to the running game (given Lance's obvious ability as a runner) that he is used more for his blocking prowess than as a receiver. Still, his floor should be around a 15 percent target share. Stylistically, while Aiyuk is probably the best match for Lance and his rocket arm, he also seems like the most likely of the Niners' pass-catchers to take a hit. The emergence of Jauan Jennings as a quality slot option further muddies the picture.

Seattle

The Seahawks' WR-WR-TE trio (DK Metcalf, Tyler Lockett and Noah Fant) is as good as any trio in the league. Even Freddie Swain (or a healthy Dee Eskridge) is a more than capable third receiver. Now, about the quarterback(s) throwing them the ball. (For the sake of simplicity, we will assume Geno Smith ends up as the starter.) In Smith's three starts last season, Lockett held a 23-18 edge over Metcalf in targets. However, 13 of Lockett's looks came in a 31-7 thrashing of the Jags. Metcalf was surprisingly able to return solid WR2 value over that stretch.

Looking ahead to the season, Metcalf should probably command a 27 percent target share again. However, the quality of targets certainly will not be the same as they were with Russell Wilson in what should be a methodical, run-based offense. Lockett's fantasy appeal - not to mention his connection with Wilson - is relatively minimal as well even if he commands a 20 percent target share. Fant might be the one beneficiary from the group, as he is an upgrade on Gerald Everett and should get a chance to stretch the seam more often than he did in Denver. A 16 percent target share is probably a reasonable expectation for him.

Tampa Bay

The 2022 season is shaping up to be the most challenging of Tom Brady's short career with the Bucs. Chris Godwin, who averaged 9.1 targets/game before tearing his ACL last year, may not be right until midseason. Rob Gronkowski took his 7.4 targets/game into retirement, while Antonio Brown took his 8.9 targets … somewhere. The only moves Tampa Bay made to fill those voids were to sign Kyle Rudolph and Russell Gage (presumably to fill in for Godwin early and replace Brown when he returns) and draft Cade Otton. The Buccaneers probably will not come anywhere close to having 715 targets to distribute again this year as new HC Todd Bowles takes over for former HC Bruce Arians. However, just the absences of Gronk and AB open up 151 targets. Rudolph, Gage and Otton may not combine for that many. What will Tampa Bay do while Godwin is getting up to speed?

Bowles will probably try to rely more on the running game, but the stage is set for Evans to revisit the pre-Godwin days when he led the league in targets (173, 2016) - at least for the first month of the season or so. The selection of Rachaad White could take some of the shine off Leonard Fournette's activity in the passing game. With that said, how likely is it that Fournette would be minimized after signing an extension in March? Fantasy managers would be wise to see if White draws praise from Brady in August regarding his ability to pick up the blitz and run routes. If he does, he could be the complementary back Tampa Bay hoped Giovani Bernard was going to be in 2021.

Washington

Fun (or not-so-fun) fact: Terry McLaurin is one of only two receivers with at least 250 targets over the last two seasons combined that has scored fewer than 12 touchdowns (D.J. Moore is the other). McLaurin has drawn at least 130 targets in two straight years, so it would seem as though his 24 percent target share is safe despite the return of Curtis Samuel and the arrival of first-round pick Jahan Dotson. Washington's 534 targets from a season ago also sound about right for a team that wants to rely on running the ball and playing solid defense.

Finding a home for the other 400 or so targets requires answers to a couple of questions that we may not know the answer to until the season starts. Can Samuel stay healthy this year? Will Logan Thomas begin the season on IR? Dotson made a very favorable impression during spring practices, although that news should not have come as a shock. The rookie will not push McLaurin for team supremacy, but a 13-15 percent target share and a starting job in two-receiver sets ahead of Samuel is very doable. J.D. McKissic has been Washington's preferred option on long down-and-distance and two-minute situations since joining the Commanders, while Carson Wentz has not historically targeted the position very much. Add in more quality depth at receiver and it makes sense why Antonio Gibson will not be any more involved in the passing game this year.

Notes: All stats courtesy of Pro Football Reference. The cutoff to qualify for this list was 2.5 targets/game.


AFC | NFC


---
Doug Orth has written for FF Today since 2006 and has appeared as a guest analyst on several national sports radio shows and podcasts, including Sirius XM's Fantasy Drive, FantasyPros and RealTime Fantasy Sports. He is also a member of the Fantasy Sports Writers Association.