One of the more difficult tasks each year is creating a set of realistic team projections when no roster remains the same from season to season. Team projections are often necessary for fantasy enthusiasts because it keeps our individual projections in check. To create accurate individual projections each summer, it is vital to be able to set expectations. Expectations can be hard to set without established parameters.
For the most part, fantasy analysts who take this kind of approach to projections can generally assume teams will attempt somewhere between 500 and 650 passes. It is a wide range, but understanding each team's personnel, scheme and overall philosophy are pieces to the puzzle. Understanding which pass-catchers will get their targets almost regardless of what the defense does is another key factor.
Over the next two weeks, the goal in this space will be to set realistic individual target expectations as we inch closer to Big Board season.

See 2021 Target and Reception Data table listed below.
Baltimore
Mark Andrews likely just experienced his career year, especially in terms of commanding a 25.9 percent target share. Further complicating matters is that the Ravens have spoken openly about returning to their run-heavy ways. In none of Andrews' previous three seasons did a single Raven exceed 100 targets (including Andrews). Will Andrews or Rashod Bateman change that if Baltimore goes ground-and-pound again?
While Marquise Brown theoretically leaves behind 146 targets for Bateman, the second-year pro is unlikely to see that kind of volume due to OC Greg Roman's desire to return the offense to its roots. Andrews has also firmly established himself as Lamar Jackson's favorite red zone target AND Jackson has no problem calling his own number in those situations. Devin Duvernay appears poised to start, but how much does an increase to even a 12 percent target share (was eight percent last year) mean on an offense that may not reach 500 pass attempts?
Buffalo
Diggs' 164 targets and 26.4 percent target share were slight decreases from his amazing debut season with the Bills in 2020. Without an established veteran like Cole Beasley returning, those marks should be Diggs' floor in 2022. Dawson Knox was a revelation for about the first 12 weeks of the season, but the targets and touchdowns started drying up about the same time Gabriel Davis became more of a full-time player. There is a distinct possibility Knox does not match last year's production across the board unless he plays all 17 games this year (15 in 2021).
The real mysteries in Buffalo's passing game come down to how Beasley's work will be distributed and how much of it will go to Davis. Emmanuel Sanders was on pace for 108 targets through eight games before he began ceding time to Davis. Interestingly, the only game Sanders or Davis had a 10-target game was in Week 18. As far as replacing Beasley, will it be Jamison Crowder, Isaiah McKenzie or both? How does rookie Khalil Shakir fit into that mix? McKenzie is reportedly ahead of Crowder going into training camp, but Beasley's 2021 season is an example of targets and target share not meaning everything. What good is being the WR26 in targets with an 18 percent target share if he finished as the WR40 in PPR scoring?
Cincinnati
Despite missing three games last year, Tee Higgins was not very far behind Ja'Marr Chase in either targets or target share. (He actually owned a slight edge in targets per game.) A healthy season by both players in 2022 probably drops Tyler Boyd under a 15 percent share, but last year's overall distribution (57.8 percent spread out among the top three receivers) is about what should be expected in this offense against this year. While Hayden Hurst replaces C.J. Uzomah and is probably an upgrade at tight end, he will not take priority over Chase, Higgins or Boyd very often, so Uzomah's 11.7 percent target share is probably the ceiling for Hurst in 2022.
Joe Mixon has not attracted more than 50 looks in a year in four of five seasons. With Cincinnati expected to play with the lead more often than they have during Mixon's career, he will be hard-pressed to repeat his 42 catches from last season. Not only are Samaje Perine and Chris Evans capable as receivers, but HC Zac Taylor may opt to use them in those situations more often in 2022 as a way to better manage the amount of punishment Mixon takes.
Cleveland
As will be the case until the league makes a decision on Deshaun Watson's playing status, not much is clear in regards to target distribution with the Browns. Since most expect a suspension of at least half of the season, we will assume he will not play for now. Jacoby Brissett has served as the primary starter for a full season twice in his career. In those years, only 28-year-old T.Y. Hilton (109 targets) and 27-year-old Jack Doyle (108) drew more than 72 targets. Hilton only managed a catch rate of 52.3 percent that year (2017). Common sense dictates Cleveland will run the ball as long as possible with Brissett under center, making it unlikely any Brown will push for 100 targets (unless Watson gets off easy).
It is probably unfair to assume Amari Cooper will do much better with Brissett than Hilton did. David Njoku can probably still thrive on 72 targets from Brissett because his targets should be shorter and come out of Brissett's hand quicker. The same can be said for rookie David Bell. With Bell working the short and intermediate areas of the field along with Cooper and Njoku, how likely is it that Kareem Hunt will remain a significant factor in the passing game? Brissett has only thrown to his running backs 209 times in his career (17.3 percent), so it figures to be a bumpy ride.
Denver
The arrival of Russell Wilson (and the Broncos' desire to build their offense around him) should mean Denver is primed for an increase in targets, possibly from last year's 513 to 575 or so. Except for Noah Fant and his 90 targets, most of the main supporting cast returns from last year. It seems unlikely Albert Okwuegbunam - while a very good mid-to-late option in drafts - will completely absorb Fant's targets, if only because Jerry Jeudy should see more than 56 targets (and a 10.9 percent target share) if he stays relatively healthy.
Beyond that, what do we know? Courtland Sutton theoretically has the best combination of status (clear starter) and downfield game (Wilson's average throw depth in 2021 was 9.3 yards - the highest mark among NFL quarterbacks with at least 200 drop-backs) - for a receiver attached to Wilson. However, Tim Patrick is cut from a similar cloth as Sutton and KJ Hamler (if he can ever stay healthy) is a true field-stretcher. Despite all of that, it should surprise no one if Jeudy paces the group. Jeudy is not unlike Tyler Lockett in that he can get open quickly - a quality that all quarterbacks like. Perhaps Okwuegbunam's only breakout will be as a strong red zone option while the receiver group - particularly Sutton, Jeudy (and maybe Patrick, depending on other factors) - push for 100-plus targets.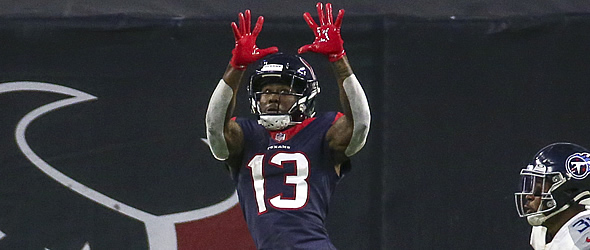 Houston

The five players that finished third through seventh on the team's target share list last season are either gone or not expected to contribute much in 2022, leaving behind a combined 35.2 percent target share (and 125 targets). The Texans should also expect to have more than last year's 523 targets available given their trust in Davis Mills. Thus, there should be ample opportunity for Brandin Cooks to repeat last year's activity (25 percent), Nico Collins to move into the 16-18 percent target share range and rookie John Metchie into the 12-14 percent range if he is completely recovered from his ACL tear by October. Brevin Jordan could match Metchie.

Indianapolis

As things stand right now, Michael Pittman Jr. appears to be in great shape to keep his 25 percent target share, (although bringing in a veteran like Julio Jones or Odell Beckham Jr. is a possibility). The Colts did little to replace Zach Pascal's 69 targets (13.7 percent target share) outside of drafting Alec Pierce, and it seems unlikely the rookie will get that level of attention from Matt Ryan in 2022. Indianapolis also needs to find takers for the targets left behind by the retired Jack Doyle and the unsigned T.Y. Hilton. The Colts figure to pass more too with Ryan if only because they trust Ryan more than they ever did Carson Wentz.

Parris Campbell has a path to a major role, but can stay healthy all season for the first time as a pro? If he can, look out. A healthy Campbell could push for 15 percent of the targets. Nyheim Hines (in particular) and Jonathan Taylor should each see a healthy bump in targets in 2022 if only because Ryan has shown a willingness to lean on his running backs in the passing game throughout his career. Mo Alie-Cox should crawl over 10 percent for the first time in his career if Jelani Woods experiences the steep learning curve that most rookie tight ends do, although Kylen Granson looms as a threat in the same way Trey Burton did a few years ago.

Jacksonville

There may not be a single thing we can take away from the Jags' target distribution last season. James Robinson may not return to his previous form until 2023 - if even then. Christian Kirk was paid to be the No. 1 option regardless of whether he is capable of handling that role. Zay Jones was paid like a capable No. 2 despite the likelihood Marvin Jones will hold onto his starting job. There is a belief Travis Etienne will be used like pre-2021 Alvin Kamara, but there are also concerns about his ability in pass pro. Laviska Shenault somehow managed 100 targets last season and may struggle to see regular work on offense in 2022. Jamal Agnew came on early and Laquon Treadwell came on late; at least one of them may not make the team in 2022.

It is reasonable to believe no Jacksonville player will enjoy a 20-plus percent target share this season, but Kirk and Marvin Jones should be in the 18-percent range while Etienne and Evan Engram (if healthy) push for between 13 and 15. The continued development of Trevor Lawrence, the absence of Robinson and the presence of Etienne makes it extremely likely the Jags will throw more than 600 times in 2022, so there should be enough to appease the four healthy non-quarterbacks mentioned in the first sentence of this paragraph.

Kansas City

Gone from last year's roster are four of the six players with more than 25 targets who combine for 49.8 percent of the team's target share. More than half of those belong to Tyreek Hill. JuJu Smith-Schuster, Marquez Valdes-Scantling and rookie Skyy Moore cannot replace him by themselves. Travis Kelce (134 targets, 21 percent target share) also cannot expect much more work than he is already getting either, although his current situation likely dictates he will attract about 25 percent of the targets in Kansas City this year. Ronald Jones probably won't be able to handle Darrell Williams' 57 vacated targets, meaning there is a great opportunity for Clyde Edwards-Helaire to potentially triple last year's involvement (23 targets, 3.6 percent target share) if he can stay healthy.

Patrick Mahomes told reporters during OTAs that he expects his receiver targets to be more spread out than they were with Hill on the roster. It makes sense. Smith-Schuster proved to be more of a second receiver during his time in Pittsburgh, while injuries and Davante Adams' greatness held Valdes-Scantling in check. Moore should emerge as the alpha in this receiver room soon enough, but 2022 may be too early for him to do that. All three could conceivably finish in the 12-16 percent target share range. Mecole Hardman is unlikely to fall below 10 percent.

LA Chargers

The Chargers are the rare team that kept their most important assets intact, as Jared Cook is the only player with more than 25 targets last year that is not on the roster this season. About the only reason this offense falls short of the 657 targets it was responsible for in 2021 is if the Chargers are in positive game scripts more often; the offense will continue to rely heavily on Justin Herbert. The roles of Keenan Allen, Mike Williams and Austin Ekeler should not change much, although Ekeler could be slightly more involved in the passing game if rookie Isaiah Spiller proves he can handle the 1B role Los Angeles has been trying to fill in recent years.

Cook's departure presents an excellent opportunity for Gerald Everett to have a career season; Everett's previous career high is last year's 63 targets with Seattle. He is an upgrade on the 35-year-old Cook. Josh Palmer should be considered one of the better "receiver handcuffs" in the league if Allen and/or Williams go down, although he will probably settle for a 10-12 percent target share if both stay healthy.

Las Vegas

While there is a path for every key Raider (Davante Adams, Hunter Renfrow and Darren Waller) to meet expectations in 2022, some common-sense factors will need to fall into place for it to happen. In the 10 games both Waller and Renfrow finished before his knee injury, Waller held a 79-73 edge in targets (21.9-20.3 in target share). Las Vegas lost Zay Jones (70 targets, 11.6 target share) in free agency, traded Bryan Edwards (59, 9.8) and parted with Henry Ruggs (36, 6.0) at midseason. That means the Raiders need to replace 165 targets and a 26.4 target share with those three departures, which conveniently sounds like a normal season for Adams in Green Bay.

With that said, offenses rarely ever have three players command a target share of at least 20 percent. The good news is that the Raiders should throw more often (603 targets last season) and operate at a faster pace than 2021, meaning Adams could exceed 150 targets (and a 25 percent target share) while Renfrow and Waller could push for 125 (and come close to a 20 percent target share). There is not another pass-catcher who should demand more than eight percent of the targets.

Miami

Just among the four wide receivers no longer on the team, the Dolphins have 157 targets to replace from last season. In other words, Miami does not have to work exceptionally hard to fit Tyreek Hill into the offense. Unfortunately, it is never that simple. The Dolphins are unlikely to have 599 targets to distribute among Tua Tagovailoa's upgraded supporting cast because they should be able to run the ball better in 2022. Furthermore, Miami also signed Cedrick Wilson to a three-year deal worth $22.8 million, suggesting he will see a fair amount of time in 11 personnel packages with Hill and Jaylen Waddle. So who gets the shaft?

The easy answer(s) should be Waddle and Mike Gesicki. As good as Waddle was as a rookie, he is not quite in Hill's class yet. While he could still command a 20 percent target share, the odds are strong he will see his looks dip below 120 and his catch rate drop into the low 60s as a result of running more deep patterns. Gesicki figures to take the biggest hit with Wilson likely stealing some of the slot work he has been getting in recent years. It does not help Gesicki's cause that he is a weak blocker and the new head coach (Mike McDaniel) is a Kyle Shanahan protégé.

New England

DeVante Parker gives this offense the kind of perimeter No. 1 option it so desperately needed. There is more to consider, however. How much creativity and aggressiveness can we expect from presumptive OC Matt Patricia? Will Mac Jones be willing to trust Parker in contested-catch situations? Can Parker stay healthy long enough? By virtue of an expected defensive decline and more trust in Jones in 2022, the Patriots should be expected to have more than last year's 524 targets available. The departure of FB Jakob Johnson is also actually a big deal as well since it means the Patriots will utilize 11 (one tight end, three receivers) or 12 (two tight ends, two receivers) personnel more often this season, further suggesting less reliance on the running game. Based on last year's spending, expect plenty of 12 personnel.

Unless Parker gets hurt early this season, there is almost no way Jakobi Meyers (and certainly not Nelson Agholor, who may not make the final roster) will be as involved in 2022. With Meyers and Agholor likely to lose at least 75 targets between them and the offense expected to produce about 50 more, New England does not have to work very hard to keep Parker fed. The remaining targets should go to Jonnu Smith, who played nearly 300 fewer snaps last season than Hunter Henry. It appears much of his disappointing campaign had to do with a spring injury and the birth of his child. Not only does Johnson's absence likely open up blocking snaps for Smith, but fantasy managers need to remember the 2021 season marked the first time in five seasons that Hunter Henry did not miss at least two games.

NY Jets

The Jets are yet another team with a deceiving target distribution from last season. Corey Davis was the clear alpha until he got hurt in Week 6, but he was not the same again upon his return. For an extended stretch (Weeks 8-13), Elijah Moore ranked seventh in the league with 51 targets, sixth with 459 receiving yards and tied for first with five receiving touchdowns. Only two of those games came with Zach Wilson, however. Braxton Berrios took the baton the rest of the way, although he was much more of a compiler than an explosive playmaker. The Jets made things even more interesting by spending a first-round pick on arguably the best receiver prospect in the draft in Garrett Wilson.

New York will likely build their passing game around Moore to some degree, if only because he has already proven he is worthy of the honor. Anything short of 100-plus targets and an 18 percent target share would be a bit disappointing. Davis was on pace for a target share of around 20 percent before his injury, while Wilson may be the most complete receiver of the bunch. If Moore plays the slot more often than the others as expected, he should have a slight edge on the others to lead the team in receiving. With that said, New York's top three receivers could just as easily take turns having 10-plus target games and all could finish in the 15-18 percent target share range.

Pittsburgh

The retirement of Ben Roethlisberger throws much of the Steelers' potential target distribution into question, but it seems reasonable that Diontae Johnson will continue to be a target hog - although maybe not in the 26 percent range with rookie George Pickens arriving via the draft. Pittsburgh also seems unlikely to create 653 targets again, which was partly a byproduct of Roethlisberger unloading the ball so quickly. Johnson's 169 targets seem like a good place to start trimming because the Steelers have more quality options than they did last year.

Mitchell Trubisky is no stranger to throwing to his running back (Tarik Cohen, David Montgomery, etc.), so Najee Harris probably is not in danger of losing much of his 14 percent target share. Pickens will likely handle a similar share of the passing game as James Washington did in 2021 (6.7 percent). Ray-Ray McCloud's 66 targets are up for grabs (so are JuJu Smith-Schuster's 28), but many of those looks could also be part of the aforementioned volume downsizing. Pittsburgh waited about a third of the season to get Pat Freiermuth more involved as a rookie, meaning he has a chance at a 15 percent target share - a very good number for a tight end - and 90-plus targets. Chase Claypool is the great mystery. Trubisky was not a particularly good deep-ball thrower during his time as a Bear. Was it former HC Matt Nagy? Chicago's offensive line? Trubisky's own limitations? Especially with Pickens possibly sharing snaps with him in two-wide sets, the odds are against Claypool being as involved this year (105 targets, 16.1 target share in 2021).

Tennessee

A.J. Brown, Julio Jones and Anthony Firkser are gone. Chester Rogers and Jeremy McNichols remain unsigned. Five of the Titans' seven top targets from last season are no longer around. Even for an offense built around Derrick Henry, replacing that many pass-catchers is difficult to do in one offseason - especially when the two players expected to pick most of that slack (Treylon Burks and Robert Woods) have their own issues. Woods appears to be in great shape to be the team's primary receiver despite last year's ACL injury. He likely has no choice but to match or exceed Brown's 20.1 target share from last season (remember, Brown missed four games due to injury). Burks was drafted in April with an eye on being Brown's eventual replacement, but his asthma (and possible conditioning) issues may make him a big question mark until he and the team's medical staff can figure out a plan to make breathing less of an issue for him. Burks will likely surpass Jones' 9.2 target share from last season, but it may not be by much. Fantasy managers in deeper leagues should have Nick Westbrook-Ikhine's name near the top of their watch lists just in case.

All of the uncertainty makes Austin Hooper a potential steal on draft day. Not only should does Hooper enter training camp as the only likely starting pass-catcher without a health concern, but the combined 86 targets left behind by Firkser and Rogers (both short-area pass-catchers like Hooper) should give him ample opportunity to push for 60 catches. Hooper's biggest threat may be rookie receiver Kyle Philips, who figures to be the team's primary slot option at some point early in the season.

Notes: All stats courtesy of Pro Football Reference. The cutoff to qualify for this list was 2.5 targets/game.

AFC | NFC


---
Doug Orth has written for FF Today since 2006 and has appeared as a guest analyst on several national sports radio shows and podcasts, including Sirius XM's Fantasy Drive, FantasyPros and RealTime Fantasy Sports. He is also a member of the Fantasy Sports Writers Association.