One of the older fantasy football adages is more opportunity tends to lead to more success. That logic applies just as much - if not more so - inside the 20 than it does outside of it. Since touchdowns are the lifeblood of fantasy football and the majority of them are scored closer to the goal line, it only makes sense to take into account who received those chances and how successful they were with them the previous season. Red zone analysis helps owners do this.
However, looking at what teams did inside the 20 does not provide a complete picture. For one, a much higher percentage of touchdowns are scored inside the 10 than the 20 - for obvious reasons. Another important distinction to make is that different game scripts, personnel and coaching alter the landscape year after year.
An analysis of red zone activity helps to set realistic expectations and establishes a rough parameter for doing so. It is highly unlikely to provide an accurate forecast of what is to come.
Below you will find each team's receiving breakdown inside the 20 and 10 last season followed by a brief summary of what it could mean for the 2022 season. I did the same for members of the rushing attack last week.
Notes: For the sake of time and space, I set the cutoff at three red zone targets. Players who played for multiple teams may appear twice.
Here is a key for abbreviations below:
Tgt - Target
Rec - Reception
Ctch% - Catch percentage
TD – Receiving touchdown
Tgt% – Percent of team's targets inside specified area
*****All data courtesy of Pro Football Reference.
Arizona
Inside the 20: 80 targets, 42 catches, 16 TDs
Inside the 10: 39 targets, 17 catches, 9 TDs
A.J. Green was not signed last summer to lead the Cardinals in red zone targets, but that is exactly what happened. With that said, Zach Ertz would have been the easy winner had he been traded before Week 6. Fantasy managers should note how money DeAndre Hopkins was inside the 20 in 2021; all seven of his catches went for touchdowns. His target share inside the 20 and 10 also did not do him justice; posting a 17.7 target share inside the 20 and a 21.1 percent share inside the 10 despite missing seven games is remarkable. It also suggests he would finish around 30 percent in both areas if he stayed healthy. He will likely have to settle for around 20 this year considering he will serve a six-game suspension and share more looks with Marquise Brown and Ertz than he had to with Green, Christian Kirk and/or Maxx Williams.
Atlanta
Inside the 20: 78 targets, 43 catches, 18 TDs
Inside the 10: 35 targets, 17 catches, 11 TDs
If only Matt Ryan was back for another season, there might be more reason for optimism beyond Kyle Pitts. The departure of Russell Gage and the indefinite suspension of Calvin Ridley theoretically free up 23 red zone targets (and nine looks inside the 10) for the receivers. With Ryan under center, rookie Drake London could conceivably push for 20 red zone targets and still leave more than enough for Pitts. Instead, Atlanta figures to try to go the ground-and-pound route as much as possible with Marcus Mariota and/or Desmond Ridder. London will be a big part of the plan, but it might be a bit unrealistic for Mariota (or Ridder) to keep both youngsters involved when he is limited as a pocket passer and Pitts is the clear No. 1 option. Cordarrelle Patterson was surprisingly uninvolved in the passing game inside the 10 (two targets) when compared to what he did as a runner in the same range (13 carries). Expect the former stat to come up significantly and the latter one to go down significantly as rookie Tyler Allgeier gains the confidence of the coaching staff.
Baltimore
Inside the 20: 73 targets, 45 catches, 17 TDs
Inside the 10: 34 targets, 20 catches, 14 TDs
The injuries at running back and Rashod Bateman's delayed debut renders much of the Ravens' receiving information somewhat meaningless. Baltimore threw much more than it probably intended to, which probably contributed to Marquise Brown's high volume inside the 20 (16 targets) and 10 (eight). Bateman is a better bet to maintain the volume that Brown had last year than the latter would have had if he returned because of the way he wins. Mark Andrews figures to remain the focus in the red zone, however. He has enjoyed a target share of at least 27 percent inside the 20 and 10 in each of the last two seasons, and there is little reason to expect that to change with Brown now in Arizona. Devin Duvernay was surprisingly busy in scoring territory for the relative lack of playing time he saw, finishing with more production across the board than Bateman. For this and other reasons, it may be worth considering Duvernay as a potential sleeper. However, early reports suggest James Proche may have an edge on him for a starting job.
Buffalo
Inside the 20: 114 targets, 66 catches, 28 TDs
Inside the 10: 50 targets, 29 catches, 18 TDs
The Bills visited the red zone with regularity and were quite balanced once they got there, amassing 103 carries and 114 targets in that area. Stefon Diggs (19 catches on 34 red zone targets for 10 TDs and eight receptions on 14 targets for five TDs inside the 10) was the only receiver to rival Cooper Kupp across the board in 2021. Dawson Knox emerged as a huge red zone threat last season, but it is likely more than a coincidence that his fantasy production cratered about the same time Gabriel Davis became more of a full-time player. Speaking of Davis, 11 of his 17 red zone targets happened in December - four of which took place inside the 5. At the very least, Davis should absorb half of Emmanuel Sanders' 10 looks. Based solely on his involvement inside the 20, Davis could live up to his offseason hype. It should also not surprise anyone if rookie James Cook ends up being the biggest beneficiary of the departure of Cole Beasley.
Carolina
Inside the 20: 50 targets, 28 catches, 10 TDs
Inside the 10: 26 targets, 15 catches, 9 TDs
Especially considering it happened in seasons that Christian McCaffrey did not stay healthy, it seems almost criminal that D.J. Moore has a mere 22 red zone targets in 32 games. Part of that is a function of the Panthers' quarterback issues. Part of that is likely an oversight by the offensive staff in Carolina. This needs to change under new OC Ben McAdoo. For some perspective on McCaffrey, he tied Curtis Samuel for the team lead in red zone targets the last time he played a full season (2019) with 14. It seems reasonable to believe that CMC could do that again if healthy in 2022, although it would also be wise to expect him to lose around 20 percent of the 54 carries he had inside the 20 to D'Onta Foreman in an effort to keep him healthy.
Chicago
Inside the 20: 57 targets, 33 catches, 11 TDs
Inside the 10: 26 targets, 10 catches, 6 TDs
Perhaps the most overlooked part of the public perception of the Bears this summer is the fact former HC Matt Nagy will not be running the offense anymore. (That job now belongs to OC Luke Getsy.) That fact alone should help this offense immensely. It would be an upset if Mooney does not push for 20 targets inside the 20 and 10 inside the 10 this season, if only because Velus Jones Jr. and Byron Pringle should not be too highly involved in scoring territory. Cole Kmet getting shut out of the end zone is a remarkable feat but not all that surprising when we see that he finished with zero catches on four targets inside the 10. With Jimmy Graham no longer in the picture, Kmet might be a candidate for 20 targets inside the 20 and 10 inside the 10 this season as well.
Cincinnati
Inside the 20: 56 targets, 35 catches, 18 TDs
Inside the 10: 29 targets, 17 catches, 15 TDs
Although it is a bit hasty to draw too many conclusions after one season, the fact Ja'Marr Chase and Tee Higgins were virtually the same receivers inside the 20 and 10 suggests the two could take turns battling it out for red zone supremacy over the next few years. Then again, there are other factors to consider. Chase may take another leap forward in his second season (and first "normal" offseason). Higgins should be healthy in 2022 after playing through a torn labrum in the shoulder last season. It is mildly surprising Tyler Boyd and Joe Mixon posted nearly identical red zone numbers. When factoring in his 39 carries inside the 20 last year and his improved offensive line this year, a case can be made that Mixon is about to take another sizeable jump forward statistically in 2022.
Cleveland
Inside the 20: 56 targets, 34 catches, 15 TDs
Inside the 10: 28 targets, 14 catches, 12 TDs
Much hinges on what happens with what the league decides to do with Deshaun Watson over the next month. For the sake of simplicity now, we will assume he will be suspended for most or all of the season.
The Browns are in the unusual position of having to replace their top two red zone targets from last season - which they did by choice. Fortunately, Amari Cooper should be an upgrade on Jarvis Landry. Additionally, David Njoku should have never been sitting behind Austin Hooper in the first place, so this could be a rare case where it is addition by subtraction. Unfortunately, it may not matter if Jacoby Brissett gets most of the starts at quarterback in 2022. The only other noteworthy nugget here is the disparity between Kareem Hunt and Nick Chubb. While each of Hunt's four looks inside the 20 either came in second-and-long or third-down situations, it remains clear that the Cleveland coaching staff wants him occupying that role in the red zone. Chubb has tallied a mere three red zone targets over the last two seasons (compared to 13 for Hunt) despite the fact he has played two more games than Hunt (26-24).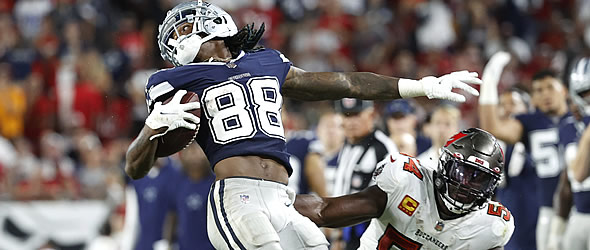 Dallas
Inside the 20: 100 targets, 67 catches, 28 TDs
Inside the 10: 36 targets, 27 catches, 23 TDs (!!!)

Buffalo (114), Green Bay (114) and Tampa Bay (116) were the only teams who amassed more volume inside the 20 than the Cowboys. Perhaps the biggest surprise was that Ezekiel Elliott and Dalton Schultz (14 apiece) were more involved in the red zone than CeeDee Lamb. The same is also true inside the 10. With that said, the departure of Amari Cooper (and, to a lesser extent, Cedrick Wilson) and the late injury to Michael Gallup should cement Lamb as a player who logs roughly 25 targets inside the 20. Somewhat surprisingly, Tony Pollard was nowhere to be found as a receiver inside the 10. Along with Lamb's expected volume spike, expect Pollard to be much more of a factor than he was in that area last year and at least match his career receiving TD total through three seasons (two).

Denver
Inside the 20: 58 targets, 37 catches, 16 TDs
Inside the 10: 32 targets, 18 catches, 11 TDs

We can essentially throw out the Broncos' red zone usage from last season. Not only did injuries play a huge role, but the team will also be trotting out a Nathaniel Hackett-led offense run by Russell Wilson instead of a Pat Shurmur-led unit run by Teddy Bridgewater and Drew Lock. Fantasy managers should expect sizable bumps for Courtland Sutton and Jerry Jeudy if Hackett lets Russ cook as expected, but the biggest beneficiary might be Albert Okwuegbunam. By my math, 20.5 percent of the passes and 22.6 percent of the TDs Wilson has thrown over his career have been to tight ends. Those marks are impressive for the position considering Jimmy Graham was the only great one - at least during the time all the tight ends played for the Seahawks - of the bunch. Translation: Wilson will throw to his tight ends, especially when he has a good one.

Detroit
Inside the 20: 60 targets, 32 catches, 13 TDs
Inside the 10: 25 targets, 14 catches, 11 TDs

Amon-Ra St. Brown amassed nine of his 14 red zone targets during his unforgettable December surge last season - a pace that would have allowed him to rival Cooper Kupp had he reached and maintained that pace for the first three months of the season. T.J. Hockenson playing his final snaps of the season in the same game St. Brown began his run (Week 13), while D'Andre Swift was effectively done for the year the week before. So is there anything we can take from this as it relates to St. Brown's 2022 projection? I would expect Hockenson (when healthy) to be the primary option inside the 20 and 10 for Detroit more often than not, but St. Brown will not be too far behind. Detroit's receivers coach (Antwaan Randle El) believes St. Brown is "the guy," so it would seem logical that the Lions will give him every chance to live up to that title. Anything short of 20 red zone targets and 10-12 looks inside the 10 in 2022 would be a bit of a disappointment.

Green Bay
Inside the 20: 114 targets, 67 catches, 28 TDs
Inside the 10: 50 targets, 30 catches, 19 TDs

Davante Adams is arguably the best receiver in the game, so it would be disingenuous to say the Packers' offensive machine will keep rolling seamlessly. With that said, Buffalo (217) was the only team with more rush attempts and targets inside the 20 than Green Bay (200). Not all of that is a product of Adams' greatness. It seems clear Aaron Jones stands to benefit the most (in terms of volume) from Adams' departure, although Lazard was surprisingly busy (14 red zone looks) for a player with 60 targets overall. Perhaps the most surprising nugget, however, was Randall Cobb's 11 targets inside the 10 - tied for the eighth-most in the league and only three behind second-place Adams. One of those two players (Lazard or Cobb) is about to experience a dramatic spike in last year's numbers. AJ Dillon is a good bet to see a significant increase inside the 20 (five last year) and 10 (one) as well.

Houston
Inside the 20: 47 targets, 27 catches, 11 TDs
Inside the 10: 24 targets, 12 catches, 8 TDs

Unlike the Texans' running game, there is reason for optimism in the passing game. Houston will almost certainly have a better offense because the offensive line will be better and two of the top three or four top pass-catchers - not to mention the quarterback - will be entering their second season in the league. Brandin Cooks should be able to hold onto alpha receiver duties for at least one more year, and that moniker should carry over to the red zone. Interestingly, he has been targeted 10 times in the red zone each of the last two seasons. If anyone overtakes him inside the 20, it will likely be Nico Collins, who was tied with David Johnson for the team lead with five targets inside the 10. Unfortunately, all five of those opportunities fell incomplete. Brevin Jordan could make a run at both; despite not seeing a snap until Week 8 and running a mere 149 routes, he was more productive than any other Houston pass-catcher inside the red zone (three TDs).

Indianapolis
Inside the 20: 63 targets, 38 catches, 19 TDs
Inside the 10: 36 targets, 20 catches, 12 TDs

Jonathan Taylor ran 23 more times than the Colts passed inside the 20 last season (86-63). That cannot and will not happen again in 2022. Assuming the previous sentence ends up being correct, Michael Pittman Jr. should be on the verge of seeing around 25 targets inside the 20 and 12-13 targets inside the 10. The odds are highly favorable that he will also enjoy a better TD conversion rate with those opportunities with Matt Ryan than he did Carson Wentz (25 percent inside the 20, 22.2 inside the 10). With rookie Alec Pierce unlikely to absorb all of Zach Pascal's red zone opportunities, Mo Alie-Cox or Kylen Granson appear likely to enjoy a slight bump in involvement. However, Taylor and Nyheim Hines probably stand to gain the most with Ryan being much more willing to throw to his running backs than Wentz. For some perspective, Hines tallied 12 red zone targets (four inside the 10) in 2020 with Philip Rivers. A repeat of that is much more likely than what Hines settled for last season (four, one).

Jacksonville
Inside the 20: 53 targets, 27 catches, 7 TDs
Inside the 10: 29 targets, 13 catches, 6 TDs

Before fantasy managers hand the Jaguars' alpha receiver crown to Christian Kirk, it might be a good idea to consider how much Trevor Lawrence leaned on Marvin Jones in 2021. Only D.K. Metcalf posted a higher target share inside the 20 than Jones (34 percent) and only Hunter Renfrow had a higher share of his team's targets inside the 10 (37.9). Those marks will obviously take a hit with Kirk, Evan Engram and Travis Etienne set to take their first regular-season snaps with Jacksonville this fall, but that kind of connection tends to hold relatively strong even if the team upgrades its personnel from one season to the next. The Jaguars will almost certainly pass more than 53 times inside the 20 and 29 times inside the 10 in 2022, so Jones could conceivably match last year's red zone numbers. With that said, Etienne should not have an issue pushing for at least 10 such targets. Engram should be considered the favorite to lead the team if Jones doesn't.

Kansas City
Inside the 20: 95 targets, 62 catches, 26 TDs
Inside the 10: 47 targets, 34 catches, 22 TDs

The Chiefs understand that one receiver cannot and will not replace Tyreek Hill. Despite having a player as special as Travis Kelce to make things easy for him in the red zone, Patrick Mahomes targeted Hill much more often in the red zone (23-16) in 2021. The two stars battled to a tie in targets (9-9) and touchdowns (6-6) inside the 10, but each comparison illustrates Hill is a complete receiver who will be missed. With Hill no longer around, Kelce appears very likely to dwarf his teammates in red zone activity this year. JuJu Smith-Schuster may be the best bet to finish in second place, although Kansas City would probably prefer rookie Skyy Moore hold that distinction since he will be groomed to do some/many of the same things Hill was asked to do. However, Moore did not spend a lot of time practicing this spring, so maybe Patrick Mahomes' hyped connection with Marquez Valdes-Scantling ends up paying off instead. Another answer might be to run the ball more often, which the Chiefs began to do more often during the second half of last season.

LA Chargers
Inside the 20: 98 targets, 58 catches, 28 TDs
Inside the 10: 49 targets, 25 catches, 18 TDs

Keenan Allen has become such a steady presence that many are just glossing over the fact he recorded a career-high 23 red zone targets last year. His 12 looks inside the 10 were his most since 2017. There is little reason to expect that to change much in 2022, and it is not hard to imagine that kind of volume allowing Allen to find the end zone 10 times in a season for the first time in his career. With Allen so proficient at what he does, Mike Williams may ultimately never become anything more than a highly volatile sidekick. Fantasy managers were disappointed in him after a hot start in 2021, but they need to remember two things:

1) Williams' willingness to sacrifice his body for the ball will always mean he is a strong candidate to get (and ultimately play) hurt and

2) Austin Ekeler might as well be a No. 2 receiver on this offense. As great as Justin Herbert is, it is unreasonable to expect him to make three players high-end starters for fantasy purposes every week.

Gerald Everett might end up being the sneakiest option on this offense if Jared Cook's red zone usage last year is any indication. Cook began to show his age in 2021, while Everett should still theoretically be in his prime.

LA Rams
Inside the 20: 111 targets, 62 catches, 32 TDs
Inside the 10: 52 targets, 27 catches, 22 TDs

The NFL has not seen a season from a receiver in the red zone like Cooper Kupp (37 targets, including 18 inside the 10) just had since Demaryius Thomas attracted 39 red zone targets and 18 inside the 10 in 2014. While Kupp is the unquestioned alpha dog in Los Angeles, there is almost no chance he will see that kind of volume again in his career. One reason is that the Rams added another red zone stud in Allen Robinson, who should have little issue surpassing Robert Woods' 16 targets inside the 20 and nine targets inside the 10. There is a decent chance he absorbs most of the nine red zone looks Odell Beckham saw in about half of a season with the Rams. The arrival of Robinson could hurt Tyler Higbee as well, but it is notable that 2021 was the second time in three years he was targeted at least 18 times inside the 20.

Las Vegas
Inside the 20: 74 targets, 44 catches, 17 TDs
Inside the 10: 34 targets, 18 catches, 12 TDs

Hunter Renfrow was essentially a poor man's Cooper Kupp inside the 20 and 10 last season. Renfrow was well behind Kupp in targets and receptions in both areas, but he had either a comparable or better catch rate and target share. All of those marks will undoubtedly take a big hit with the arrival of Davante Adams, but fantasy managers should not expect Renfrow to drop off dramatically either. Derek Carr's long-standing friendship with Adams figures to keep his red zone targets in the high-20s. Does that mean Darren Waller will suffer near the goal line then? I don't think so. Last year's 74 red zone targets are a relatively low number, meaning this offense - which should be more pass-heavy than it typically was under Jon Gruden, especially considering all of the impressive weapons it now has - should be able to keep three important mouths happy more weeks than not. It should also be noted that 11 of Renfrow's red zone targets came while Waller missed five games late in the season.

Miami
Inside the 20: 74 targets, 44 catches, 19 TDs
Inside the 10: 38 targets, 25 catches, 18 TDs

One look at Tyreek Hill's numbers above should make it very clear he is more than just a speed guy who was a product of Patrick Mahomes' greatness. With that said, it is hard to imagine the Dolphins being so proficient offensively that they can amass the kind of volume we have come to expect from play-callers from the Kyle Shanahan coaching tree in the rushing game AND keep Hill, Jaylen Waddle and Mike Gesicki happy. The departures of DeVante Parker and Mack Hollins alone come close to getting Hill the 20 red zone opportunities he should see, but Miami will almost certainly allow Chase Edmonds and Cedrick Wilson to combine for at least 10. Unlike the Raiders in the paragraph above, it seems likely at least one of the top three options (Hill, Waddle or Gesicki) will fall well short of expectations.

Minnesota
Inside the 20: 70 targets, 45 catches, 23 TDs
Inside the 10: 32 targets, 20 catches, 16 TDs

Justin Jefferson and Adam Thielen both hauled in seven receiving touchdowns inside the 20 last season. The duo combined for 16 - 13 of which went to Thielen - in Jefferson's rookie campaign. Those numbers came in a run-first offense. New HC Kevin O'Connell figures to open things up, which means Jefferson could be in line for overall WR1 honors this season and Thielen could be a ridiculous value if he remains Kirk Cousins' preferred option in the end zone - as he has been from about the time Cousins became the quarterback in 2018. The new offensive philosophy should give Irv Smith Jr. a great shot at matching Tyler Conklin's activity in the red zone from a year ago. Dalvin Cook is almost certain to handle 6-8 targets inside the 20 after settling for one last season. The additional 15 or so red targets this new offense should generate should enable K.J. Osborn to remain firmly in Minnesota's red zone picture as well.

New Orleans
Inside the 20: 63 targets, 40 catches, 23 TDs
Inside the 10: 26 targets, 17 catches, 10 TDs

The Saints played 10 games last season with three quarterbacks not named Jameis Winston and an entire season with Michael Thomas, so there is not much predictive information to share here. New Orleans played at a ridiculously slow pace offensively, however, so we can probably presume last year's red zone team target numbers are going up. One thing we do know is that Alvin Kamara was about as active in the red zone as he was the previous two seasons despite missing playing a career-low 13 games and recording a career-low 47 receptions. One complication to consider is a possible looming suspension. Thomas attracted target share rates of around 30 percent in his last healthy season of 2019, so it is reasonable to believe that he will be in the low 20s at worst in 2022 - assuming he is fully healthy (which is not guaranteed given the unique nature of his ankle injury - even with more capable hands on deck. Rookie Chris Olave does not profile as a great red zone threat, potentially leaving Jarvis Landry as the Saint who sees the second-most targets inside the 20 this season.

New England
Inside the 20: 70 targets, 45 catches, 17 TDs
Inside the 10: 29 targets, 16 catches, 10 TDs

Does likely OC Matt Patricia envision a more pass-heavy offense in Mac Jones' second year under center or upgraded weapons at receiver? The answer to that question will have a dramatic impact on whether or not the Patriots enjoy another season of 50 rush attempts versus 29 targets inside the 10. Hunter Henry has never finished with fewer than 10 red zone looks and trailed only Mark Andrews among tight ends in target rate inside the 20 (24.3 percent) and 10 (31) last year. With that said, those marks - and especially Jakobi Meyers' 18.6 and 20.7 percent target shares - should be expected to come down in part because DeVante Parker gives New England a contested-catch receiver it did not have a season ago. A potential wild-card is Jonnu Smith, who may have been a victim of a lack of offseason work last year. Just one season earlier in Tennessee, Smith finished 10th in the league in red zone targets with 17. It would be a mistake to discount him completely based solely on his 2021 performance.

NY Giants
Inside the 20: 56 targets, 22 catches, 9 TDs
Inside the 10: 28 targets, 13 catches, 8 TDs

Former OC Jason Garrett was not the source of all of the Giants' offensive problems, but he did little to help matters either. The addition of new HC Brian Daboll should help New York be more respectable in the red zone. Two positive signs from last year's numbers inside the 20: Kenny Golladay's 17.9 percent target share and the fact Kadarius Toney was even remotely involved considering how much time he missed and his relative lack of routes (196). One big negative: Dante Pettis was the only Giant wideout to score a red zone touchdown. Expect Daboll to make Golladay much more of a focus near the goal line - particularly inside the 10 (where he had a measly two targets last year) - and manufacture touches for Toney. Saquon Barkley is an obvious candidate to see more work in close as well. For some perspective with him, Barkley attracted 13 red zone targets (five inside the 10) during his only healthy season as a rookie in 2018. Last year, those numbers were three and one, respectively.

NY Jets
Inside the 20: 61 targets, 39 catches, 15 TDs
Inside the 10: 23 targets, 15 catches, 9 TDs

The fact that Braxton Berrios finished second on the team with eight red zone targets and first with five targets inside the 10 should tell readers everything they need to know about how much of an effect injuries had on this team in 2021. With the Jets adding so much talent in the offseason, they should have no issue creating AT LEAST 10-15 more red zone targets, which should be enough to allow Moore to double last year's marks of seven targets inside the 20 and two inside the 10 AND give first-round-pick Garrett Wilson the attention he deserves as well. If that alone is not enough for the two young studs, the Jets also have to find a home for Jamison Crowder's team-high 11 red zone looks. Fantasy managers should also not forget about Corey Davis, who was unquestionably Zach Wilson's favorite target before hip and groin injuries ruined his season. New York's investment in C.J. Uzomah suggests he could be a factor, especially if Davis struggles to stay healthy again.

Philadelphia
Inside the 20: 58 targets, 38 catches, 14 TDs
Inside the 10: 27 targets, 14 catches, 8 TDs

The trade for A.J. Brown should be a boon for the Eagles' offense in many ways, particularly in the red zone. Philadelphia did itself a disservice by not making Smith more of a priority - even after the midseason change in offensive philosophy to more of a run-based offense - but his supporters can take some comfort that he was the target on 18.5 percent of the team's pass attempts inside the 10 as a rookie. Most of the same things can be said about Goedert, who likely becomes the third option inside the red zone. Despite his favorable skill-set (as a very competent receiving back), there is almost no chance Kenneth Gainwell attracts another nine red zone looks in an offense trying to keep Brown, Smith and Goedert happy. Except for perhaps Quez Watkins getting another four targets inside the 10, it seems unlikely any other Eagle after Brown, Smith and Goedert will draw more than three - even if Philadelphia's passing volume inside the 10 spikes into the mid-30s.

Pittsburgh
Inside the 20: 95 targets, 50 catches, 18 TDs
Inside the 10: 44 targets, 23 catches, 14 TDs

Only six players saw more than five red zone looks on a team that had 95 to distribute. That total figures to drop dramatically with Ben Roethlisberger's lack of mobility and the emphasis for him to get the ball out as quickly as any quarterback in the league no longer an issue. While Diontae Johnson, Pat Freiermuth, Najee Harris and Chase Claypool all figure to feel the crunch, which of them is set up for the biggest hit to their red zone activity. The answer is probably Claypool. Why? Second-round selection George Pickens offers the team snap competition for Claypool that did not exist last year. Furthermore, Johnson, Freiermuth and Harris' roles are all secure. The good news for all of them (especially Claypool) is that the departures of Ray-Ray McCloud and James Washington theoretically free up 18 red zone looks (six inside the 10). Even if the team drops into the mid-70s in red zone targets and mid-30s in looks inside the 10, that last fact means no Pittsburgh pass-catcher has to fall off dramatically.

San Francisco
Inside the 20: 57 targets, 36 catches, 18 TDs
Inside the 10: 30 targets, 15 catches, 11 TDs

The transition from Jimmy Garoppolo to Trey Lance figures to change the math for the 49ers in many ways in 2022, but it is not a given that the volume in the passing game will change much at all - including in the red zone. Perhaps the biggest difference from last year might be that Deebo Samuel overtakes Brandon Aiyuk inside the 20 and 10. Samuel's well-chronicled involvement in the running game picked up right around Week 10, leading to a significant decline in the number of routes he ran. Since Samuel has no interest in reprising that role in 2022, he should return to being the featured receiver on what figures to be one of the league's most run-heavy teams. As a big target for a young quarterback, George Kittle's involvement should only go up. Jauan Jennings is a bigger body (6-3, 212) and should only see his red zone opportunities increase. Assuming injuries do not play a significant role, there should not be a significant change in San Francisco's activity inside the 20 and 10 - outside of a slight downturn for Aiyuk.

Seattle
Inside the 20: 52 targets, 29 catches, 18 TDs
Inside the 10: 30 targets, 15 catches, 11 TDs

DK Metcalf's 36.5 percent target share inside the 20 led the NFL last season. That is the good news. The bad news is a lengthier list. Russell Wilson pulled the trigger on 16 of those 19 red zone targets even though he missed three games. Metcalf only received five targets inside the 10. The offensive line might be worse than it was last year, Wilson is no longer around and (shockingly) the offense might struggle to match last season's dismal red zone numbers if Seattle cannot find an upgrade to Geno Smith or Drew Lock. Gerald Everett was surprisingly busy inside the 10 (36.8 percent target share), which might bode well for newcomer Noah Fant if Wilson had not been Everett's quarterback on all but one of Everett's team-high seven targets in that area. It is possible the Seahawks attempt to overcome what figures to be a lack of red zone volume by simply force-feeding Metcalf, but that would also go against HC Pete Carroll's usual dogged desire to lean so heavily on the rushing attack.

Tampa Bay
Inside the 20: 116 targets, 74 catches, 30 TDs
Inside the 10: 58 targets, 32 catches, 24 TDs

The Buccaneers were easily the most pass-happy offense in the league last year, so their league-best 116 red zone targets and 58 targets inside the 10 should not come as a shock. There is almost no chance Tampa Bay approaches those numbers in 2022. First and foremost, the Buccaneers may not have a completely healthy Chris Godwin to lean on inside the 20 (team-high 25 targets, the fourth-highest total in the league) for a month or maybe two. Rob Gronkowski also took his red zone prowess into retirement. Last but not least, Tampa Bay is unlikely to run nearly as much under new HC Todd Bowles, especially without a healthy Godwin.

The (likely) absences of Godwin and Gronk do open the door for an insane red zone target share for Mike Evans, however. In two years with Tom Brady as his quarterback (and with Godwin and Gronkowski around), Evans has attracted 26 looks inside the 10 and scored on 17 of his 18 catches in that area. Russell Gage will cushion the blow of not having Gronk or a healthy Godwin somewhat, but he is not going to be a one-for-one replacement in the red zone for either one. Perhaps the most surprising nugget - certainly on par with the Randall Cobb factoid above - was Cameron Brate's 20 red zone looks (nine inside the 10). A whopping 11 of those looks came during the six-game stretch Gronk barely played in 2021. While some fantasy managers may see that as a great opportunity for Brate this year, the more likely outcome would be half of those targets going to either rookie Cade Otton or becoming running plays.

Tennessee
Inside the 20: 78 targets, 50 catches, 20 TDs
Inside the 10: 34 targets, 23 catches, 11 TDs

Even with the improvement Nick Westbrook-Ikhine showed last season, the Titans could not have imagined he would emerge as the team's most effective red zone passing-game weapon in 2021. While A.J. Brown's numbers were slightly depressed because he missed four games, it is hard to understand how he did not get more involved near the goal line with Julio Jones missing so much action. Robert Woods should be able to pick up where Brown left off as a red zone threat, but that is not why Tennessee traded for him. The Titans are hoping rookie Treylon Burks will be that guy, but his breathing issues (asthma) in early practices means expectations may need to be set lower as a rookie. Austin Hooper should have little problem replacing what Anthony Firkser leaves behind and is a dark-horse candidate to be the Tannehill's favorite red zone weapon if he can steal some of Geoff Swaim's looks. The team appears to like what it sees from fourth-round draft choice Chigoziem Okonkwo, but he is unlikely to figure prominently in the team's red zone plans as an undersized rookie move tight end.

Washington
Inside the 20: 52 targets, 32 catches, 13 TDs
Inside the 10: 23 targets, 10 catches, 7 TDs

The fact that Ricky Seals-Jones paced the team in targets inside the 20 and 10 says all that needs to be said about this offense in 2021. It partially explains how a talent like Terry McLaurin was limited to five touchdowns or fewer for the second straight season. Carson Wentz figures to be more aggressive throwing into tight windows than Taylor Heinicke was, so McLaurin could top the career-high 13 red zone targets he saw as a rookie in 2019. The return of Curtis Samuel and the selection of first-round rookie Jahan Dotson figures to threaten that possibility since there is very little evidence Washington will prioritize feeding McLaurin as opposed to grinding out the clock with Antonio Gibson and Brian Robinson Jr. It has been established Wentz rarely keeps his running backs involved, so Gibson and J.D. McKissic could struggle to score through the air in 2022.


Rushing | Receiving


---
Doug Orth has written for FF Today since 2006 and has appeared as a guest analyst on several national sports radio shows and podcasts, including Sirius XM's Fantasy Drive, FantasyPros and RealTime Fantasy Sports. He is also a member of the Fantasy Sports Writers Association.